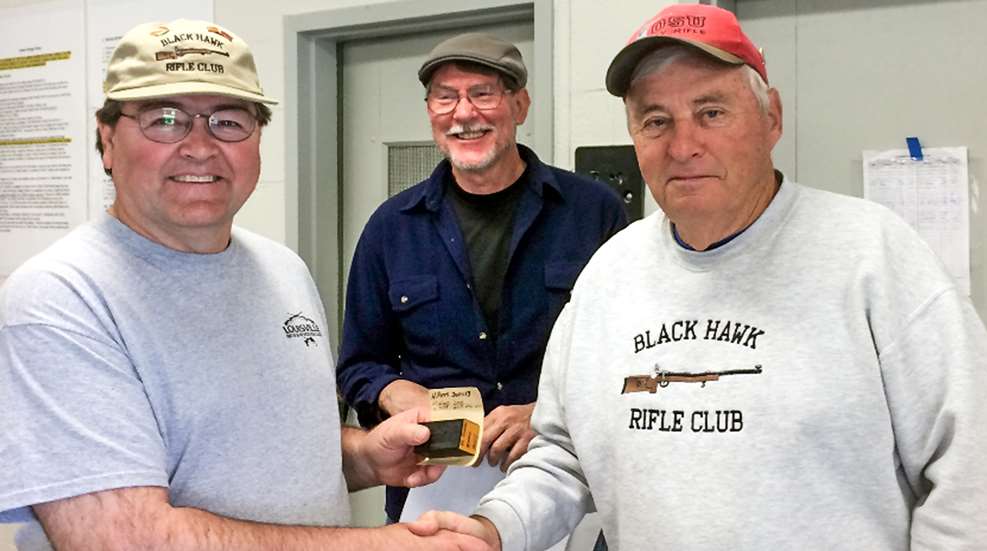 Above: Ed Foley (r.) presenting the championship's token perpetual trophy (which is an old box of Russian Olimp Ammunition) to winner Mike Carter. Two-time National Prone Champion Paul Gideon is the one photobombing in the background.

Sixteen shooters from Tennessee, Alabama, Ohio, Mississippi, and Kentucky competed for the 2018 Tennessee State Smallbore Prone Championship. Mike Carter from Nashville, TN, captured the iron sights day of the match with an aggregate score of 1597-113X. Howard Pitts of Taft, TN, was only one point back with 1596-118X, and finishing in third place was Paul Gideon from Ohio with 1594-111X.

On Sunday, temperatures were down and the wind was up as shooters tried to tame the Oak Ridge conditions. Previous two-time National Champion Paul Gideon held off both Pitts and Carter—winning the scope day—and additionally matching his irons score of 1594-108X. Pitts was in second place with 1593-110X, and Carter in third with 1593-106X.




The grand aggregate winner and State Champion was Mike Carter with 3190-219X, followed by Howard Pitts with 3189-228X and Paul Gideon with 3188-219X. Ed Foley was the Senior Champion with 3180-210X. Last but certainly not least, Bill Hughes was the winner of the combined Expert-Sharpshooter-Marksman class with a respectable score of 3149-152X.