Editor's note: This article outlines mods that may not be safe if not installed properly. If you don't have the specialized training and tools needed, we highly encourage you to consult a gunsmith, before taking your pistol apart.
We live in a world where countless options of quality pistols and revolvers abound. Functional, practical semi-automatic pistols sell for around $500 and will accomplish the task of self-defense or recreational shooting reliably and with adequate accuracy. For even entry-level competition they leave a lot to be desired because in competition, even when you're just getting started, quality equipment is required. 
There are also a lot of quality competitive guns available, but they come at a price. For USPSA and 3-Gun competition the gun must be accurate, flat shooting, reliable, and have magazine capacity. STI Edge Dawson BVC, CZ Custom, and other offerings fit this bill, but prices run to the north side of $2,000.
Recently, I visited Mike Byrd, a longtime friend and gun tinkerer, and he was talking about upgrading a Smith & Wesson M&P for limited class competition. Mike shoots USPSA and 3-Gun and isn't just a great club level shooter, he's a mechanical whiz in everything he does. Mike modifies and tunes ARs, 1911s, and SIG MPX carbines for himself and other competitors and his most recent project was an M&P 9mm for USPSA. I shot it in the same range session as some 1911 Limited guns and was impressed because the M&P shot as well for me as guns that cost more than twice the cost of the upgraded M&P.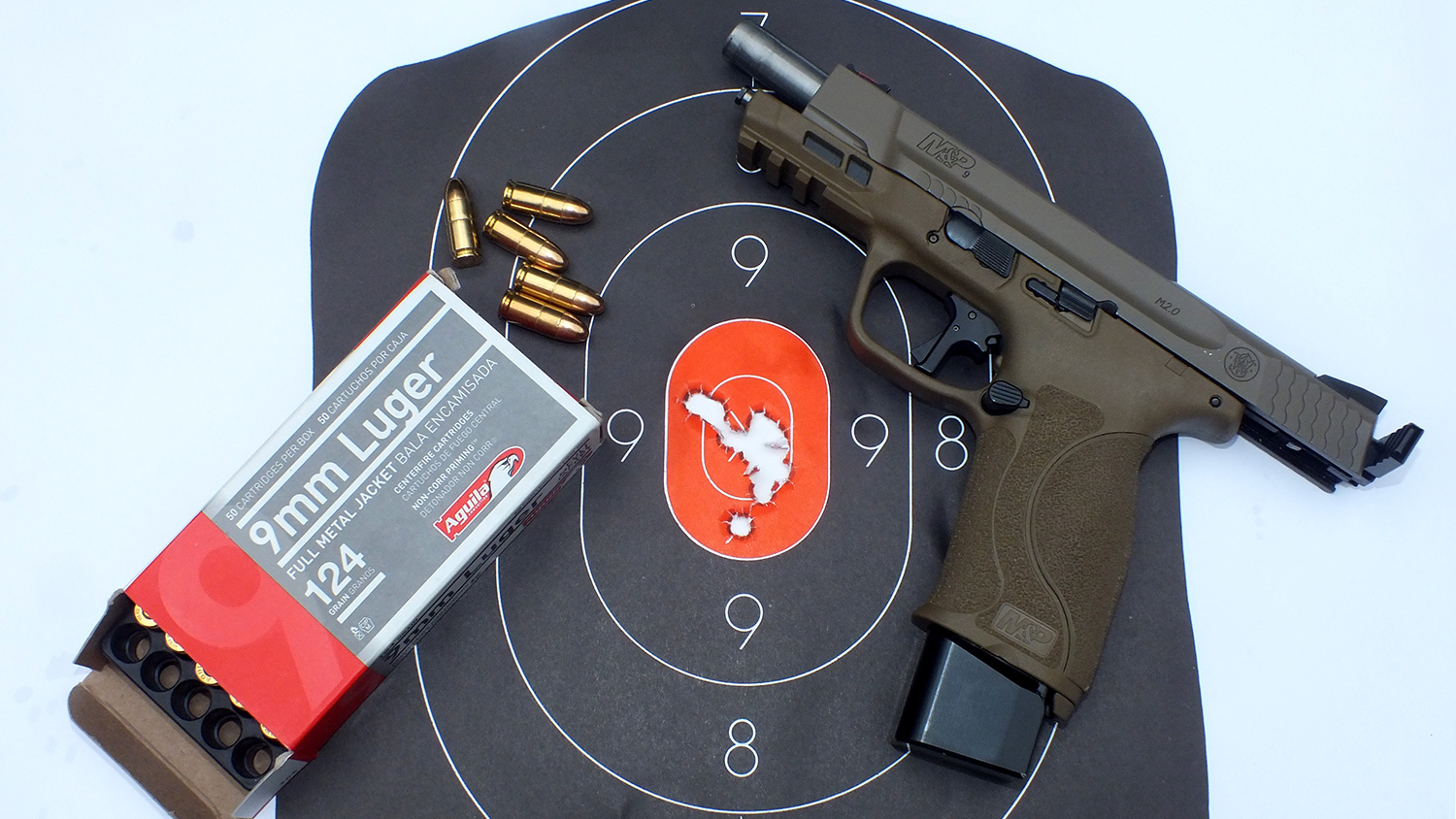 Smith & Wesson's M&P is my favorite striker-fired pistol. They're reliable, comfortable, flat shooting, and affordable. Since their introduction in 2005, they've gone through several refinements, the latest being the 2.0 version with a better trigger, and grip surface. I had one of the Flat Dark Earth 5-inch guns for review and Mike and I decided to try upgrading one to the level of a competitive Limited Class gun.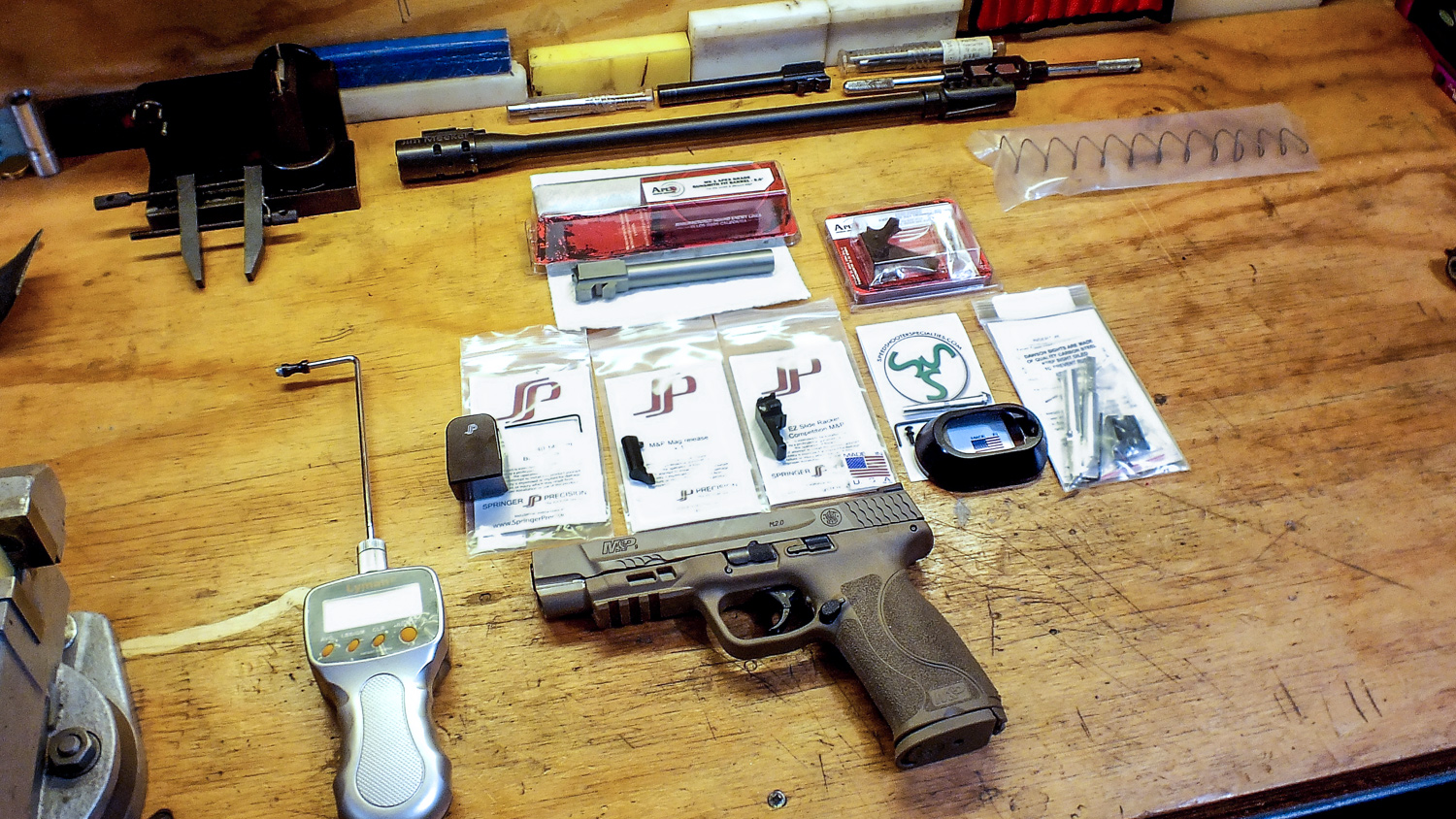 Trigger
While the out-of-the-box M&P is a very good pistol and perfectly adequate for casual competition, self-defense or service, it leaves a lot to be desired as a serious competition gun. The 2.0 trigger is better, both in break and reset than the original design, but is lacking as a competition trigger. The go-to source for M&P triggers is Apex Tactical. Apex provides everything from an enhanced sear to clean up a service level pistol to the Apex flat faced forward set sear and trigger kit, which we chose for this project. Selling for $169.99, it provides a flat surface, a better reset and on our test unit a 3.7-ounce trigger. Lighter pulls are available with the Competition Spring kit that get the break down to around 2 pounds but we chose the standard springs because my 15-year-old grandson, Charlie, will be using this gun in competition and we didn't want to get the trigger too light.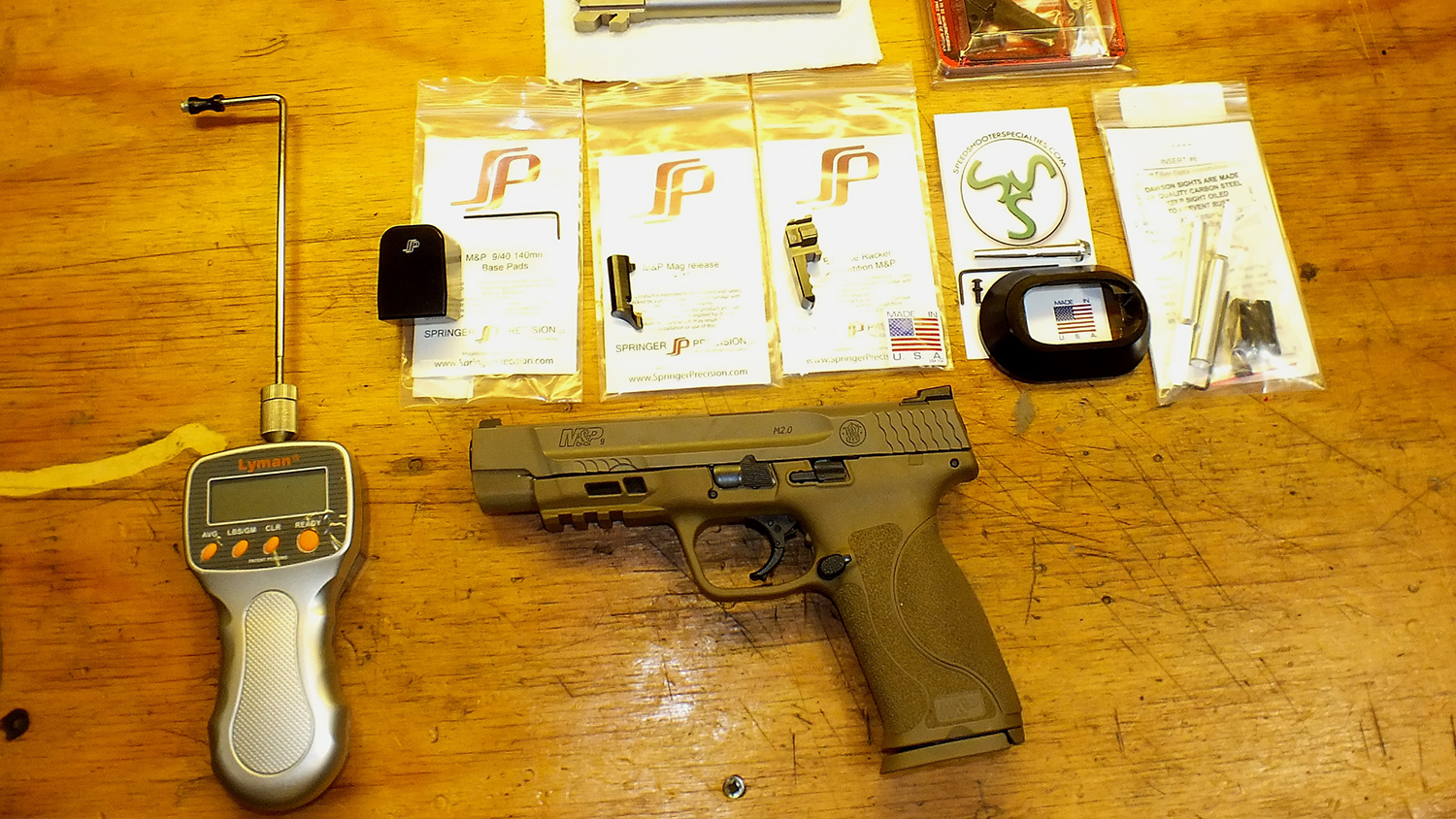 Barrel
While the standard M&P barrel provides reasonable accuracy, a better barrel increases performance on longer shots and we chose the 5-inch gunsmith-fit Apex barrel. Apex provides a drop in barrel option, but since Mike normally fits barrels for best accuracy we used the gunsmith fit version that requires fitting at the forward end in the slide and fitting at the rear locking engagement area. A fitted barrel has the advantage of less movement when in battery, enhancing accuracy. When properly fitted, the barrel should just barely engage when the slide is slowly moved forward.

Magazine release
The stock magazine release is sometimes preferable, but we chose to extend the magazine release to speed up mag changes and make engagement more positive. Depending on the shooter's grip, this could be a detriment because hand shape and grip placement could cause unintentional magazine releases with the longer release surface. We chose the Springer Precision extended magazine release with an MSRP of $37.50. Made from a high-strength alloy and hard coated they match the factory profile per rule 21.6 in the USPSA rulebook. Charlie's hands are slim and we're not worried about him dropping the magazine inadvertently and the extension will make access easier.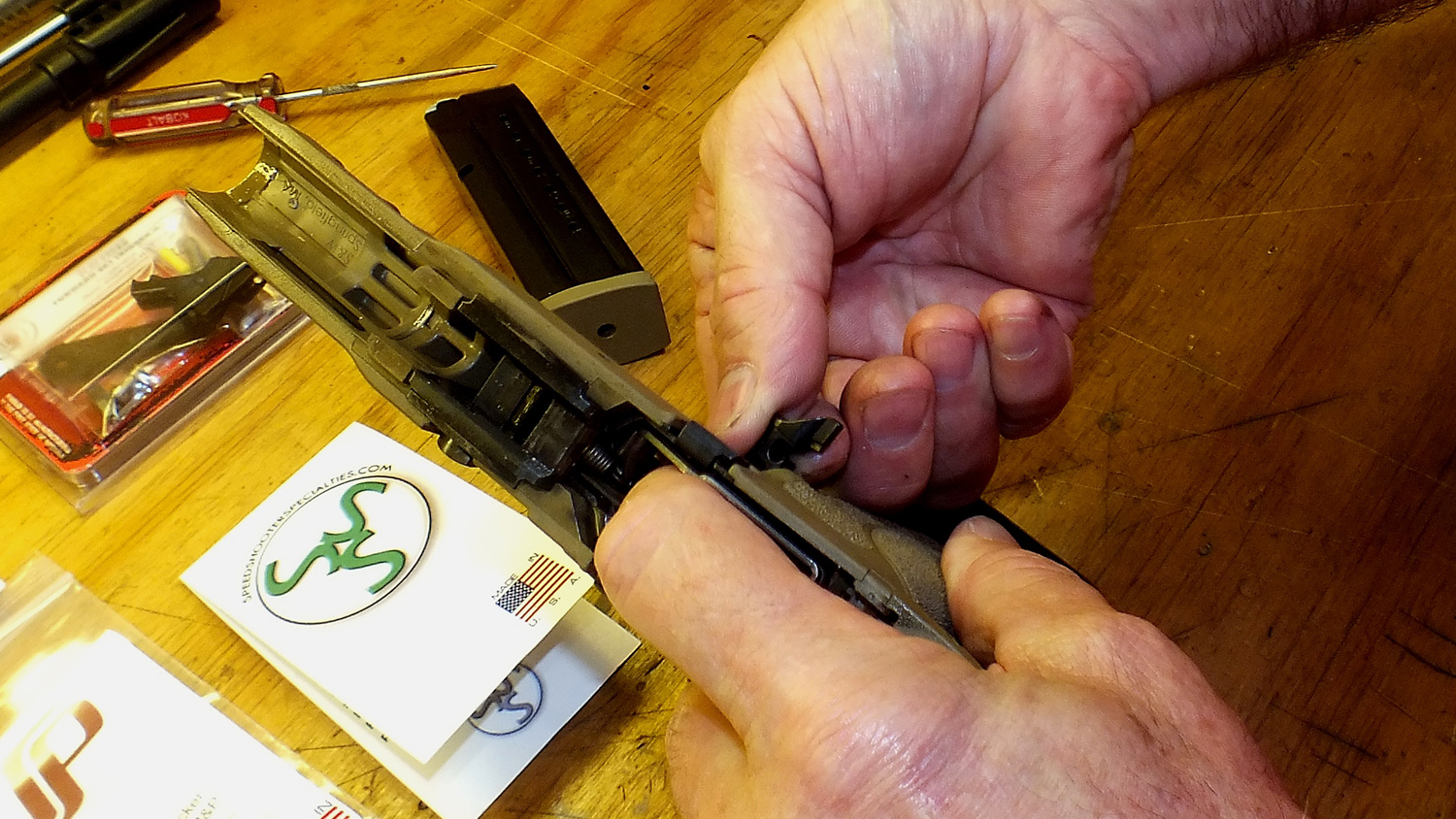 Magazine extensions
We also included extended magazine bases to up the capacity from 17 rounds to 23. The magazine extensions are easy to install on the standard S&W magazines and include the extended magazine spring. The Springer Precision 140mm extended capacity base pads are CNC machined from aluminum and hard anodized for a long service life. The locking mechanism allows solid attachment and they fit the USPSA 140mm magazine gauge. They're also available in 170mm and both sizes sell for $35.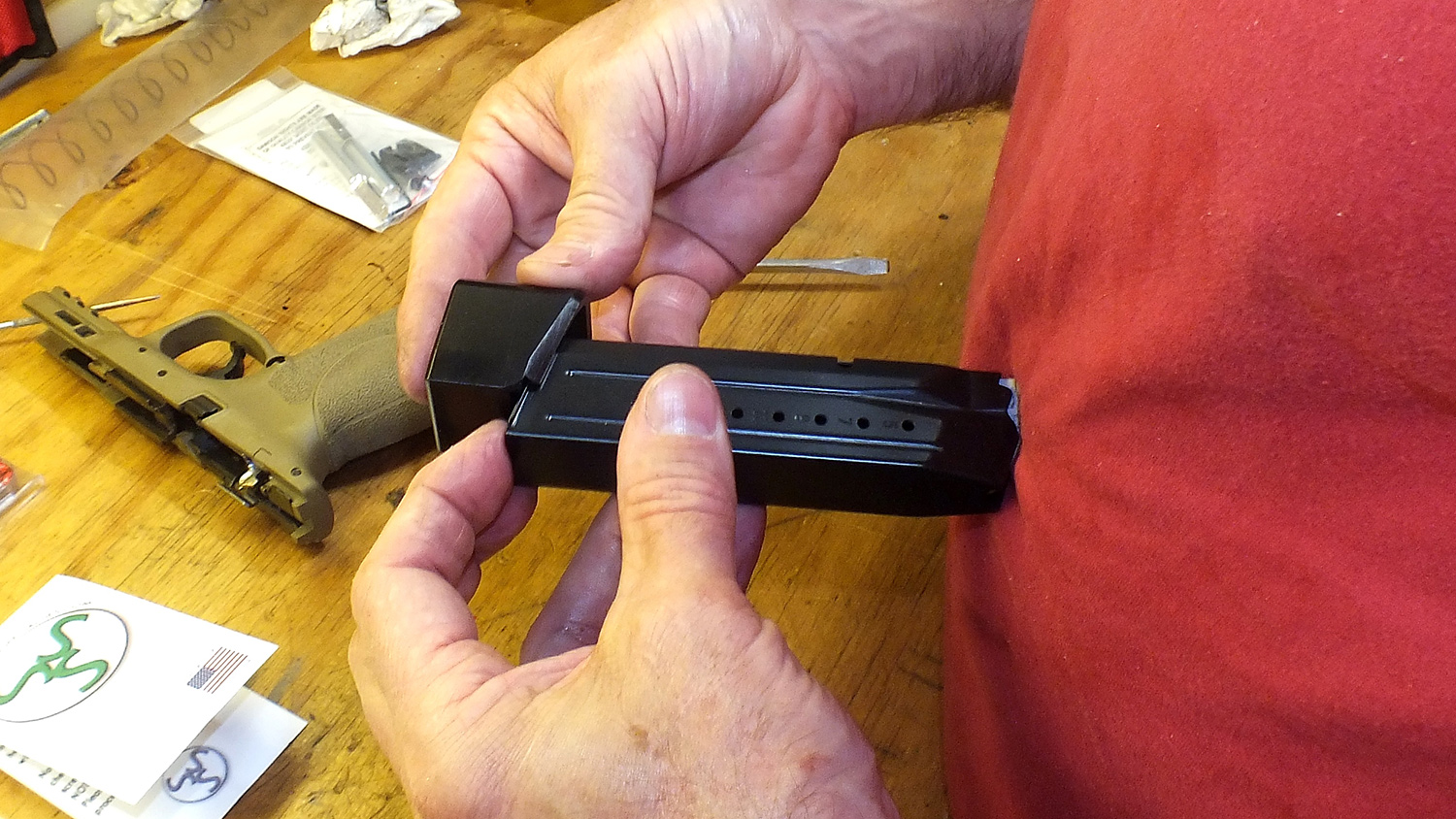 Magazine well
We also chose Springer Precision for the magazine well to make magazine changes faster and aid with hand placement.  It was designed for USPSA Limited and Open class and is CNC machined and anodized. It does require the use of the magazine extensions or a thicker than stock base. MSRP is $57.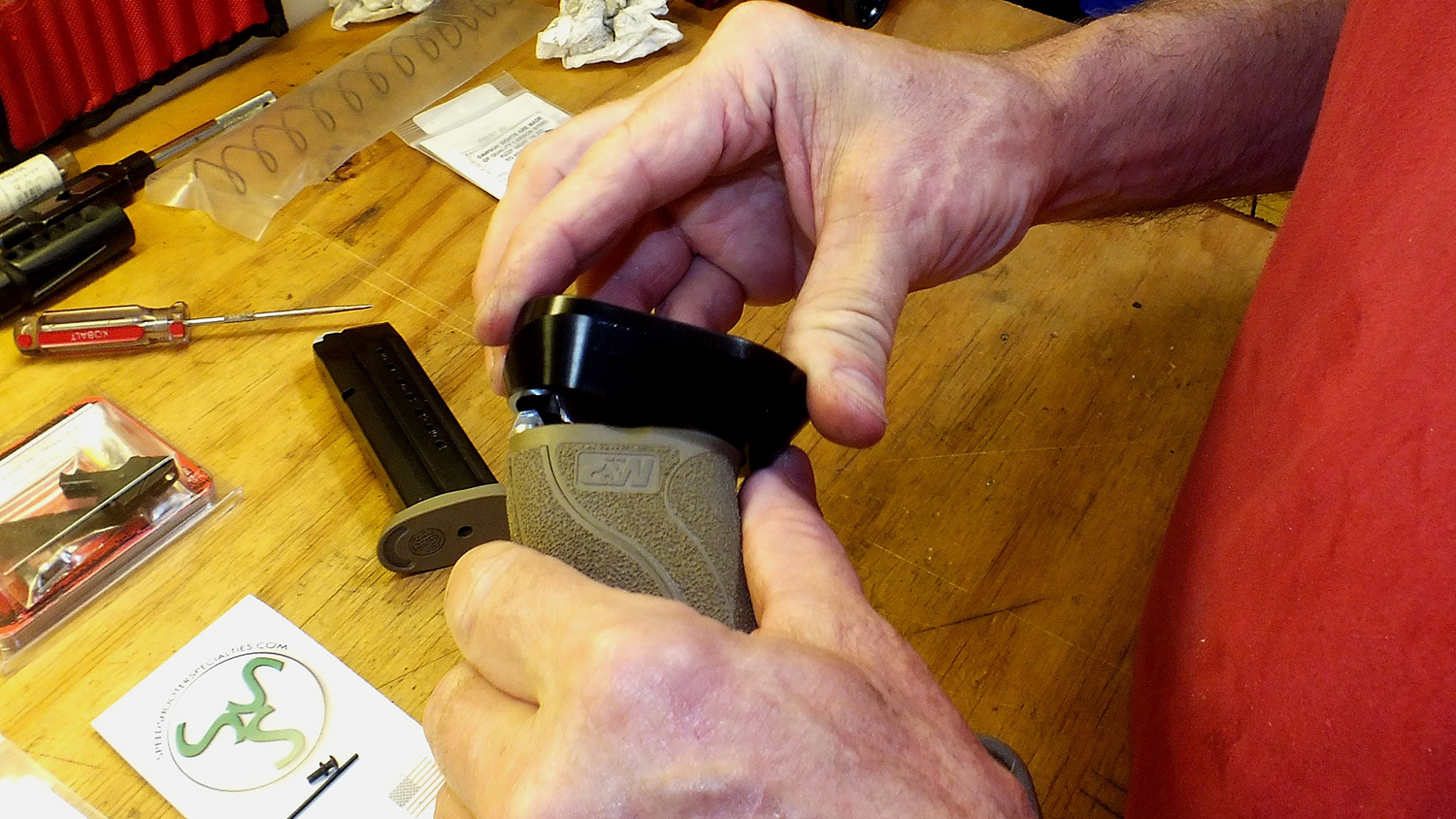 Slide racker
My first experience with a slide racker was on a CZ Checkmate I reviewed and used in the Bianchi Cup. I was amazed at how it simplified operation of the gun. It also aids the shooter in stages where the gun is picked up off the table at the beginning of the stage by lifting the gun more to allow a quicker grip. The Springer Precision competition slide racker is easy to install and MSRPs at $35.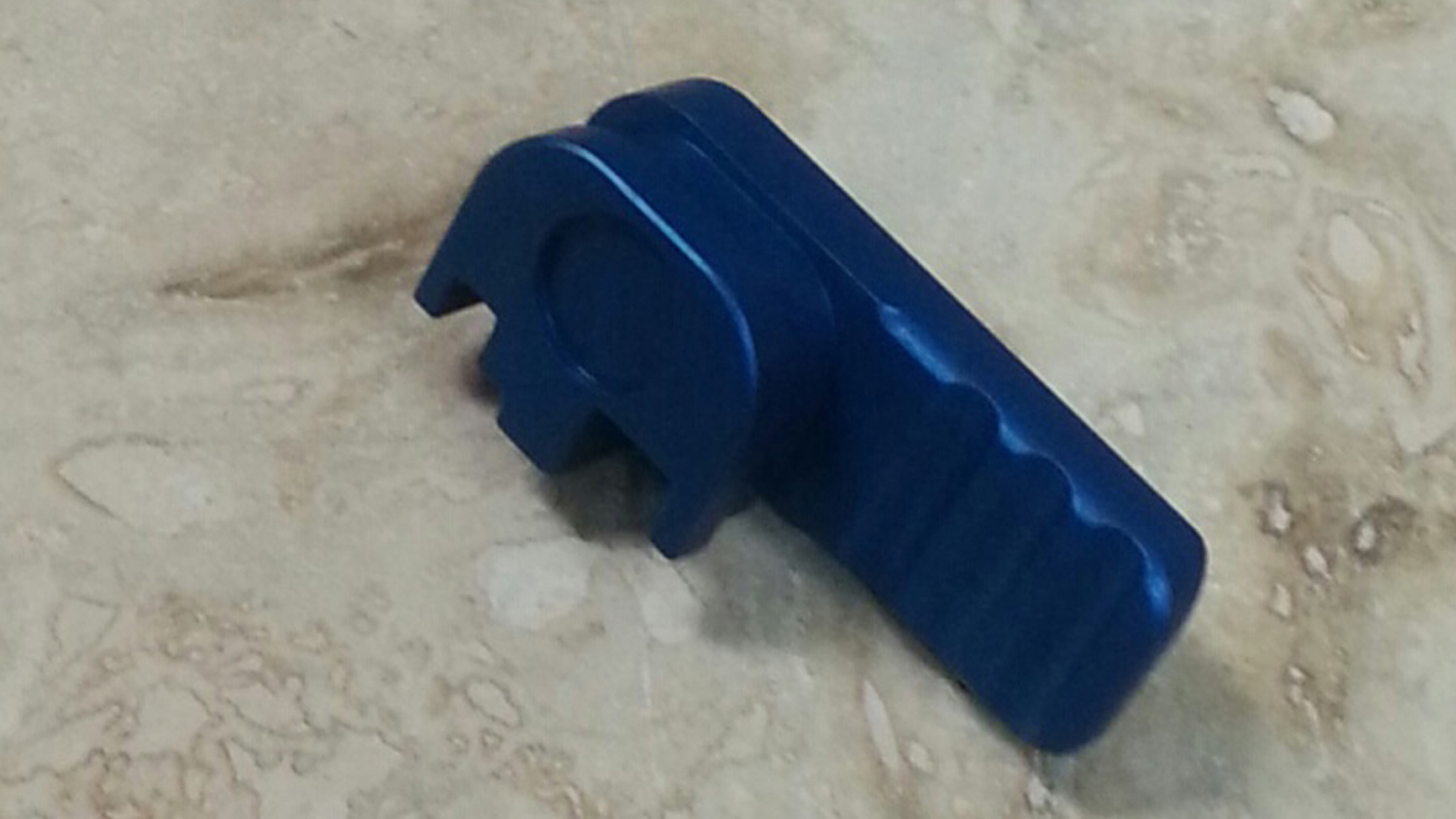 Sights
We chose the Dawson Precision Smith & Wesson M&P Fixed Competition Sight Set with a fiber optic and fixed rear. The fiber optic front sight is easy to pick up and the rear notch is wide enough for fast acquisition and alignment. The sights come with drift punches for installation and have an MSRP of $88.95. A different height front sight is available if needed, but with the front and rear sights centered in the dovetails, my first shot at 18 yards was within ½-inch of center on the very first shot.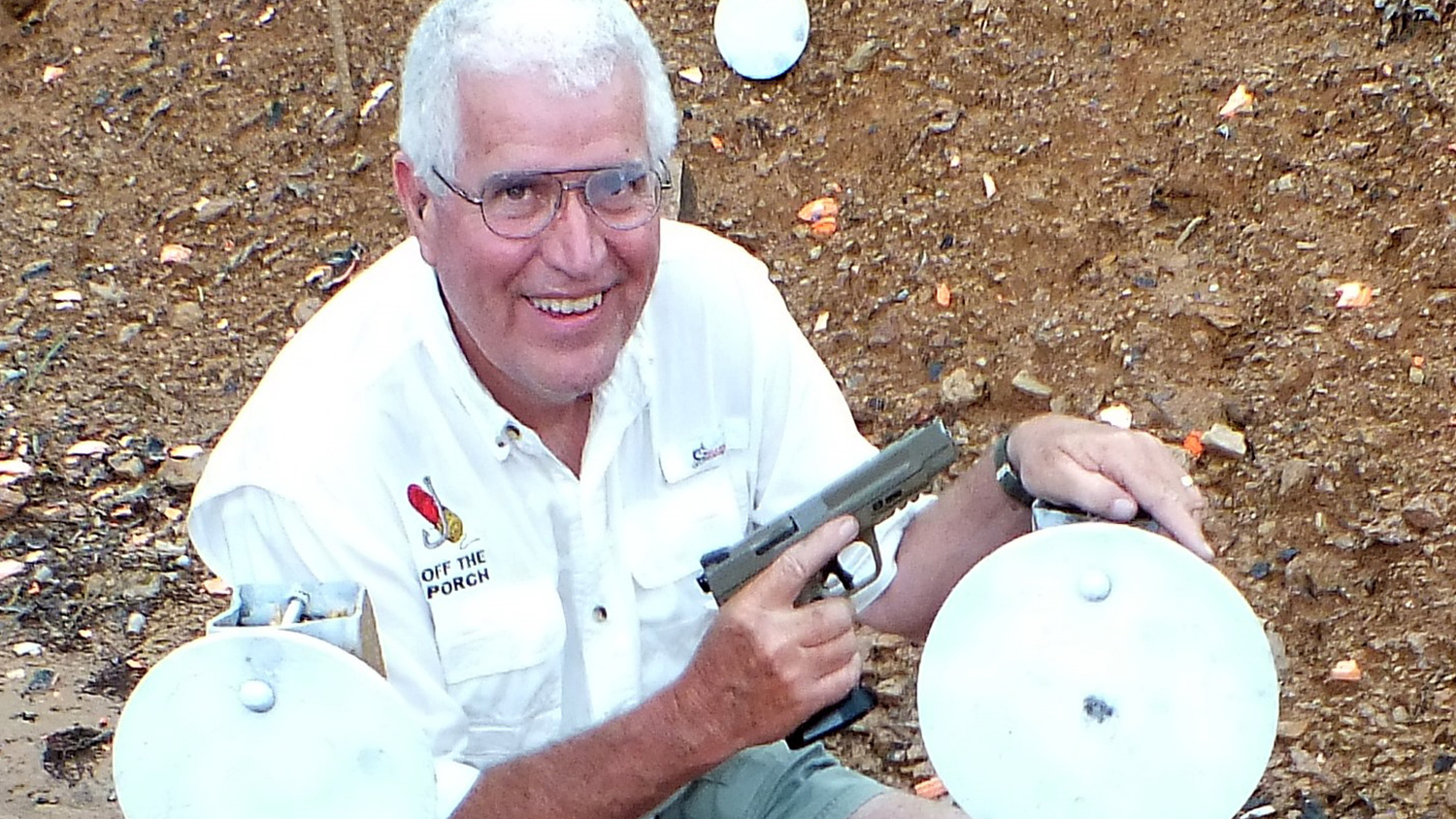 Slide lightening
Mike has found that lightening the slide smooths out the recoil, making follow-up shots faster and thus improving times. He milled a .480 x 1.560 slot in the top of the slide beginning .790 from the front of the slide. He also took two coils off the stock recoil spring to smooth things up during recoil. While this might be beyond the capabilities of the average home gun tinkerer, it's a simple operation for any competent machinist.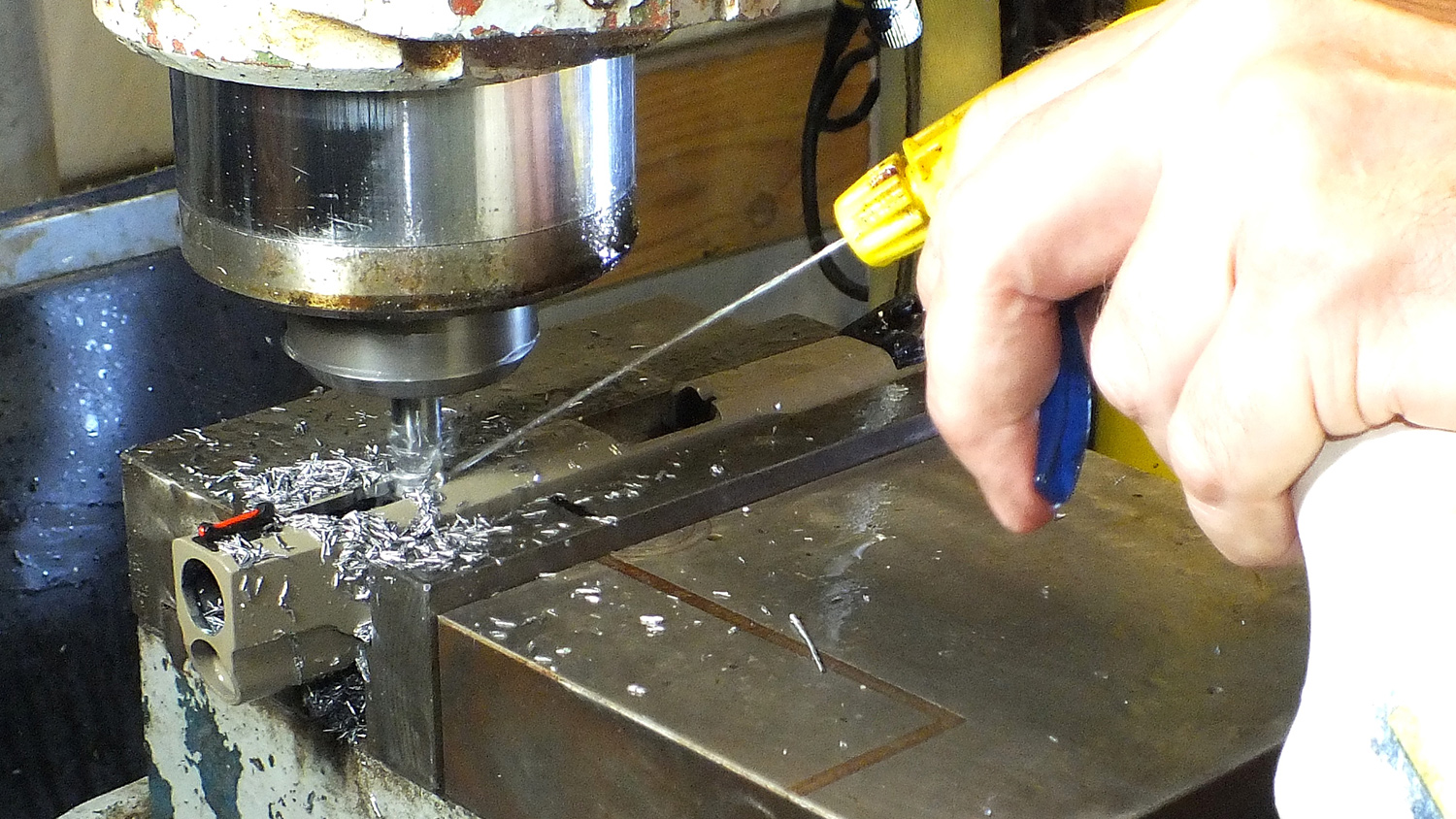 Grip surface
I included this because most polymer pistols used in competition have been extensively roughed up to improve grip traction. We did nothing to the M&P 2.0 because we felt it needed nothing. To my mind, as it comes out of the box, it's as good as a gun that's been roughed up. Smith & Wesson did a great job in this new design. If it doesn't work for you, or if you're thinking of tackling this project with a pre-2.0 gun, there are plenty of videos online showing how to increase grip on polymer pistols, just be careful and patient.
At this point, we had $623.43 in accessories and about four hours total in the project. For competition, we'll buy three more magazine extensions and add a couple to the two that came with the gun.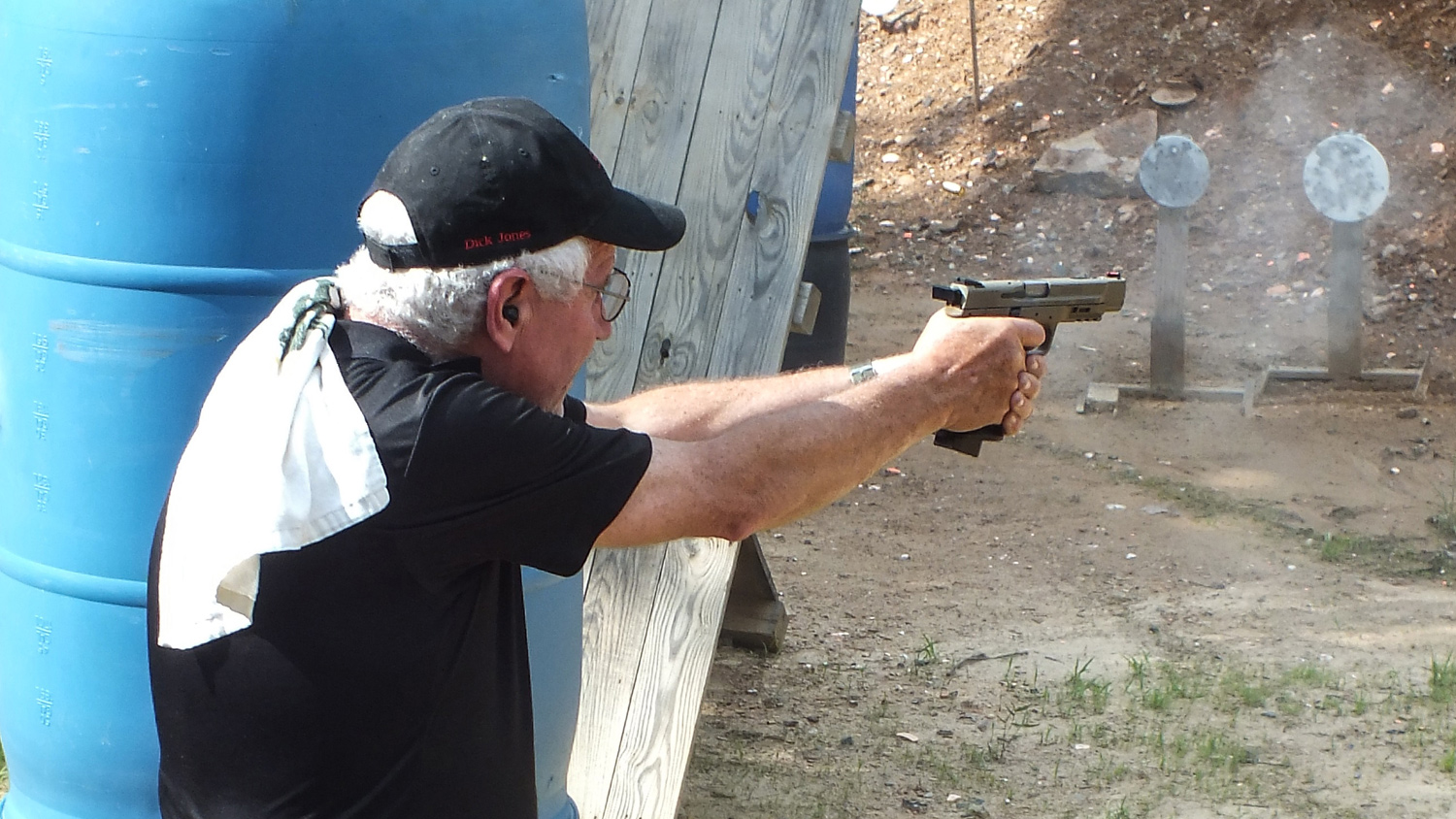 While MSRP on the 5-inch 2.0 FDE M&P is $599, we found it as low as $424 online in today's bargain-rich environment. Assuming the price at a middle of the road $500 for the gun, this puts the price of the gun at under $1,200 for a competitive USPSA or 3-Gun pistol—excluding sweat equity. Even if you're all thumbs and the whole project has to be completed by a gunsmith, it's still a bargain.