Support NRA Shooting Sports USA
DONATE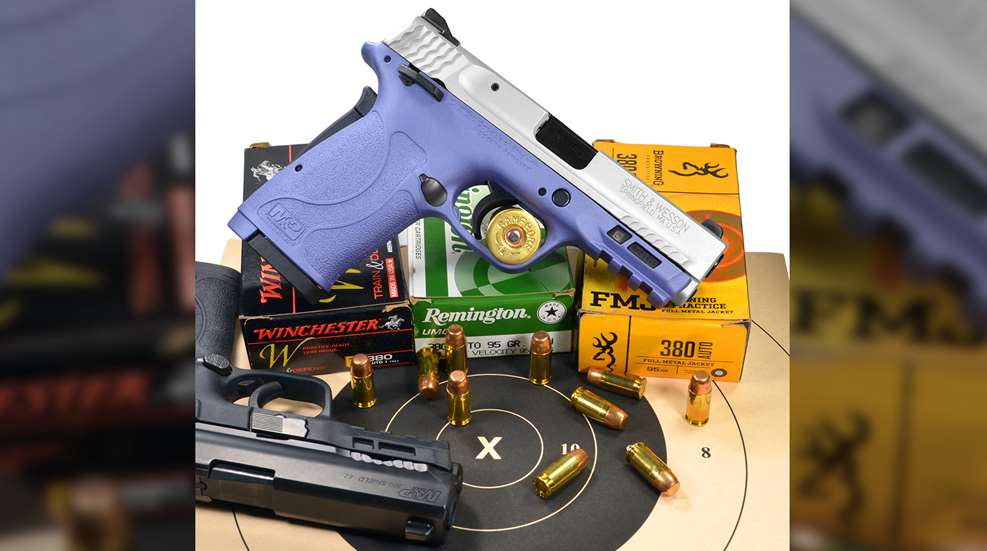 The Smith & Wesson M&P380 Shield EZ may be the perfect gun to teach students how to shoot, handle and operate a semi-automatic pistol. Let's take a closer look.
Size and Weight
Since the M&P380 Shield EZ is a mid-sized pistol, it's not too bulky like a full-sized handgun can be for some shooters. It fits hands of many sizes, including smaller hands of youngsters and women. Yet, it is still big enough for most adults. For example, it's the same height as another common mid-sized pistol, the 9 mm Glock G19, but is 0.66-inch shorter in length.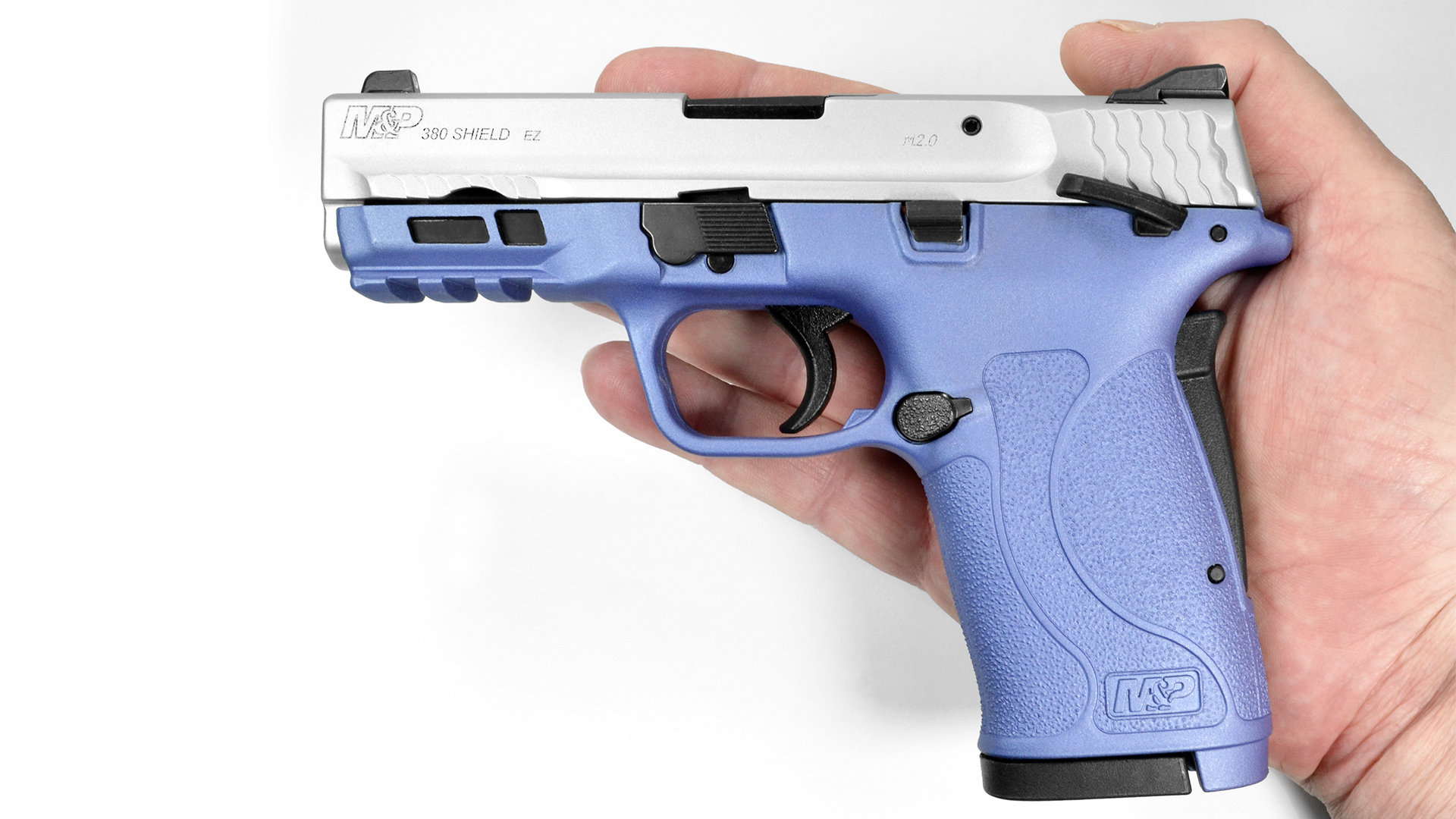 The grip is long enough to allow a three-finger grip for a comfortable, secure hold. I have an average hand size, and though the grip circumference feels diminutive for me, it's not too small. I adapted to it quickly, and don't notice it when shooting.
Heavy guns can feel too heavy to hold with outstretched arms while learning to get a sight picture, or for shooting more than a couple shots. Its light weight (18.5 ounces empty) makes for easy management.
Sights
The M&P380 Shield EZ's sights are just the right size—presenting an excellent sight picture as good as on full-sized guns. They are tall enough to make them visible and easy to pick-up, unlike sights on other guns of this size, and many smaller guns which are so small, they can be difficult to see and align. The rear sight is not so big that it blocks out the area around the target like a wider sight does. The rear sight has a 0.125-inch deep cut which makes seeing the front sight easy. It's the same depth as on Smith & Wesson's full-size M&P series pistols.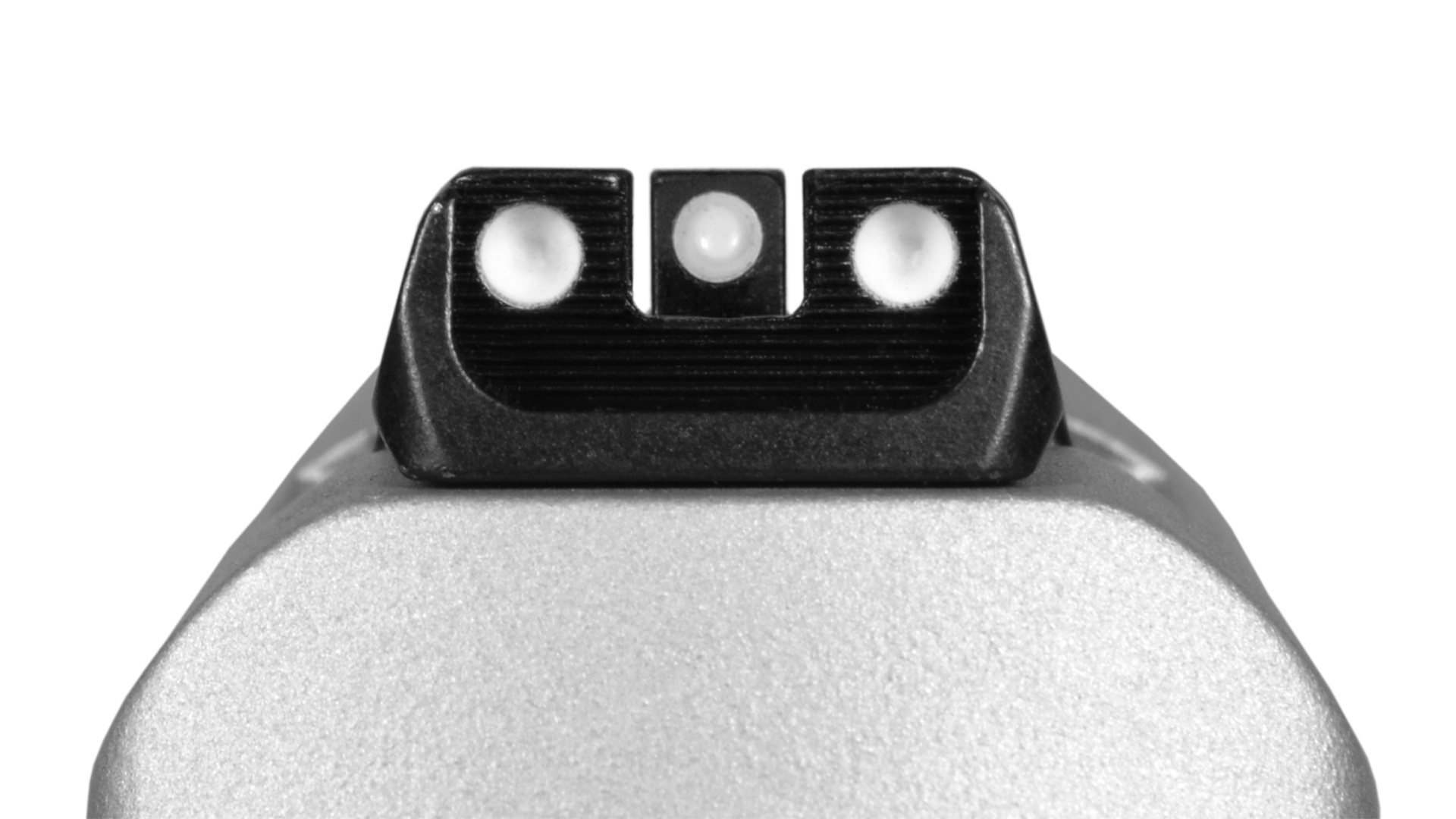 Safeties
The M&P380 Shield EZ has two safeties that must be disengaged for the gun to fire. First is the grip safety, which has the added benefit of teaching shooters to have a solid grip on the gun to help control recoil.
The second safety is the thumb safety, though this is optional for the EZ series. But, a thumb safety is common on many semi-automatic pistols, so having it on your "teaching gun" can be useful to instruct new shooters of a mechanical thing that has to be consciously disengaged before the gun will fire. Additionally, the M&P380 Shield EZ's thumb safety is ambidextrous, so it does not discriminate against southpaws. A bonus feature is the safety can be engaged but still permit the slide to be manipulated, allowing you to charge the gun without disengaging the safety.
Another safety feature is the loaded chamber indicator on the top of the slide, allowing you to see and feel if there is a round in the chamber.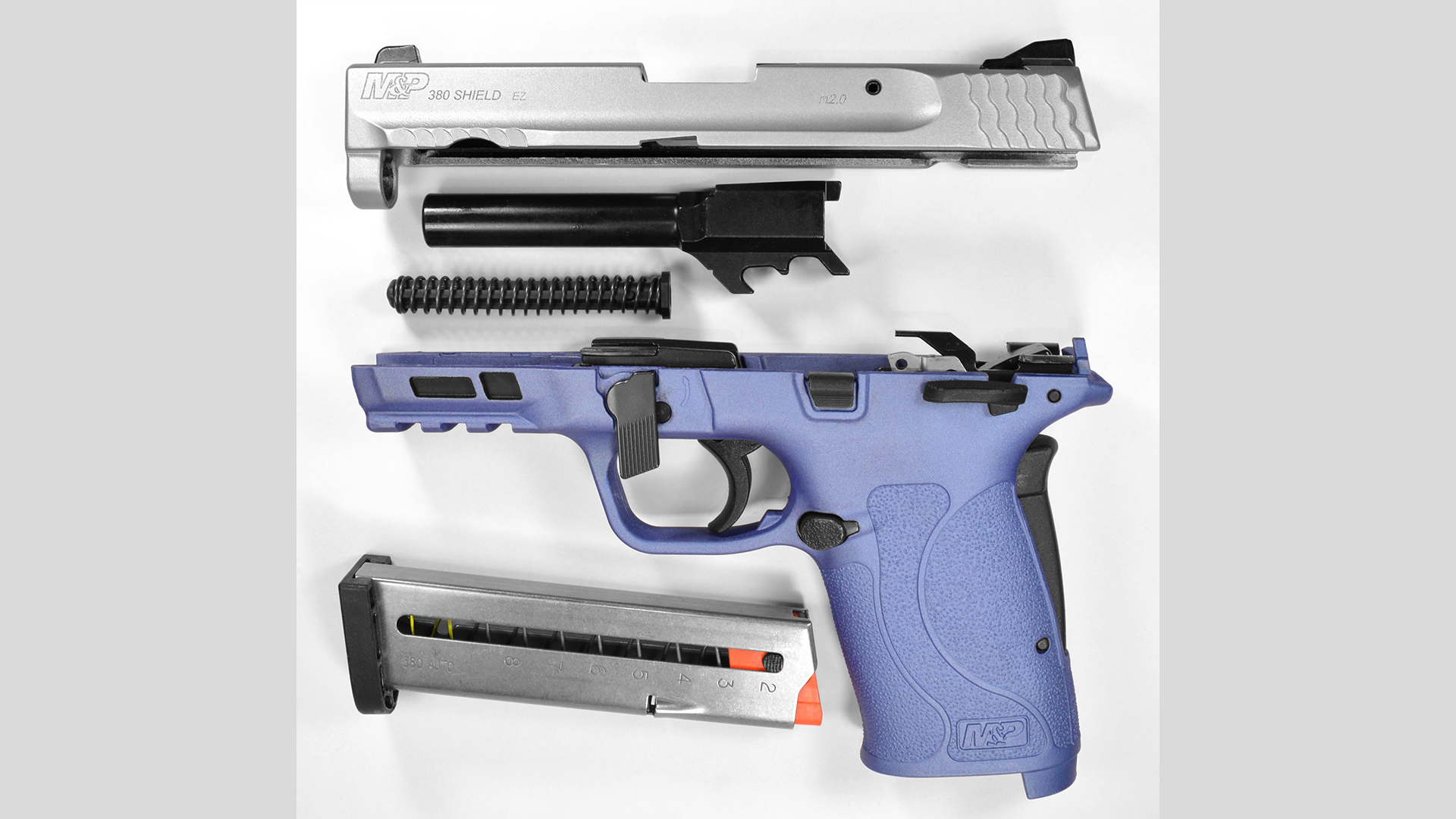 Trigger Pull
M&P380 Shield EZ pistols are hammer-fired with a single-action trigger pull, which is easier to manage and feels crisper than triggers on many striker-fired guns. This makes it easier to learn trigger control.
Ergonomics
How a handgun fits the hand and its natural pointability are super-important. The M&P380 Shield EZ excels here. It has a comfortable ergonomic feel to the hand, and an 18-degree grip angle that suits most people. As a result, the gun appears to naturally point at the target—there is no need to adjust the wrist to an uncomfortable (or unnatural) angle to align the sights on target.
The M&P380 Shield EZ has a grip texture that allows for a positive grip, helping manage control of the gun under recoil without being too aggressive, which can be uncomfortable to hold.
Caliber and Recoil
Many instructors will argue that the .22 rimfire is the best caliber for teaching, in large part because it has low recoil. While I agree, that doesn't mean a larger caliber can't be as good as long as it has low recoil, too. Recoil is the enemy of shooters, because it can cause a person to develop a flinch, an automatic reflex caused by anticipating recoil. Low-recoil guns drastically reduce the chance of developing a flinch. This is the reason why a .38 Spl. is often used for teaching revolver shooters, and in particular with mild wadcutter target rounds.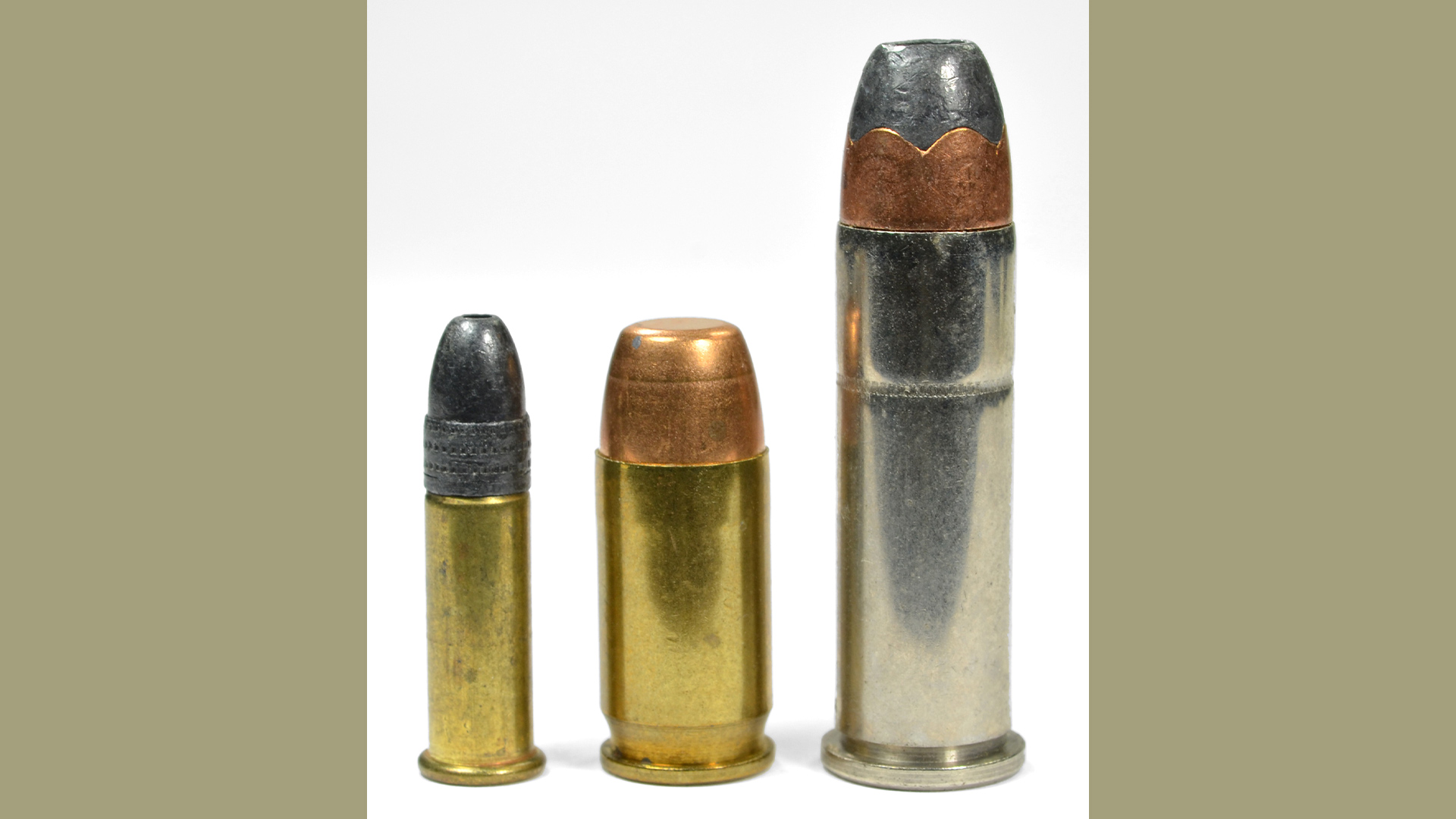 Because the M&P380 Shield EZ is a locked-breech design, it does not have a harsh recoil such as blowback .380-caliber pistols, e.g., the Walther PP series or Beretta Cheetah Models 84/85. These blowback guns have a distinctive bite when fired.
I was delighted after my first trip to the range with the Smith & Wesson M&P380 Shield EZ. What a pleasant gun to shoot. Recoil was much lighter than my M&P 9 mm series pistols and my Beretta Model 84 .380. Light recoil means the shooter can concentrate on sight alignment and trigger pull—without fearing the recoil.
As the name implies, the Smith & Wesson M&P380 Shield EZ pistol is easy to rack the slide compared to most semi-automatic centerfire guns, which means people with low hand strength can still operate it. The gun is also easy to disassemble for cleaning, helpful for students to gain familiarity with how guns are designed and function. Plus, the magazine is easy to load, without needing special tools to aid compressing a strong magazine spring. It's one gun that lives up to its name.
MSRP is $454. Smith & Wesson's M&P380 Shield EZ checks all the boxes for a perfect pistol to introduce students to the world of shooting. This mid-sized pistol boasts a comfortable feel, excellent sights, low recoil for a centerfire cartridge, multiple safety features and is easy to operate. It has everything a teaching gun needs. Learn more at smith-wesson.com.