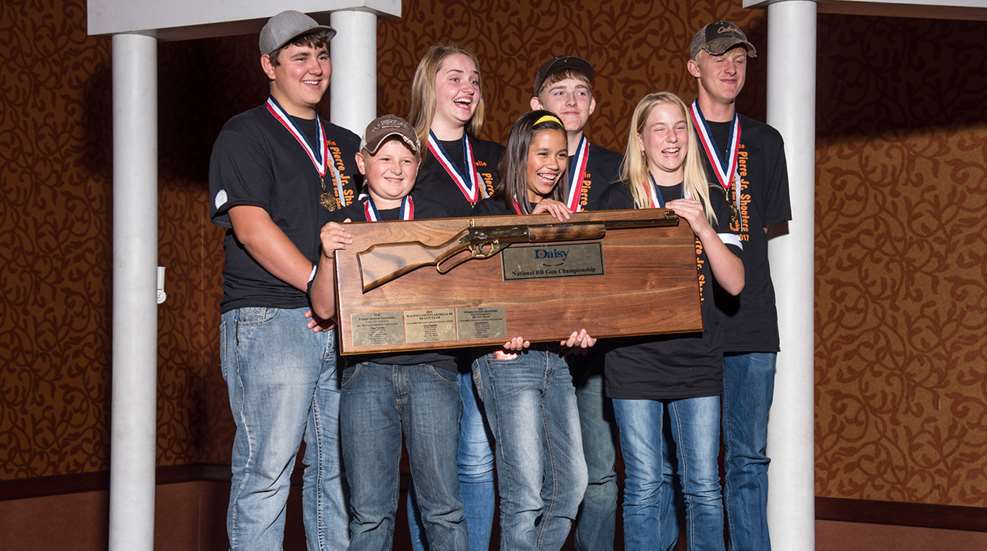 At the conclusion of the 2017 Daisy National BB Gun Championship, it was the team from Pierre, SD, that took the stage to accept gold medals and the traveling first place trophy in front of the largest crowd ever at the event. The Pierre Junior Shooters, coached by Jonathan Hays, are the 52nd gold medal winners at the most prestigious 5-meter BB Gun match in the world.

The team, which includes the 2017 Individual Aggregate gold medalist Justin Merriman, amassed a score of 2,383-85X. Merriman scored 489-27X. Team members were Jenna Kruger, Austin Lesmann, Natalie Mohr and Rylie Stoeser.

The Daisy National BB Gun Championship is held annually at the John Q. Hammons Convention Center is Rogers, AR, and brings together the best BB Gun shooters ages 8-15 from across the nation. Teams must qualify for the event by coming in first, second or third in a state match.

This year's match was conducted June 30 - July 3, and featured 71 teams, along with 3,000 shooters, former champions, coaches and parents to Northwest Arkansas. Teams came from as far away as Georgia, Oregon and Virginia. As always, the 52nd annual event featured plenty of fun, action and emotion beyond the shooting competition. The Barter Bar, where competitors bring items representing their states (which can include everything from homemade crafts and wildlife-related items, to cans of "Potted Possum" meat and professional sports jerseys) to swap with other participants.

Other events included the Parade of Teams, where each team wears costumes or coordinated clothing. Highlights from this year's parade include the complete cast of SpongeBob SquarePants, and additionally a Black Ops team. The match also features a Painted Gun contest. Each competitor in the main event and the champions match must shoot the Daisy 499B Champion BB Gun—decorating it any way they choose.

In a touching moment, former Individual Aggregate Champion and Olympic shooter Lydia Paterson presented an honor plaque to her coach and father, Ron Paterson, who is retiring from coaching. Just moments later, Lydia herself was inducted into the Daisy Hall of Fame, an honor that goes to those who have positively influenced the shooting sports and the Daisy Nationals.

For more information on the event and instructions on how to create a team to compete at this match, please go to www.daisy.com.