by
Chris Christian, Field Editor
posted on April 24, 2019
Support NRA Shooting Sports USA
DONATE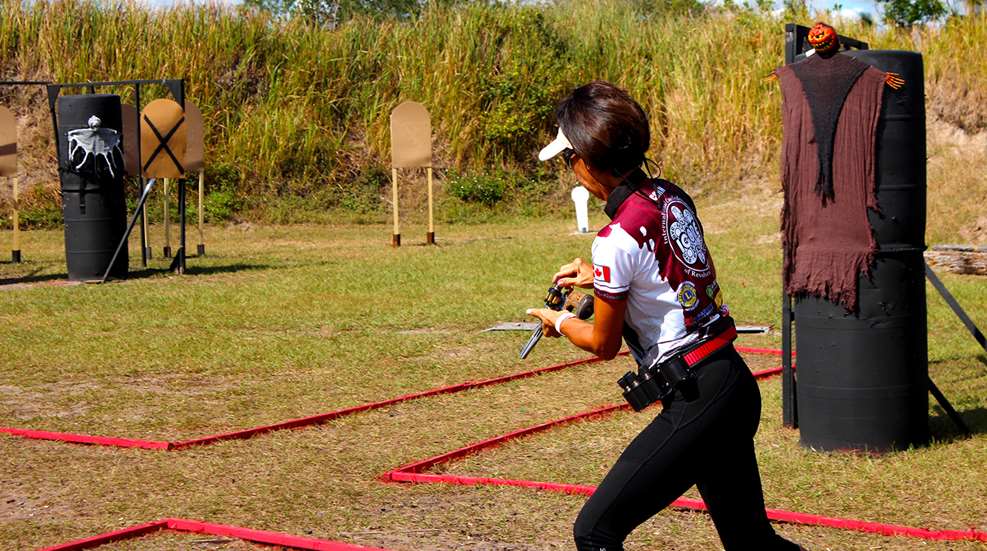 There's a common phrase in the business world, "Time is money." It's true. And it makes little difference whether the task is manufacturing widgets, flipping burgers or paving a road. The longer it takes to complete the task, the higher the labor costs and the lower the profit.

That philosophy certainly applies to action shooting.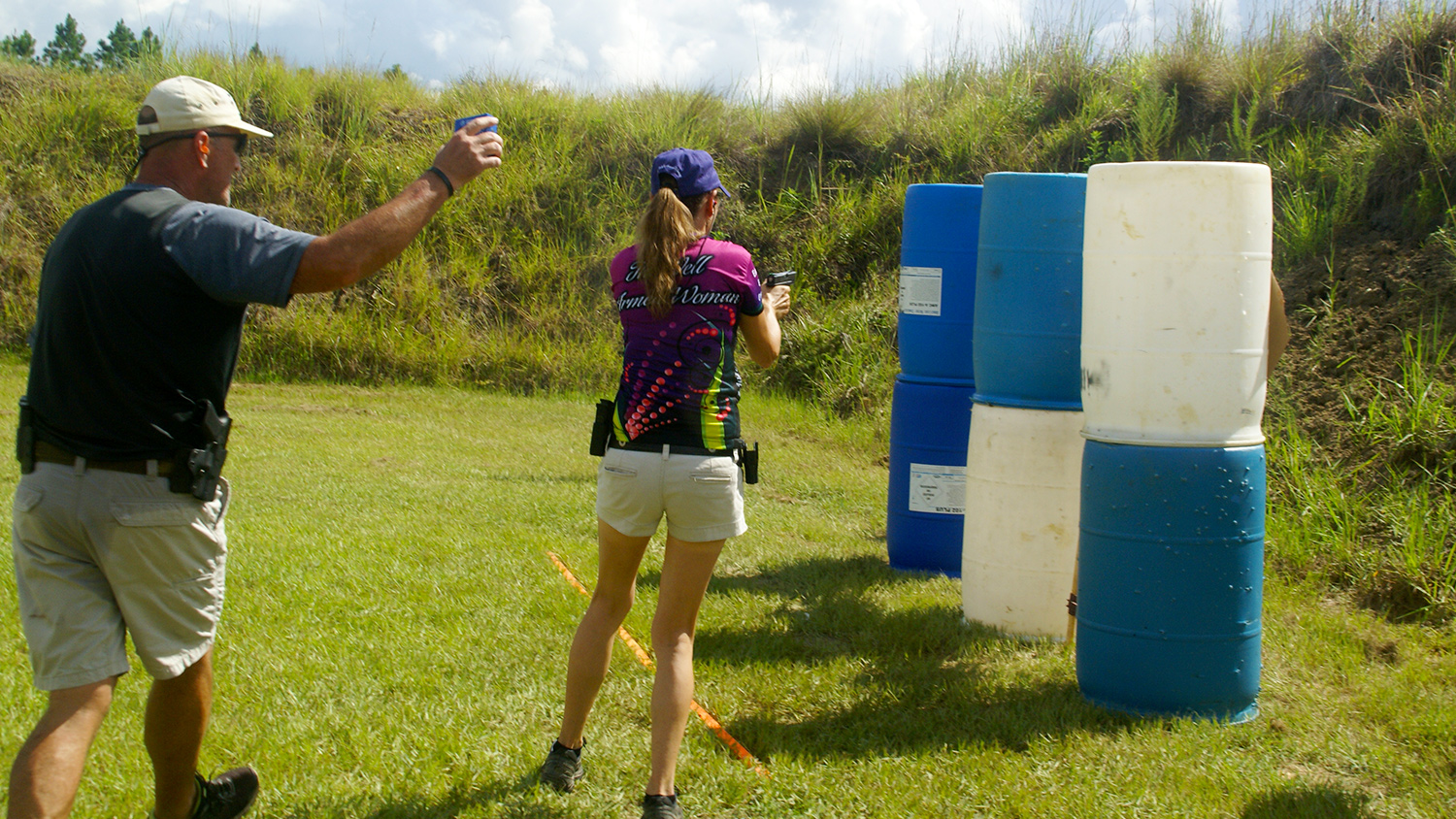 The BEEP starts the clock starts ticking at .01 intervals and the number of "ticks" is a significant portion of a shooter's score. The more efficient the shooter is in managing their time, the more "profit" they will reap in their score. Savvy shooters look to shave seconds from their time by economizing their motions, and there are a number of relatively simple ways to do that.

Shooters in USPSA, IDPA, ICORE (and even one stage in Steel Challenge) will be required to move from one shooting position to another, and continue shooting a new target array. Inexperienced shooters will often fire their last shot at the position, drop their gun to waist level, run to the next, then raise the gun, find the target, find the sights and start shooting.

Experienced shooters don't drop the gun. They keep it up, and in the shooting position as they move. When they hit their next position the gun is up, in their field of view, and ready to shoot. This can save over a second (or more) in breaking the first shot. That can be over three seconds for a stage requiring three new shooting positions. Multiply that by four or five stages in a match, and the time factor gets big! It takes no more effort to run with the gun up instead of down, and "Time is money."

The same theory applies to reloading a semi-automatic. Why drop the gun to the waist to reload and then have to bring it back up, find it and the targets? With the gun in the shooting position it's a simple matter to eject the mag, roll the magwell inward, slap in a new mag and go. The time savings aren't as significant—but split seconds add up.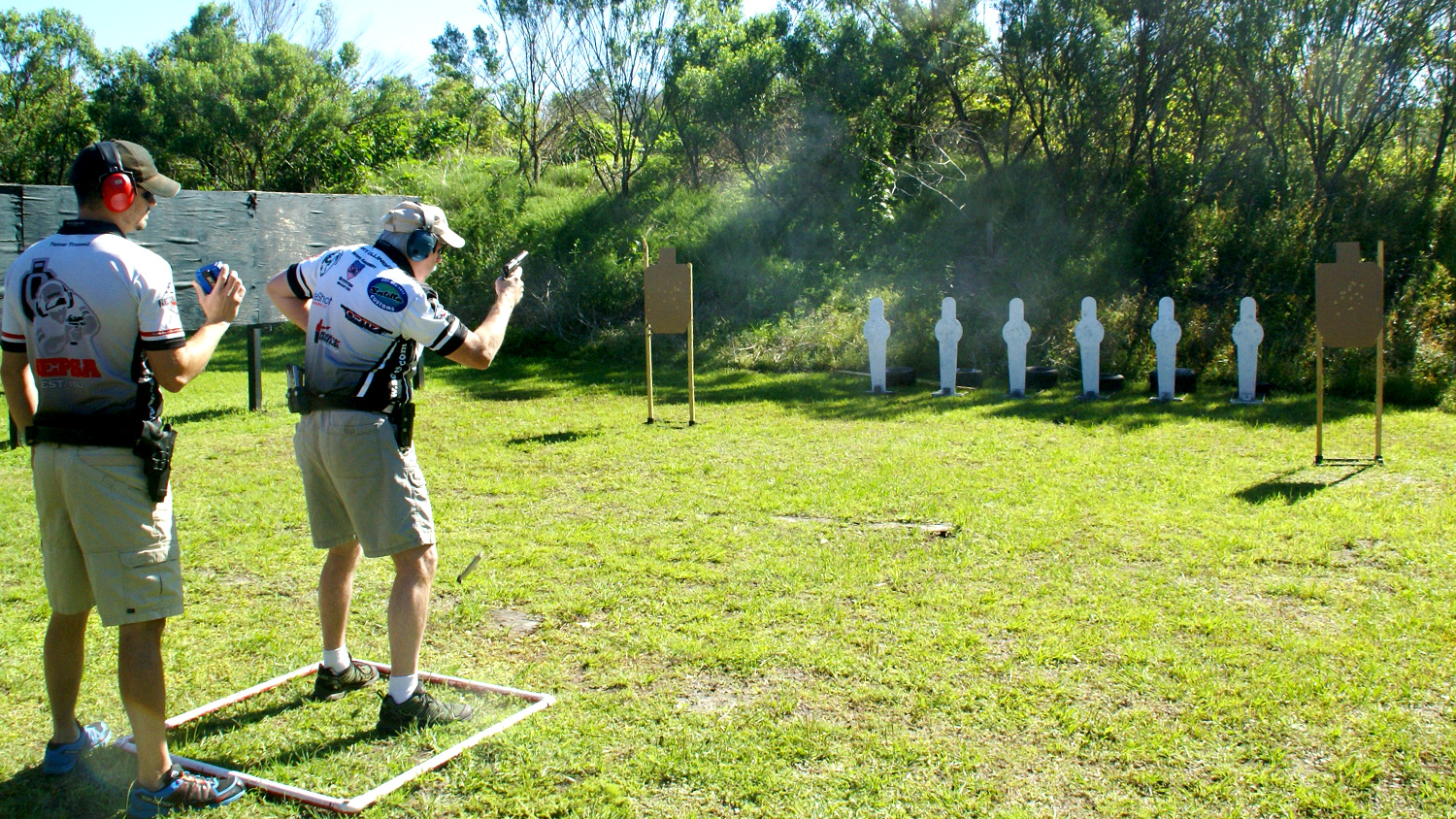 Both of these techniques are worth practicing. Other time-saving measures require some basic math skills.

A major "time killer" for shooters is arriving at a new shooting position without enough rounds in their gun to complete that target array. This results in the dreaded "flat-footed reload" that every experienced shooter will walk through fire to avoid! It's a negative factor. But all it takes to avoid it is proper stage planning. The key is to do your reloads as you move between shooting positions. You have to take the time of move there anyway. Why not maximize that time by performing multiple tasks?

USPSA and ICORE make this easy because they have no penalties for dropping live rounds on the ground. A shooter can dump a partially expended magazine, or revolver cylinder, and be fully-loaded at the next position.

IDPA is not that charitable. Dropping live rounds on the ground will incur one or more penalties. The only allowable reload is an empty gun (slide lock in in semi-automatics) or a Reload With Retention (RWR), where extracted live rounds must be stored on the body. Sometimes the RWR makes sense. Often though, doing the math and figuring out where to take the time to fire an extra round or two can make this time well spent.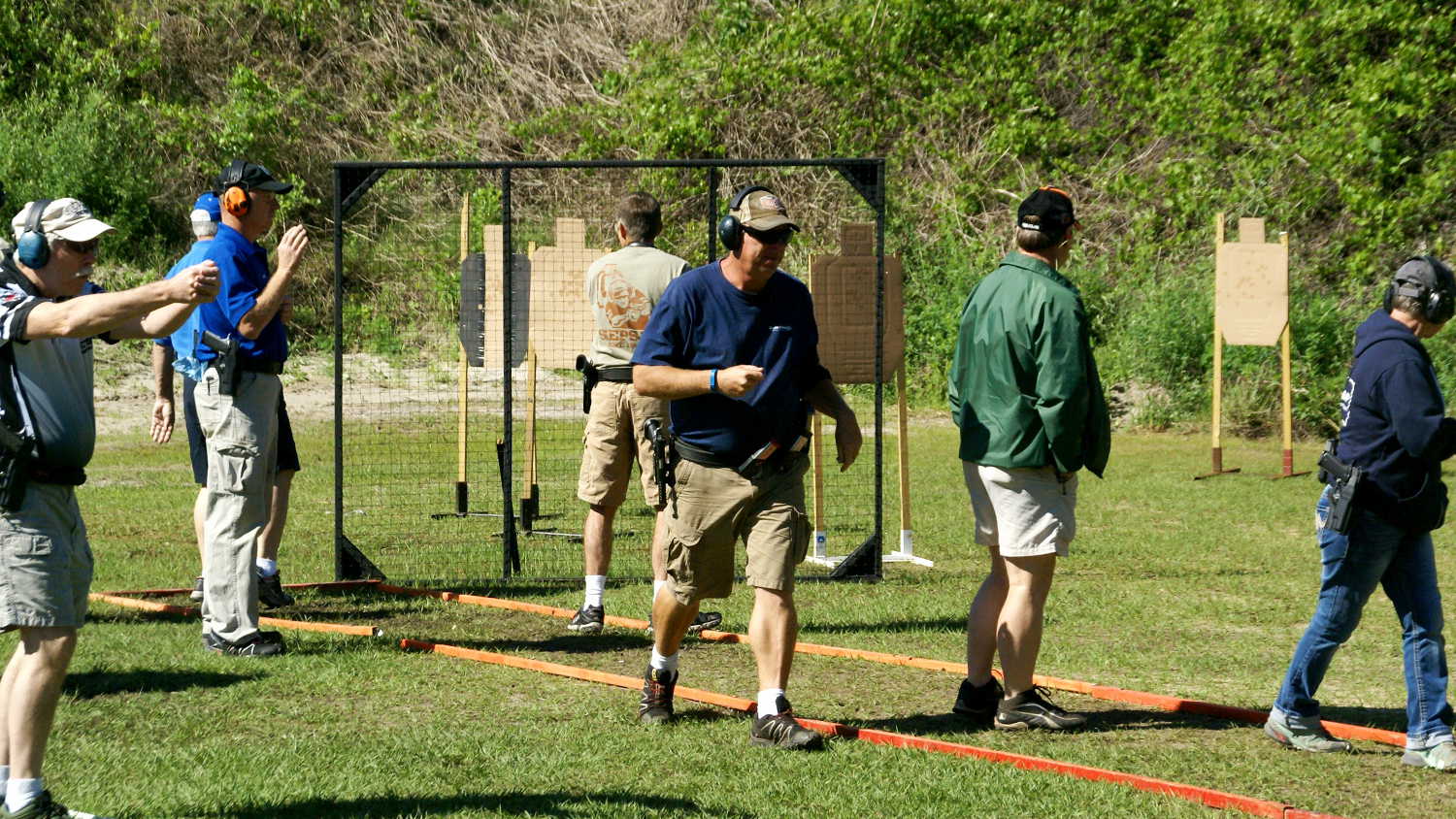 A recent IDPA stage I shot is an excellent example.

Shooters started behind a barricade with a port, and engaged two targets through the port. They then ran five-yards to another port and engaged one target. Then they ran laterally for about 12 yards and engaged two more targets on the move. That's five targets with two scoring hits required for each (10 rounds). The last stop, about 12 feet beyond the last moving/shoot target, required going prone and shooting one target with six rounds. That's 16-round minimum, and no IDPA gun allows a 16-round start. A reload was obviously required. But the COF was unlimited, allowing as many rounds per target as the shooter desired. Some shooters did the math.

I was shooting SSP (10+1, same as ESP and CO) and fired two rounds each into the first three targets, three rounds into the first move/shoot, two rounds into the second, 11 rounds out, slide lock and I had 12 feet to reload on the move to hit prone with a fully-loaded gun. The savvy shooters with 8+1 guns (CDP, CCP) shot two, two, two, three on the first move/shoot, slide lock reload, two on the last and hit prone with six rounds. Experienced revolver shooters ran two, two, two, reload; three, three, reload; and arrived at prone with six rounds.

Those that failed Math 101 gave new meaning to the term "flat-footed reload" as they rolled frantically on their belly trying to get a magazine or speedloader into the gun to finish the COF.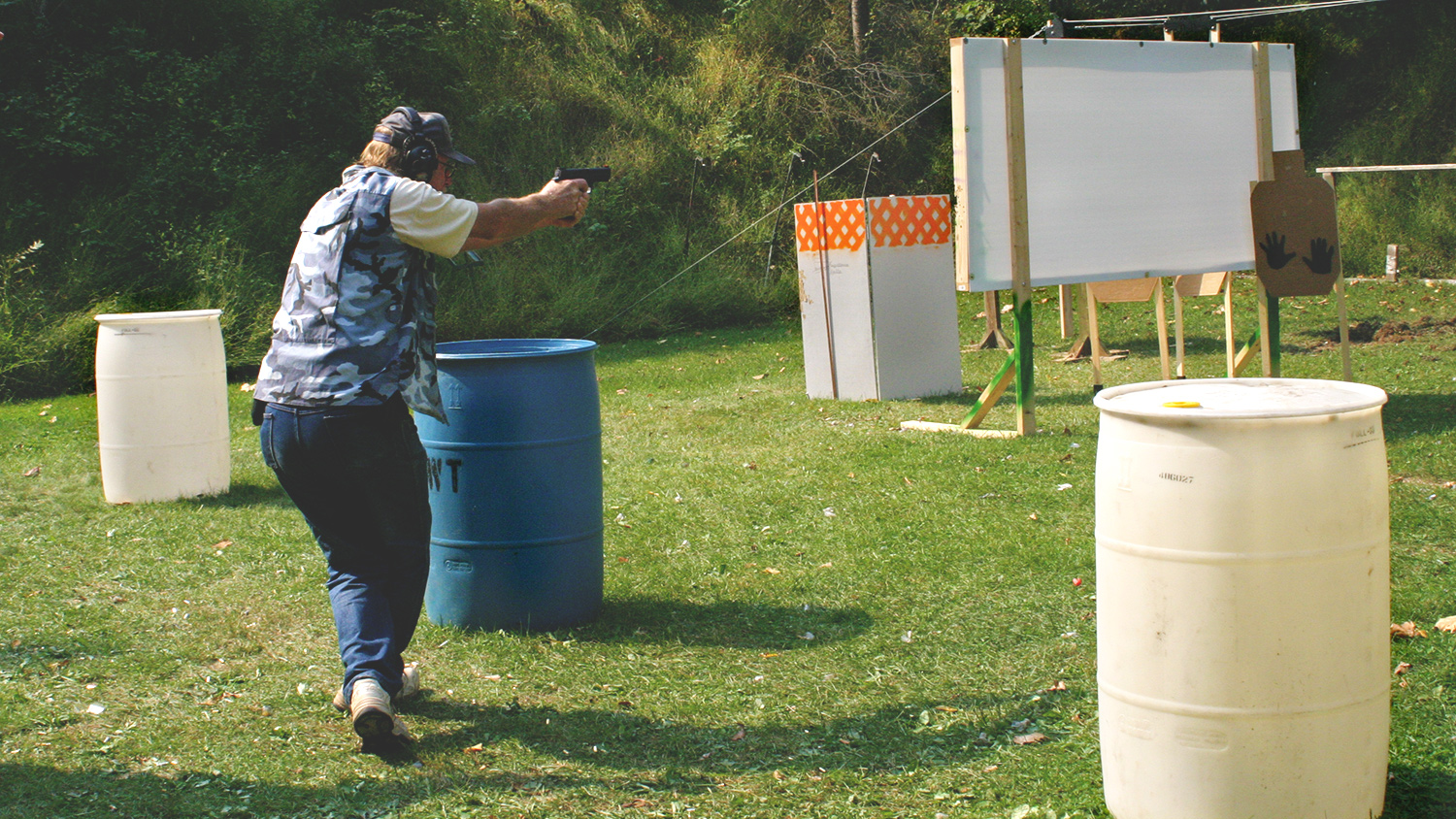 Time is money. Spending it wisely on the clock can boost an action shooter's "profits."
---
More action shooting articles by Shooting Sports USA Field Editor Chris Christian: