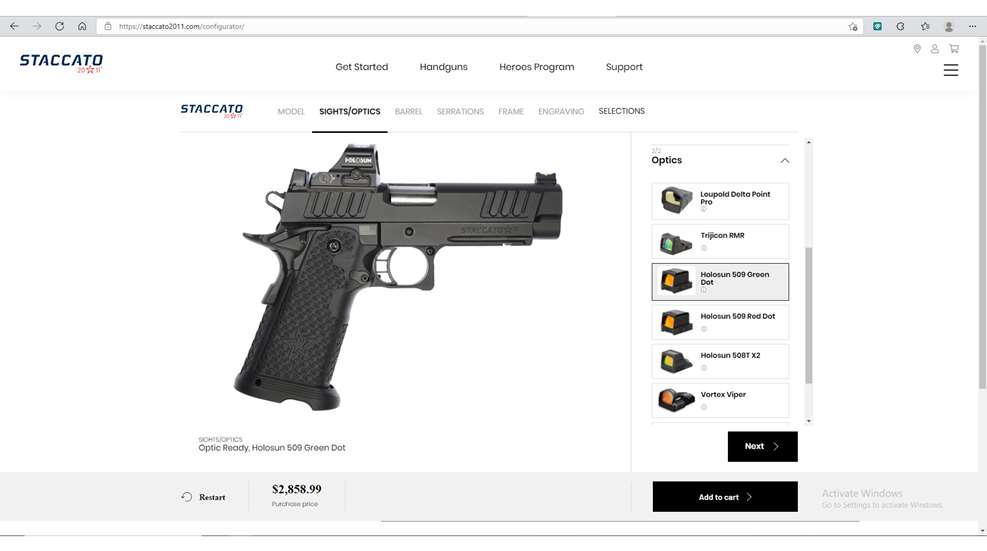 Staccato's new online gun configurator stood out this year at SHOT Show 2022, where the company had the system on display at its booth. It's impressive to see, and you can check it out for yourself right now at the Staccato website.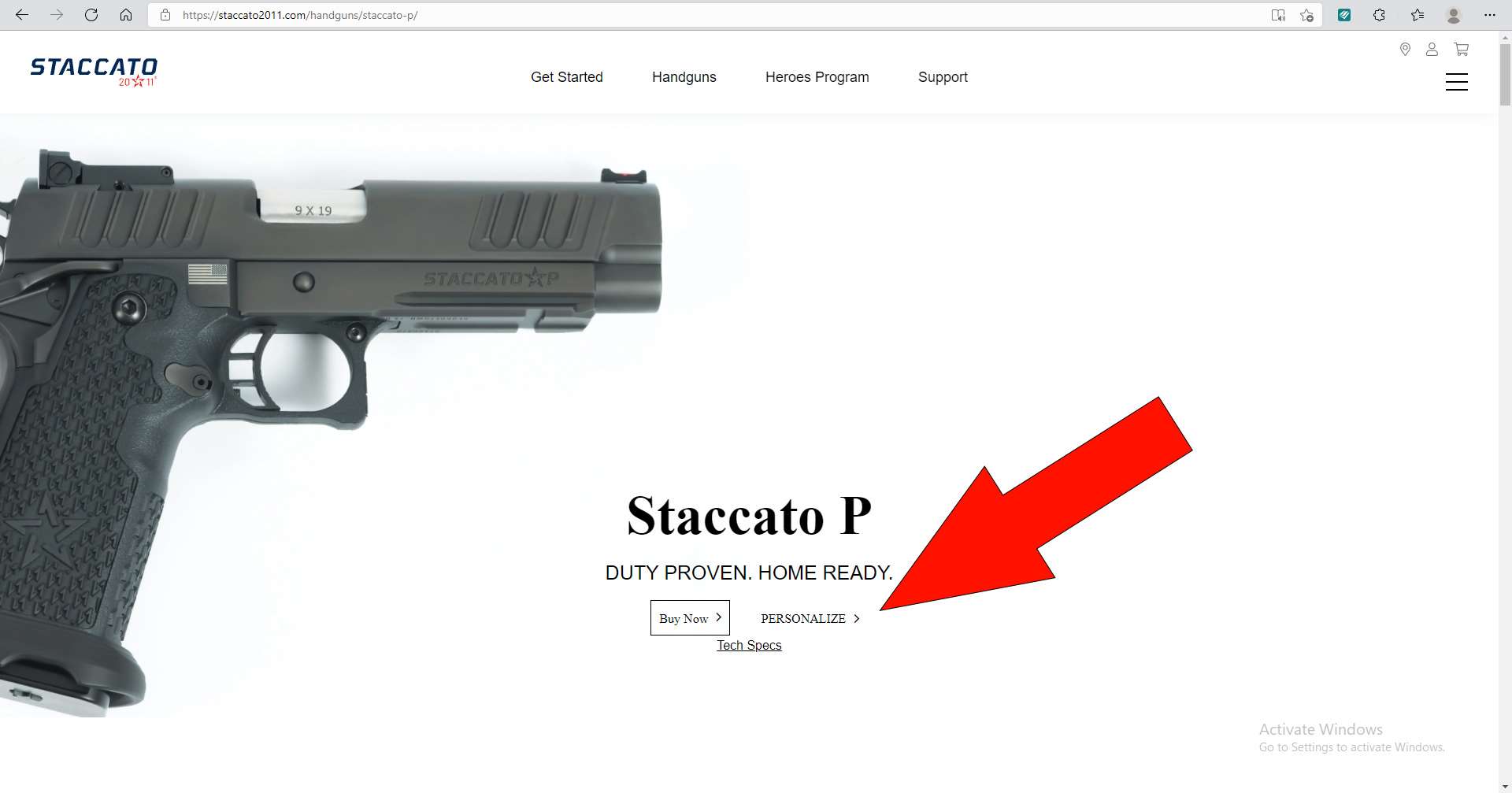 Here's how it works. First, you need to pick out a model, but right now the decision is easy, as only the Staccato P pistol can be personalized at the moment. The next big decision is iron sights or an optics-ready slide and mounting hardware.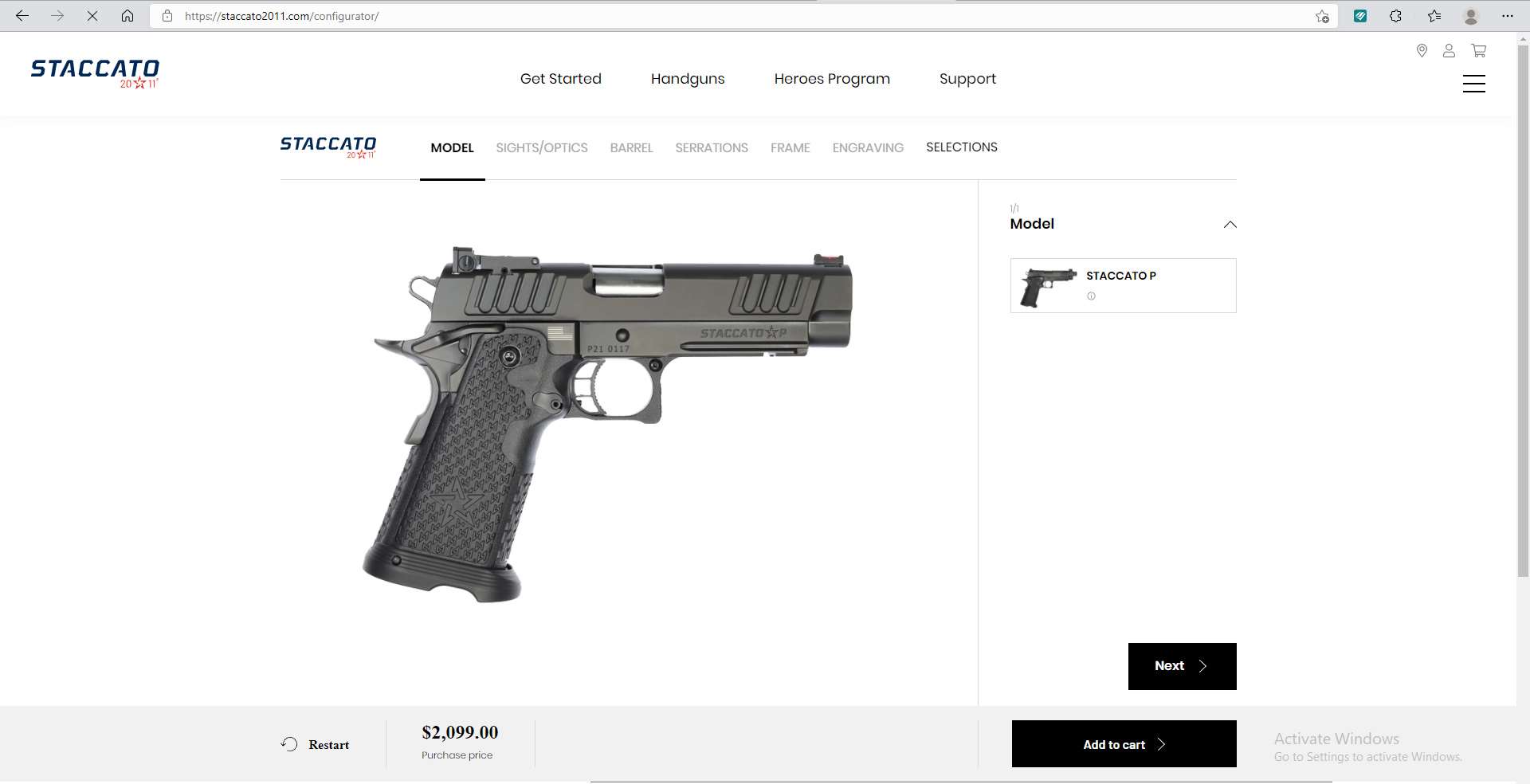 Matching pistols, red-dot optics and mounting plates can be intimidating, but Staccato's online gun configurator makes the process easy. Popular optics from Holosun, Leupold, Trijicon and Vortex are available for purchase with a customized Staccato P pistol. Not only do you get to choose from several popular red-dot models, the system also includes the correct mounting plates for all the aforementioned brands, as well as ones for Aimpoint, Bushnell and SIG Sauer optics.
After deciding on an optic, the configurator asks you to select a barrel from four choices: Staccato's DLC (diamond-like carbon) barrel or a stainless-steel one, with standard or threaded options available for each. If you opt for a threaded barrel, the configurator will ask if you want to add a Dawson Precision Ice Comp compensator.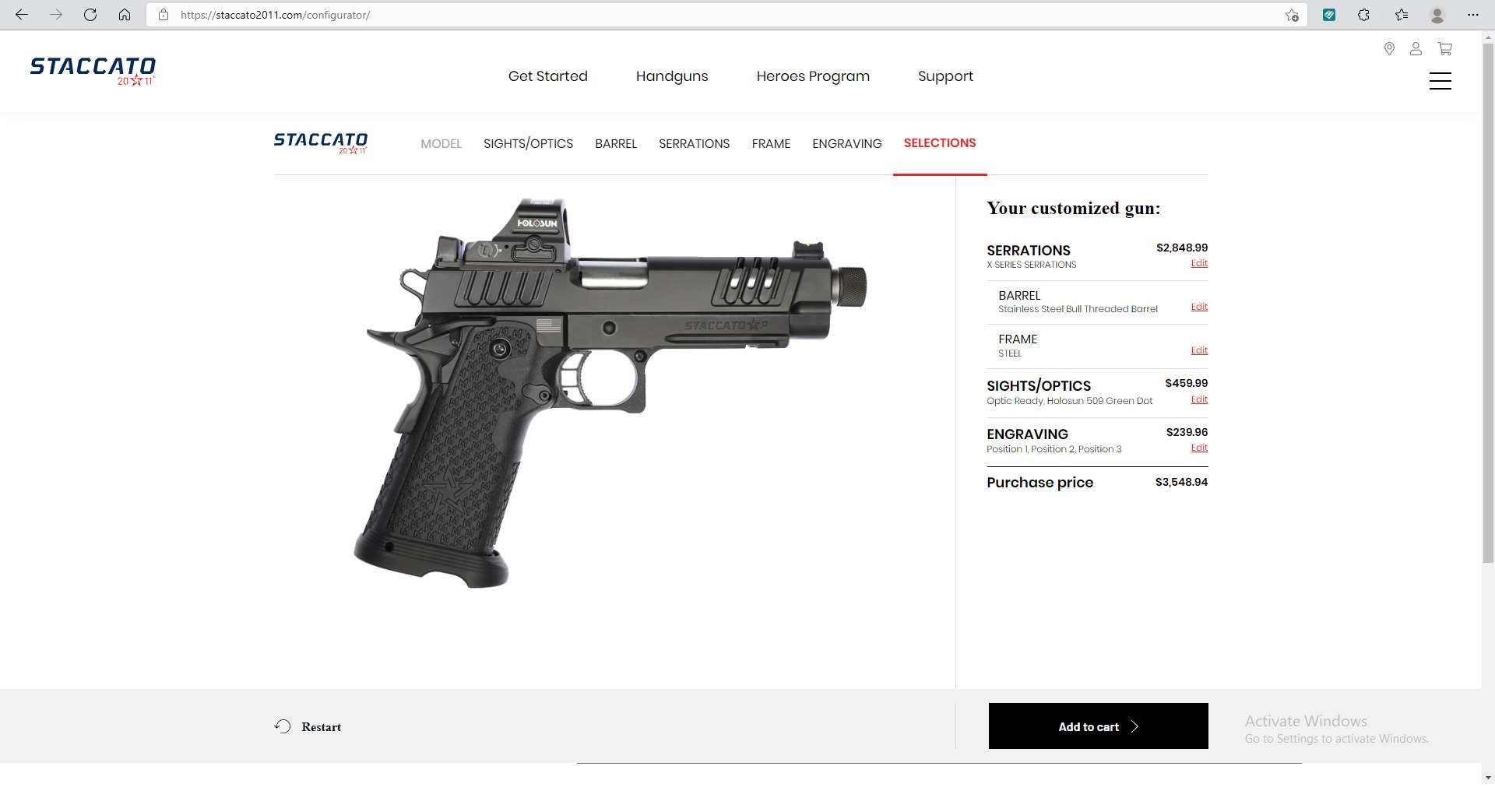 Top serrations are another customizable enhancement, with your choice between standard and the uprated Staccato X-Series ones.
Moving on to grips, options include the G2 standard molded texture, or the grip tape-like G2 tac texture.
For the frame you can choose between steel or weight-saving aluminum, the latter shaving five ounces from your customized Staccato P's weight.
You can even add a vector-format icon to one or both sides of the firearm. Staccato has 22 preloaded icons to pick from, mostly military-themed, and future plans include adding the ability to upload your own custom vector art. There's also room for text, up to 30 characters in two different positions.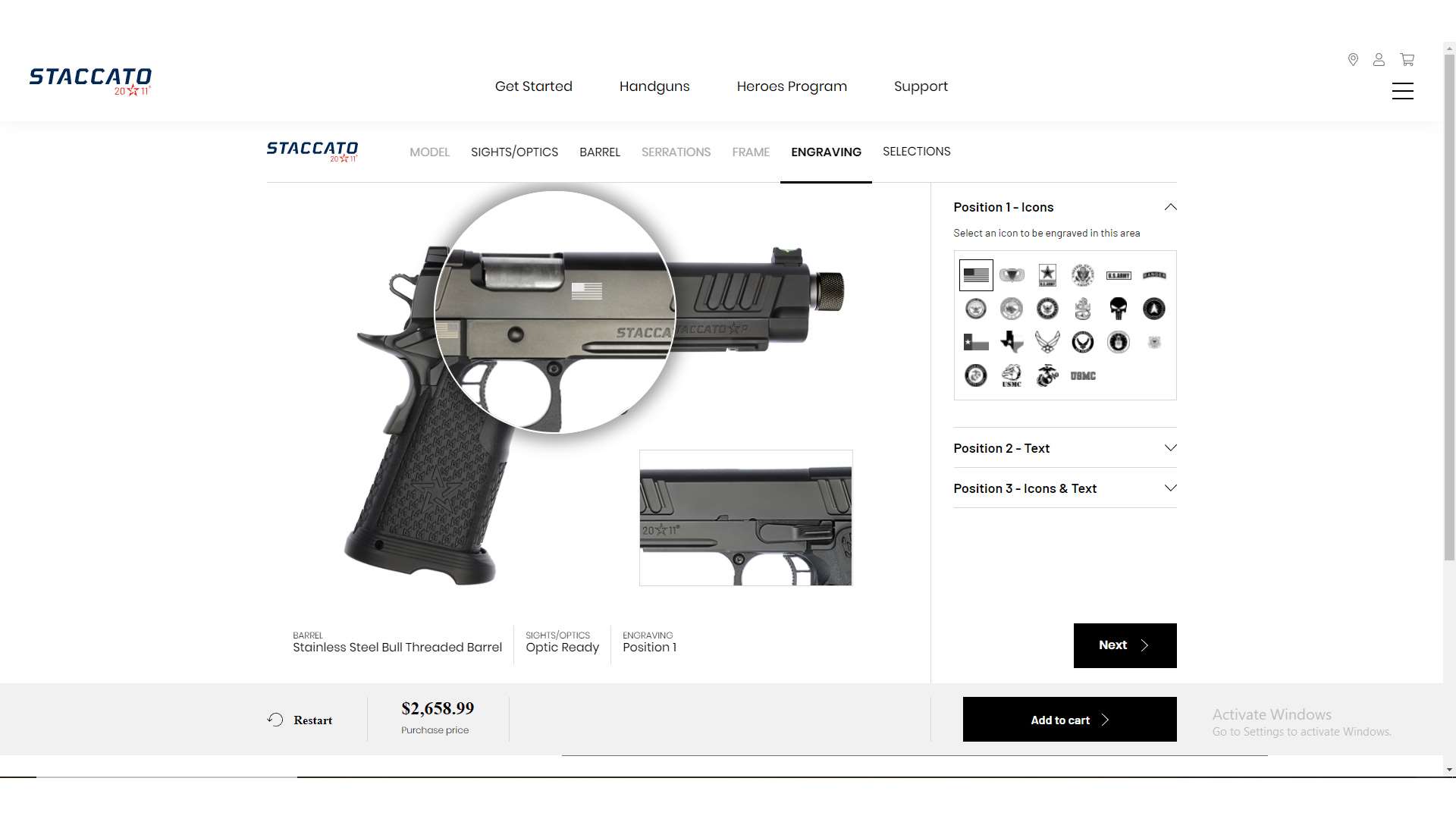 At any point while using the Staccato online gun configurator, you can return to previous sections to edit your custom pistol by using the top menu bar. The final selections tab provides a current roundup of selected options.
Before heading to checkout, the Staccato online gun configurator displays all the options you've selected for your customized pistol, as well as a chance to edit each one. Another well-thought-out aspect is the purchase price display in the lower-left corner, which is updated as you add and remove features to your personalized pistol during the build process.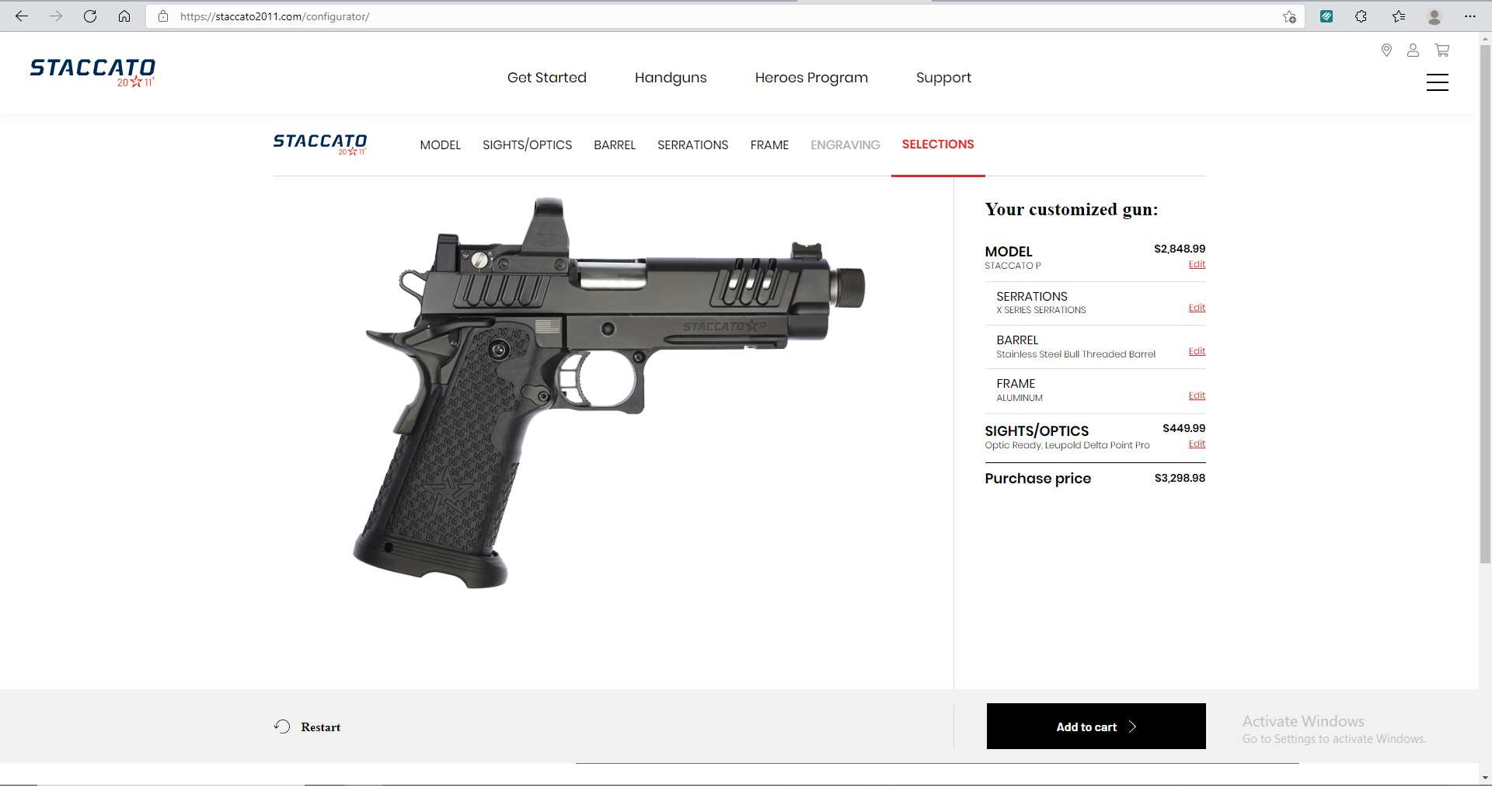 As mentioned, currently only the Staccato P model can be customized on the website with the gun configurator, but Chris Orta, Staccato's director of digital experience, told me at SHOT Show 2022 that it won't be long before additional models are available.
Perhaps best of all, Staccato's solution to customizing a pistol from the factory avoids the pitfalls of a clunky and slow online interface. Instead, it's clean looking, fast-loading, easy to use and a glimpse at the future of buying pistols online.
Visit staccato2011.com to learn more.