Support NRA Shooting Sports USA
DONATE
John Browning's classic 1911 design remains a force in action pistol competition, but it received a significant makeover when STI took the basic design and turned it into a high-capacity wide-body pistol. Those guns proved to be extremely popular, and although STI is now known as Staccato, the trend continues. At the 2021 USPSA Nationals, multiple models of STI and Staccato guns were the most used by Open Class shooters with 29 percent choosing them, as well as Limited and L10 with 18 percent selecting them.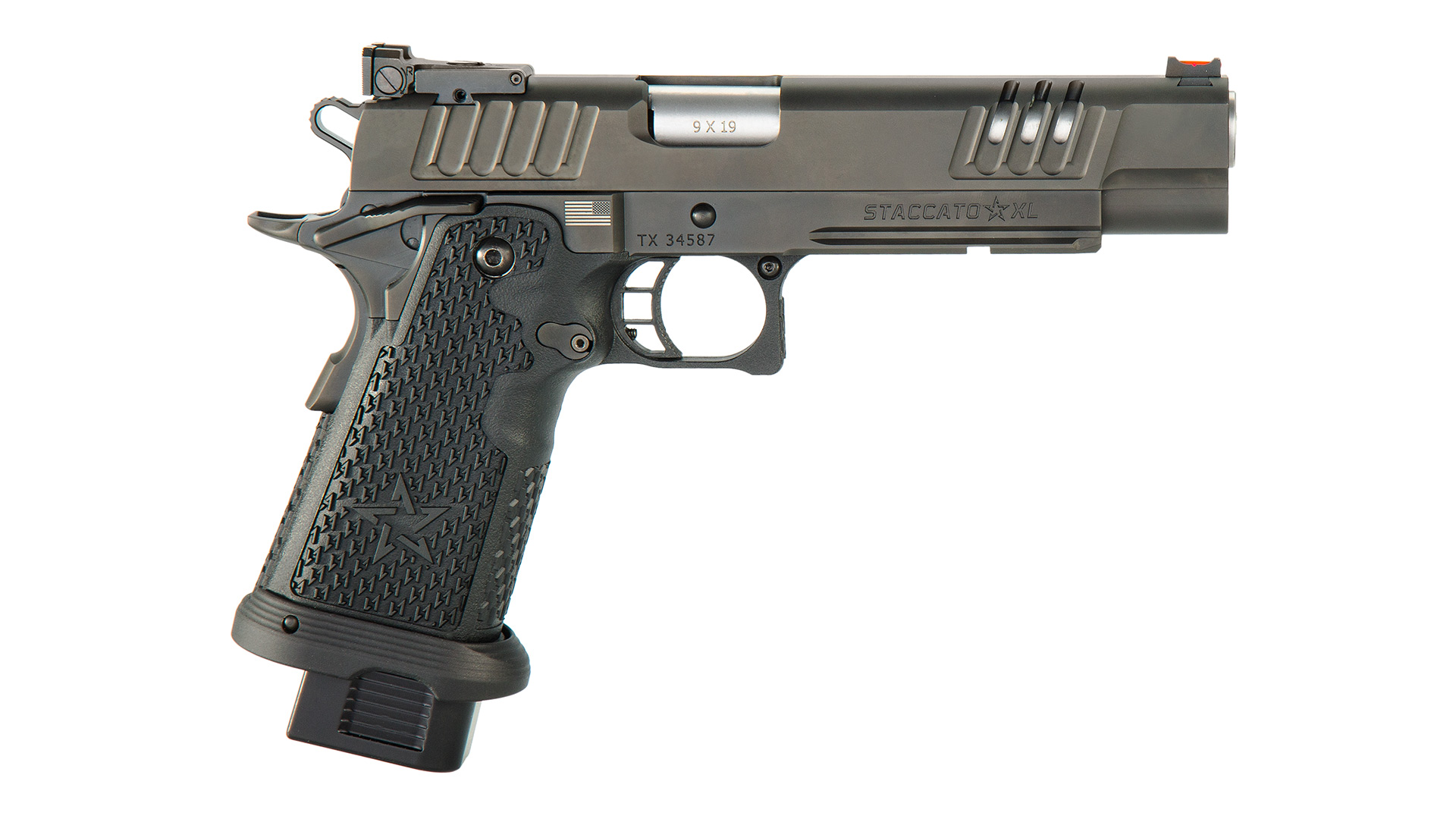 Staccato's XL 2011 model continues the action pistol tradition.
The Staccato XL ($3,599, staccato2011.com) is a full-sized 2011 pistol that incorporates Staccato's FlaTec system for recoil mitigation. The all-steel construction results in an empty weight of 38 ounces (sans magazine), and makes all division weight limits for USPSA, Steel Challenge and IDPA. The stainless-steel barrel is 5.4 inches with a 1:16-inch twist, with a well-shaped feed ramp and a recessed target muzzle crown. Similar to other 2011 models, the Staccato XL dispenses with the original barrel bushing and uses a coned bull barrel. Front and rear cocking serrations adorn the slide, and a Picatinny rail on the dust cover allows the mounting of lights or lasers.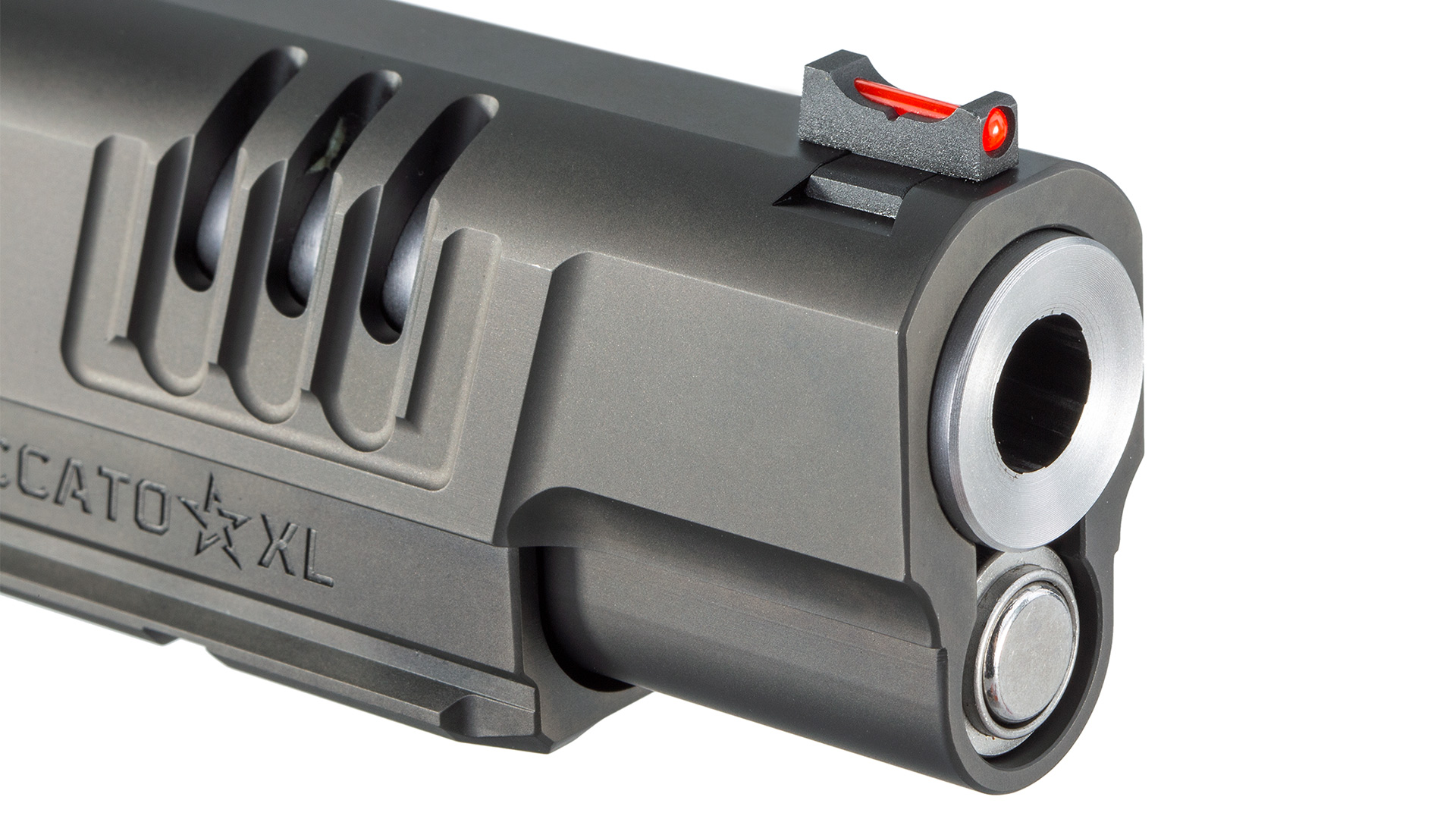 Sights consist of a Dawson Precision front in a dovetail mount with a replaceable fiber-optic rod. A red rod came with the gun, but any color can be installed. The rear sight is a Staccato 2011 T.A.S. adjustable with a plain black blade. For those who wish to install an aftermarket sight, Dawson Precision has its Optic-Ready System ($139.95) that allows for a number of popular reflex sights to be mounted.
Operating controls consist of a left-side extended magazine release, ambidextrous extended combat safeties and a left-side slide release lever. The G2 grips are well-checkered on the front strap, sides and back strap, and the enlarged magazine well is big enough that one would have to be a total maladroit to miss it. The grip safety has a modest speed bump.
As for the trigger pull, I measured 2.6 pounds on my digital gauge with a slight take-up, a clean break and a fast reset.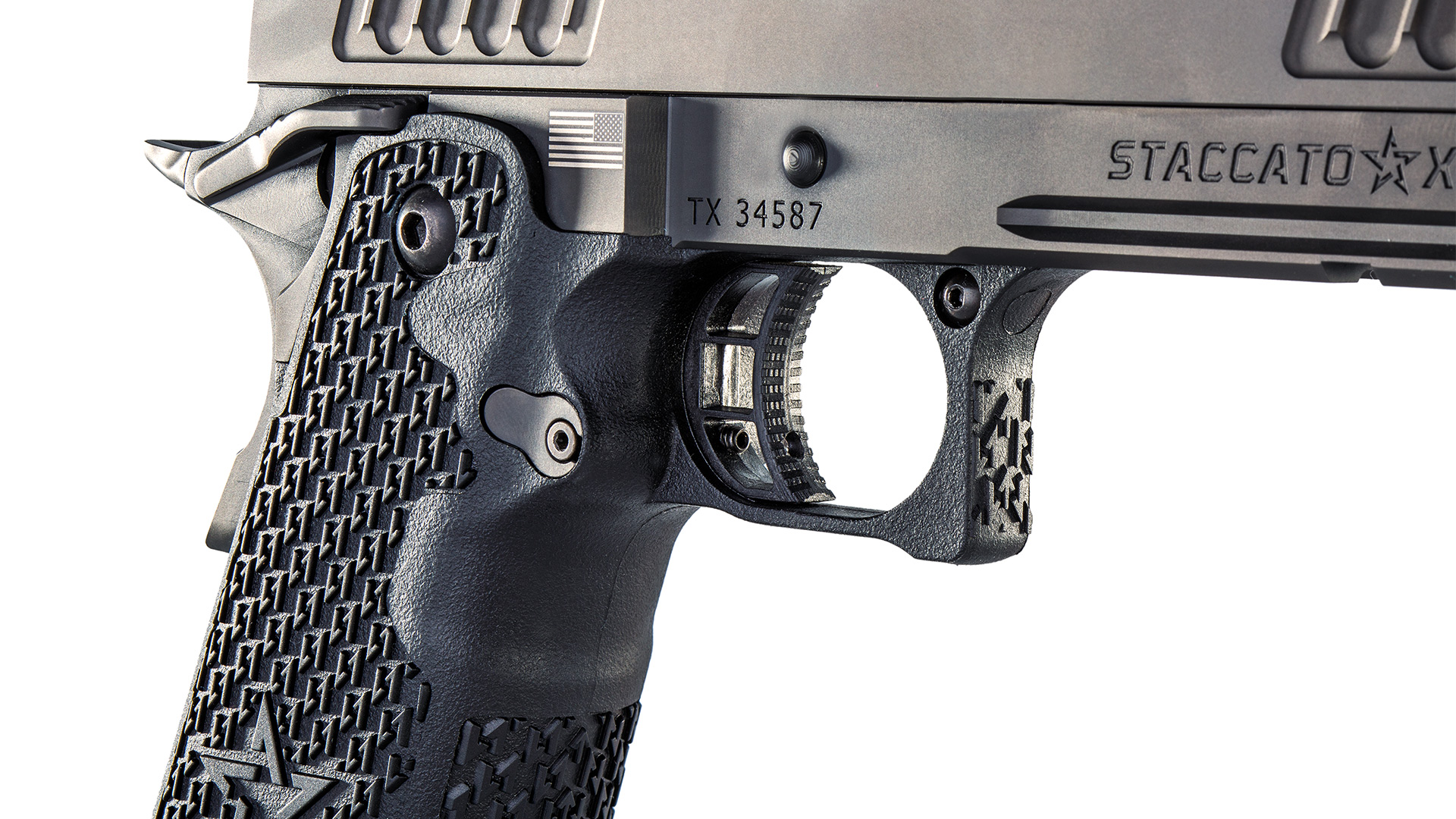 The Staccato XL ships in a padded soft case with two 17-round magazines, one 20-round magazine, replacement fiber-optic rods in red and white, the ubiquitous cable lock and the owner's manual.
On the Range
From the box, I performed a quick field strip to lube the gun. I was surprised at how easy it was to rack the slide, and had to assume that was because of the FlaTec recoil system. With no barrel bushing the take-down is simple: bring the slide back to a witness cut-out, push out the slide stop pin and slide the upper unit off the frame. The process is much less complicated than for a 1911.
The Staccato XL's main role is as a Minor Caliber (125 Power Factor) gun, so I wanted to test a variety of bullet weights. Some shooters prefer the softer "push" recoil of a heavier bullet, while others favor the "snappy" recoil of lighter slugs and feel that gets them back on target faster.
For a heavy bullet I used the Federal Syntech 150-grain load, which has proven both popular and effective. The 123-grain Lapua FMJ and Remington's 115-grain FMJ comprised the mid-weight loads.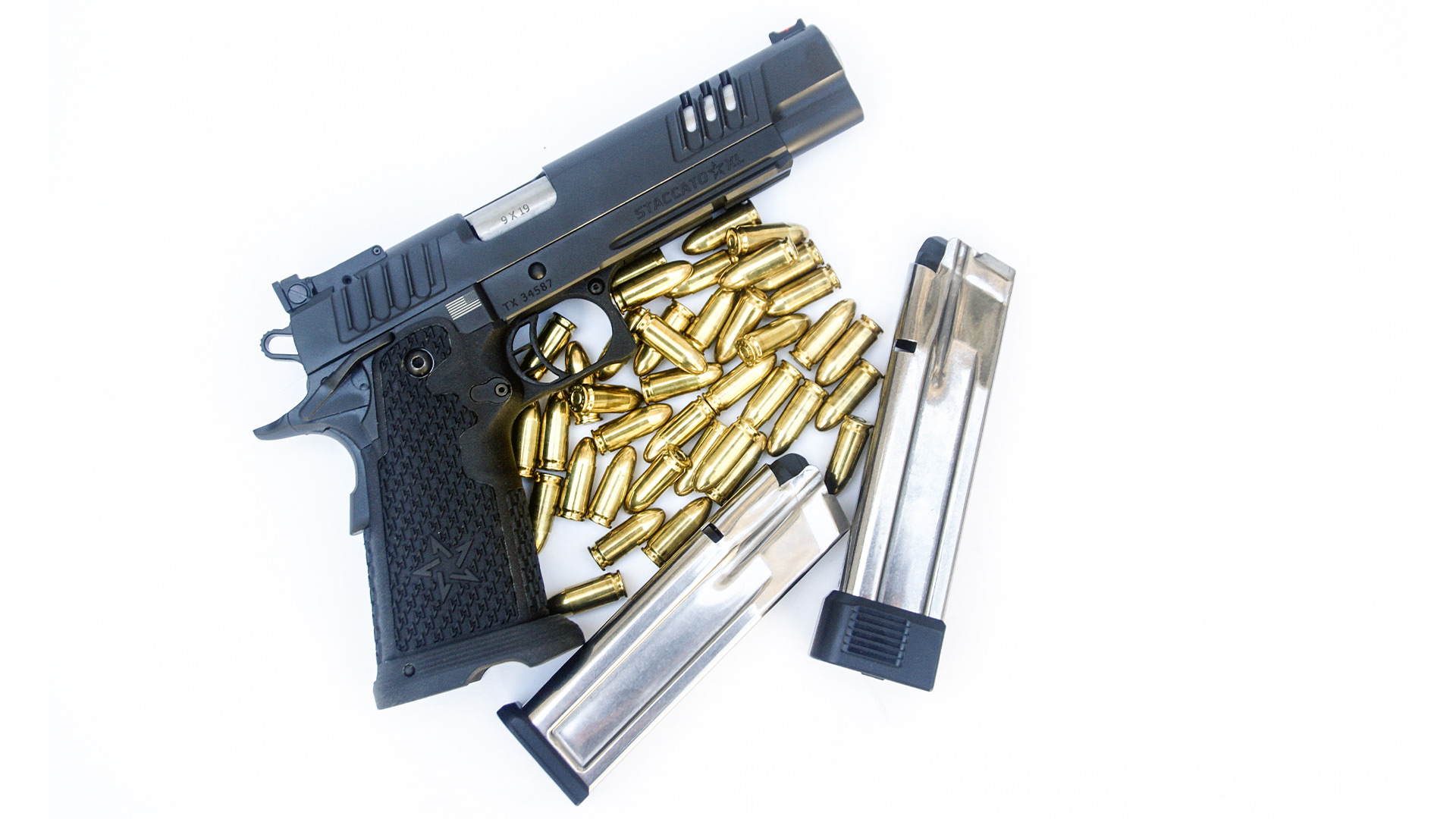 Steel Challenge has no Power Factor and the lightest recoiling loads are favored by savvy shooters. For that reason, I included the Atlanta Arms 100-grain FMJ Steel Challenge load. I've never chronographed this load, but from the recoil it produces there is no way it makes a 125 PF. Atlanta Arms notes that some guns may require a lighter recoil spring for reliable function, and I thought that would be a good test for the Staccato FlaTec recoil system.
For a true "Mouse Puff" load, I also included my personal 9 mm Steel Challenge load. This is a 125-grain coated lead DG bullet with just enough VihtaVuori N310 to reach 930 f.p.s. and cycle the fired cases out the ejection port. The recoil isn't much more than a high-speed .22 Long Rifle pistol load. My Smith & Wesson M&P C.O.R.E. will handle this load—if it is cleaned before the match—but many other guns won't. It does, however, make it easy for me to recover my brass, because it will all be in a neat pile two feet to my right.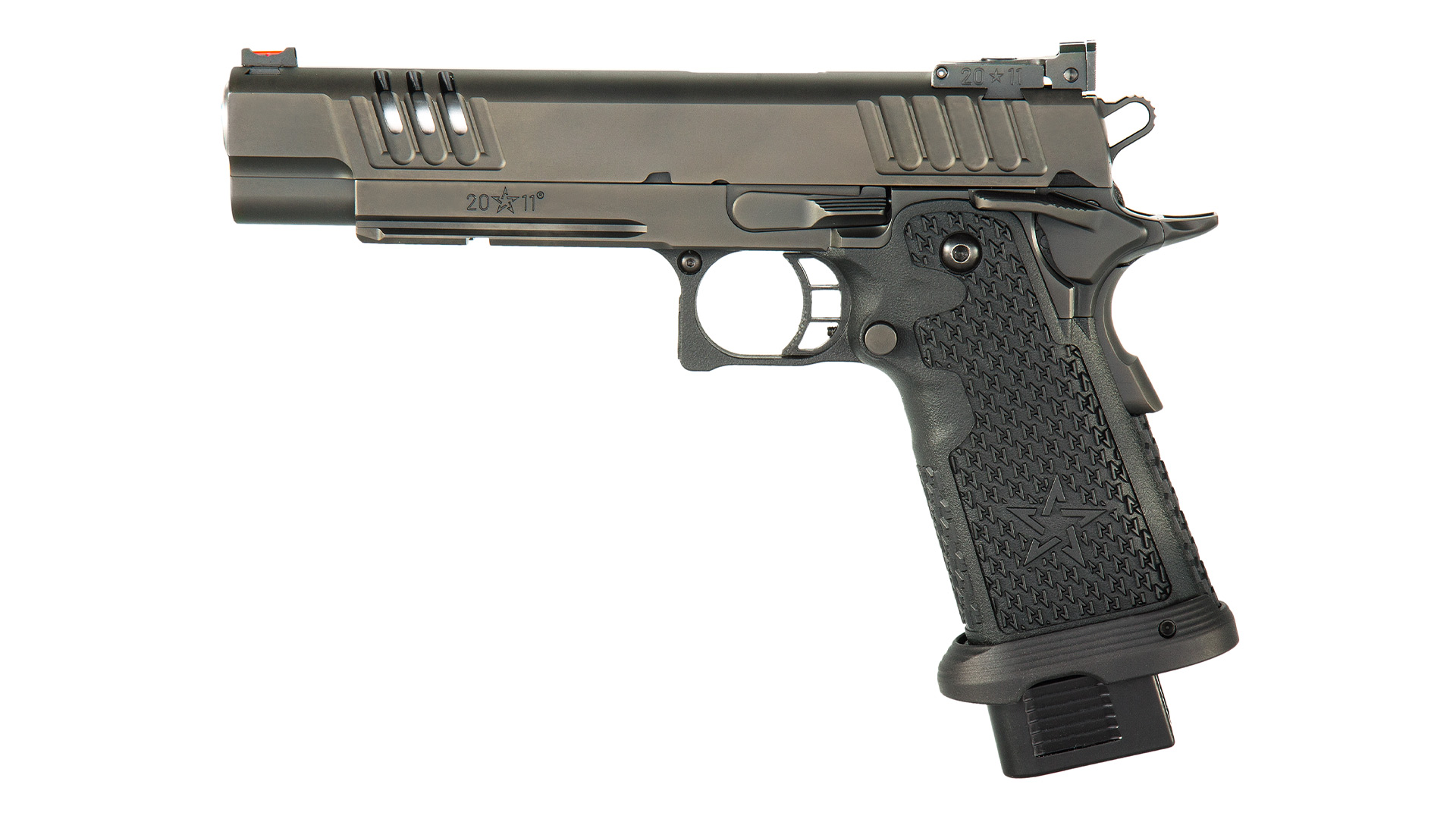 Next, I headed to my backyard range and zeroed the gun at 25 yards with the mid-weight Lapua load. It was initially a bit high and right, but the sights got on quickly. Next was a check on each of the loads, watching not only feeding and function, but also the ejection pattern.
Standard pressure Federal Syntech, Lapua and Remington loads showed vigorous ejection to about 4.5 feet and about 30 degrees to the rear. The Atlanta Arms 100-grain load kicked out about three feet and 30 degrees. My "Mouse Puff" load did the same thing it does in my gun, and wound up in a neat pile two feet to my right. It would seem that the Staccato XL is not the least bit ammunition sensitive.
Unable to find a suitable match legal holster among my collection for the 5.4-inch barrel, I set up white cut-out targets and ran transition drills from the low-ready position at 10 to 20 yards. All three magazines were used, and as is normal with a new mag, getting the full load in them was a bit difficult at first, but became easier with use.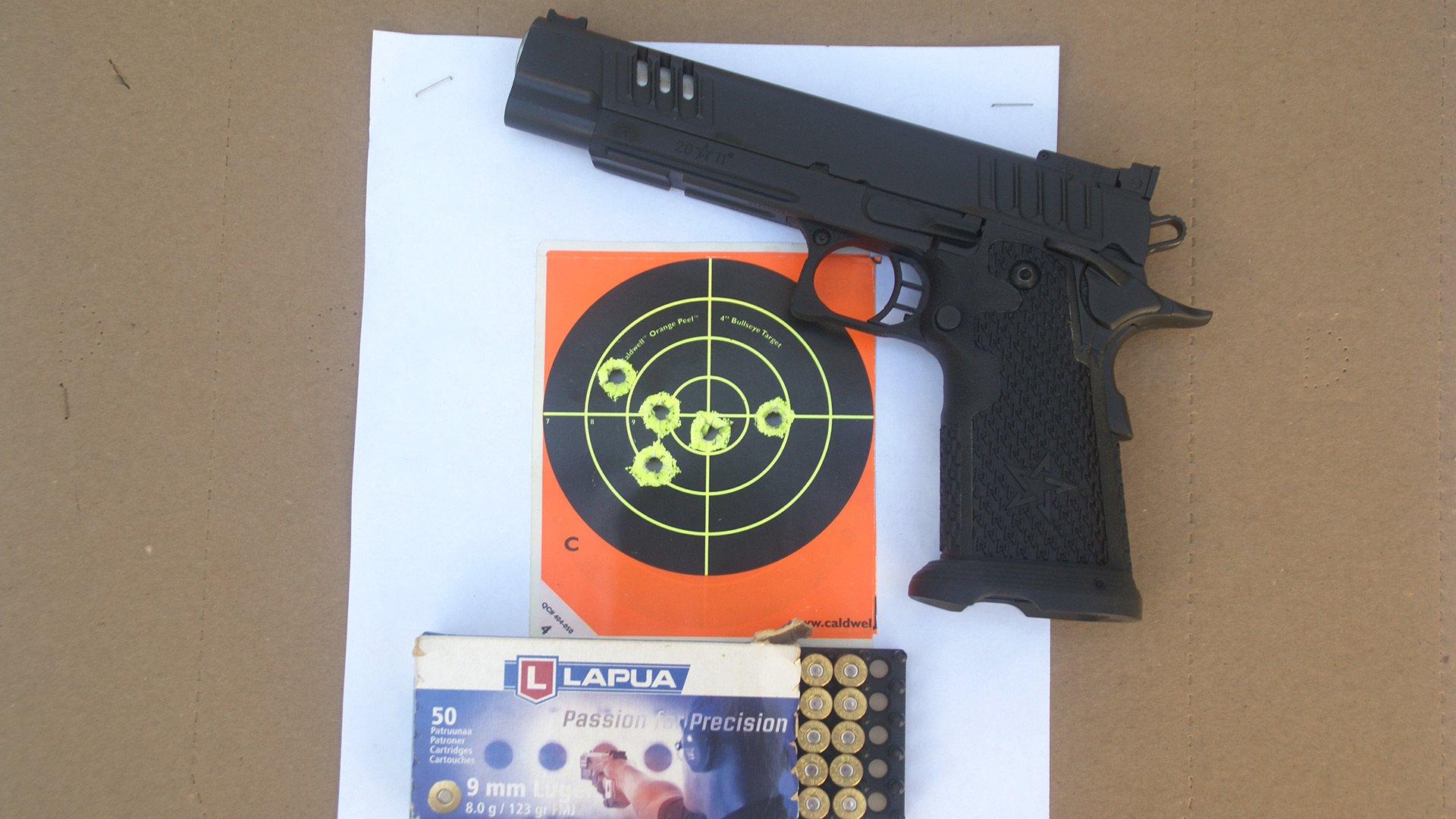 The gun purred right along with all loads and magazines. The crisp sights and exquisite trigger made nailing fast hits easy, but what stood out was the lack of muzzle rise and the quick cycling. This isn't to say that there was no muzzle rise, but the gun shot a lot flatter than I would have expected—especially with full-powered factory loads. I run these transition drills with a PACT Club Timer and have a good feel for what my normal splits are with a semi-automatic or revolver. The flatter recoil and faster cycling had the Staccato XL running noticeably quicker.
Accuracy testing from my 25-yard bench rest was next. As the accompanying accuracy table shows, this gun will shoot.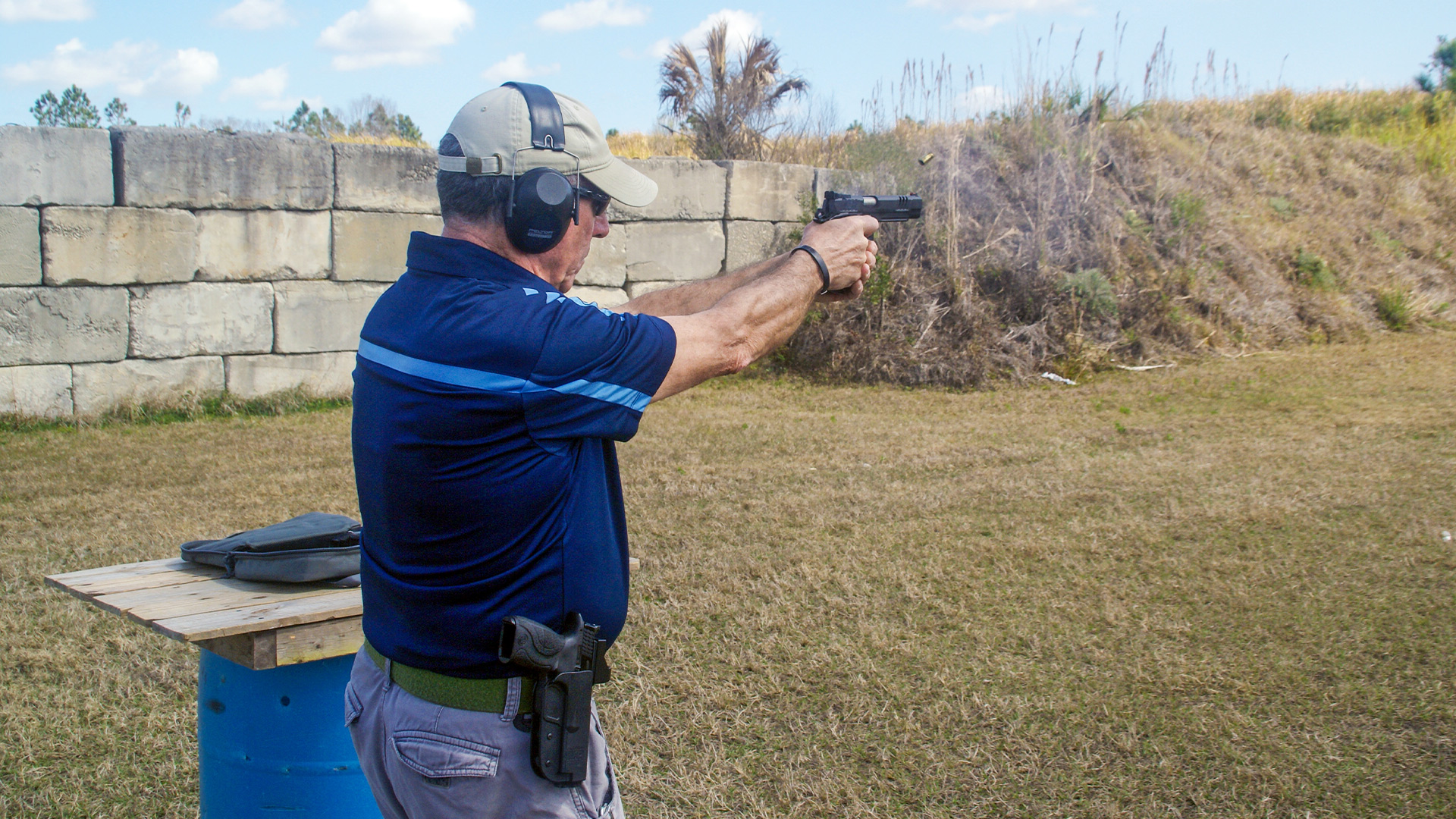 No holster meant no match, so I took the Staccato XL to my local club's Steel Challenge practice day and rang steel from low ready. I had an ample supply of Remington 115-grain loads and used those. The Staccato XL garnered the attention of other shooters (some in the Grand Master, Master or A classes), who were all eager to give it a try. They were as impressed as I was with the flat-shooting and quick-cycling characteristics. And even more impressed when I told them they were shooting full-power factory loads.
By this time, there was more than 600 rounds through the gun with nothing more than my original strip and lube, and there had not been a single malfunction of any type. The Staccato XL 2011 9 mm is a worthy addition to an already popular handgun line.
Accuracy Table