by
Chris Christian, Field Editor
posted on June 24, 2016
Support NRA Shooting Sports USA
DONATE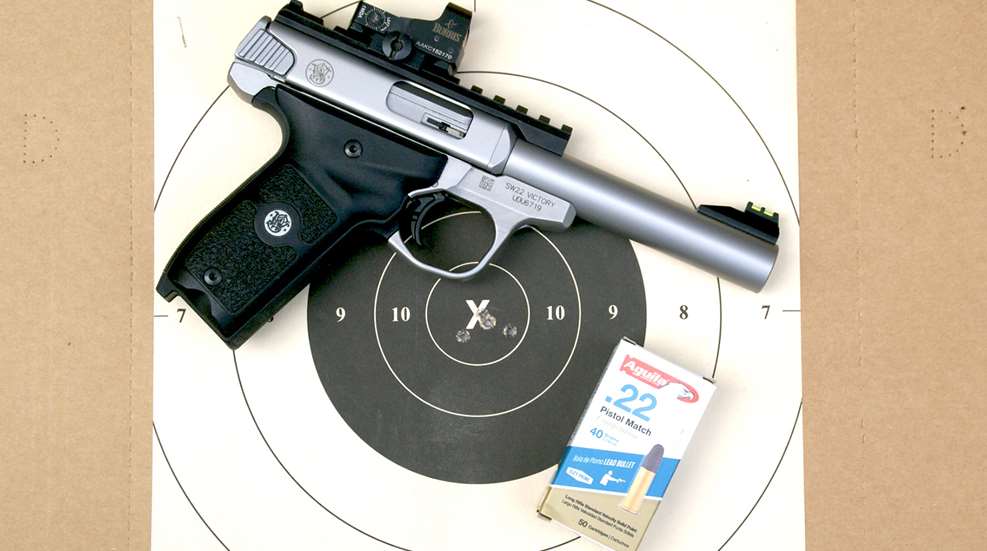 When Smith & Wesson introduced the Model 41 .22LR pistol in 1957, they set the bar for an American-made precision .22LR target pistol. Their 2016 introduction of the SW22 Victory .22 continues that tradition, and in a very versatile package.

The Gun
The SW22 Victory has the frame, barrel, and bolt assembly built from stainless steel with a satin finish. The empty weight is 36 ounces, with an overall length (5.5 inch barrel) of 9.2 inches and an overall width of 1.1 inches. The grip panels are textured polymer with grooved polymer front and rear straps. Single side controls (on the left) consist of a thumb safety, bolt/slide release, and an American-style behind-the-trigger-guard magazine release. The gun ships with two 10-round magazines. They loaded easily and accepted 10 rounds with no effort.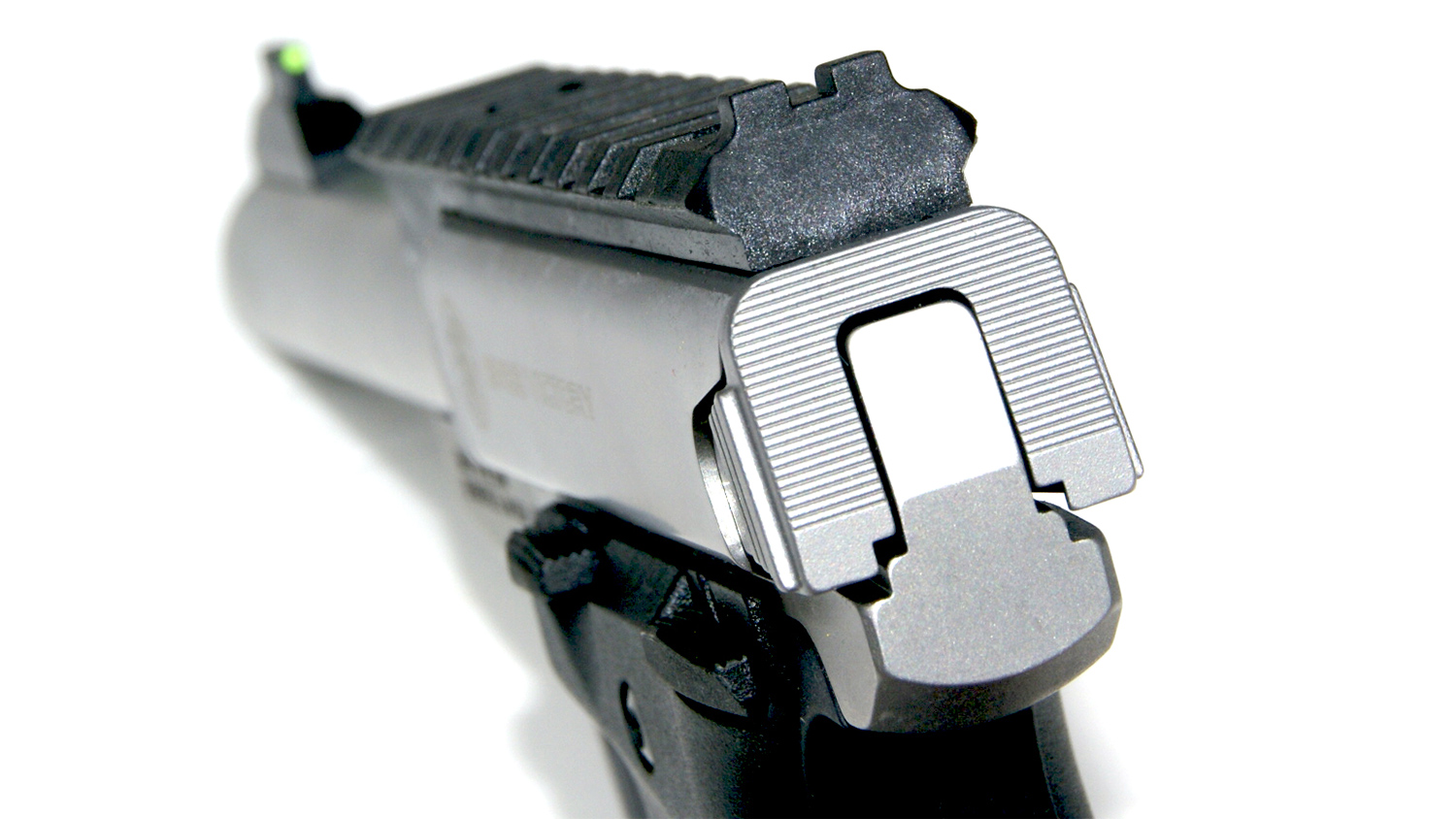 The single action auto uses a blow-back operating system with an internal hammer inertia firing pin instead of a striker; a plus on a rimfire gun since rimfire primers require a firmer blow to ignite than centerfire primers. The trigger pull measured right around 3.15 pounds on my Lyman Digital Gauge. It had a slight amount of take up slack (trigger prep), and just a bare hint of creep in the trigger pull. There's an adjustable over-travel screw in the trigger face, but it was properly set from the factory and I didn't need to mess with it.

My test gun came with a 5.5 inch bull barrel with a recessed target crown, but the Victory has an interchangeable barrel feature that allows additional barrel configurations to be installed. The barrels use a slip fit to slide in and out of the upper frame assembly and are held in place with a sturdy set screw. The appropriate hex wrench is included with the gun.

The ability to disassemble a rimfire pistol for a thorough cleaning is important because .22LR rounds are almost as dirty as black powder loads. They deposit a lot of firing residue that often mix with lubricating oils, creating sludge that will shut a gun down quickly. One large allen head screw holds the upper assembly to the frame and removing it with the supplied 1/8 inch hex wrench separates it from the frame. The bolt can then be slid out of the upper assembly. This allows easy access for cleaning the bolt assembly and also allows the barrel to be cleaned from the chamber end instead of the muzzle. That feature not only protects the muzzle crown from cleaning rod damage but makes it a snap to assure the clean and dry chamber that is important with .22LR rimfire loads.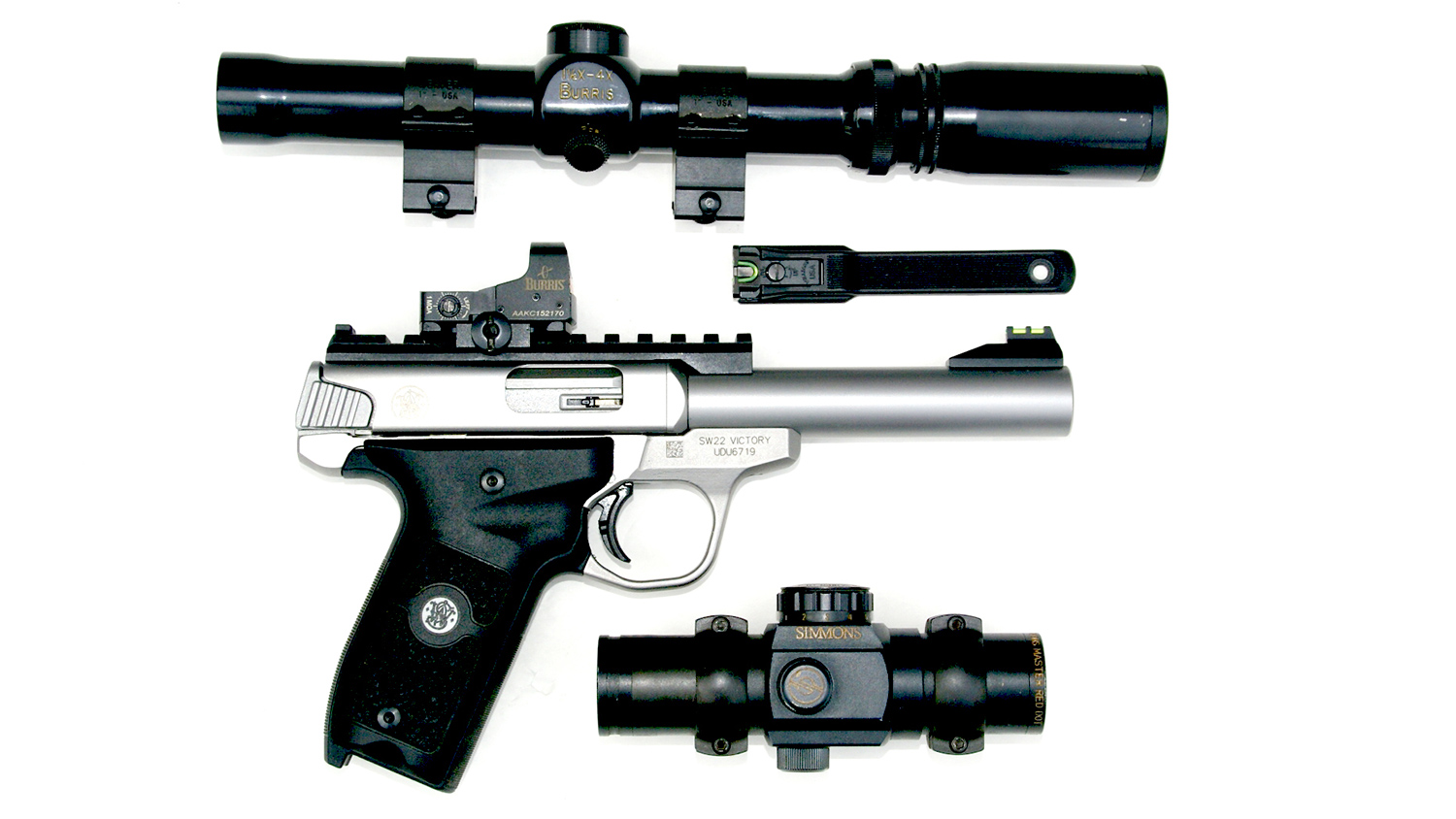 The sight system is one of the most innovative that I have ever seen. The front sight sits on a polymer ramp secured to the barrel by a set screw. It measures .110 inch in width and holds a .060 inch fiber optic rod. The rod supplied was green, but it's easily replaceable with a number of other colors, or just blacked out if that is preferred for precision use. The rear sight features two smaller diameter green fiber optic rods (for a three-dot sight picture) and is adjustable for windage and elevation in the standard S&W rear sight manner. It provides a crisp sight picture. What makes it innovative is that the rear sight sits in a polymer base that is secured to the upper frame via a front set screw and a rear clip.

If you prefer optics—whether a scope, red dot, or reflex sight, there's no need to deal with expensive gunsmithing and aftermarket parts. Just remove the polymer iron sight base and install the included polymer Picatinny rail that takes any Weaver-style mount base. It requires nothing more than a 7/32 hex wrench (not included). The rail also has a black non-adjustable fixed rear sight that mates with the front fiber optic sight if optics are not installed.

On the Range
I started with the fiber optic iron sight package and it zeroed quickly from a 25-yard rest. The .060 front rod and the two smaller rear rods created an excellent sight picture for running quick transitions on Steel Challenge targets, or 'dialing in' the 3.36 inch 10-ring on the standard Conventional Pistol B-8 25-Yard Timed and Rapid-Fire target.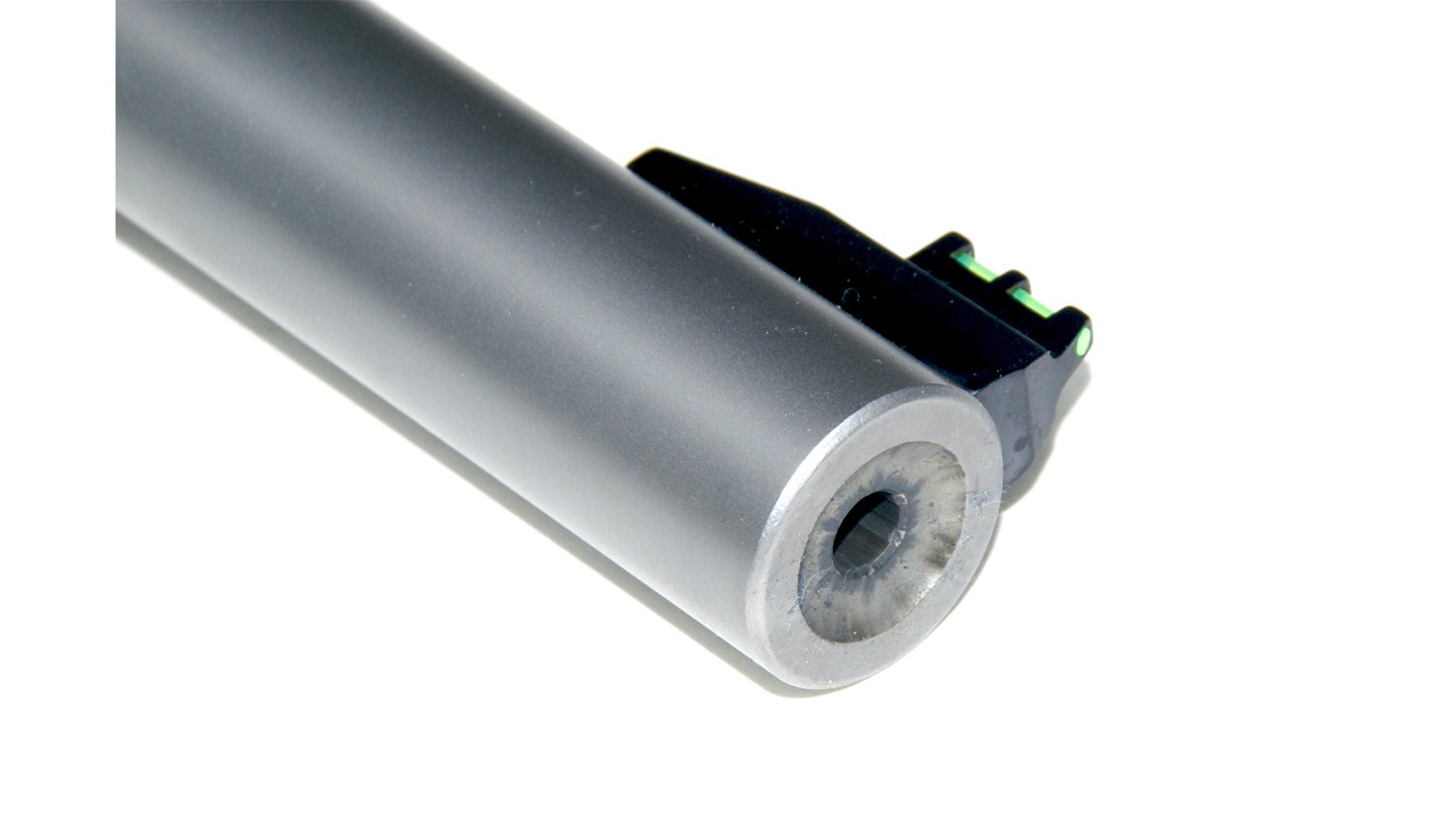 The ammunition I had on hand consisted of CCI Mini-Mag HP and Green Tag, along with the Mexican-made Aguila Super Extra and their sub-sonic Pistol Match. Aguila ammo may be new to American shooters, but it performed well and I would not hesitate to use it in an important match. I mixed the different loads throughout the test period and there were no malfunctions of any type in over 400 rounds.

I enjoy shooting Steel Challenge with an optical sight rimfire, so the Picatinny rail was next up. The instruction manual recommends a gunsmith make the switch. But once I found a 7/32 hex wrench in my tool box, and read the instructions, it took me about 60 seconds to install it correctly.

I had a Burris FastFire III with a Picatinny mount base on hand, but before I installed that I put the gun on a 25-yard rest and checked the Point of Impact (POI) of the now fixed iron sight package on the rail. The sight picture was clean and crisp. With the standard velocity loads I would use in a Steel Challenge match the elevation was dead on and windage was about .75 inch right. That's good to know. If my reflex sight ever dies during a match it doesn't mean I'm done for the day. I can pop the optic off and finish with the iron sights. That's a nice touch, and a confidence booster, given the time and money invested in competition.

With the FastFire III installed I zeroed it at 25 yards and settled down on a sandbag rest for accuracy tests with the four loads on hand. It got monotonous because all four of the loads were producing five-round groups right around .50 to .60 inches. There was no sign of a first round flier with any load and all groups were properly clustered.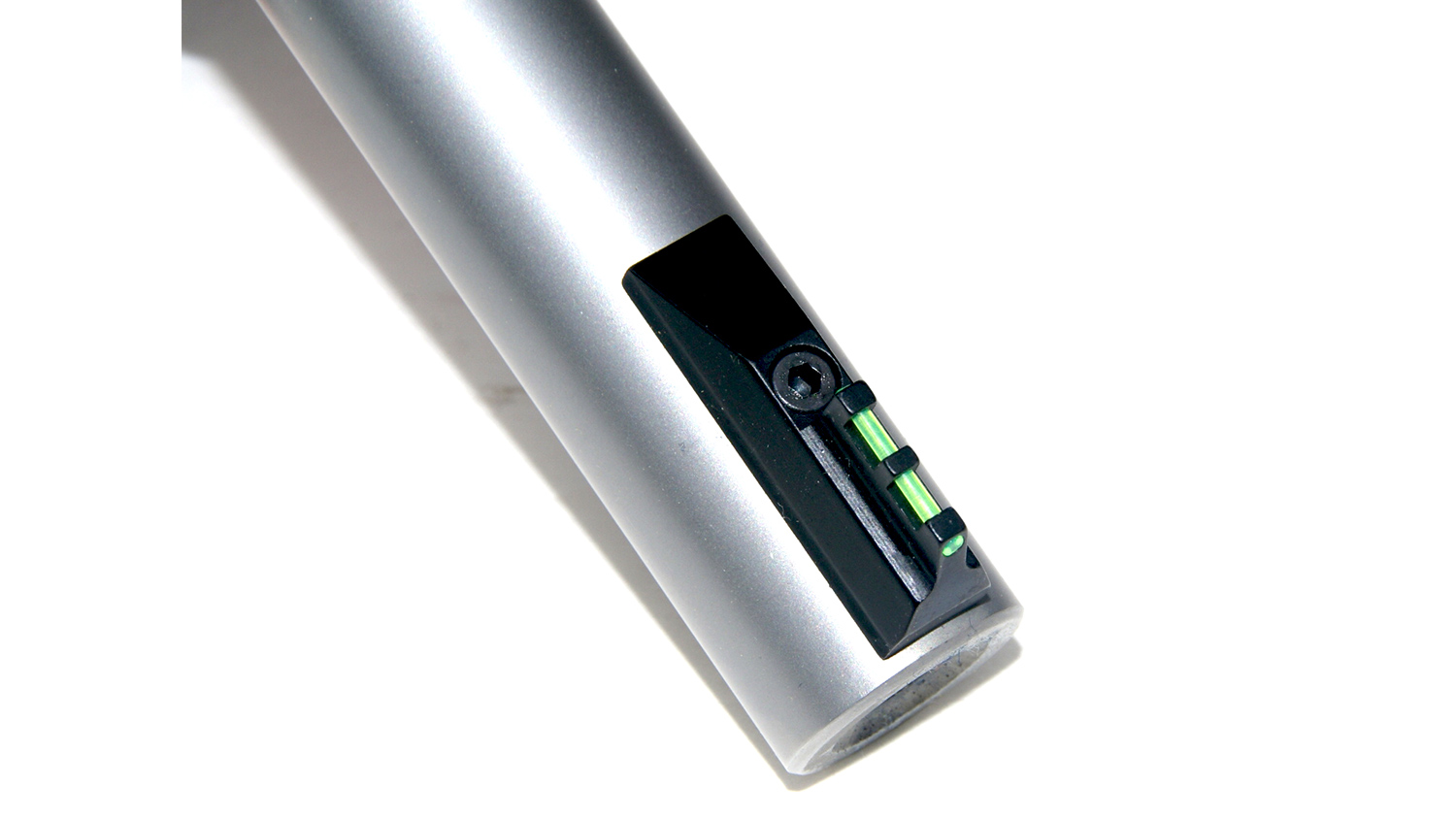 That's impressive accuracy and I was intrigued to see what the gun would do on the 50-Yard Slow Fire target. I wasn't sure if the reflex red dot was precise enough to give me the answers I needed but the Victory's Picatinny rail provided an easy alternative. I had a Burris 1.5-4x pistol scope wearing Weaver rings that wasn't on a gun. Installing it on the Victory's Picatinny rail took no time and, short of a machine rest, it removed as many accuracy variables as possible. At the 4x setting I repeated the accuracy tests from a sturdy rest at 50 yards.

The accompanying accuracy chart shows the 25- and 50-yard groups. At 25 yards the X-ring is toast! And if the shooter does their part the X-ring at 50 yards is definitely an "Endangered Species."

Don't even ask about the big plates in Steel Challenge. Bang–Ting!

As you can see, there is more than enough accuracy. Add the versatility of quickly shifting between iron and optics (with a backup sight system for optics), along with easy cleaning and impressive reliability, and the Victory is a solid competitive choice. Combine that with a MSRP of $409, and Smith & Wesson has a winner with this gun!

Accuracy Chart
Tests were conducted from a double sandbag rest and show the center to center measurement, in inches, of five-round groups. Tests at 25 yards were done with a Burris FastFire III 3 MOA dot. Tests at 50 yards were done with a Burris 1.5-4x handgun scope set to 4x. Accuracy figures are the average of three test groups per load at each range.