The definition of performance is "the action or process of carrying out or accomplishing an action, task, or function." When it comes to competition ammunition, it has to function in our firearms, and it has to achieve a particular task; for United States Practical Shooting Association (USPSA) competition, that means making power factor. Our performance is only as good as the ammunition we use. This has usually been accomplished by reloading your ammunition.

Off-the-shelf factory ammunition will get the job done, but the performance isn't what we require. Factory .45 ACP and .40 S&W is too hot and, depending on the brand of 9mm factory, it can either be a hot round or not make power factor (I went sub-minor at 2013 Production Nationals with factory ammunition in a five-inch-barrel gun). So we buy our components and reload our ammunition.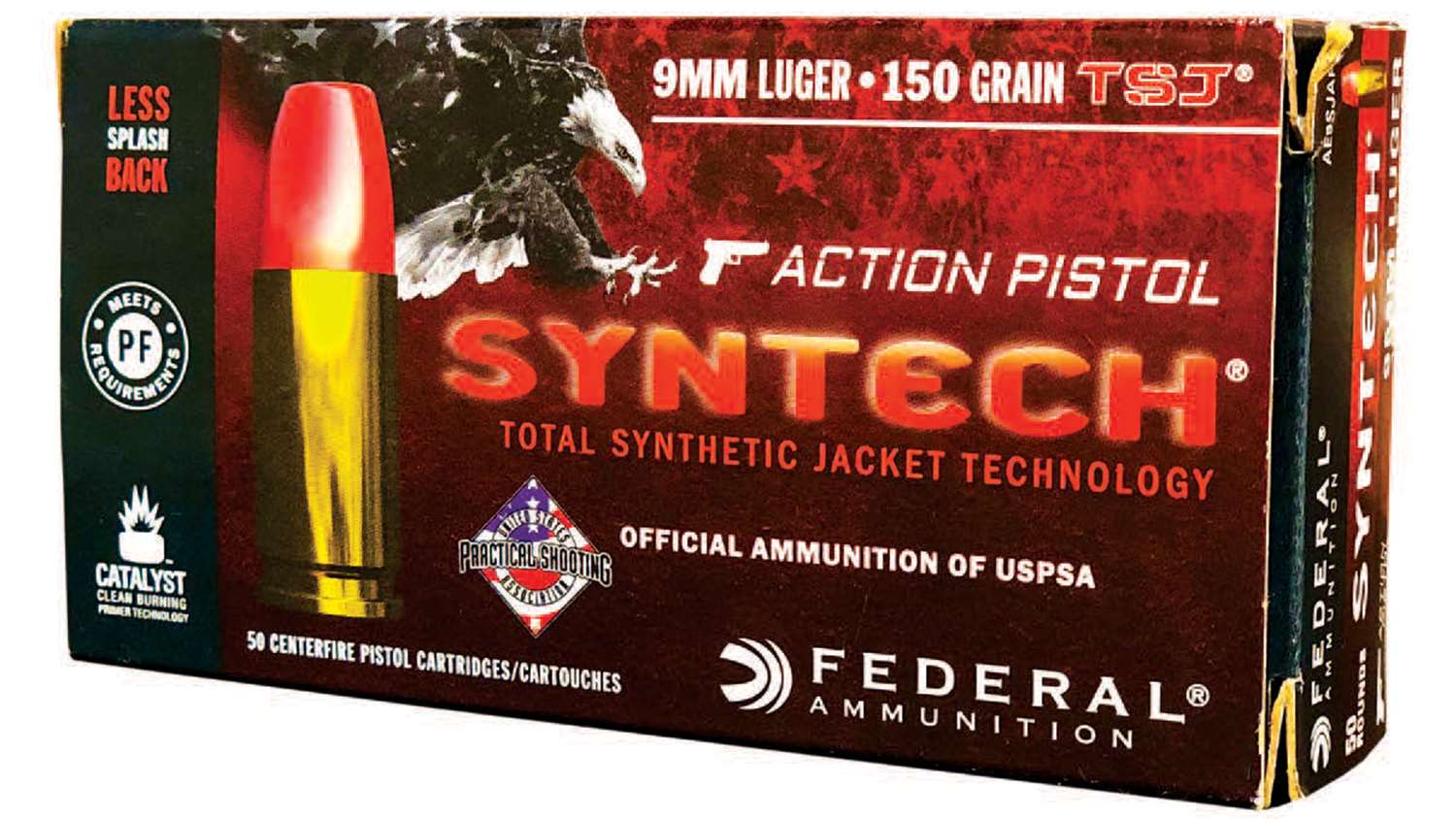 The initial start-up cost to be able to make your own ammunition is expensive. There is the cost of a press, brass, primers, powder, and bullets—and that can add up rather quickly. There is a cost saving when you buy in bulk, and the cost of the press is usually offset by the savings of what it would cost to purchase factory ammo versus reloading. There is always that other factor that you need to account for, and that is time. How much of your time will be spent at the reloading bench and what is that worth? I do not know a lot of people who have as much time lying around as they do five-gallon buckets of brass these days.

Something else to consider is quality. If you reload, you are your quality control person; you are a one-man show and should be able to make sure every round is match grade. To ensure that quality, you are probably inspecting every piece of brass, roll sizing, cleaning and checking the primer pockets. You are making sure that you are loading out of the same case lots of powder and primers, and weighing and measuring the bullets—then, of course, case gauging every loaded round. Well, maybe not your practice ammo, but definitely anything for a match, right? Then it is off to the range to chrono that batch of reloads to ensure that there are no surprises at the next major match you paid to go to.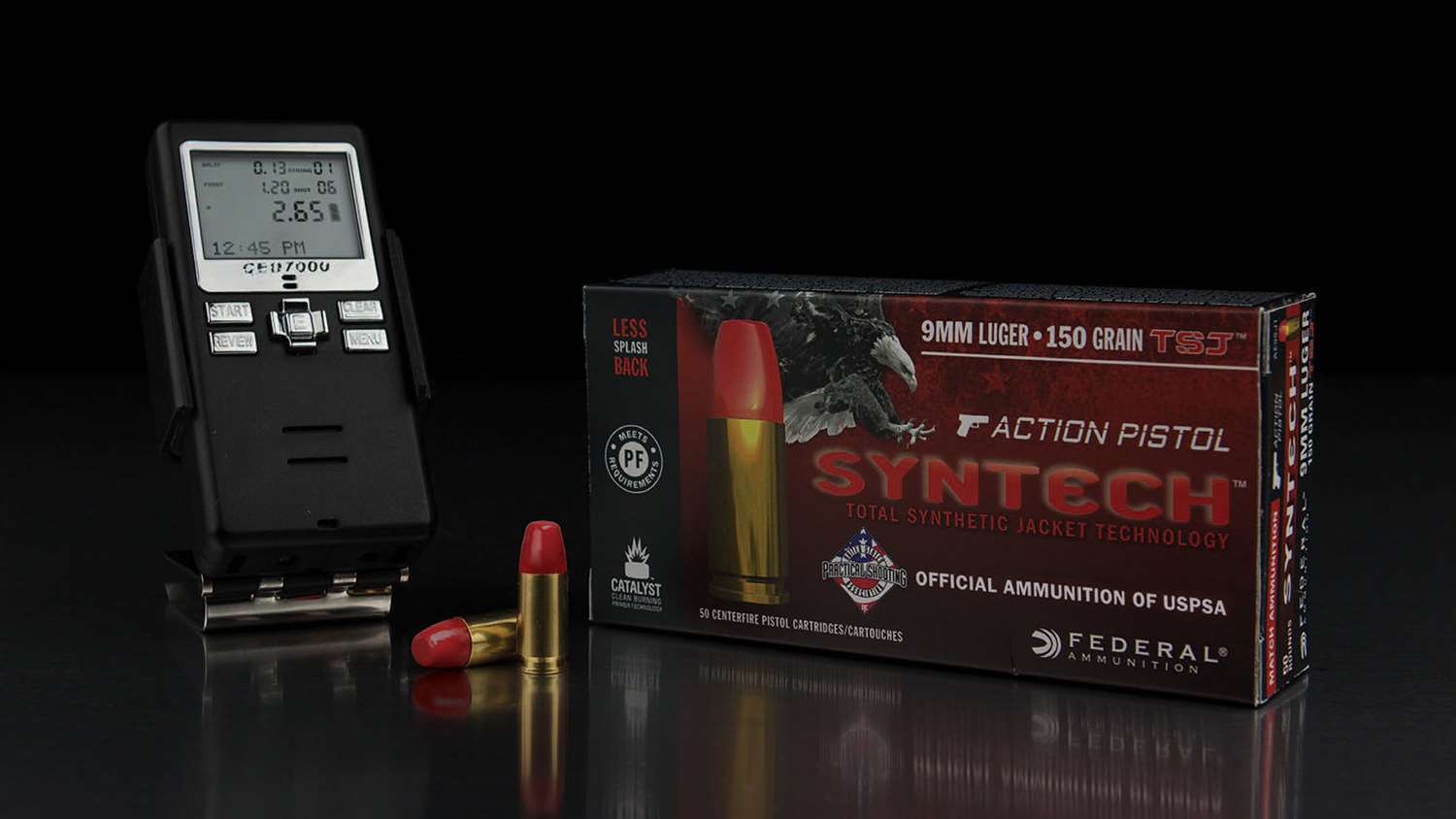 Almost two years ago, Federal Premium came to us and started asking about trends with competitive shooters, how many were shooting factory ammo, what are the most popular bullet weights, what are the power factors needed. The Syntech line of ammunition was not new, but they had something different in mind. Enter Syntech Action Pistol, a new load especially designed for USPSA. Put simply, it offers the most reliable performance possible for high-volume competitive shooters.

"Syntech Action Pistol utilizes all the same technology as the standard Syntech line but is tailored specifically to the competitive pistol application," said John Swenson, Federal Premium handgun ammunition design engineer. "During extended matches, the reduced fouling and cooler gun temperatures allow competitors to keep their focus on their performance and the match rather than equipment maintenance."

Swenson explained that the bullets and loads are designed to yield the least possible felt recoil while meeting power factor requirements and cycling reliably.

"Reduced recoil in these time-sensitive events means less muzzle rise and less time required for follow-up shots," he said. "And that means more consistent hits and lower stage-completion times."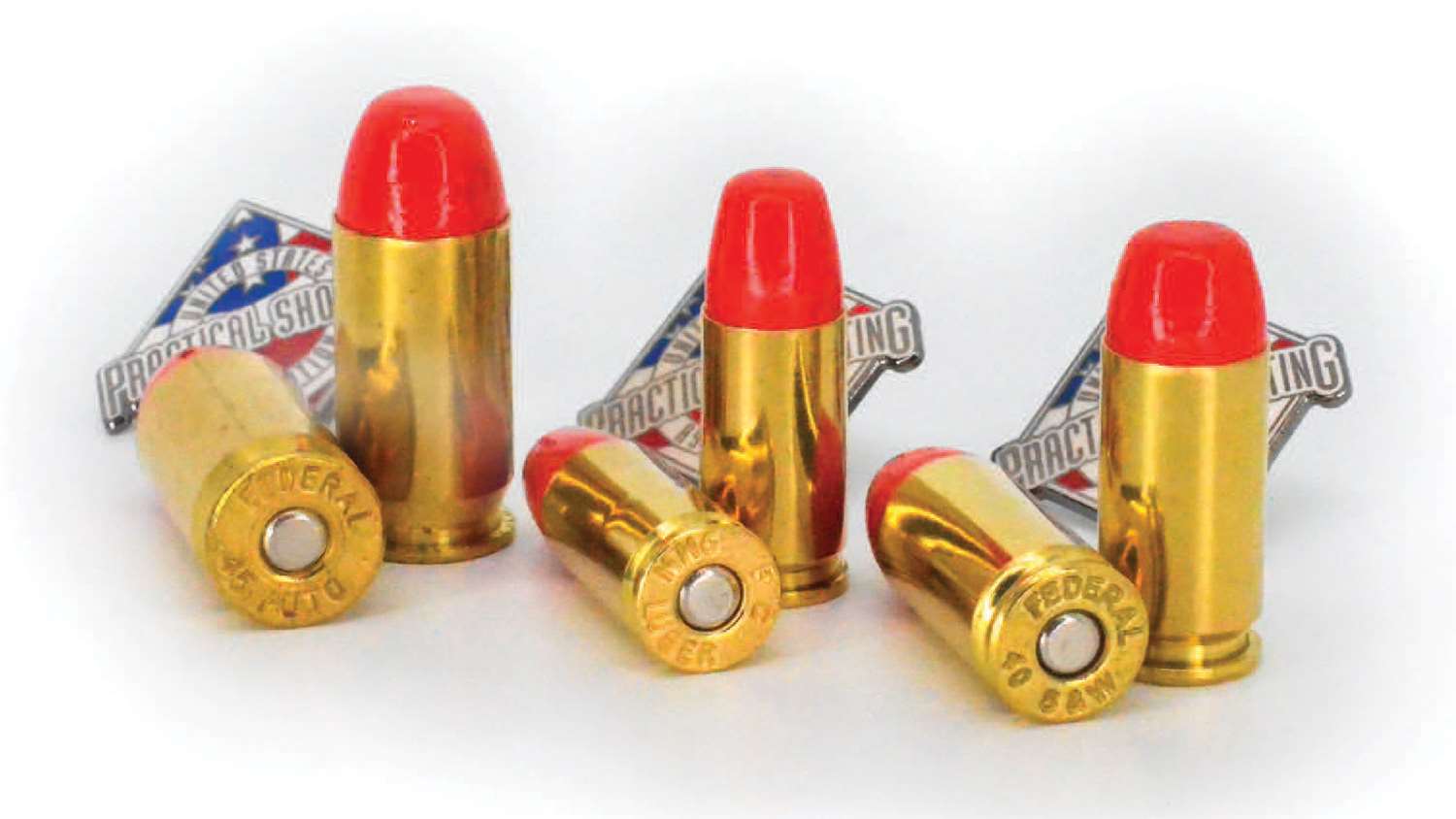 Syntech Action Pistol builds off the success of the original Syntech, which was designed to be easier on your gun and more fun to shoot, providing clean, smooth, consistent performance. Its development took years and centered on the exclusive Total Synthetic Jacket (TSJ), a complete polymer coating that replaces the copper jacket in conventional full metal jacket target ammo. TSJ prevents metal-on-metal contact between the bullet and barrel, eliminating copper and lead fouling, reducing damaging heat and friction and extending barrel life.

The new Syntech Action Pistol features the TSJ and is loaded to competition power factor requirements. Its heavy, flatter-nose bullets provide more reliable knockdowns on steel targets in competition. They also drastically reduce splashback on steel targets.

"Heavy bullets for a given power factor typically have less felt recoil," Swenson said. "They also maintain momentum downrange better than a light bullet. The combination of flatter noses and higher momentum give improved momentum transfer to steel targets. The result is better likelihood of target activation, especially with marginal hits near the edge."

Swenson said the nose design also helps competitors when shooting paper targets. "The flatter nose provides a larger-diameter perforation, making scoring clearer for hits that are near the edge of scoring zones rather than having to rely on the grease ring."

Also, Syntech Action Pistol uses clean-burning powders that minimize barrel residue, and its Catalyst lead-free primer provides consistent, reliable ignition.

"The primer and powder are just as important as the projectile," Swenson said. "They are key to the reliable and repeatable performance needed for these highly competitive events. Pairing the Catalyst primer with these propellants yields consistent performance with a clean burn and reduced recoil."

Federal Premium recently signed on as a sponsor of USPSA, and Syntech Action Pistol is the official sponsored ammo of the organization.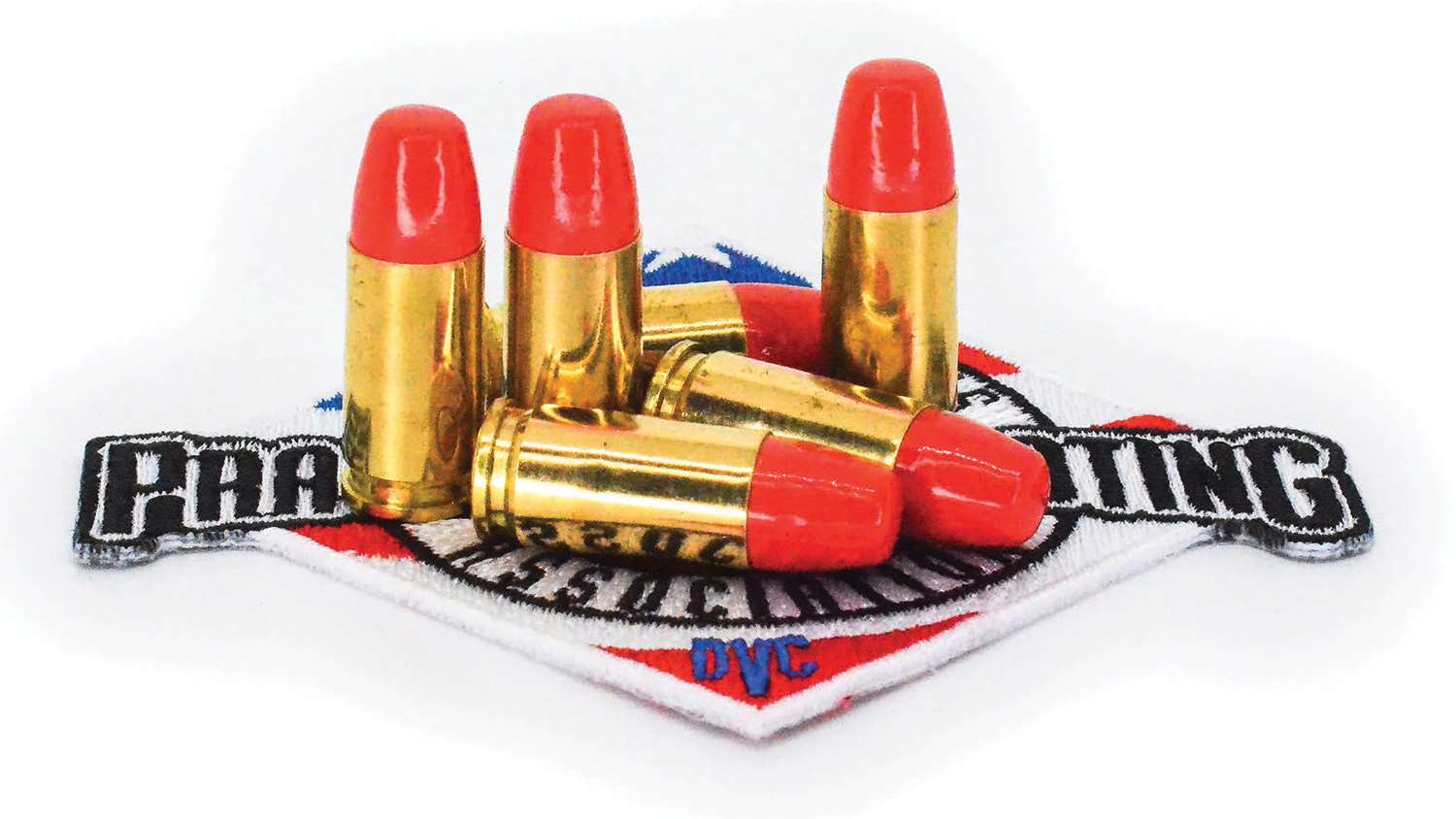 "We're proud to be the first major ammunition manufacturer to enter this exciting arena," said Justin Johnson, Federal Premium product line manager. "USPSA shooters demand very specific things from their ammunition. It needs to be accurate, consistent, reliable, and meet power factor requirements. Until our launch of Syntech Action Pistol, reloading was the preferred way to achieve all of the above. With our factory-loaded ammunition, shooters have a simple, convenient and better solution."

Syntech Action Pistol is currently offered in 9mm Luger, with .40 S&W and .45 Auto next in line. It will help you shoot better and more comfortably, so all you have to do is focus on the next target, round after round.

You can buy the new ammo now from Brownells and MidwayUSA.

Article from the March/April 2018 issue of USPSA's FrontSight magazine.