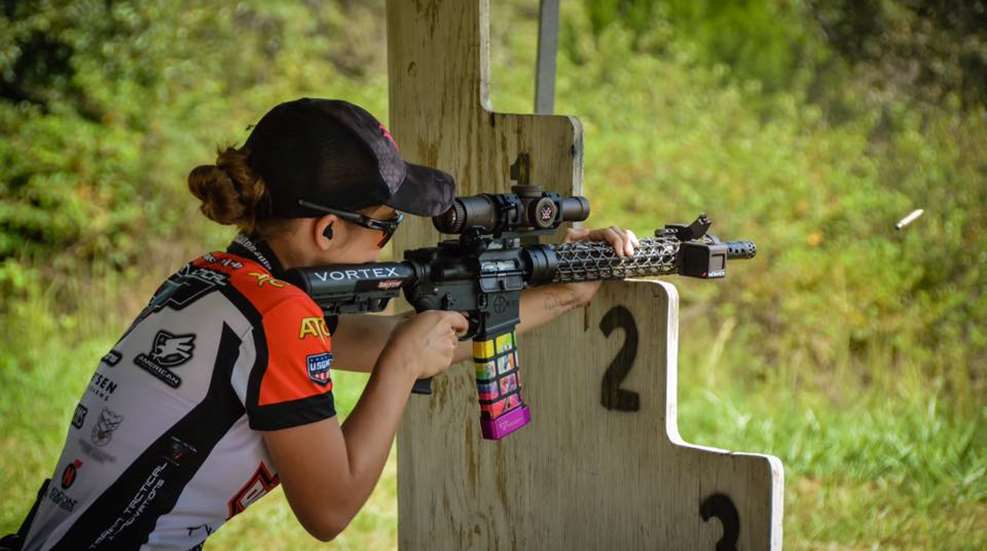 Cheyenne Dalton is an impressive 15-year-old woman of many talents. After growing up on the family farm in Missouri, she is a National Shooting Sports Foundation (NSSF) rimfire world champion, and also has a few state championships under her belt.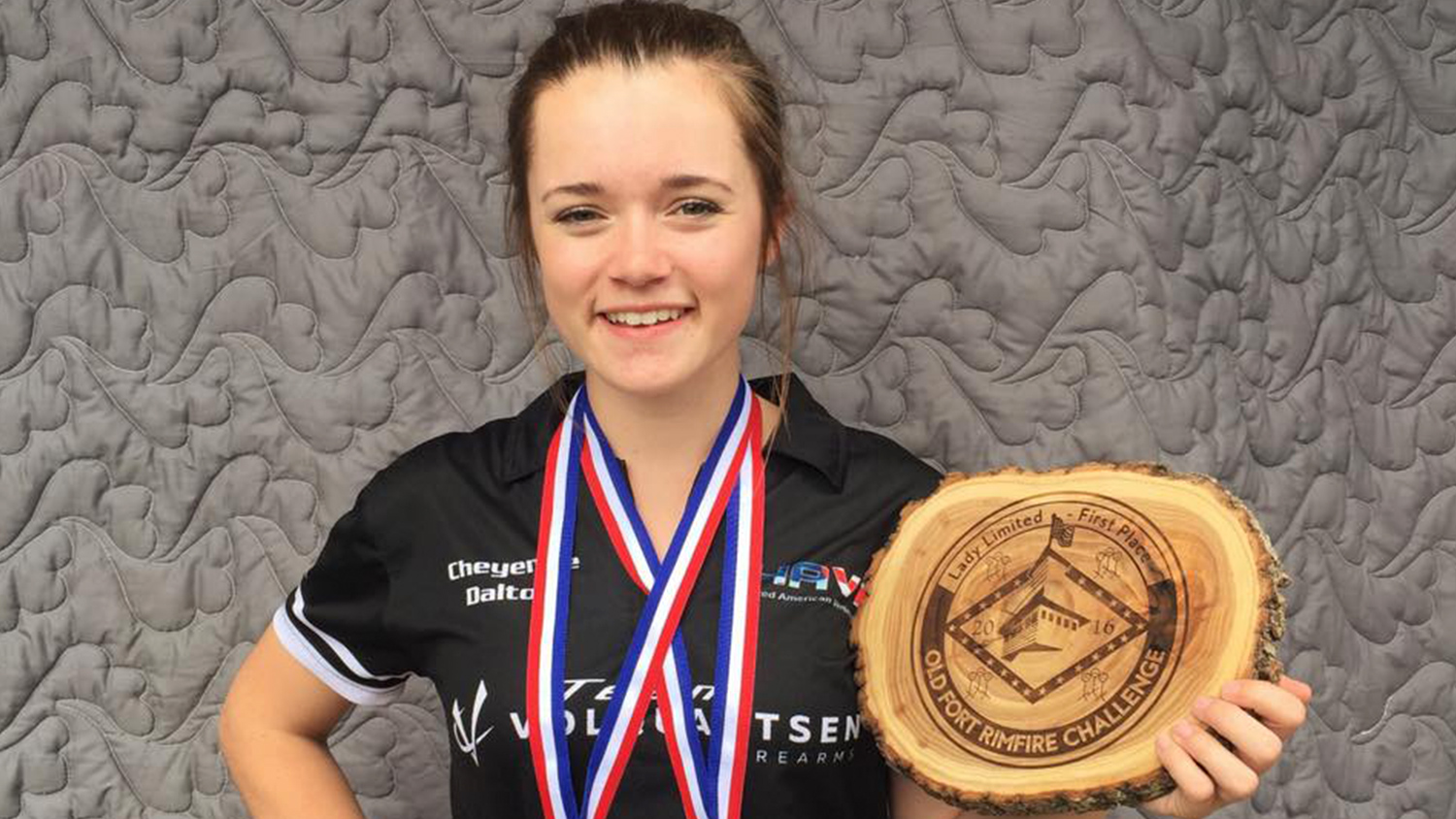 Cheyenne recently entered the world of United States Practical Shooting Association (USPSA) and 3-Gun competition, where she has quickly made a name for herself. Even at her young age, she is an impressive communicator with keen mastery of social media. Additionally, she is an accomplished musician who sings and plays the fiddle, mandolin, guitar, and upright bass as part of the bluegrass band That Dalton Gang.

SSUSA: Who introduced you to shooting?

Cheyenne Dalton: My dad, when I was five years old with a bolt action .22LR rifle he won at a Ducks Unlimited banquet. Eventually, I moved on to a Ruger 10/22 semi-auto rifle, and to a .22LR pistol. He taught me firearms safety, and the discipline it takes to shoot well.

SSUSA: How did you get involved in competitive shooting?

CD: When I was 12, my mom took a concealed carry course from Allie Barrett's father. I ended up taking a few lessons from Allie herself. Later on, my dad took me to the Iowa State Rimfire Championship in Ankeny, IA, as my first match. I ended up winning High Limited Lady and Youth. In 2014, I finished the season winning High Limited Lady at the Rimfire World Championships in Arkansas. I also started shooting USPSA in 2014. Taran Tactical Innovations helped me with pistols and in 2015, I joined the Volquartsen factory team.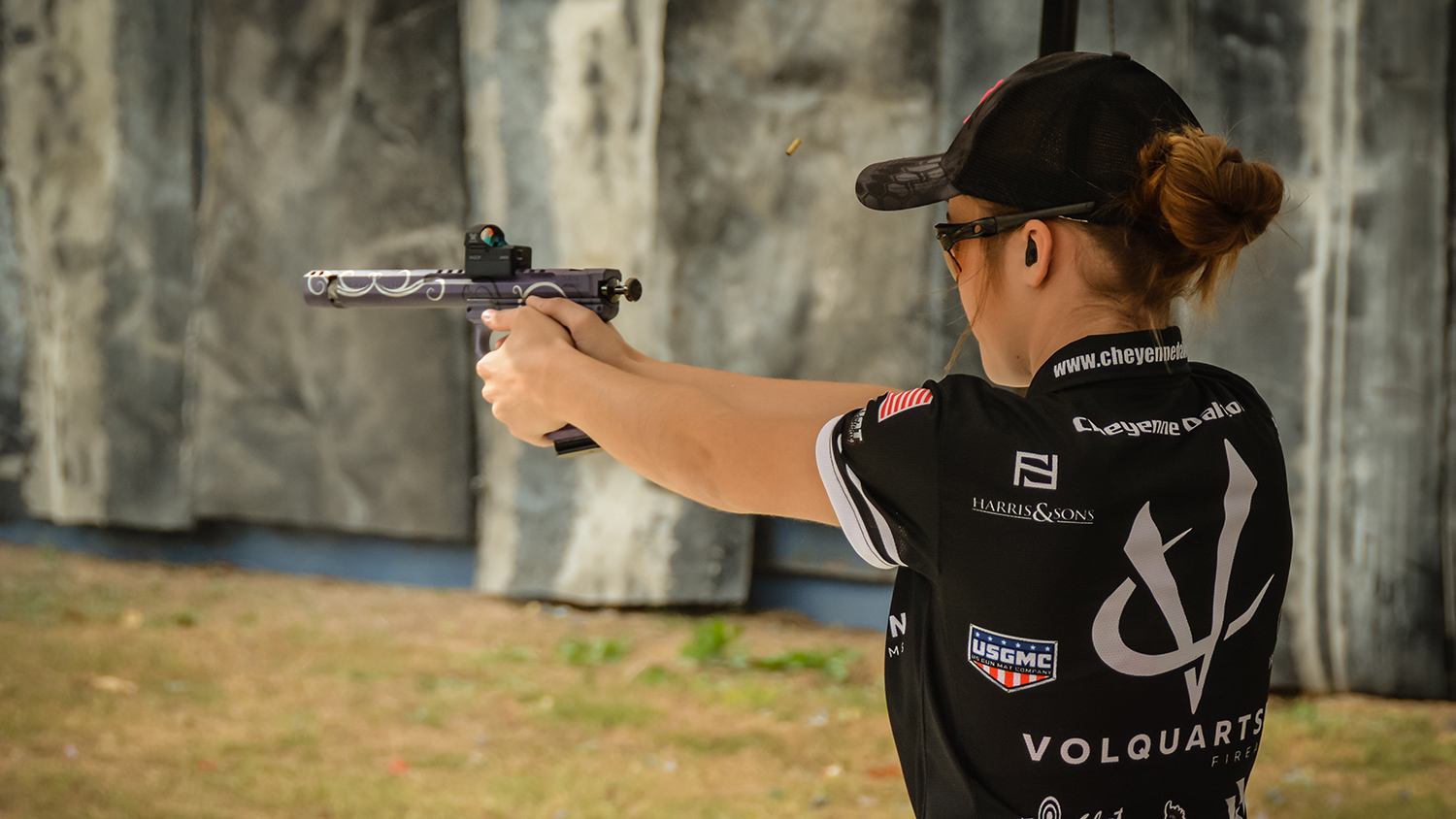 My dad and I attended the Missouri 3-Gun championship where Janna Reeves, Lena Miculek, Dianna Muller, and Becky Yackley let me use their guns to shoot one of the stages and give me pointers. I was hooked on 3-Gun. At the NRA Annual Meeting in Nashville, I talked to a few companies about 3-Gun equipment. In 2015, I shot mostly rimfire and won Overall High Lady at the Alabama State Rimfire Championship.

SSUSA: How do you train for competitive shooting?

CD: Well, as far as training goes, I do dry fire as well as live fire practice―including rimfire steel and various 3-Gun stage setups. I strive to practice at least three times a week. I stay fit by doing yoga, as well as strength and agility training. You really need to be physically strong as well as mentally strong to compete.

SSUSA: Let's talk about mental strength. What do you do to develop and maintain the mental toughness necessary to perform as well as you do?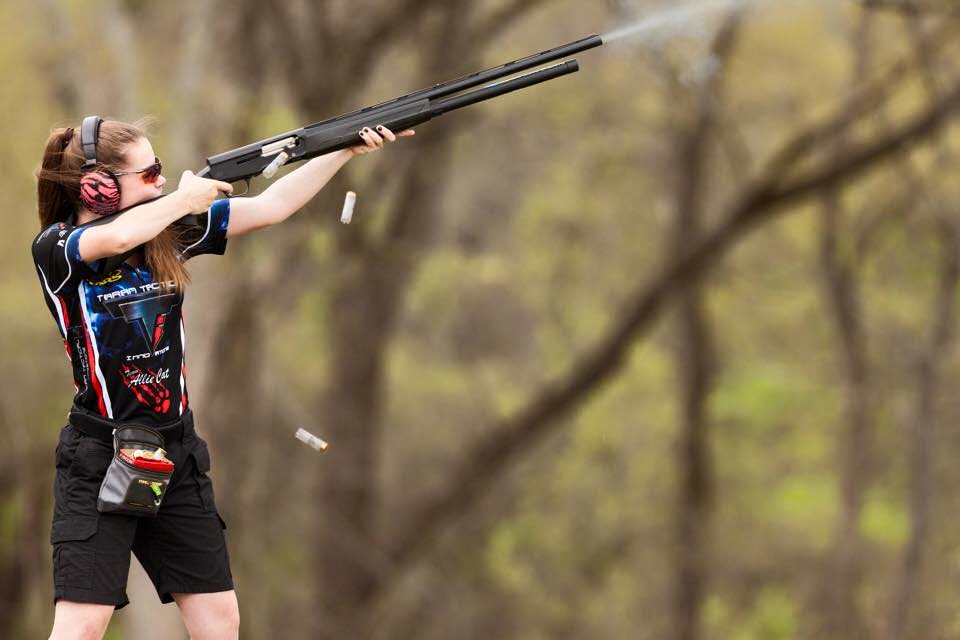 CD: I think I was born mentally tough. My parents have always said that I've always done whatever I put my mind to do. I also think that music has helped in that aspect. When my band plays a show we could be on a stage where there are 5,000 people in attendance. I'm the lead singer of the band, and we play shows for up to two hours. Shooting a rimfire stage or 3-Gun stage that lasts a total of ten seconds to two minutes with a dozen people watching is easy compared to that. When at a match, I have a good time by laughing with my squad, staying loose, and having fun. Winning is my goal, but being miserable while doing so is not.

SSUSA: I'm never going to get a better segue for your musical career than that answer. Tell us about That Dalton Gang.

CD: I've been playing the violin since I was five years old. When I was eight, I wanted to try something different, so I started playing bluegrass music. By then, my sister was also playing violin. We found a guitar player, then added a banjo and upright bass, and that's how the band came about. My sister, Maddie, is a wonderful violin player and singer, with a huge voice.  We've released three CDs and our music is also on iTunes. Music has taught me discipline and that practice can pay off.

SSUSA: Yet another awesome segue opportunity. Let's talk a bit about your sister Maddie. Does she shoot also?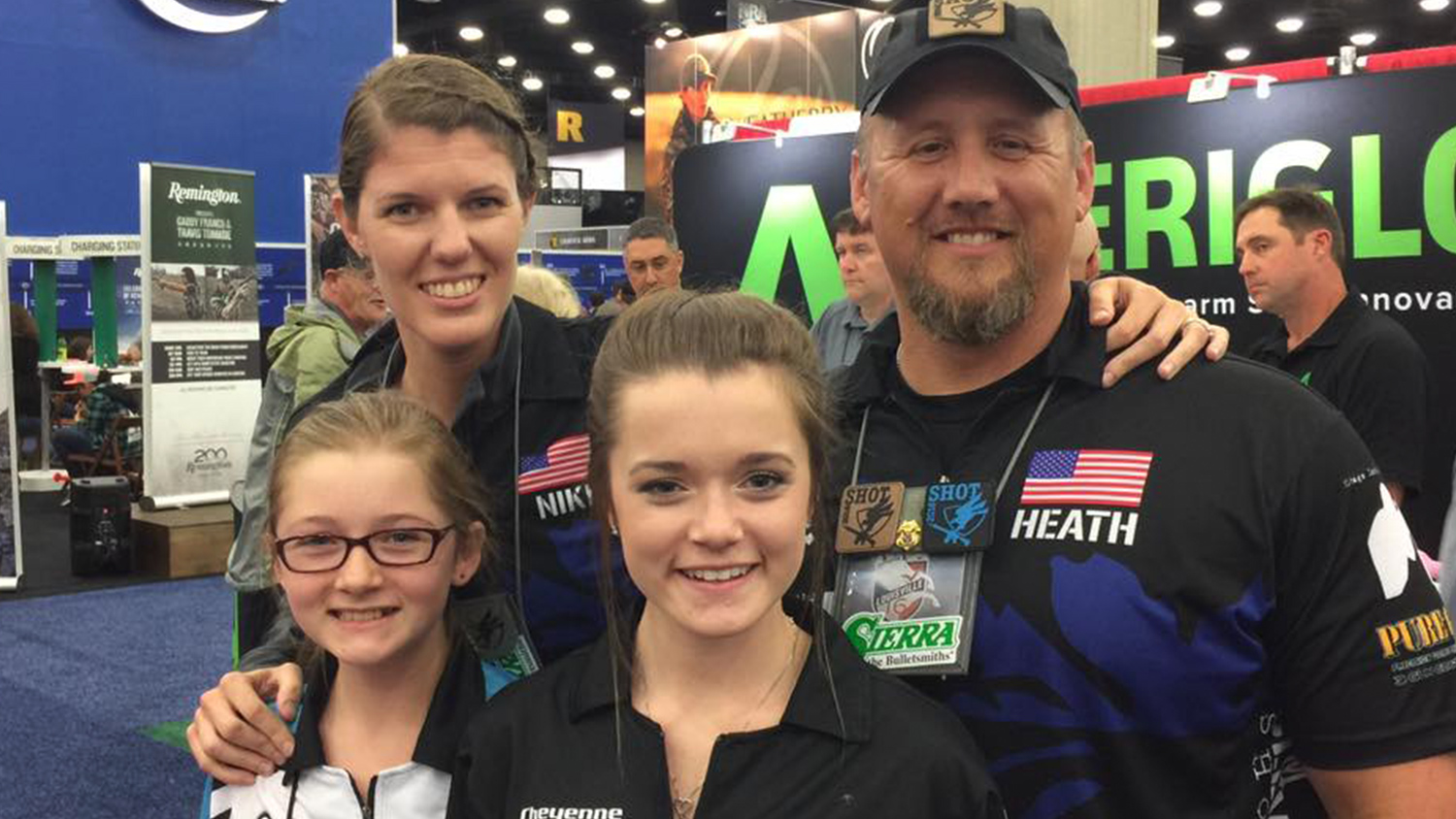 CD: Maddie is twelve years old and she shoots NSSF Rimfire Challenge on Team Tactical Solutions (Tacsol). She's an excellent shooter and will probably end up shooting 3-Gun. She won the 2014 Limited Youth NSSF Rimfire World Championship―the same year I won the Ladies and Junior NSSF Rimfire World Championship. It's fun to have her shooting rimfire with and against me because of the team/sister rivalry—I'm on Team Volquartsen and she's on Team Tacsol.

SSUSA: What about your equipment? Anyone who follows you on social media knows that you use some heavily customized equipment that you've put your own stylish aesthetic touches on. What do you use for rimfire competition?

CD: My rifle is the Volquartsen Ultralite. It features a carbon fiber barrel and all of the upgrades that Scott Volquartsen puts into his custom builds. It has a Hogue Ultralight OverMolded stock and is topped off with Vortex Optics Razor 6 MOA red dot. My pistol is a Volquartsen Scorpion, their top of the line pistol. It's light, fast, and is more accurate than anything I've ever shot. I had it custom cerakoted by Rayzors Edge Tactical in Joplin, MO. It has a Vortex Razor 6 MOA red dot and Hogue grips as well.

SSUSA: What about your 3-Gun equipment? You have some very unique rifles that you use as well as an impressive looking shotgun and a very colorful pistol.

CD: Those guns are pieces of ballistic art. My shotgun is a Taran Tactical Innovations (TTI) built Benelli M2 that has never let me down. It's very light and has little recoil. It has a Nordic Components extension tube and is stippled to perfection. It's a high-end custom Benelli blaster! My pistols are both TTI built Glocks. One is a 9mm Glock 34, the other a Glock 24. I run the 24 in both 9mm and 40 S&W by switching out the barrel. They are both equipped with TTI magwells. These guns have also been cerakoted by Rayzors Edge Tactical. The 24 has a beautiful American flag. My 34 has been given a tiffany blue treatment with black and silver scrolling.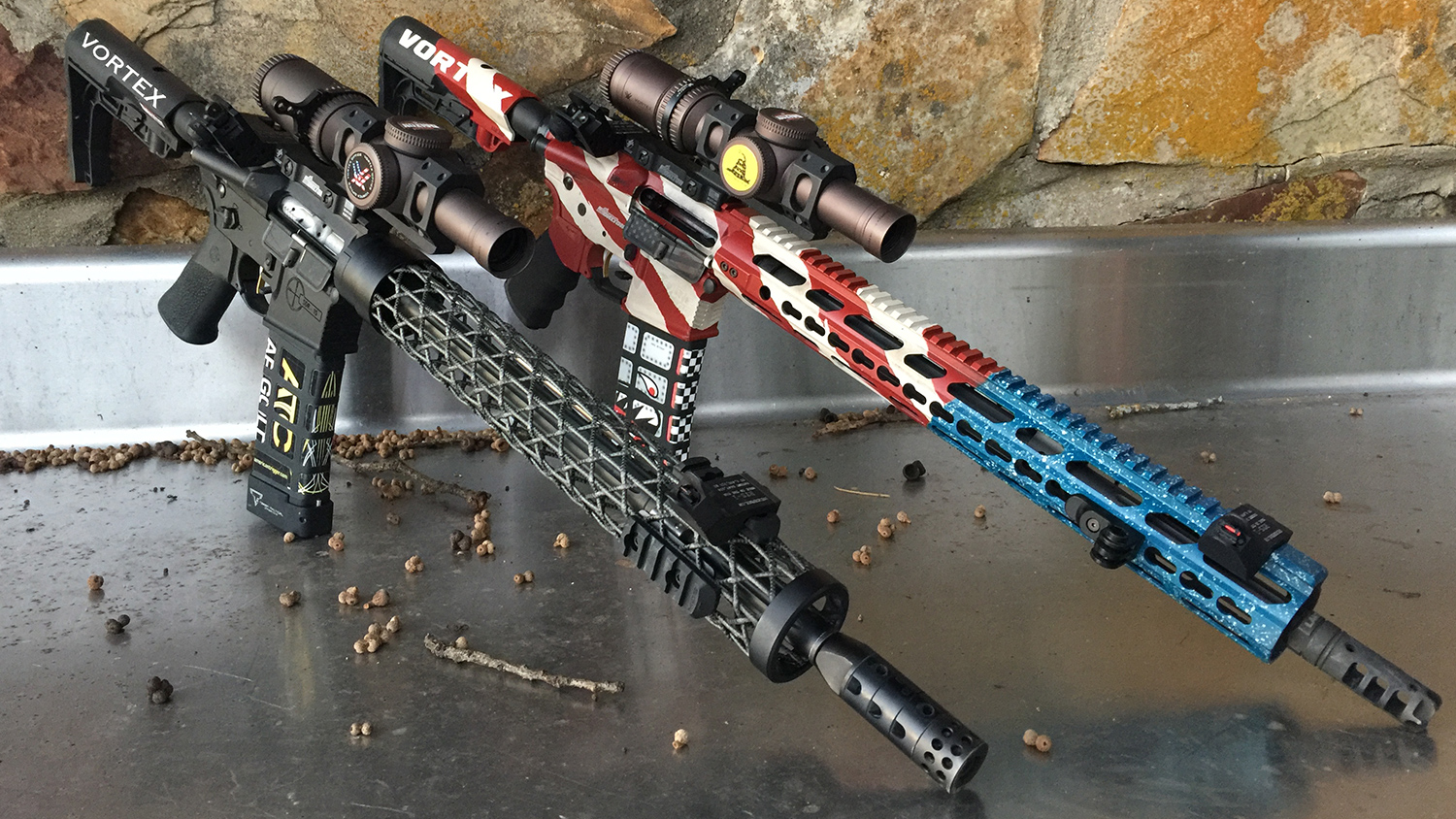 My rifles have also been custom built for me. My main rifle was built by James Casanova at Carbon Arms. It features a Nordic Components lower, a Young Manufacturing bolt carrier group, and an American Trigger Corp. Gold Flat Trigger. It has a Brigand Arms woven carbon fiber handguard that weigh less than 4 ounces. My optic is a Vortex Razor HD Gen 2 1-6x24 mounted on an American Defense Manufacturing Recon-X mount. I have Dueck Defense offset iron sights installed as well. I also use a UM Tactical R.A.G.E compensator and a Hogue grip. It has a Mission First Tactical minimalist stock (which I love) and a Stretch 16 1/8 barrel chambered in .223 Wylde.

John Damarin of Pro-Shot Products presented me with a Core Rifle Systems rifle as a surprise for my back up rifle. It's built on a Core 15 lower, and just about all Core components. It has an AR Gold trigger as well. The optic, mount, and stock are the same as my primary rifle, and it has a Lantac Dragon compensator. It has a 16" Core barrel chambered in .223 Wylde. It was custom cerakoted by Core. I've named this rifle Freedom.

I like to video my rifle runs—so both rifles have mounting positions for GoPros.

SSUSA: Where do you go to school and what are your plans for the future?

CD: I'm homeschooled, which really helps, because I travel a lot. Being able to do some of my courses online has helped immensely. I attend a homeschool co-op one day a week, and do my regular courses every day. My future plans include shooting and playing music as much as possible. I want to be a pharmacist, but I haven't decided on a college yet. Oklahoma, Oklahoma State, Arkansas, and Bethel University are on my short list.

Follow Cheyenne Dalton on Instagram.