Top shotshell manufacturer Baschieri & Pellagri USA has added talented teenage sporting clays competitor Karen Shedd to the B&P shooting team.
Hailing from Arizona, at age nine Shedd began her competitive shooting career in the Scholastic Clay Target Program. By the time she had turned 15, Shedd was an active competitor in the popular sporting clays discipline. Now 19 years old, Shedd is the first woman to win Overall Team USA FITASC Qualifier. Previous big wins for her include Lady RU in last year's World FITASC Championship, along with a pair of Winchester Ladies Cups.
Shedd is excited to join the B&P shooting team. Founded in 1885, the company's ammunition has been a top choice for competitive shooters and hunters for many decades. Additionally, Shedd revealed her favorite B&P load.
"It is an honor to be part of B&P USA," said Shedd. "I believe that the ammunition is the best product on the market with the highest value. The 1160 Comp One has helped me reach levels of success I never thought possible. I look forward to continuing to grow as a shooter in this wonderful partnership."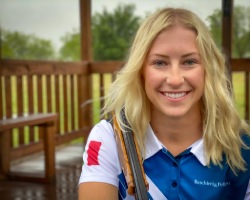 In addition to joining the B&P competitive shooting ranks, Shedd has also been chosen as captain for the U.S. FITASC team competing in Hungary this fall. Her appointment to head the 2021 Team USA Ladies FITASC effort follows Shedd's impressive six-target-lead win at the B&P FITASC Grand Slam in Arizona, where she also became the first woman to win an overall FITASC qualifier.
For more information about Team B&P, visit Baschieri-PellagriUSA.com.
---
Read more:
Fiocchi Acquires Ammo Manufacturer Baschieri & Pellagri