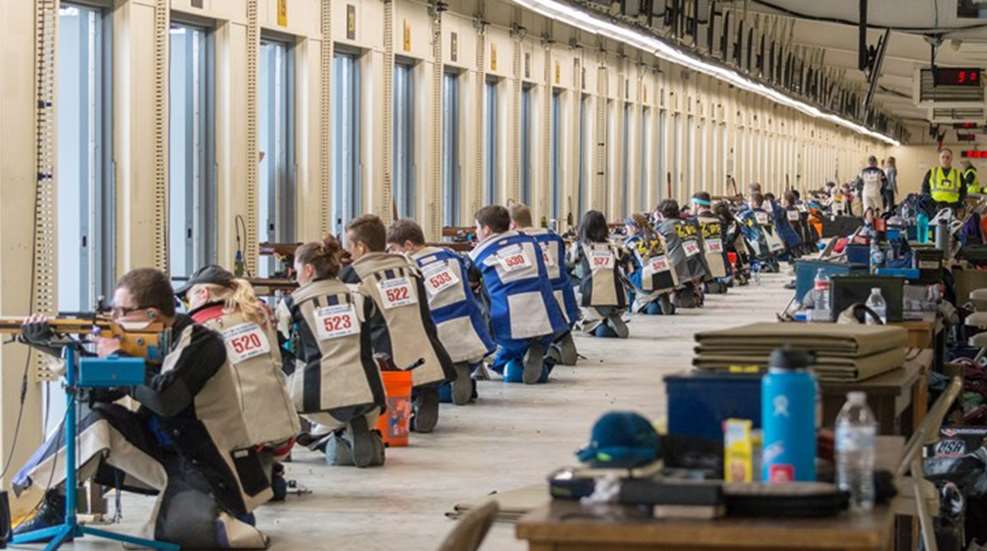 While any number of popular shooting games may easily be adapted to the college setting, smallbore rifle and pistol disciplines are among the most popular. This guide will help you get started. (To find a school with a collegiate shooting sports program, check out the NRA Collegiate Shooting Sports Directory.)
Smallbore Rifle
The smallbore rifle event is the mainstay of collegiate shooting programs throughout the nation. Generations of collegians have enjoyed smallbore rifle shooting, whether for course credit or as a competitive shooting endeavor. Among students who have fired a gun, many have already fired a rifle. It therefore makes sense that a new shooting program on a college campus would include rifle competition. The widespread popularity of smallbore rifle makes it a strong favorite for any collegiate shooting sports program.
Marksmanship was once a mandatory course for ROTC cadets, and, as a result, many colleges and universities have on-campus ranges. Today, most intramural, physical education and competitive shooting programs are built around .22-caliber smallbore rifle shooting, thanks to these ROTC origins.
Much of smallbore rifle shooting in the U.S. is conducted according to NRA rules. In addition, the NCAA Rifle Rules (aligned with USA Shooting rules) are used for NCAA air rifle and smallbore rifle competition.
Smallbore Rifle Equipment
The .22 LR smallbore rifle used in various collegiate shooting programs should be a single-shot, competition-grade rifle equipped with adjustable sights. Additional accessories include the sling, a shooting jacket, a glove and spotting scope. The quality of the competition-grade rifle and the number of accessories will vary with the shooting program desired.
Most often, the equipment needed to make a student shooting team operational is purchased and owned by the recreational services department, ROTC unit, physical education department or athletic department. There are, however, college programs that use equipment which is personally owned by the coach or instructor. Many college competitive teams purchase their own equipment that belongs to the team or club, and remains with the team throughout the years. Still, many shooters on the team or in the club may purchase their own equipment.
The shooting sports, just as any other sport, typically spend numerous seasons building up their equipment inventory. Equipment purchased is considered a capital investment and will last for many years. Quality shooting equipment is able to endure semester after semester of physical education courses and hundreds of students going through the program.
Please refer to the NCAA rules in regard to specific regulations applying to rifle types, equipment, targets and courses-of-fire for NCAA smallbore rifle collegiate competition.
Smallbore Pistol
Intercollegiate pistol is rapidly gaining popularity and requires less start-up equipment than smallbore rifle—a plus for a campus-style shooting program. Smallbore pistol on the college circuit involve the free pistol, standard pistol and sport pistol events. The event that has been shot the longest is the standard pistol. Many ROTC units have the standard pistol available to their cadets for training and qualifying for marksmanship awards.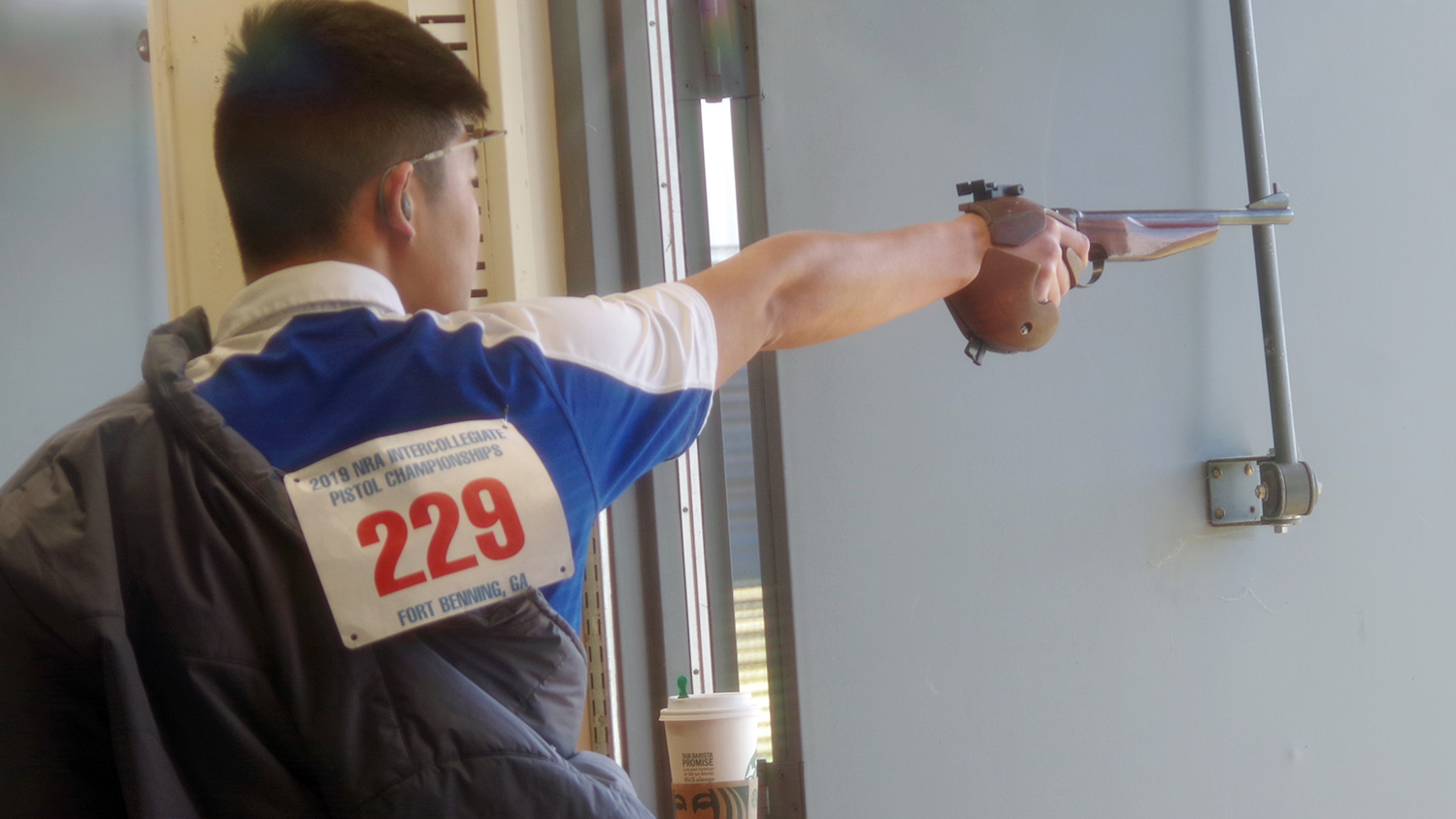 The pistol, relatively light and compact, lends itself more readily to accommodate a wide variety of students. There is little adjustment necessary to fit a person to a pistol, since almost any individual can use the most commonly available guns. Basic equipment necessary for pistol shooting consists of the pistol, ammunition and targets. Multiple accessories are not required. Eye and ear protection are highly recommended (and nearly all the time, mandatory) for all shooting.
The same principles of shooting that apply to all shooting events apply to pistol. Safe gun handling is paramount. The principles of firing the shot do not change from one shooting discipline to another. In fact, it is quite easy to jump from one shooting course curriculum to another. Shooters in a program may wish to try another shooting discipline during the following semester. This process is how shooting programs grow.
Smallbore Pistol Equipment
There are two smallbore pistol events for college shooting. Both the .22-caliber free pistol and standard pistol are used in competition events.
The definition of free pistol is summarized as any rimfire pistol having no weight restrictions and a free trigger pull. The more advanced designs may feature single-shot actions, electronic triggers and wraparound grips made to fit like a glove.
The standard pistol is the dominant pistol used for educational courses and intramural sports activities. Standard pistols are either semi-automatic or revolver type, the most widely used being the semi-automatic. In competition, the standard pistol may also be used in the free pistol event, and many college teams are able to cut equipment expenses by firing the standard pistol for both events.
The pistols for collegiate shooting use metallic sights. No scopes are mounted on the gun. Typically, ROTC units own most pistols and equipment. There are some college teams that purchase their own guns and equipment, and many instructors and coaches may loan equipment to their team. There are also those individuals who own their own shooting gear. Besides the pistol itself, other equipment includes competition-grade ammunition, a spotting scope, eye and ear protection, and a gun box for storing the gun and accessories. As stated previously, the amount of gear for pistol shooting is far less than for rifle shooting. This feature makes the sport very attractive.
Please refer to the NRA International Pistol rulebook in regard to specific regulations concerning pistol types, equipment, targets and courses-of-fire.
Helpful Links
---
See more:
2021 NRA Nationals At Camp Atterbury Schedule Released