A spotting scope stand and adjustable mount for outdoor weather and lumpy ground may require a different design than one suited for indoor ranges. If you need a stand for service rifle, benchrest or F-Class, here's a solution worth looking into.

Short-and-stout appeared to be the preferred scope stand design as I walked the windy firing line at the National Matches one year. At the time, I was unaware that Tim Knapp was using one of the popular Ray and Ruby Brandes (Ray-Vin) scope stands when I snapped his cover photo for the October 2009 issue of Shooting Sports USA.

While you may have become accustomed to your weighted 5⁄8-inch Freeland stand with multiple scope-head adjustments for use in indoor rifle matches, the Ray-Vin design has reduced all those scope head knobs to a single control. Sweet! A simple twist of the fine-thread mount handle loosens both the Delrin clamp on the vertical rod and the clutch face on the scope mount swivel ball. Add a low center of gravity stand with a wide, three-legged base that folds upwards for compact storage, and you have a reliable piece of gear that is sturdy, quick-to-adjust and easily transported. And for F-Class or service rifle prone, the optional Outrigger extension mount (MSRP: $69) will place the scope about 8 inches closer to your eye without encroachment from the stand's tripod legs.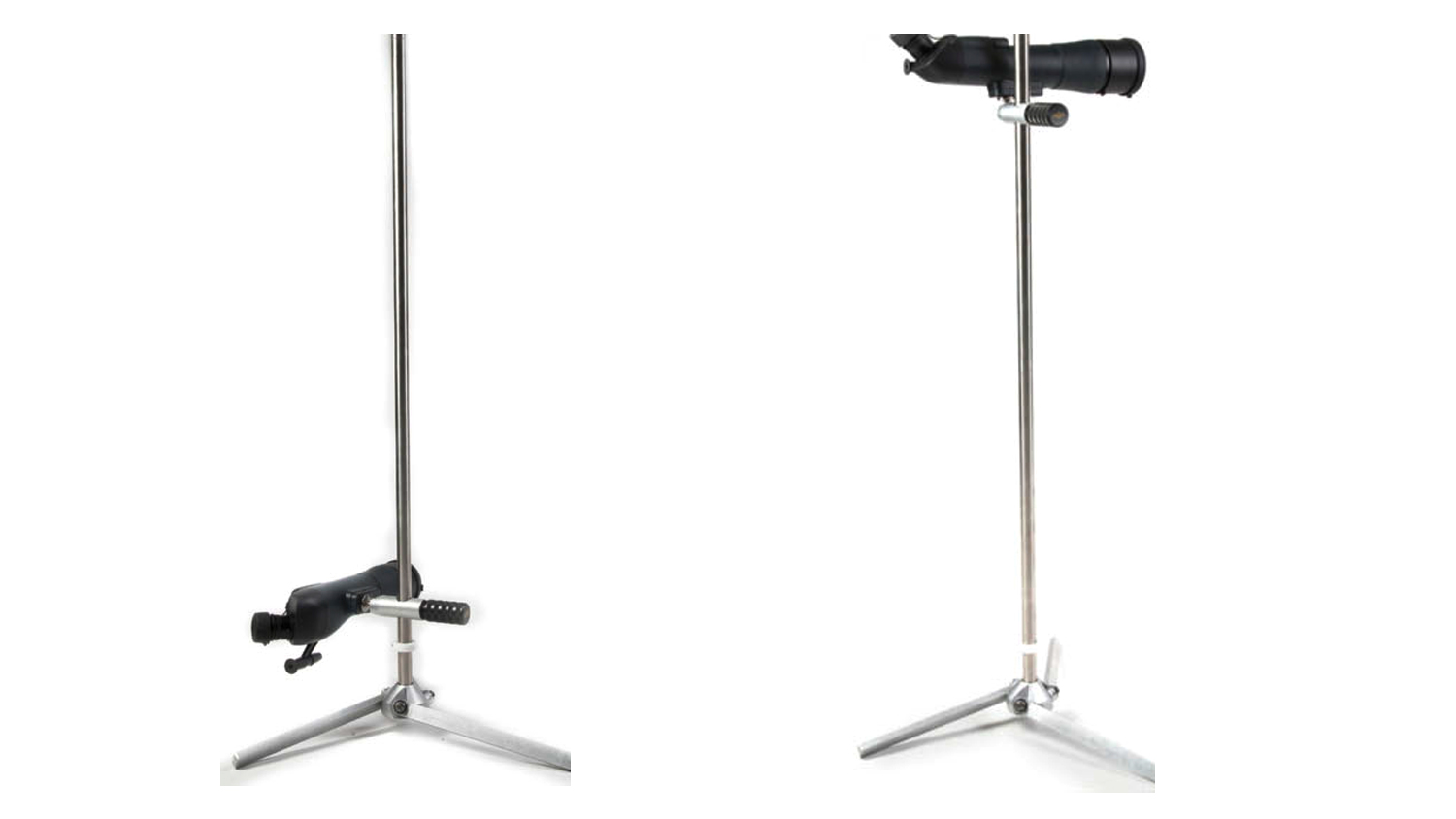 One example of the creative mind of engineer-shooter Ray Brandes is his adjustable control head—The Eclipse. Introduced in 2009, the Eclipse (MSRP: $299) makes an already innovative one-knob design even more rugged and self-storing. One no longer needs to insert a keeper into the mounting jaws when the head is removed from the stand. Brandes also simplified the swivel mount by replacing the vee-lock-balland-plate system with a welded, stainless steel plate.

In an ongoing quality-assurance program, Brandes learned that the swivel vee lock had been a minor problem when the mounting screw wasn't kept tight, allowing the ball to wear against the vee in the mounting plate. Though fewer than 10 customers required service, Brandes redesigned it. Problem solved. In his characteristically candid approach, Brandes' website lists a comparison among several scope heads on the market with the caveat "We make an excellent solution, but we realize it may not be best for everyone."

When asked about the origin of the company name, Ray explained, "The 'Vin' comes from Ruby's real name, which is Vincentine. The name was always a problem, like it wouldn't fit on credit cards, she got scheduled for boy's gym class, etc. So, one day she was looking at her birthstone ring when she answered the phone and blurted out: 'This is Ruby.' She has been Ruby ever since!"

For instructional videos and information on their complete product line, go to www.ray-vin.com.