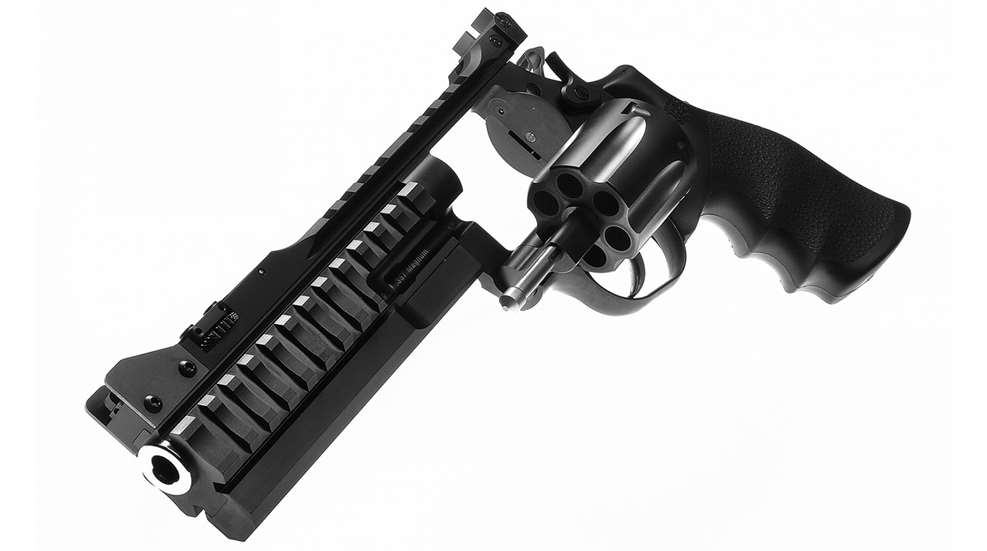 When it comes to competitive shooting in the arena of revolvers a lot of people do not know where to begin. The revolver market does not get as much exposure as it had in previous decades with everyone's lust for high-capacity magazines and cerakote colors spanning the entire rainbow—two characteristics that you will never see from revolvers. The upcoming generations of shooters unfortunately do not have the strong appreciation for revolvers that previous ones did. Whereas many of us grew up on wheelguns with John Wayne, now people emulate semi-autos with John Wick.
So with waning attention given to revolvers, where does one start? If someone wants to chase after competitive shooting with a revolver, what are your best options? Well, here's five revolvers for competitive shooting that you should absolutely be setting your sights on.
---
Korth Super Sport .357 Magnum
The Korth brand of firearms doesn't get much press in the U.S. because it wasn't until recently that we could obtain them. Now they are imported by Nighthawk Custom—opening up a whole new world of high-end firearms for consumers.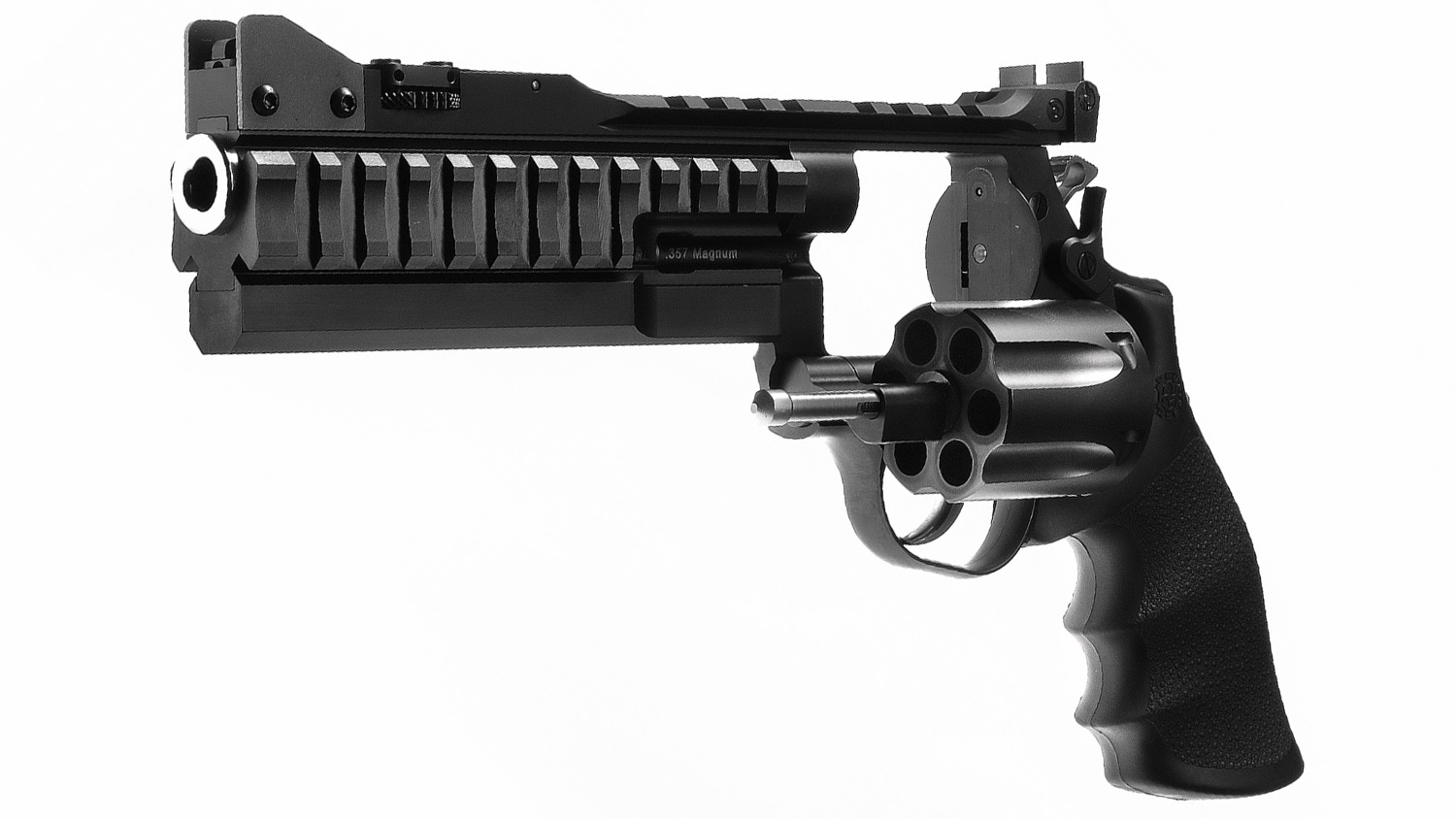 The Korth Super Sport .357 Magnum lives up to the expectations of high-end in every sense of the word. This revolver, as you will be able to see in its specifications, does not have any price constraints in its construction. A short list of some of those premium components can be read below:
6-inch Lothar Walther, cold-forged polygon barrel.
Interchangeable cylinder upgrade for .357 Magnum, .38 Special and 9mm.
Entire revolver is machined from billet steel.
Roller trigger with 5-way adjustable DA.

Some other highlights with this masterly-crafted pistol are the DLC finish on all of the metal work, a soft rubber Hogue grip that many of us should be familiar with and Picatinny rails 'o plenty! This revolver looks a bit futuristic or "Terminator-like" because of the three different rail facings that are immediately noticeable. The MSRP for this black swan is a steep $4,799 if you are interested.
You might be wondering why the Korth Super Sport .357 Magnum with all of its tremendous quality is not higher on this last? Well, it's because of one reason―price. While this revolver would make anyone into a better shooter and could potentially stop an alien invasion, not many shooters have roughly $5,000 to put towards a firearm when they are trying out a sport for the first time like competitive revolver shooting. The quality speaks for itself. Everywhere you look on the gun it oozes superb craftsmanship. It is just a difficult price point for a lot of consumers to jump in at. NighthawkCustom.com
---
Taurus Tracker 692 .357 Magnum/9mm
The Taurus Tracker 692 .357 Magnum/9mm will be the cheapest to make the list at an MSRP of $659, but it has a tremendous amount of value for the budget-minded competitor.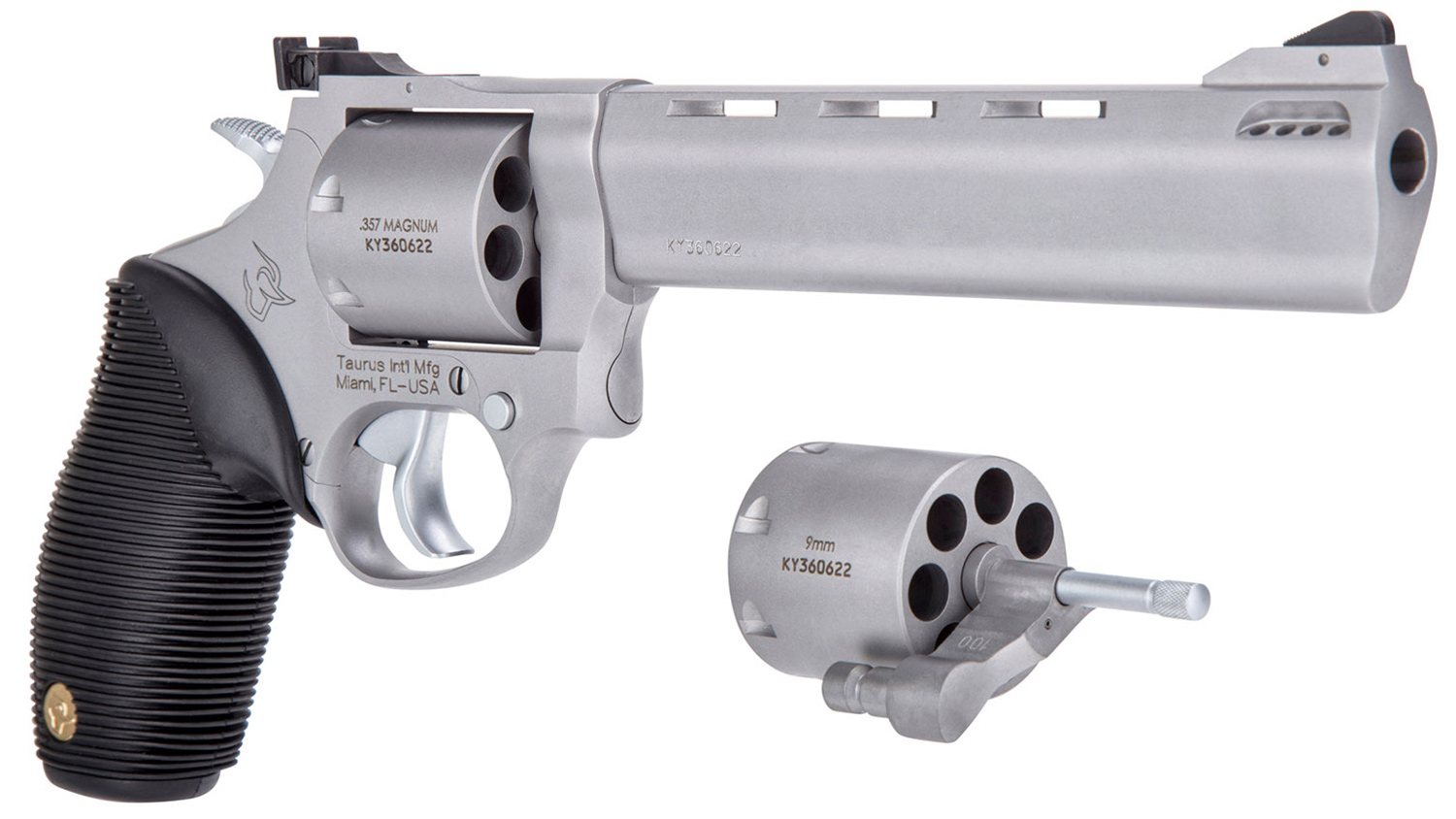 Like all of the revolvers to make this list, it is chambered for .357 Magnum with the ability to also shoot .38 Special, but a third caliber gets thrown into the mix as well. You get a second cylinder in 9mm that can easily be switched out at the touch of a button. This additional utility could swing someone to try competitive revolver shooting if they are on the fence. Some of the other highlights from this revolver can be read below:
6½-inch ported, full-lug, vent rib barrel.
7-round, unfluted cylinder.
Taurus ribber grip.
Fixed front sight with fully-adjustable rear sight.

The long barrel length, full-lug underneath and porting all add up to this being a tame and light-recoiling revolver. The added fun of 9mm is something nearly everyone could appreciate as well. The hallmark Taurus ribber grip can be love-or-hate for most consumers. This feature is iconic to many of Taurus' revolvers, but can be a good or bad thing depending on what your preferences are.
The Taurus Tracker 692 is on this list for a few reasons. While this revolver might have more value than any other mentioned here relative to its price, it misses out in other areas. The Taurus is a good, serviceable revolver, but there are definitely ones with more quality yet to be named on this list. TaurusUSA.com
---
Dan Wesson 715 .357 Magnum
If this revolver looks suspiciously familiar to some of you then you might be remembering the old Dan Wesson 15-2 Pistol Pack .357 Magnum revolvers. The Dan Wesson 715 .357 Magnum is a direct descendant of the 15-2. The model 715 can interchange with a lot of the older parts from a 15-2 which gives it added value and utility. As opposed to only buying brand-new, full-priced components you can search out more affordable parts from the 15-2 lineage of revolvers.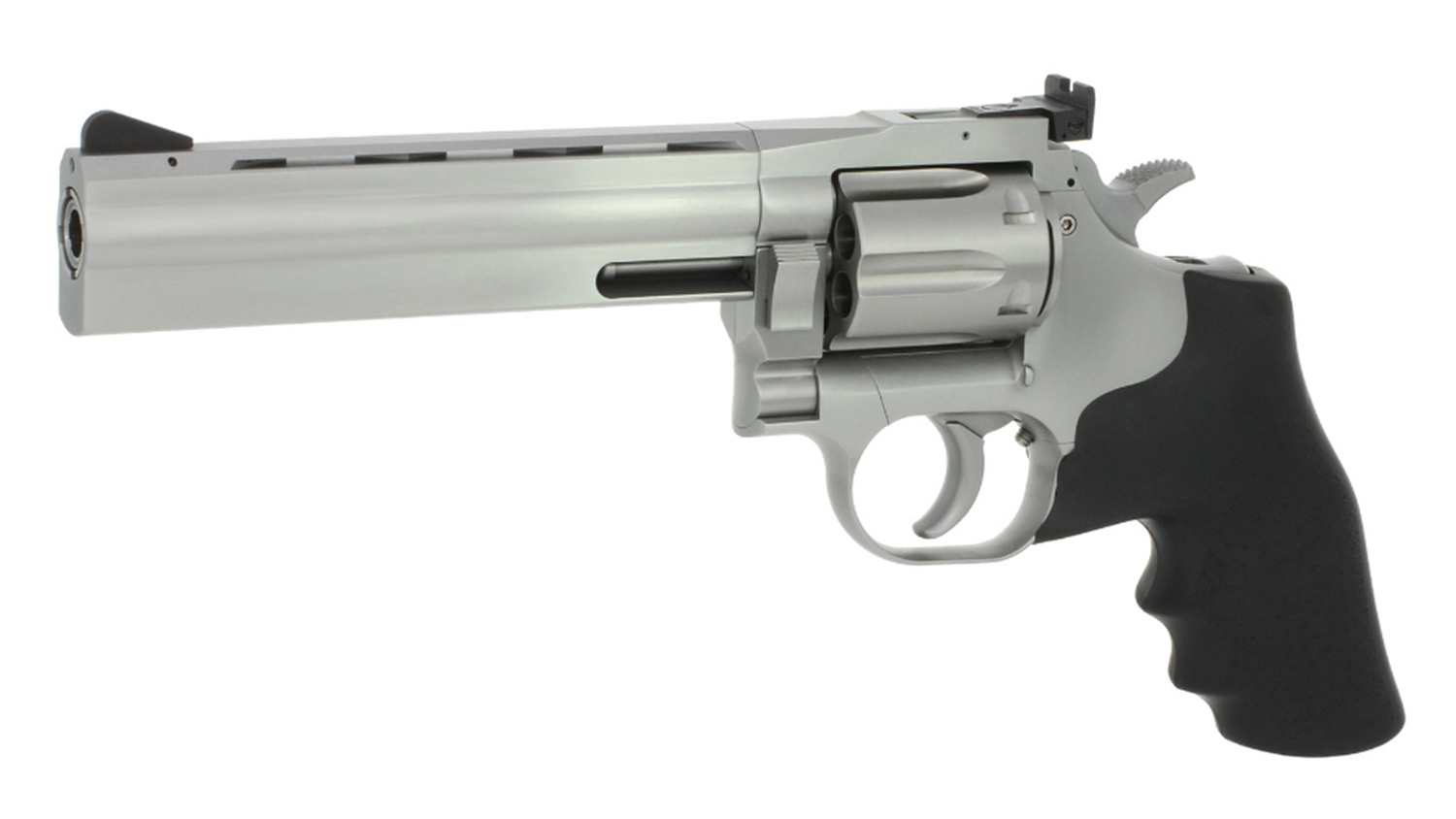 Aside from being able to capitalize on crossover components, here's a concise summary of other valuable features:
6-inch, heavy vent shroud barrel (HV6).
Accepts grips, shrouds and barrel assemblies from 15-2 and newer models.
Forward crane latch and rear ball detent ensure proper cylinder/barrel alignment.
Fixed front sight with fully-adjustable rear sight.

The cylinder on this revolver rotates clockwise to help reduce stress on the crane lock which turns in the same direction. This aids in improving the integrity of the revolver; thus, its overall service life. This is important because a competition revolver could see a significantly higher round count than other handguns you may own. The tiny, often-overlooked elements such as this make the Dan Wesson 715 .357 Magnum such a good revolver.
The Dan Wesson 715 .357 Magnum makes the list because of its thoughtful construction, overlap with the formerly popular 15-2 and known good accuracy among shooting circles. The standard 715 (revolver only) retails for $1,558 while the 715 Pistol Pack (4-, 6- and 8-inch barrels included) goes for $1,999. DanWessonFirearms.com
---
Ruger GP100 Match Champion .357 Magnum
The Ruger GP100 Match Champion chambered in .357 Magnum is a strong contender as a competitive revolver. Once you start analyzing the features poured into this model—it is very apparent it's range- and potentially podium-ready. At the moment, this is the company's best offering of a near custom-shop quality revolver. This may change after the debut of the Ruger Custom Shop earlier this year.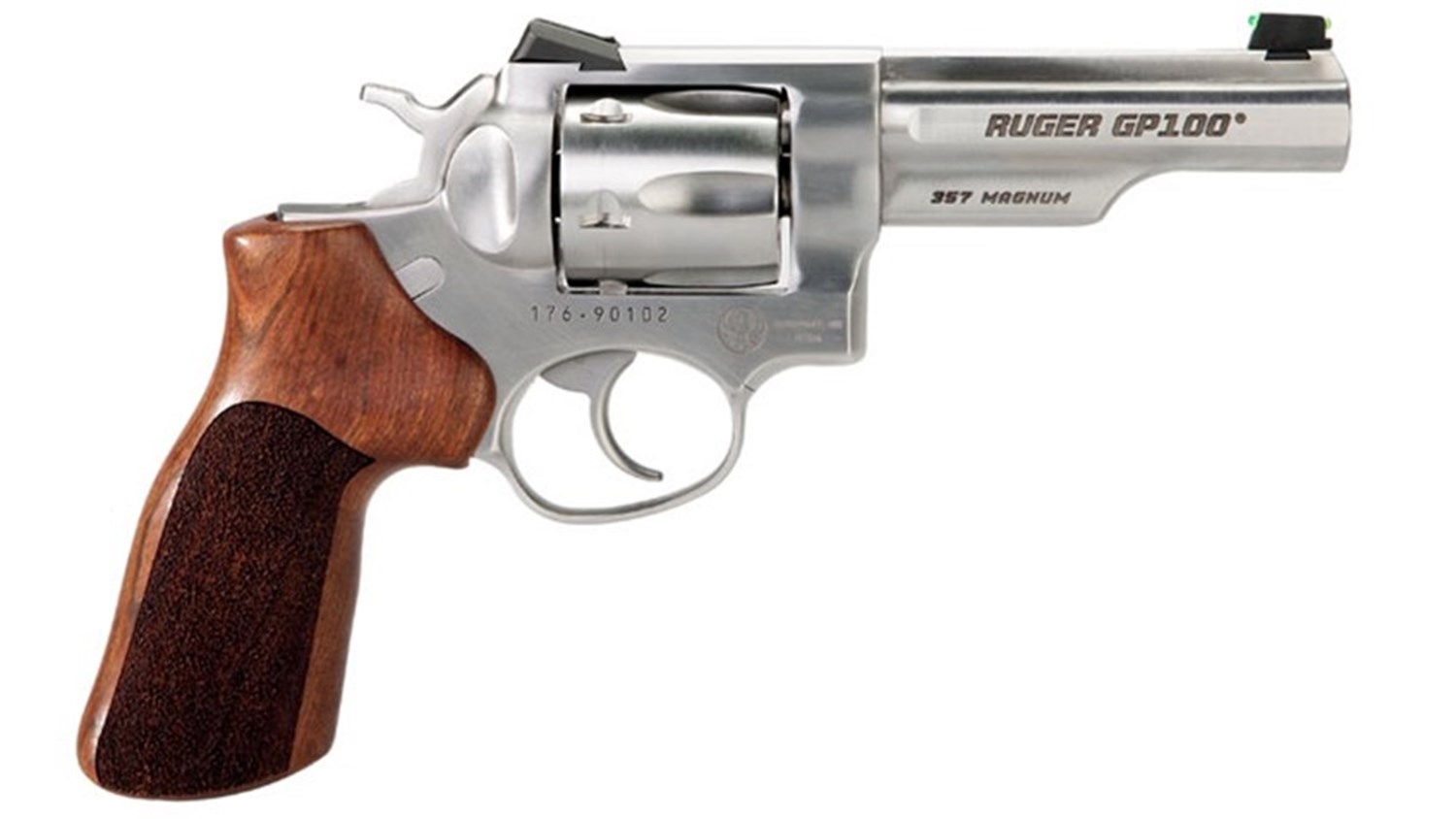 Here is a rundown of the top features:
Custom Hogue-stippled hardwood grips engineered for competitive shooting.
4.2-inch, half-lug barrel with 11° target crown.
Green fiber optic front sight with adjustable rear target sight.
Triple-locking cylinder for better alignment.

With the ability to shoot .357 Magnum cartridges and much softer recoiling .38 Special, you have a revolver that can blend hunting, defense and competitive shooting into one. The benchmarked MSRP of $969 should be palatable for most people considering they are often found available south of that price-point.
The Ruger GP100 Match Champion .357 Magnum is on our list because of its affordable quality and easy maintenance. With the ability to dis-assemble this revolver without the need of fancy tools, whether it be for upgrades or general cleaning, is a big plus. Also, the MSRP below $1,000 is great for most consumers because it is a cheaper point of entry into what can be an addictive and expensive sport. The strong handling of the custom Hogue-stippled hardwood grips will get any shooter on target and confident immediately as well. Ruger.com
---
Smith & Wesson Performance Center Competitor 686 .357 Magnum
The Smith & Wesson Performance Center Competitor 686 .357 Magnum is a revolver specifically developed for competition as the name openly implies. This is a revolver that hails from their Performance Center shop which produces all things high-end. The fit, finish and feel all make for a perfect package straight out of the box.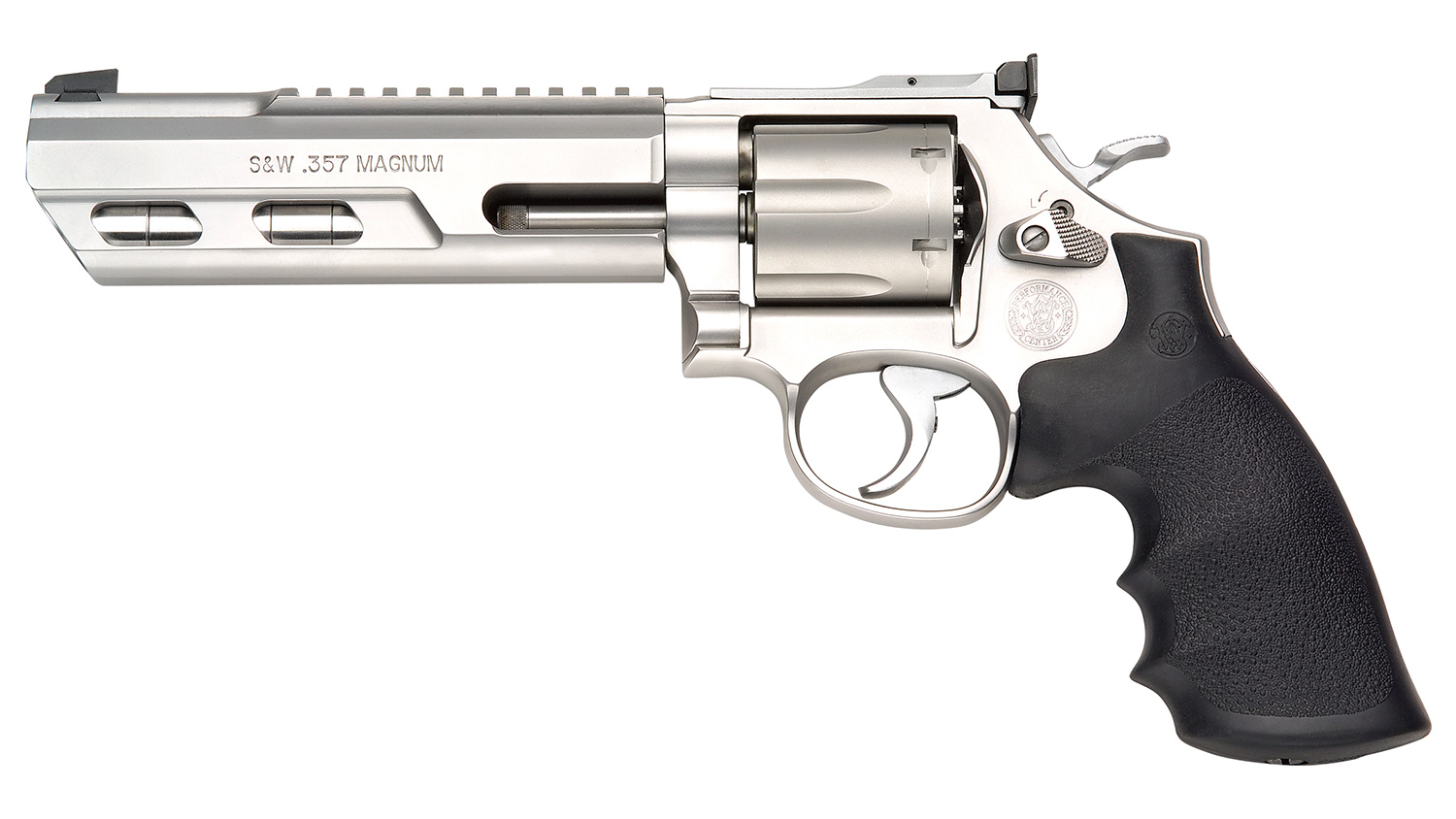 With a barrel that boasts an adjustable weight set to tame recoil and maintain your sight picture over repetitive shooting, this revolver will not only keep you on target better—but also faster. Some other highlights of this highly-tuned wheelgun are as follows:
Chrome hammer and trigger with trigger stop.
Performance Center tuned action.
6-inch, full-lug barrel with adjustable weights.
Partridge dovetail front sight with adjustable rear sight and rail covering the barrel.

The Smith & Wesson Performance Center Competitor 686 .357 Magnum tips the scales at a hefty 55.4 ounces making it a very stable and light recoiling option. The asking price of $1,439 is a bit expensive for most people, but if you are to dive into the world of competitive shooting you might entertain even more expensive options than this.
This revolver receives my tip of the hat because of its quality, weight and moderate price. Smith & Wesson as a brand has been the benchmark all other revolver companies have been trying to achieve for decades. Their Performance Center shop pushes the envelope on that quality even further with tuned components, chromed parts and their hand-fit feel. The MSRP might deter some buyers by being over $1,000, but within this top five list it actually punches in somewhere in the middle for an asking price. Smith-Wesson.com
---
If you made it this far, thank you for taking the journey with us through our list. While all of the revolvers listed here would be fantastic for competitive revolver shooting—there really is no wrong answer. All of us in the shooting community have our own preferences, biases and needs that have to be accommodated for while shooting. It essentially boils down to what fits and suits you! It does not matter what the guy in first place in your league is using or the guy in last place. Receive feedback from other shooters, and decide on what will serve you best.
In the end, if you don't have any money to go out and buy a brand new revolver, use what you have! It's not ideal you say? Give it a go anyways. The important thing with shooting is to get out, try it, learn and grow. Join in on something new that affords you the ability to evolve yourself and share the shooting sports with others along the way.