U.S. National Para Shooting Team athletes won a combined seven medals at the 2021 Lima World Shooting Para Sport World Cup in Lima, Peru, on Jun. 13–18. In addition, Team USA secured two additional Tokyo Paralympic Games quotas. YanXiao Gong (Malibu, Calif.) won three individual medals (one silver and two bronze), while Kevin Nguyen (Westminster, Calif.) won an individual silver medal. Team USA won three additional team medals—one gold, one silver and a bronze.
Final 2021 quota confirmations from the International Paralympic Committee will be announced on Monday, Jun. 21. According to USA Shooting, the official Tokyo 2020 Paralympic Team will be announced later this month.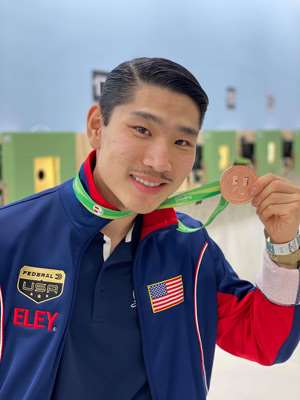 In pistol, Gong was instrumental in raising the U.S. medal count by winning the most individual medals and more than half of the total medals overall. Gong won the silver in P4-Mixed 50-meter Free Pistol SH1, bronze in P3-Mixed 25-meter Sport Pistol SH1, another bronze in P1-Men's 10-meter Air Pistol SH1 and a team gold medal along with Marco De La Rosa (Chicago, Ill.) and Mike Tagliapietra (Fond du Lac, Wis.) in P3-Mixed 25-meter Sport Pistol SH1.
Eight additional quotas were up for grabs in Lima, and Team USA secured two thanks to Nguyen, a U.S. Army Marksmanship Unit Solider and Jazmin Almlie (Houston, Texas). Both quotas were secured on the last day of competition by Ngyuen in the R6-Mixed 50-meter Free Rifle Prone SH1 event and Almlie in R5-Mixed 10-meter Air Rifle Prone SH2. In the process, Nguyen won a silver medal in the free rifle prone event and Almlie finished fourth in the air rifle event.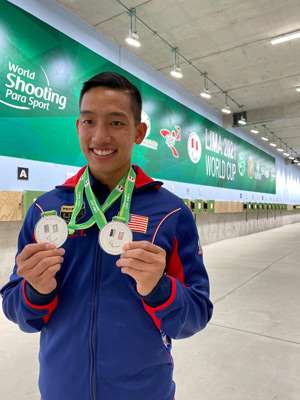 Additional team medals include silver in the R6-Mixed 50-meter Free Rifle Prone SH1 by Nguyen, John Joss (Corsicana, Texas) and Nick Beach (Dresden, Ohio), along with a team bronze in the R3-Mixed 10-meter Air Rifle Prone SH1 event by Beach, Nguyen and Taylor Farmer (Castilia, Ohio). Farmer finished eighth in the R3 finals.
U.S. Paralympic athletes Gong, Farmer and Joss, along with McKenna Geer (Arlington, Wash.) have previously earned four country quotas—one for P3-Mixed 25-meter Pistol SH1, one for R3-Mixed 10-meter Air Rifle Prone SH1, one for R4-Mixed 10-meter Air Rifle Standing SH2 and one quota for R6-Mixed 50-meter Rifle Prone SH1. An athlete may only win one quota per quad, regardless of event.
The Tokyo 2021 Paralympic Games begin on Tuesday, Aug. 24 with the opening ceremony and run through Sunday, Sept. 5.
Learn more about the U.S. Olympic and Paralympic Teams at the USA Shooting website. See the full results of the 2021 Lima WSPS World Cup at paralympic.org.
---
Read more:
Are You Making Progress?