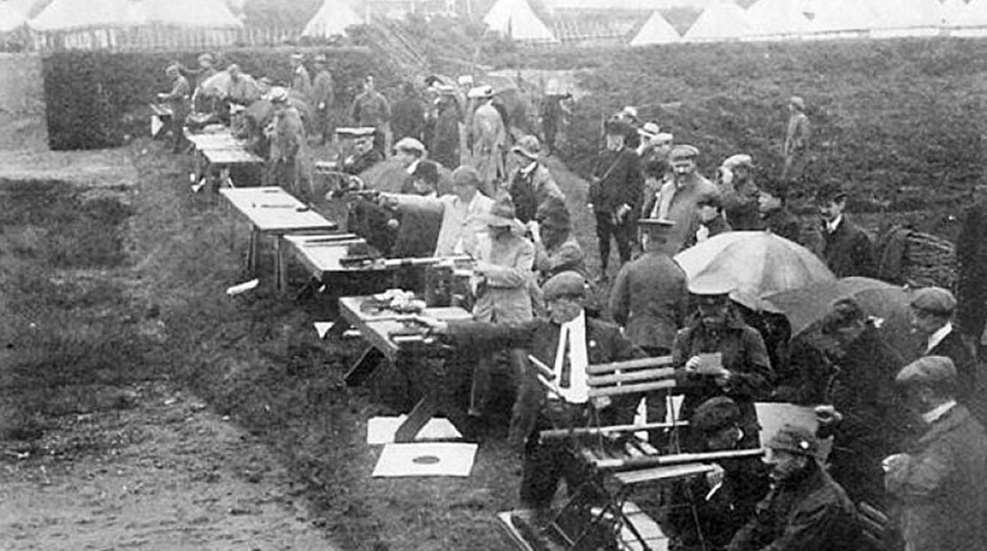 Shooting had become a part of the Olympic Games in Athens in May 1906, but neither Great Britain nor the United States had sent teams. The next Olympic Games were held in London in 1908, and the British Olympic Association invited the United States to compete in a series of international rifle and pistol matches. The rifle and pistol matches were held at the storied Bisley Range, while shotgun events were conducted at the Uxendon Shooting School Club.
Using star-gauged Model 1903 rifles and 180-grain bullets, the American team outshot rival teams from the United Kingdom, Canada, France, Sweden, Norway, Greece and Denmark at every distance except 600 yards, were they trailed the British by a single point.
That year, the United States won its first gold medal in an Olympic shooting match, with a final score of 2351 to 2497 for the second-place British. Canada won the bronze medal.
The Americans also dominated the Olympic pistol matches, with team members Charles Axtell, Irving Calkins, John Dietz and James Gorman winning gold in the team pistol event.
Perhaps most impressive of all was the silver medal-winning performance of U.S. shooter Kellogg Casey in the 1,000-yard free rifle event. His score of 93 was five points behind British shooter Joshua Millner, who won the gold. Additionally, Casey was a member of the U.S. team that won the gold medal in the team military rifle event.
Lead image of pistol and revolver shooters on the firing line at the 1908 Summer Olympics courtesy of Wikiwand.
---
See more: Return and Renaissance: U.S. International Rifle Shooting 1948-1966