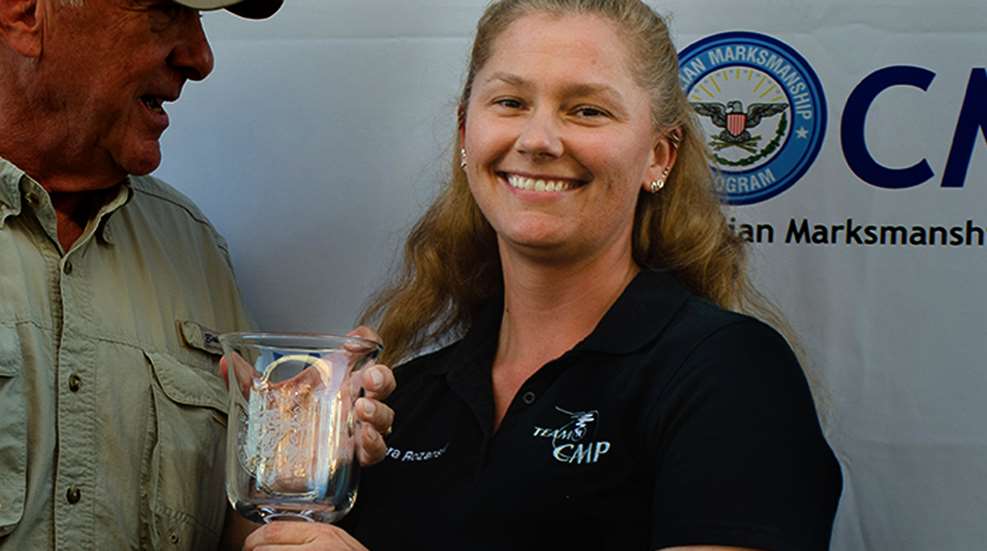 In October, the annual Western Games were held at the Ben Avery Shooting Range in Phoenix, AZ. Winning the first overall Service Rifle Aggregate fired at Western Games was Sara Rozanski (a CMP employee) with a score of 1957-85X. Rozanski (pictured above) won by more than 20 points over the runner-up.
Kenneth Lankford (Laramie, WY) posted a score of 1957-81X to become the first-ever Match Rifle Cup recipient at the Western Games.
The CMP Western Games combine specially designed vintage and modern rifle events, created as a recreational getaway for marksmanship enthusiasts of all ages.

Notably, pistol events are absent at the Western Games. However, the Western Games feature an ever-expanding event lineup. New this year to the schedule were Cup Matches, which included across-the-course competitions like the 80-Shot Aggregate and Excellence In Competition (EIC) Service Rifle matches, which were fired at the 200-, 300- and 600-yard lines.
In the Service Rifle EIC Math, Nick Till (Howell, MI) fired a score of 490-16X to earn the overall win. Christopher Knott (another CMP employee), who fired in his first EIC competition, placed second in the event and also earned high non-distinguished competitor honors.
Along with competitive matches, a Small Arms Firing School (SAFS) is held at each Travel Games event. Participants at this year's Western Games SAFS course were led by talented members of the U.S. Army Marksmanship Unit (AMU), including SGT Ben Cleland, and also SFC Brandon Green—the first marksman to ever fire a perfect 400 score in the President's Hundred Rifle event.
Over 30 students watched as the AMU pair gave classroom demonstrations before taking questions and heading out onto the firing line for real, hands-on training. The class also participated in a M16 EIC Match.
In Games Match results, Jeffrey Schneider (Tucson, AZ) led the Springfield event with a score of 288-4X. Schneider went on to take Four-Gun Aggregate honors with a combined score of 1139-32X.
Claiming the Three-Gun Aggregate was William Ellis (Langley, England) with a score of 853-16X. Ellis also led the Carbine Match Course, with a score of 360-7X. This was the second consecutive Three-Gun Aggregate win for Ellis at the Western Games.
Lee McKinney (Rio Rico, AZ) scored 283-6X to lead the Vintage Military Match.
Larry Stonecipher (Ada, OK) was a single point shy of reaching the current Western Games record score in the Modern Military event, scoring 292-10X for the overall win. In Rimfire Sporter, Stonecipher snagged the Tactical Class win with 587-21X and a new Western Games record—beating the previous record of 582-34x set in 2014.
Randall Dwornik (Tucson, AZ) won O-Class in the Rimfire Match with a score of 555-9X. Christopher Hook (Prescott, AZ) led the T-Class, with a score of 584-19X.
Dwayne Lewis (Greenville, SC) fired a score of 288-8X for the overall win in the Garand Match.
Competitors at the 2018 Western Games fired on electronic targets, designed to speed up match times through prompt, accurate scoring and also eliminating pit duty. The more relaxed experience is a result of less body and mental wear throughout the competition.
Though held each year for over a decade, the Western Games event will be going on hiatus in 2019 and moving from its usual October date to March, returning in 2020. The match will still be held at the Ben Avery location in Phoenix.