While it remains an obscure discipline in America, 300 meter rifle is Europe's equivalent of our high power rifle. In decades past, when greats such as Lones Wigger and Margaret Murdoch ruled the podium, 300 meter rifle was the premier rifle event in the Olympics. Men and women competed together. Smallbore shooting was considered a training event at that time. But as cities grew, firearms laws became more restrictive, and the price of centerfire shooting increased, it was removed from the Olympics. Numerous national and international competitions are still held every year, and it remains in the ISSF World Shooting Championships along with other non-Olympic events such as running target and women's smallbore prone. The World Championships are held every four years between the summer Olympic years. The next will be held in Korea in 2018.

Today, the men have three 300 meter events: 3x40 free rifle (40 shots per position: kneeling, standing, and prone), 3x20 standard rifle, and free rifle prone (60 shots). The women only have two events: 3x20 sport rifle and prone (also 60 shots). Rifles look similar to those used in Olympic smallbore competition because the equipment rules are essentially the same. You'll see hook-style butt plates with plentiful adjustments, aluminum stocks, and bloop tubes to extend the sight radius. The exception is the men's standard rifle event. This rifle looks similar to the women's standard rifle of days gone by (think Launi Meili's gold medal in 1992) except it must have a trigger weight of at least 1.5 kilograms or 3.3 pounds. Despite the limitations in adjustability and trigger weight, standard rifle shooters can post scores well over 580 out of a possible 600—comparable to free rifle scores. Steve Goff and Jason Parker are two athletes of recent years who were among the world's best with this rifle.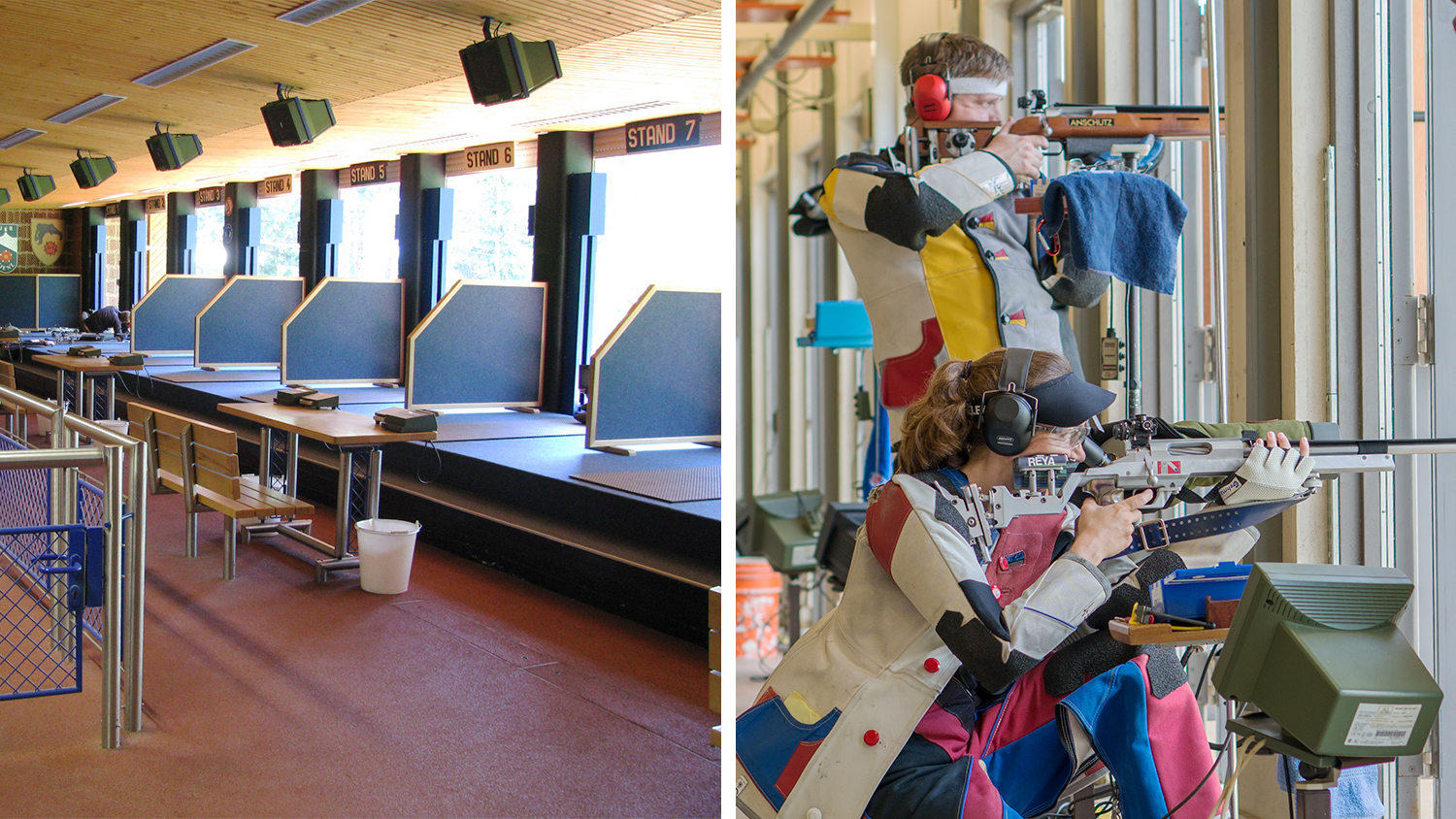 In the glory days of 300 meter shooting, the .30-06 Springfield was the standard caliber in America. Think of shooting 40 shots per position with that recoil! Thankfully, cartridge technology has progressed since then. The most popular caliber in the world today for this discipline is the 6 mm Benchrest (BR). This cartridge offers superb accuracy, low recoil, a long barrel life, and extreme ease of hand loading. Other calibers such as 6XC and 6.5x47 have some following as well. The vast majority of European competitors shoot factory-loaded ammunition by Lapua or Norma, which is capable of shooting under half-minute groups at 300 meters. However, in this country the cost can be prohibitive (dollars per round), which leads more of us to shoot our own DIY ammunition. We can squeeze a bit more accuracy out of the cartridge that way too. If you do handload, be prepared to ogle at the piles of once-shot Lapua brass the Europeans casually dump into the range brass bucket!

The maximum caliber allowed in ISSF 300 meter events is 8 mm—though I question the sanity of anyone who would choose to shoot such a caliber! All shots are scored as if the bullet diameter is 8 mm. The black starts at the 5-ring, which measures 60 cm, or about 23.5 inches. The 10-ring is a mere 10 cm, or around four inches. Compare this to the American high power 300 yard target, which has a 10-ring of just under six inches.

You may be thinking that building a rifle and buying equipment for such a specialized event with few competitions in America is a silly proposition. But the good news is you can shoot other American high power matches as well—NRA mid-range prone matches, for example, in the "Any Rifle" category. Under these rules, you can use your entire ISSF-legal kit, including the hook-style butt plate. A 6 mm BR on a windy day may be slightly disadvantaged against other common calibers for this distance, but you'll find the 10-ring seems huge after shooting on the challenging international target. It's almost double the size in terms of minute of angle.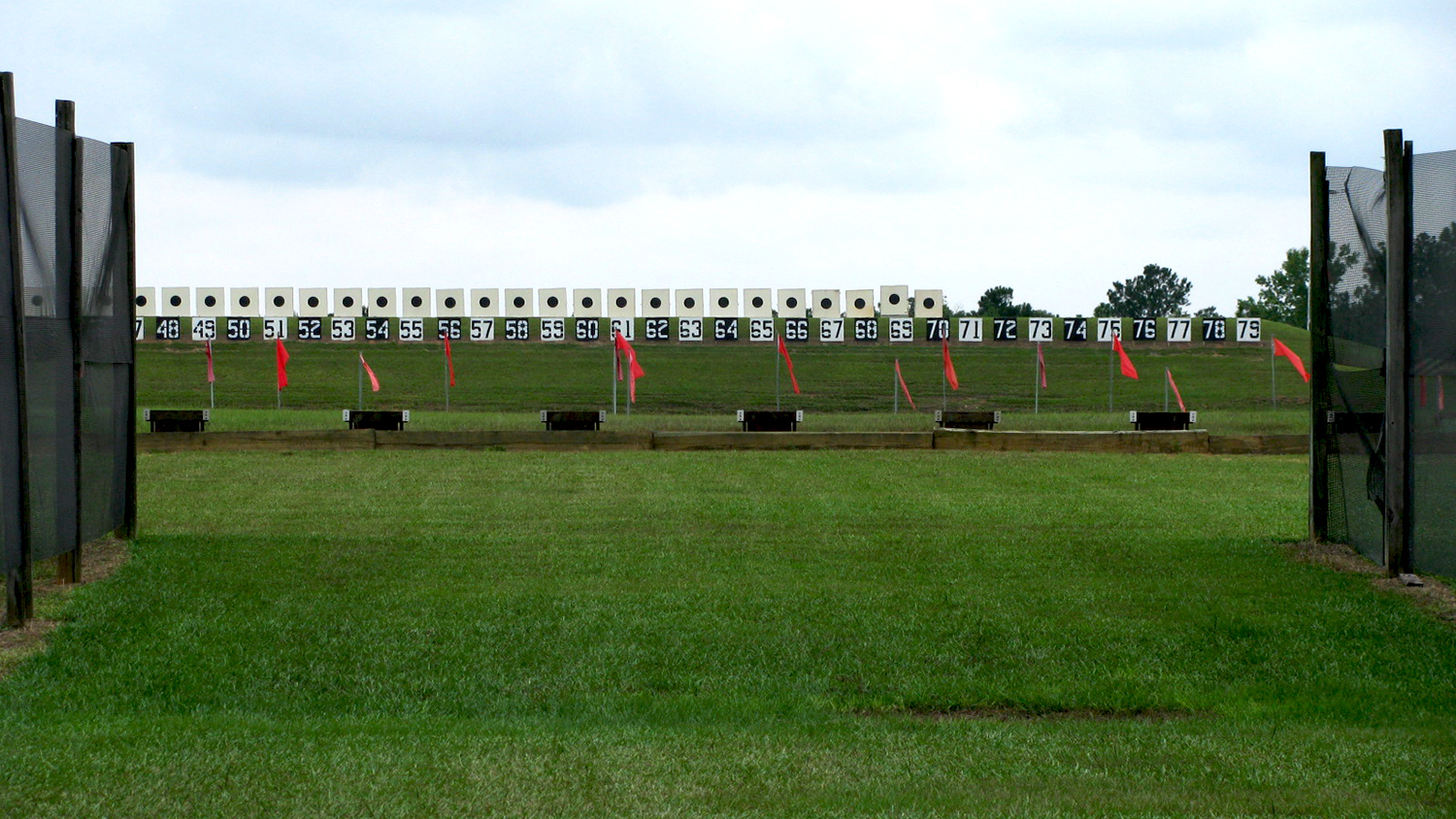 Two 300 meter ranges with electronic targets exist in this country: one located in Minnesota and the other at Fort Benning, GA, for the U.S. Army Marksmanship Unit. If you're lucky enough to live near one, a few clubs around the country actually shoot 300 meter matches, often reduced to 300 or 200 yards. I have shot a very well run 200-yard reduced match in Seitzland, PA, where high power shooters without ISSF-legal equipment were also welcomed to participate.

In Europe, 300 meter ranges abound. To those of us used to the rustic conditions of outdoor firing lines, pits, and manually-operated carriers with paper targets, European ranges feel much more civilized. The firing line itself is often enclosed within a building, with large doors that open downrange. Electronic targets are the norm. Because of the higher population density, ranges include walls and baffles to reduce sound and stop stray bullets from exiting the area. A bar serving alcohol may adjoin the range.

I encourage you to give this fun and historic discipline a try! Why not get a match started at your local club? There's no need to enforce the ISSF equipment rules at first—check out the target and course of fire initially to see how much fun it can be. You might find the American high power target a smidge easier afterward, too. The USA 300 Meter Nationals and World Championships Team Tryout will be held at Fort Benning, GA, this September. Go to this link on the USA Shooting website for the schedule and program, under Rifle/Pistol Fall Selection Match: www.usashooting.org/7-events/match-information.