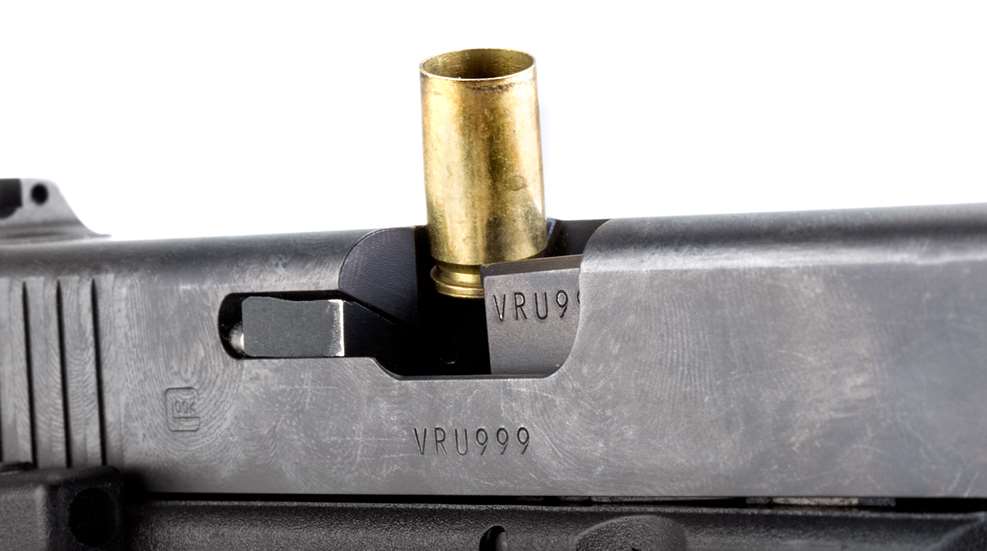 In semi-automatic pistols, the term "stovepipe" describes the malfunction when the fired case has not been properly ejected from the port. The case ends up caught between the slide's breech face and barrel hood as the slide attempts to close. This malfunction was dubbed stovepipe in the 1920s—when the use of semi-automatic handguns was becoming widespread—due to the resemblance of the exhaust pipe on top of the wood stoves popular at the time.
How to fix a stovepipe


There are a lot of ways to fix this (both correctly and incorrectly), but here's one tried and true method—the familiar Tap, Rack and Assess.
Tap
the bottom of your magazine firmly to make sure it's seated;
rack
the slide to the rear to feed a new round into the chamber, and
assess
downrange.
Proper grip and proper maintenance will help prevent stovepipes. A bad grip, with weak wrists that fly back when firing a pistol will keep it from cycling properly. Keeping your gun clean and well-lubricated is the usual cure for cases of multiple stovepipe issues that aren't due to a shooter's form. Less often, it's the ammunition the causes a stovepipe, with the culprit usually being handloads.
One final tip: Cleaning your guns
and
tools after you use them is a good habit to have, because dirty tools won't properly clean your firearms. Perform proper maintenance, and your guns will have fewer malfunctions, improved reliability and a longer life.
Here are more articles on how to handle stovepipes and other gun malfunctions from across the
NRA Publications
network:
Send us your questions by using the comment section below, or by emailing 

[email protected]