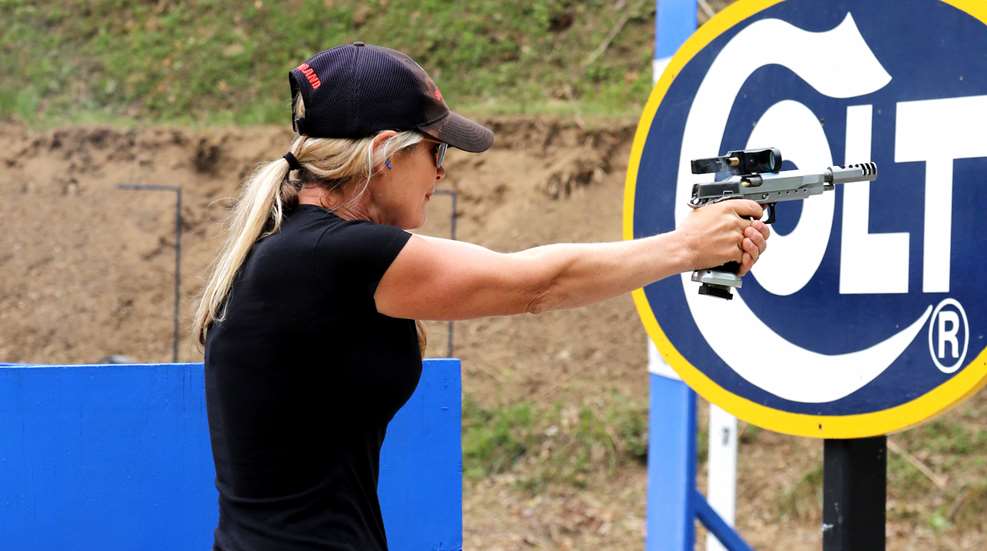 First introduced to firearms and the new sport of Cowboy Mounted Shooting (CMS) less than 18 years ago, Kenda Lenseigne is now known throughout the world. Singled out of the crowd to shoot a stage changed Kenda's path in life. Although she rode horses her whole life, the gun handling was something new. Fitted with a gun belt and given a quick lesson on working the single action revolver, she headed into the arena. In front of a cheering crowd Kenda shot her first stage. Although she missed most of the targets, she was now hooked for life. The following weekend, she entered her first match with a borrowed horse, guns, holster, etc.

Even though Kenda set 11 world records and is the only woman in the history of CMSA to have won the high overall at the World Championship, she considers something else her major career accomplishment. She bought her horse Justin as a "blank slate" and trained him to reach the highest pinnacle of the sport. Also, she is a proud pioneer of CMS as one of the first competitors that has been able to make her sport into a career, with horse and rider/shooter training, product developments, and endorsements.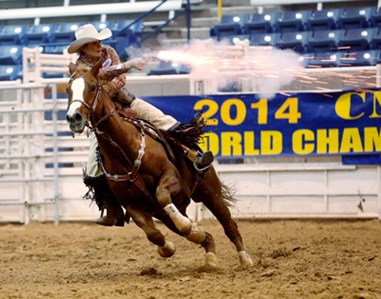 Made by Bianchi Cowboy, Kenda's range bag is specific to her sport, so it's a little different than most. It's an organizer insert that fits into a bucket which hangs on the top rail of the arena fence. With the customizable dividers and holsters affixed to each side she has easy access to all her gear: ammo, targets, earplugs, etc., without having to dismount the horse. It also has a removable front pouch with a mesh bottom that holds all her used cartridges. So what else does she keep in her range bag? Chapstick! And a video camera so she can capture her practice runs; competitive shooting is always a learning process.

CMS requires its competitors to shoot only .45 caliber SAA revolvers. Kenda's firearm of choice is the Uberti Kenda Lenseigne Pro. Out of the box it's competition ready with a new short stroke action to get the job done in half the time. It also has a low, wider hammer that's easy to reach and an ergonomic new-style grip that allows a higher purchase on the gun. The 3.5" barrel not only feels more balanced in her hand, but also trims off time in her gun change. Her ammunition is Buffalo Blanks. The clean charge it provides gives her an accurate range on her targets without jamming the gun, as black powder generally has a bad reputation for being sticky. Buffalo Blanks also produce training loads. She often uses them in her training program; the quieter half-load blank is the first step in starting her horses on gunfire.

For those interested in finding out more about the sport, Kenda recommends visiting www.cmsaevents.com, the website of the CMSA, or her website KendaLenseigne.com. If you're ready to start training remember, when seeking advice from a trainer, always do what makes sense. Ask why a method works before committing to one method.

It's an investment in time and money. Also, there are no instant champions. The time you put in is in direct proportion to the result you'll get out.