The first time Becky Yackley remembers shooting was with her dad. He was sighting in a rifle for deer hunting and she asked if she could shoot it. Yes it was big, and it sure kicked, but her dad stood right behind her, and she has been shooting since.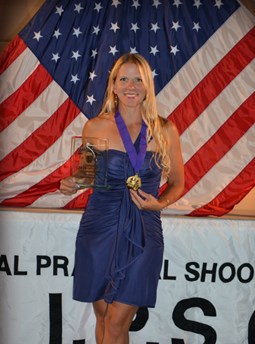 Her first gun was a Mauser that her dad re-barreled. Becky cut down the stock from a Mannlicher-style stock to a traditional sportier shape. Through both wood burning and scrimshawing, she refinished the stock. Now, the gun has been used by each of her boys to shoot their first deer.

Becky's most recent accomplishments include being a member of the ladies gold medal team at the 2015 IPSC Shotgun World Shoot, third place Lady in the 2015 3-Gun Nation Nationals and High Lady Production at the 2015 USPSA Area 5.

For competition, Becky shoots an Adams Arms Evo Ultralite 14.5" rifle with a Samson hand guard, AR Gold trigger, and Leupold Mark 8 scope. Her shotgun is a Stoeger M3000, modified by RCI-XRAIL. And for her pistol, this year she will be shooting an STI DVC 3 Gun.

For her range bag, Becky carries the Safariland range bag she received at the Bianchi Cup. The end pockets hold a box of shotgun shells, pack of Quikclot, slings, a bottle of water and snacks. Inside she has magazines, her pistol in a pistol pouch, a magazine brush, oil, scoresheets, and spare eyes and ears. Since you need to see to shoot, she always has Lenspens for her scopes and wipes for her glasses. Being a mom, she also has a little pouch full of hand wipes, first aid kit (eye drops, Advil, Benadryl for bees, Sudafed, steri-strips, Band-Aids and antibiotic ointment), super glue, spare scope battery, pen, sharpie, overlay for USPSA, hairbands, headband, money, nail clippers, and tweezers for ticks.

For those interested in getting involved in the shooting sports, Becky recommends locating a match, watching, and then finding someone to shoot with so you can take part in the fun. The most important advice Becky has for competitors is to have a good mental game.