by
Chris Christian, Field Editor
posted on August 15, 2022
Support NRA Shooting Sports USA
DONATE
Florida has a reputation for being a bit, well maybe more than a bit, weird. What often goes unnoticed is that the reported wackiness is counter-balanced by an extremely stable population of senior citizens, many of whom love to shoot.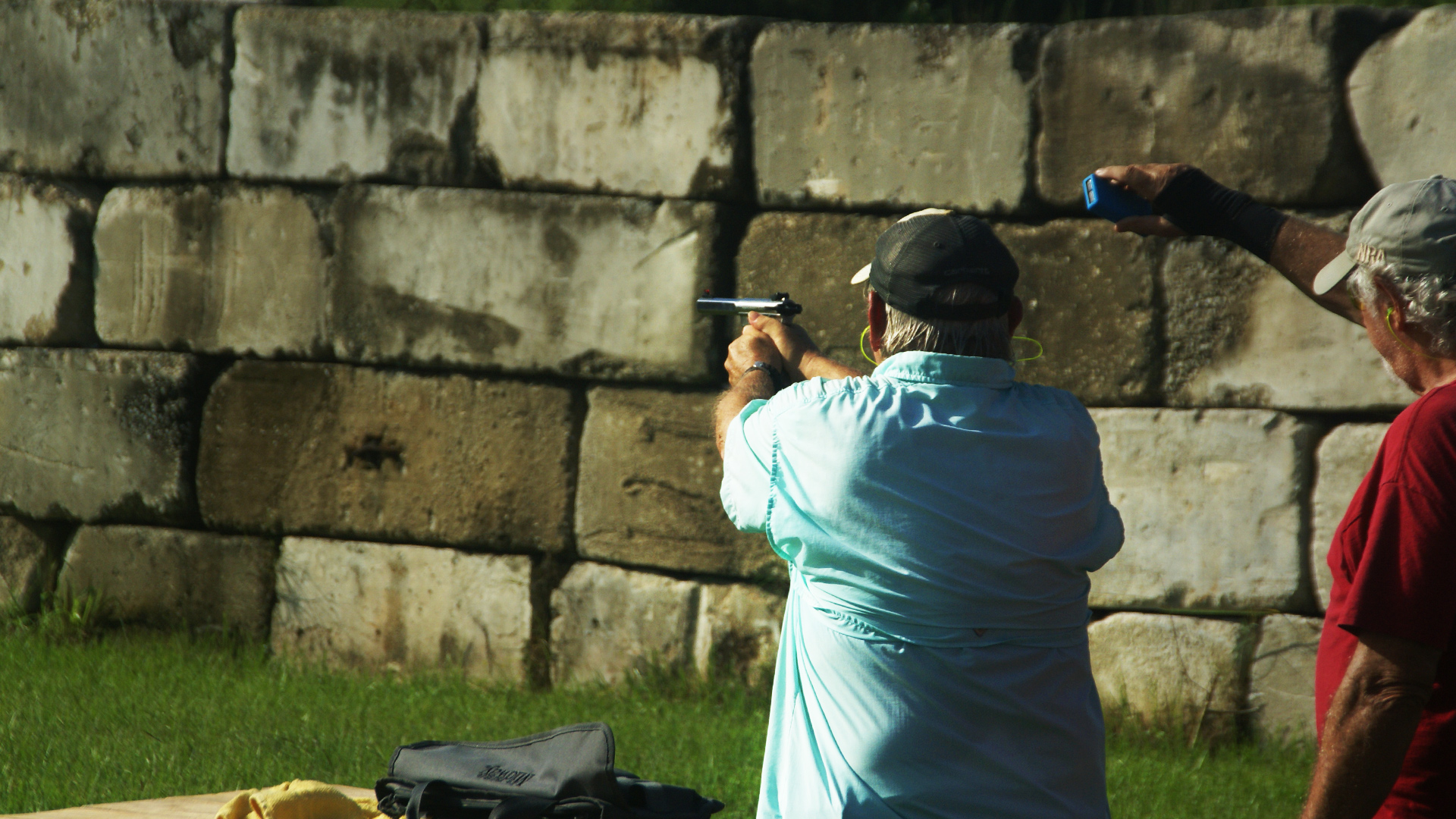 Census 2020 data shows that a significant percentage of Florida's population is over 55 years of age. Many are retirees who relocated from northern states. A number of retirees are military veterans who (as I did) discovered Florida during their service time at one of the state's many military bases and decided to settle here. It's not hard to see why retirees favor Florida.
The State Constitution prohibits a personal income tax. That protects your 401(k), along with pensions and IRAs. There are also no estate taxes. Florida's property taxes rank below the national average, with a $25,000 Homestead Exemption for primary residences. Military veterans over 65 years of age who have Department of Veterans Affairs' service-connected disability can reduce them further via Florida Statute 196.082. In addition, hunting and fishing licenses are not required for those over 65. (See more benefits available to seniors.)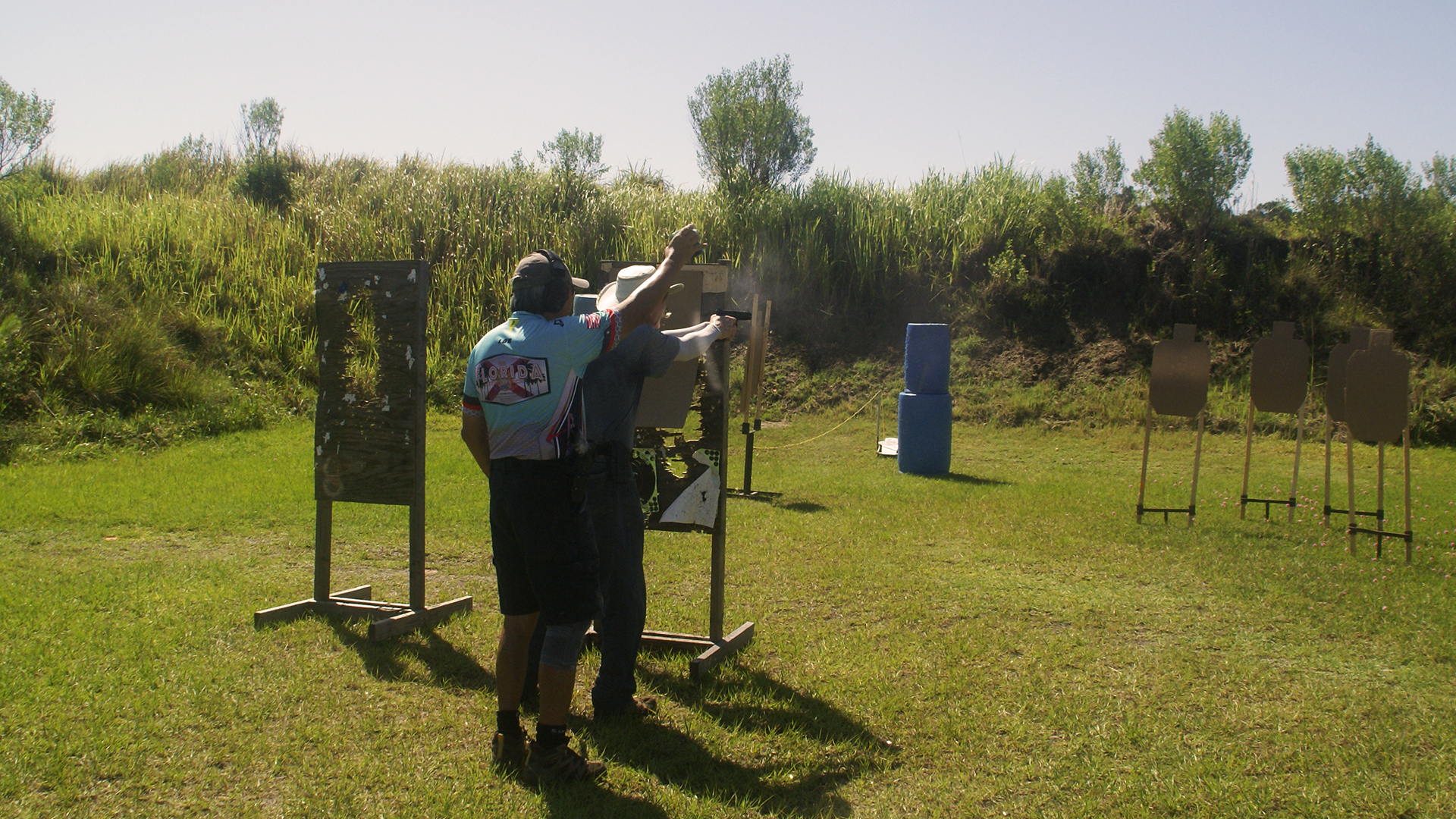 That leaves seniors with more money—and plenty of time—to enjoy retired life. Some choose to spend it on Florida's miles of pristine beaches, or sampling the world-class freshwater and saltwater fishing, or on one of 1,300 golf courses; the most of any state. Many, however, especially the military folks such as myself, prefer to shoot.
Seniors are a common sight at competitive shooting events. Although some seniors shoot U.S. Practical Shooting Association (USPSA), it's not as popular among that age group as it is with younger shooters, given that aging knees tend to rebel when foot speed is a significant portion of the score. But shorter courses of fire, with reduced running, make International Defensive Pistol Association (IDPA) well-liked. The same factor makes International Confederation of Revolver Enthusiasts (ICORE) quite popular with the many seniors who came up with revolvers, and aren't in a hurry to retire them up. In fact, ICORE Competition Director, Melanie Chan, told me that shooters age 55 and over make up a significant percentage of overall ICORE membership.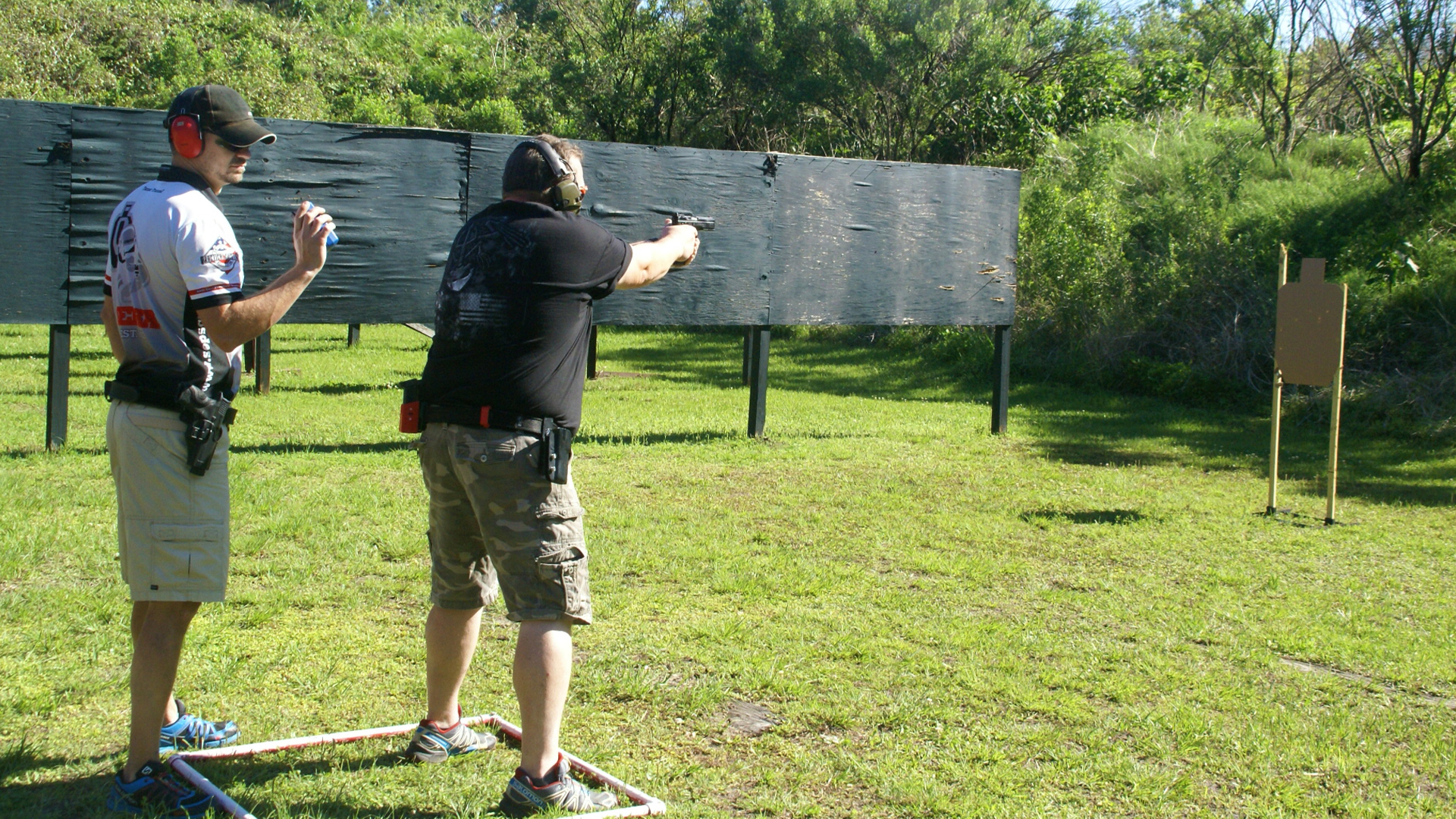 Not surprisingly, the minimal movement required for Steel Challenge, Bullseye, Rimfire Sporter Rifle, Rimfire Benchrest Rifle, along with Service Rifle and Centerfire Benchrest, make them popular. To that add Trap, Skeet and Sporting Clays, and there's a bunch of seniors bustin' caps in the Sunshine State.
WHERE TO GO?
Many ranges are located near major retirement centers that are more than eager to accommodate them. Here's some of the most prominent that are located in high senior-population areas.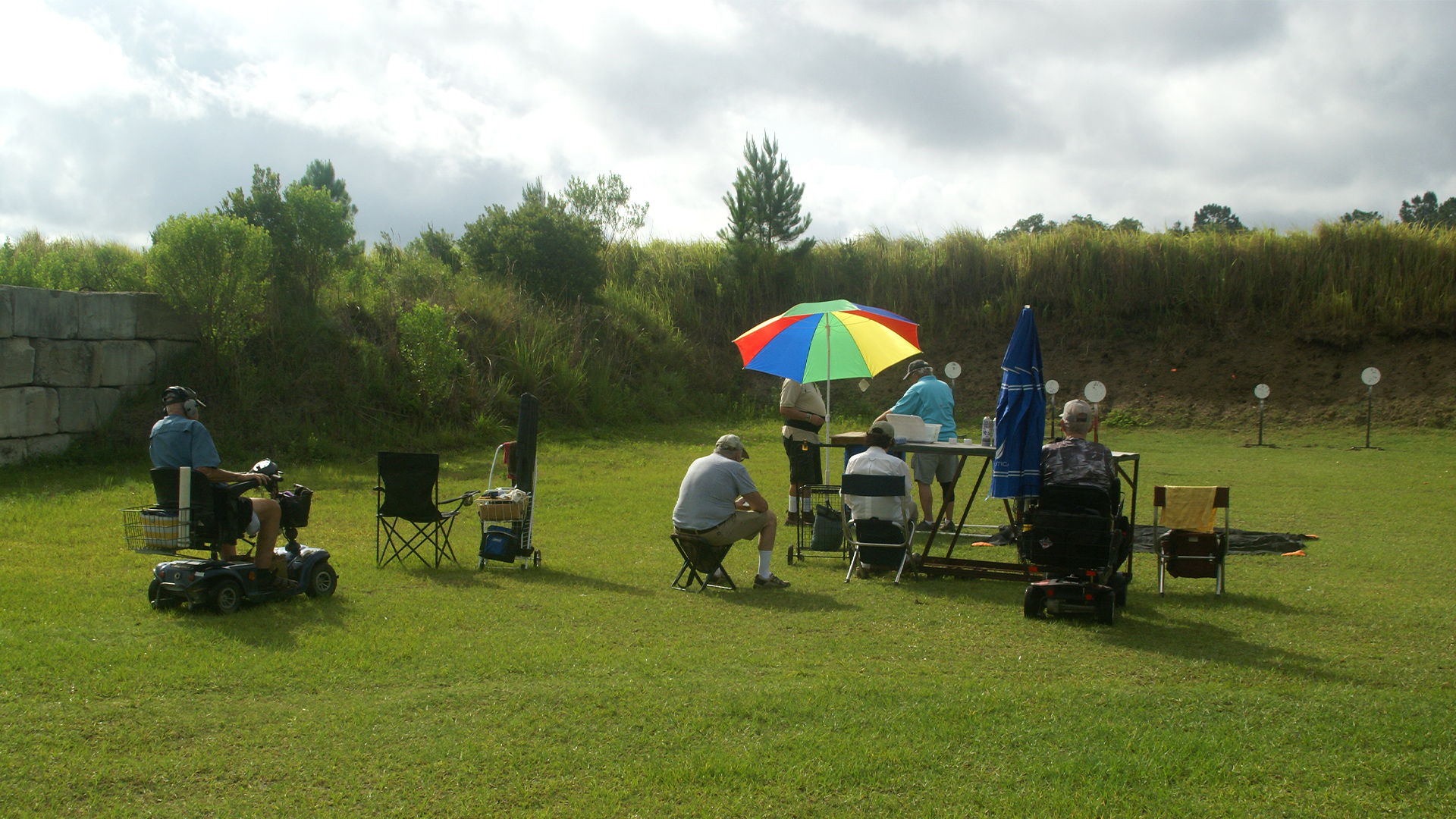 Flagler Gun and Archery Club is located in Bunnell, a short distance from the popular retirement community of Palm Coast. My observations (agreed to by longtime members)—there are significantly more members over 55 years than under. Flagler currently offers Steel Challenge every Monday, Bullseye on Thursday, with Trap, Skeet and Sporting Clays weekdays and weekends, and Rimfire Sporter rifle and Benchrest, Service Rifle and Centerfire Benchrest rotating on weekends. A monthly IDPA-style match that doesn't always follow the IDPA rulebook is available. flaglergunclub.com
Volusia County Gun and Hunt Club is in New Smyrna Beach, just south of Palm Coast. They shoot Steel Challenge every Thursday and Saturday afternoon, also large monthly matches. The club will host the 2022 Area 6 Steel Championship in September. ICORE is a popular monthly event, enough so that Extreme GM will host the 2022 ICORE IRC (International Revolver Championship) in November. As one of the few clubs in Florida with ranges stretching to 1,000 yards, they host a number of rifle matches, including the Precision Rifle Series. USPSA is also on the calendar, along with many training classes. volusiacountygunclub.com
Central Florida Rifle and Pistol Club, just south of Orlando, offers Steel Challenge, ICORE and USPSA, as well as multiple Rimfire Rifle matches that include Prone Precision and Sporter, Cowboy Action (SASS—Single Action Shooting Society), 300-meter High Power Rifle, Multi-Gun and other Muzzleloading Rifle matches. cfrpc.com
A bit further south, in Frostproof, is Universal Shooting Academy. It's well known to veteran competitors, since it hosts the USPSA National Championships. But this spacious facility also hosts other major matches, and I have brought home trophies from one IDPA World Championship, and two IDPA Regional Championships. Weekends are also busy with a rotating schedule of Steel Challenge, ICORE, USPSA, Multi-Gun and many more. universalshootingacademy.com
The Villages is another popular retirement community, and within a short drive of there is one of Florida's oldest gun clubs—Hernando Sportsman's Club, in Brooksville. Currently, it's open Fridays and weekends, but they offer a lot. Steel Challenge matches are Friday, with a rotating weekend schedule that includes Trap and Skeet, SASS, F-Class High Power and Silhouette Rifle, Precision Pistol, Bowling Pin matches and Multi-Gun. hernandosportsmansclub.com
A number of military people opt to retire near their last duty station. With the military bases located in Florida's Panhandle, it becomes another popular senior locale.
Element Training Complex, located in Holt, Florida, in proximity to Elgin Air Force Base, offers Rimfire Benchrest, SASS, Steel Challenge and USPSA. elementrange.com
Escambia River Practical Shooters, situated a short distance from Pensacola Naval Air Station, offers plenty of Steel Challenge, as well as USPSA and other events. escambiarivergunclub.org
Tallahassee Practical Shooters is located in Midway, just west of Tallahassee on Interstate 10. They host monthly USPSA, Steel Challenge, and Outlaw 2-Gun matches. talonrange.com
One of the more unusual Florida clubs is Hurlbut Field Rifle Pistol Club, found on Hurlburt Field Air Force Base near Santa Rosa Island. The club runs a monthly IDPA match, but as a federal facility the matches are only open to active duty or retired military, law enforcement officers, Department of Defense employees or their escorted guests. myhurlburt.com
Matches at all of these clubs can be found on Practiscore or the individual club websites.
Space doesn't permit a listing of all Florida ranges, as there are many. Within a 1.45-hour drive of my rural northeastern Florida home, I can choose from more than 25 matches a month in my interest areas of Steel Challenge, Bullseye, ICORE, IDPA, USPSA and Rimfire Rifle events. It's not a question of what can I shoot, but what do I want to shoot. Half are on weekdays, but even with that I run out of weekend days before I run out of matches. That's why Florida is a paradise for senior citizens who love to shoot and compete.