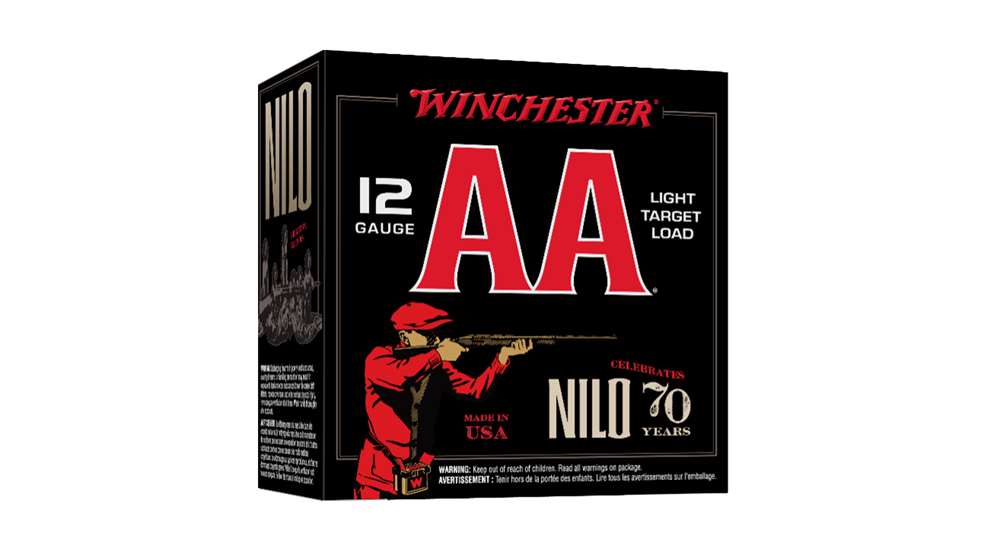 Winchester is celebrating the 70th anniversary of NILO in style, giving its AA 12-gauge light target load (AA128) commemorative packaging that will be available only for a limited time. NILO is Winchester's hunting and shooting facility located in Brighton, Illinois.
The front panel of the limited-edition AA packaging depicts a throwback shotgunner with shells, dressed in Winchester's familiar red color, along with the text "NILO Celebrates 70 Years."
It was in 1952 that John M. Olin took more than 600 acres of farmland joined by timber and transformed it into a wildlife oasis. He created the ideal place to raise and train the best Labrador retrievers in the world and called it NILO (Olin spelled backwards). The land was dedicated to unparalleled hunting, sport shooting, gun dogs and conservation education.
Celebrities, political dignitaries, sports stars and avid outdoors enthusiasts have been among the many people to enjoy the hospitality at NILO. Since the beginning, Winchester's AA shotshells have been the ammo of choice on NILO fields and on its ranges. The new specially packaged AA light target load ammunition not only commemorates the legacy of John M. Olin, but also his commitment to conservation and the shooting sports.
Earlier this month, the facility hosted the 2022 NILO Open, a sporting clays tournament boasting $35,000 in prize money. Entry fees for the two-day competition included 100 rounds of Winchester AA shotshell ammunition for shooters to use on the 15-station sporting clays course.
Interested in visiting NILO? The facility is open to the public year-round, but only by reservation. There are certain shooting days for sporting clays, trap, skeet and five-stand, so be sure to check before booking. Hunting season is October 1 to March 31 for pheasant, chukar and flighted ducks. Go to www.nilofarms.com to find out more. Visit www.winchester.com to learn where you can find AA shells in the limited-edition NILO throwback boxes.