At the conclusion of the U.S. Olympic Team Shotgun Trials at the Tucson Trap and Skeet Club in Arizona, U.S. Army Reservist and Army Marksmanship Unit (AMU) shooter 1st Lt. Amber English and teenage competitor Austen Smith both earned 2020 U.S. Olympic Team berths in women's skeet. The competition wrapped up on Sunday, March 8.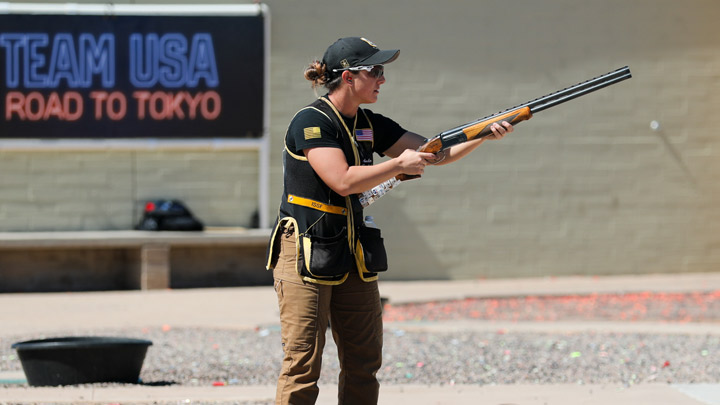 English had a perfect score for six of 10 rounds, and finished the match as champion with a final score of 532, while Smith was the runner-up with 529.
The duo will join teammates Vincent Hancock and AMU shooter Spc. Phillip Jungman as Team USA's skeet shooters at the Tokyo 2020 Olympic Games.
And for the first time since 1996, six-time Olympic medalist and NRA Board Member Kim Rhode will not be competing at the Games, instead earning a women's skeet Olympic alternate spot, along with fellow shooter Samantha Simonton. Rhode is the only woman, U.S. or otherwise, to ever medal at six Olympics in any sport.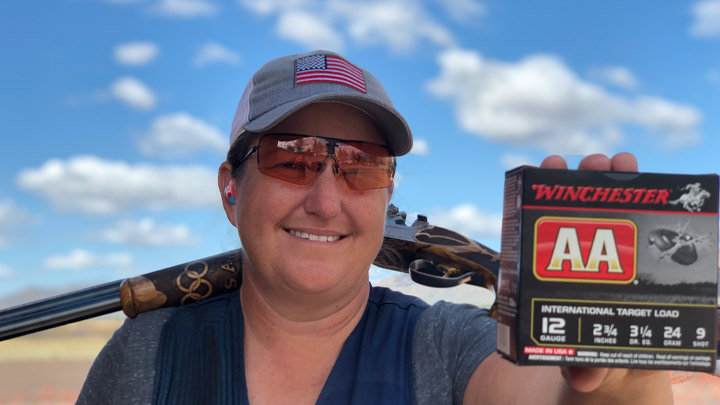 For English and Smith, the Tokyo 2020 Games will be the first taste of Olympic competition for both.
English was overwhelmed with emotion after earning her spot on the team at the conclusion of the match. The 30-year-old previously attempted in 2012 and 2016, taking an Olympic alternate spot during the latter.
"That was a very, very stressful four days, and we have some of the best shooters in the world for women's skeet, so I could not be happier to be on this team," English said in an interview with Brandon Penny reporting for the Team USA website.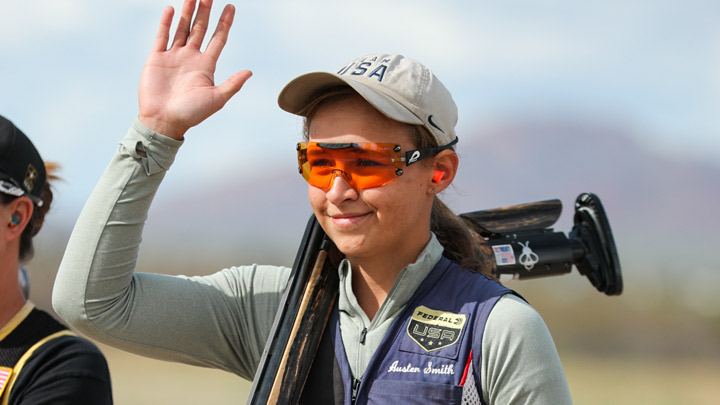 As for the 18-year-old Smith, she has been shooting competitively for six years and has been coached by Vincent Hancock himself for the past three. She did not expect to make the team.
"I'm just in shock, really. I was competing against some of the best women in the world, so just to be among them is insane—and to get past them just for a second is really great," Smith said to Team USA in an interview.
2020 Shotgun Spring Selection, Olympic Trials Part 2—Women's Skeet Leaderboard
Olympian—Amber English, 532
Olympian—Austen Smith, 529
Alternate Olympian—Samantha Simonton, 527
Alternate Olympian—Kim Rhode, 520
Match Champion—Amber English, 245
Match Silver—Samantha Simonton, 237
Match Bronze—Austen Smith, 236
Junior Champion—Lia Nelson, 208
Junior Silver—Jasmine Otis, 204
Junior Bronze—Alishia Layne, 203
Collegiate Gold—Samantha Simonton, 237
Collegiate Silver—Erin Lokke, 224
Collegiate Bronze—Emma Van Donselaar, 208
J2 Gold—Alishia Layne, 203
J2 Silver—Phoebe Smith, 198
J2 Bronze—Molly DiMaggio, 195
J3 Gold—Karsyn Ross, 202

Lead photo courtesy of U.S. Army Marksmanship Unit.
---
See more:
With 160 Days To Tokyo 2020, Collegiate Athletes Bring U.S. Olympic Rifle Team To Life