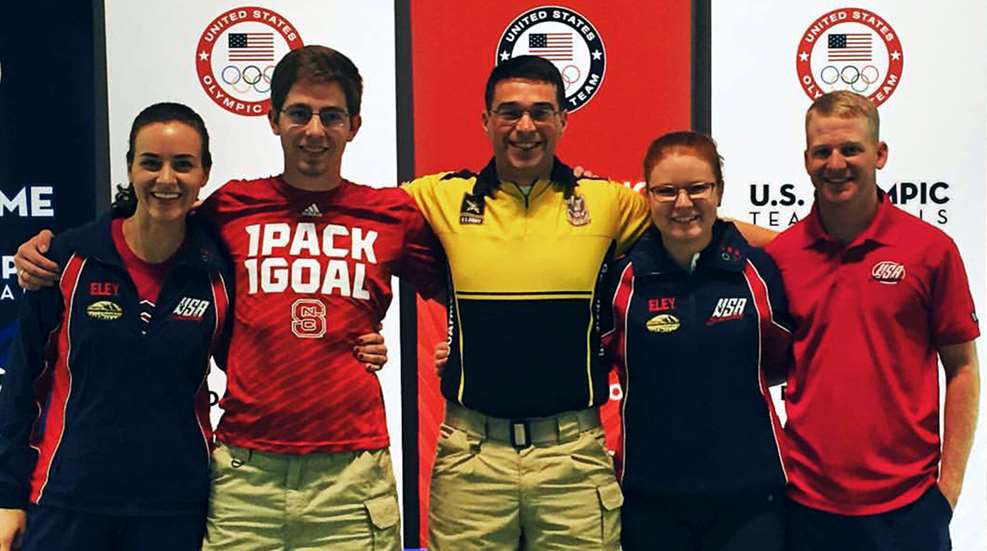 Above: 2016 Olympic Team nominees for Air Gun (from left to right) Sarah Scherer, Lucas Kozeniesky, Dan Lowe, Lydia Paterson and Will Brown.

The final shooting athletes to be nominated to Team USA earned their slots at the U.S. Olympic Team Trials for Air Gun at the Gary Anderson CMP Competition Center in Camp Perry, OH.

Five Team nominations were up for grabs over the three-day selection match—two in Men's Air Rifle, and one each in Men's Air Pistol, Women's Air Rifle and Women's Air Pistol. This final part of the U.S. Olympic Team Trials for Air Gun consisted of three straight days of qualification, as well as three separate Finals. Each day's qualifying scores and points from the event Finals were added to each individual score to get a cumulative total.

Four first-time Olympians punched their tickets to Rio with their finishes today: Lucas Kozeniesky (Camp Lejeune, NC) and Dan Lowe (U.S. Army Marksmanship Unit/Olympia, WA) in Men's Air Rifle, Lydia Paterson (Kansas City, KS) in Women's Air Pistol and Will Brown (Twin Falls, ID) in Men's Air Pistol.

Sarah Scherer (Woburn, MA) was the only athlete to earn a repeat Olympic appearance with her win in Women's Air Rifle. Though Scherer has been sidelined for nearly two years with two back surgeries that almost forced her out of the sport, she's declared she's ready to compete once again with her two Finals appearances at the International Shooting Sport Federation (ISSF) World Cup in Bangkok, Thailand, along with today's win.

"That was the longest three days of my life!" she said. "I was counting down the fractions of what was left of the match and I'm just so excited to be moving forward; especially with all of the back things going on with me. I wasn't even sure I'd get to make it to this point so it's been really exciting. It's been a lot of hard work, but also a good affirmation of the decision I made way back last summer not to retire so that's a big deal for me."

Scherer competed on her first Olympic Team in 2012 in London where she finished in seventh place in Air Rifle. As the U.S. earned only one quota slot each in Women's Air and 3-P Rifle, Scherer will also be allowed to shoot the 3-P Rifle event in the 2016 Olympic Games in Rio de Janeiro, Brazil as she also holds the Minimum Qualifying Score (MQS) to compete in the event. Ginny Thrasher (Springfield, VA) earned the Women's 3-P slot at the U.S. Olympic Team Trials for Smallbore in April.

Sagen Maddalenda (Groveland, CA) finished in second place and West Virginia University sophomore Elizabeth Gratz (Sigel, IL) finished in third.

Kozeniesky, a junior at NC State University, mathematically had one of the two Men's Air Rifle slots locked down prior to today's Final with dominating, world-class Qualification scores each of the three days of competition. He's credited his focus on mental management over the past five weeks, however, to his success in this weekend's match.

"This is probably the first match where all of my training came together at one point—everything was calculated, everything went well, everything was on call, I knew exactly what was going on the entire time and it was just a really good match," Kozeniesky said. "That was the goal—I just wanted to have a really good performance and the reality of what was happening didn't really hit me until 10 shots away from the finish where it was like 'Oh my God!' This was probably my best match ever!"

Lowe was in third place overall at the conclusion of today's qualification, but when Ivan Roe (Manhattan, MT) who was in second place overall failed to qualify for today's Final, that left the door open for Lowe to win the requisite additional points as he picked up eight points with his Finals win to secure the second quota slot.

"There was a lot of pressure in this match!" Lowe said. "I had a rough day in the middle there and I didn't have a lot of confidence—it was really bad. I accepted that my chances had gone down a lot, so I knew I had a lot of work to do. I didn't want to know the point spread—I knew it was close, but I knew I needed to win [the Final] to get this," he said. "Getting down there on those last couple shots [in the Final] I knew 'oh hey, that guy already made it' and 'that guy is just a couple away from me' and then it hit me—I'm going to Rio!"

Dempster Christenson (Sioux Falls, SD) finished in third place overall.

On the pistol side, 19-year-old Paterson threw down the most dominating overall lead of the match, beating the second-place finisher Alexis Lagan (Salt Lake City, UT) by 24 points. On Paterson's first day alone in qualification, she shot a world-class score of 387—nine points higher than her closest competitor. Though the following days' scores weren't quite as high, winning all three of the Finals helped assure Paterson of the comfortable lead.

"The first day I came in super focused, and the 387 definitely helped my confidence a bit," she said. "The nerves got a bit worse on the second day. I felt like I kind of struggled, but the nerves today weren't worse, they were just different. Competing today with people that you know and knowing that I had a lead definitely helped, but I still wanted to shoot my game. The Final was still even nerve wracking, even though I knew I already made the Team just because I was excited!"

Paterson won the Women's Air Pistol Olympic quota for the U.S. with her eighth place finish in the ISSF World Cup in Munich, Germany last year.

Courtney Anthony (Lexington, NE) finished in third place.

The tightest race of the Olympic Trials for Air Gun was in Men's Air Pistol. Entering the Final, only one point separated eventual winner Brown from 2008 Olympic bronze medalist Jason Turner (Rochester, NY). Though Brown only finished in fourth place in the Final, it gave him enough additional points to secure him the win over Turner, who finished the Final in eighth place.

"It was tight and it was tough—that's just the way Olympic Trials kind of go," Brown said. "You go in, thinking you're prepared, and there's always something that surprises you and you've just got to hang with it. I knew coming into this last Final I only had a point on Turner, but I didn't know where everyone else ended up. Even after Turner got out, I knew I still had to do well and it just worked out."

Alex Chichkov (Temple Terrace, FL) finished in third place overall in Men's Air Pistol.

Since Brown also has the MQS in Free Pistol, he can also compete in that event at the Olympic Games. He'll join Jay Shi (Phoenix, AZ), who won the Men's Free Pistol event at the U.S. Olympic Team Trials for Smallbore, on the line in Rio.

The top ten athletes in each discipline from the first part of the U.S. Olympic Team Trials for Air Gun in December—also known as the 2015 Winter Air Gun Championships—earned a spot to compete at this part of the U.S. Olympic Team Trials for Air Gun, as long as they had the MQS from an ISSF-sanctioned event. Those who did not find themselves in the top 10 or were unable to compete at the first part of the U.S. Olympic Team Trials got a second chance at a "last chance" match in May in Colorado. None of the scores from the previous matches carried over to this match.

The 2016 Olympic Games kick off August 5 in Rio de Janeiro, Brazil.

*All U.S. Olympic Team nominations are subject to approval by the U.S. Olympic Committee.