Their lightweight and compact size has made LED reflex sights popular with many shooters, and they are just as likely to show up on frame mounts for competitive shooters as they are as auxiliary sights for those in the tactical community. Recent offerings from some handgun manufacturers have provided the ability to mount them directly to a semi-auto handgun slide as a primary sight without expensive gunsmithing work.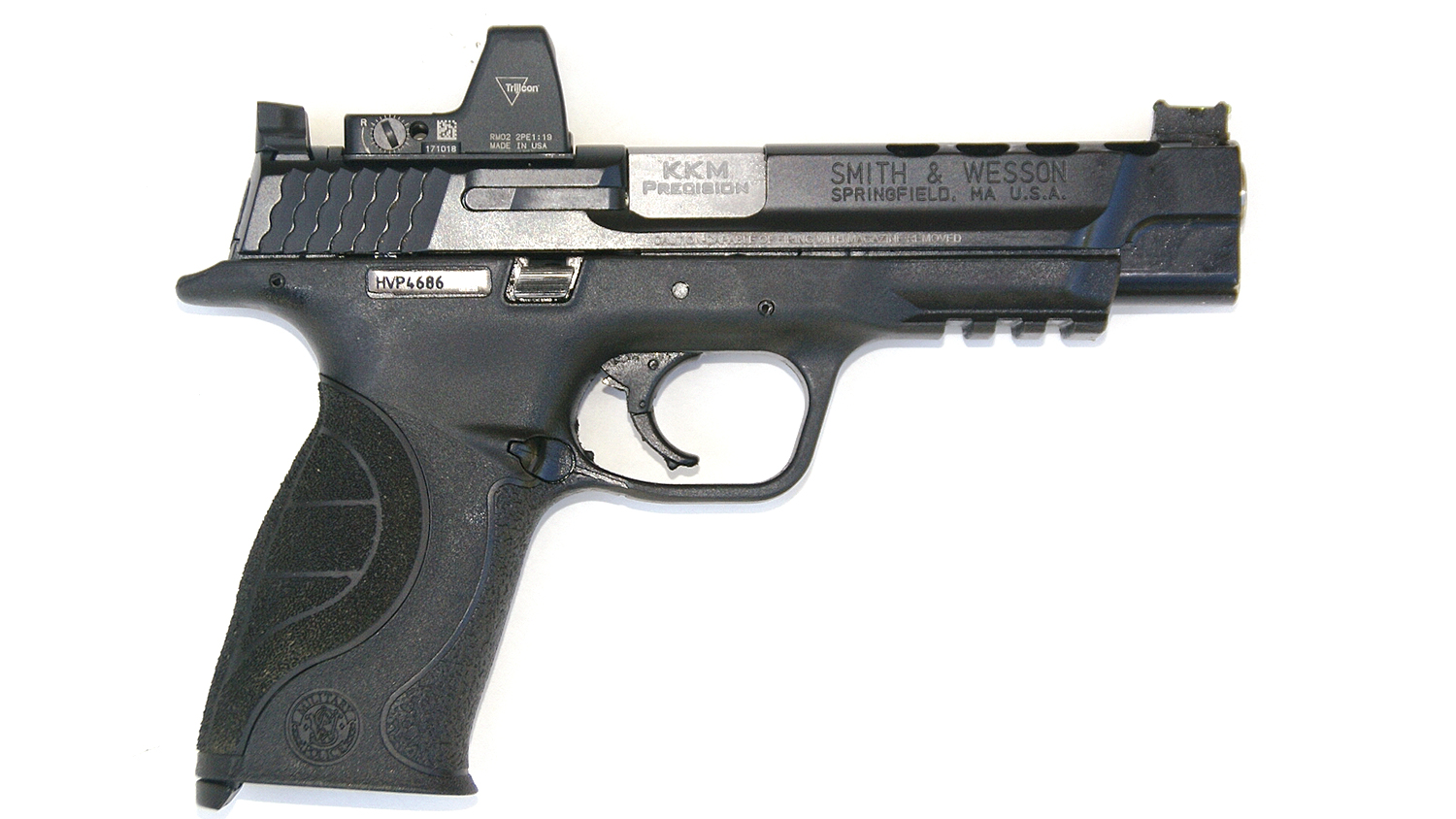 It's referred to as Carry Optics, and USPSA has recognized this trend with a new Carry Optics competition division. It basically requires a Production-class handgun with a slide-mounted optical sight. After shooting my Smith & Wesson M&P C.O.R.E with a reflex sight in a several matches, I can say it's a lot of fun! But there is a caveat.

It takes a rugged sight to survive the Slide Ride. The violent acceleration of the slide-mounted sight when firing, combined with the sudden stop at the end of the ejection cycle, and then the acceleration forward to slide lock. The sudden stop creates G-forces that can do major damage to internal components. Those G-forces are brutal, and are noticeable in battery conductivity circuits as well as the elevation and windage controls. It's a very tough test for any reflex sight. But after six months of heavy use, I'm convinced the Trijicon RMR can pass it easily.
RMR stands for "Ruggedized Miniature Reflex". They are constructed from 7075-T6 aluminum to mil-spec standards, waterproofed to 20 meters, parallax-free and feature multi-coated lenses. There are three different models within the RMR series, but all weigh in at 1.2 ounces, measure just under 2-inches in length, about 1.25-inches in width and provide a 1x magnification. The various models provide differing reticle and power options.

The Adjustable LED model ($708) features a red LED dot available in 1.00, 3.25, and 6.5 MOA sizes. Conventional Pistol shooters normally prefer the 3.25 dot, while Action Pistol shooters note the 6.5 dot is quicker to acquire. Control buttons on either side of the sight allow the shooter to select from eight brightness levels (handy if one shoots on indoor ranges), or an auto-adjust mode where dot brightness is dictated by ambient light, or turn the sight completely off. Powered by a single CR2032 lithium battery, Trijicon claims four years of battery life if left continuously on at the number four power setting, but only 25 days at the full-power number eight setting.

The Dual Illuminated model ($577) is available with an amber dot in 7, 9, or 13 MOA, and a 12.9 amber triangle, as well as a green 9 MOA dot and a green 12.9 triangle. It requires no battery. It relies on a tritium lamp and fiber optics to auto-adjust dot brightness in ambient daylight conditions, with the tritium lamp providing night sights.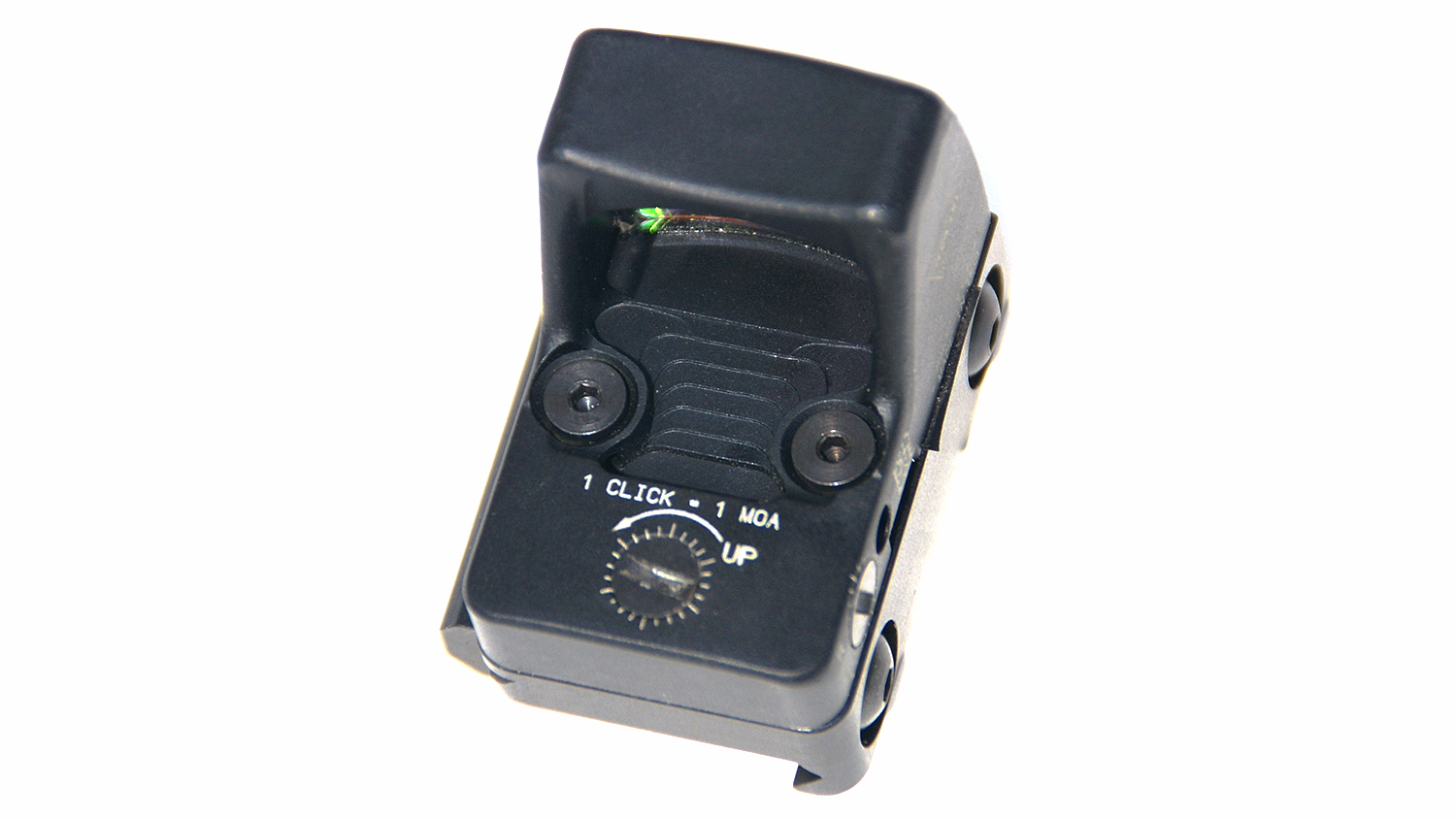 The RMR that I have been using is the LED Model ($655). It features a red dot in either 3.25 MOA or the 6.5 MOA, which I selected. Like the Dual Illuminated model this sight is continuously on with auto-adjust brightness. The single CR2032 battery will last two years of continuous use, or five years in dark storage.

The sight mounted easily to the C.O.R.E's slide. Zeroing it was a snap. It is click-adjustable for windage and elevation (1 MOA per click) and operates in the conventional manner of moving the sights where you want the group to go, instead of moving the dot to the group. After close to 6,000 rounds, the point of impact has stayed where I had set it.

The only problem I encountered was my own mistake. The RMR has the battery compartment located on the bottom of the sight. Trijicon provides a sealing plate to mount between the sight and the gun to secure the battery in place. When installing the sight, I overlooked this step and after about 500 rounds, I made a hard slide lock reload to slam the slide forward without hitting the slide release. I lost the dot, but racking the slide brought it back.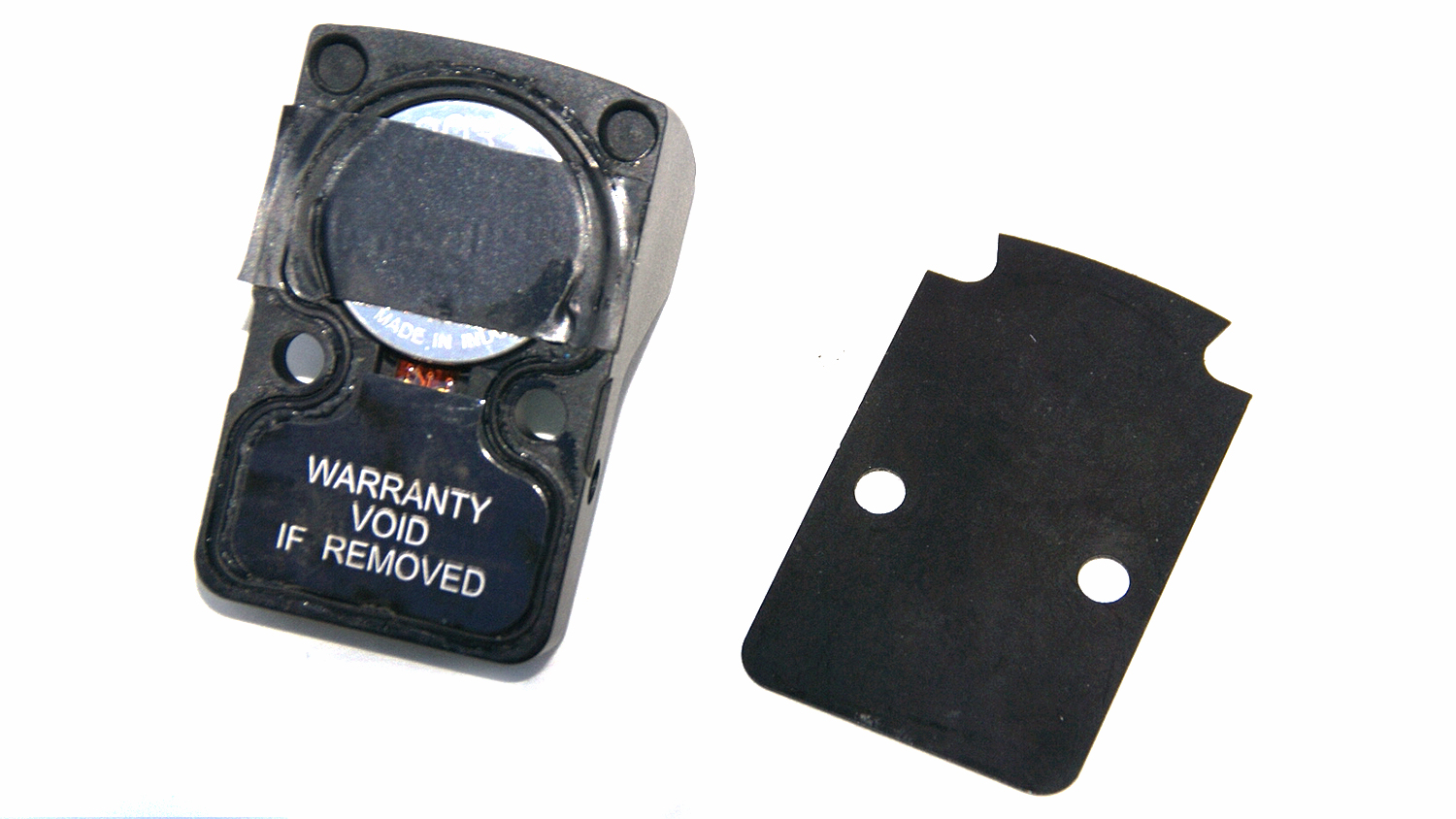 The battery can bounce and momentarily lose the connection. This is not uncommon to this type of sight/battery-mount system. I added a strip of PVC tape over the exposed battery and installed the sealing plate, and 5,500 rounds later (and a lot of hard slide lock reload) that problem hasn't returned.

While my interest in this sight was for a slide-mounted Action Pistol optic, they're not restricted to that use. Trijicon offers an accessory Picatinny mount base that allows it to fit snugly on any 1913/Weaver-type rail. This opens the door to a variety of uses. Considering that the RMR is tough enough to survive the Slide Ride, it should certainly handle any other task.

All photos by Chris Christian.