by
Chris Christian, Field Editor
posted on December 5, 2016
Support NRA Shooting Sports USA
DONATE
Above: USPSA Grand Master KC Eusebio runs his Carry Optics gun at the July 2016 Florida State Steel Challenge Championship. He finished third place overall against a number of Open Class Guns. Carry Optics can compete with the 'High Dollar' guns, and with a thinner wallet.

Compact red dot reflex sights were originally envisioned as auxiliary sights for long guns, and have served well in that role. More recently, their minuscule size and weight (less than two-ounces) has opened additional doors. A popular current use is as a slide-mounted sight on semi-auto handguns intended for personal protection or specialized military/law enforcement use. The most common term for this is 'Carry Optics', and some handgun manufacturers now even offer guns that have the slides cut from the factory to allow direct mounting of a number of reflex sights.

The United States Practical Shooting Association (USPSA) has recognized this trend and created a new gun division—Carry Optics—for USPSA and Steel Challenge competition.

Carry Optics Rules
Carry Optics Division requires a handgun with a red dot sight mounted on the slide, not the frame. It's open only to semi-auto pistols that are currently on the approved Production Division model list. Production Division guns are either striker-fired polymer frame guns, or steel models with a traditional DA/SA trigger operating system. The Production approved list is far too long to display here but is readily available at www.uspsa.org.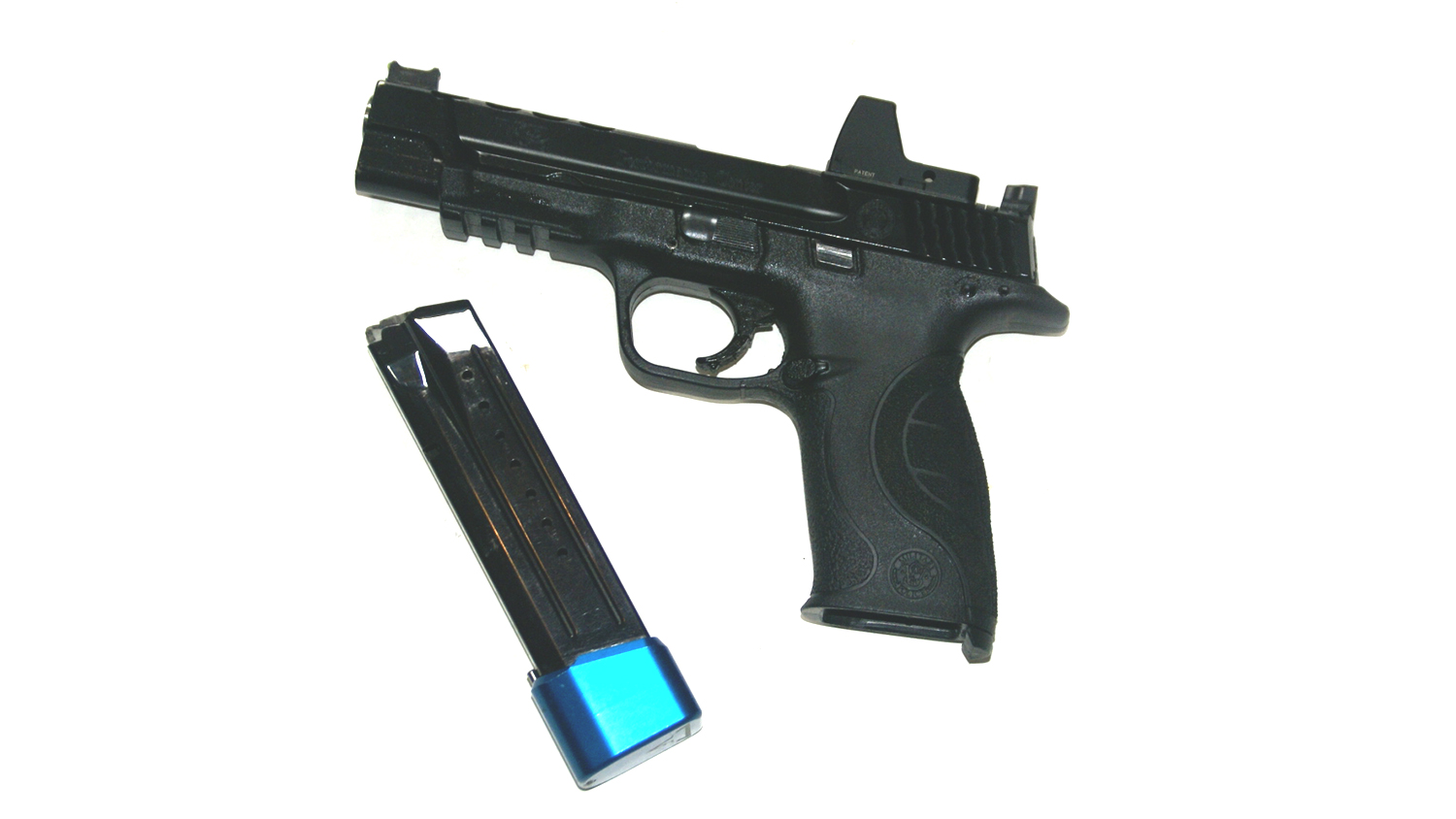 Like Production Division, scoring is done in Minor caliber (125 PF minimum) and the minimum caliber is 9mm. However, not all Production Division gun rules apply. External modifications prohibited in Production Division but allowed in Carry Optics include: milling the slide for the reflex sight, replacing grip panels, stippling, cocking serrations, textured finishes on slide and frame, and undercutting and smoothing the trigger guard. Gun models on the approved Production list with ported slides and barrels as factory options may be used if the ported barrel is replaced with a non-ported barrel. Internal modifications that do not disable safety devices are allowed, and there is no minimum trigger pull weight. Holster requirements and its positioning on the body, as well as magazine pouch location, follow Production Division rules.

Two significant Production rule differences exist. The weight rules for individual Production Division model guns do not apply. For all Carry Optics pistols the maximum weight is 45-ounces with red dot sight and empty magazine. The magazine capacity remains at the Production Division 10-rounds, but the same 140mm magazines allowed in Limited and Open Divisions are allowed for Carry Optics. Some shooters of lighter weight polymer-framed guns have found those extended magazines provide room for adding some 'recoil taming' weight, while easily handling those 10 rounds.

Gearing Up
There are gunsmiths who can machine the slide of virtually any semi-auto pistol to accept a slide-mounted reflex sight. A number also offer dovetail mounts that replace the existing rear sight to allow optics mounting. Some manufacturers offer machined slides on their factory models that accept interchangeable base plates to allow the mounting of a number of popular reflex sights. The below models are on the approved Production list.

Glock has the MOS (Modular Optic System) series available on Gen 4 Glocks that include the G17, G19, G34 (9mm), G35 (.40 S&W) G40 (10mm), and G41 (.45 ACP). The mounting plate fits in front of the rear sight, leaving it in place, but does not provide co-witness capability.

Smith & Wesson has the M&P available in the C.O.R.E configuration (Competition Optics Ready Equipment) model in 9mm or .40 S&W. It features a mounting plate with suppressor-height iron sights that co-witness through the reflex sight window. The Performance Center model comes with a ported barrel (not legal for Carry Optics) but is legal with an aftermarket non-ported barrel.

Walther has the Q5 Match (9mm, five-inch barrel), with a mounting plate cut for several popular sights. The adjustable rear iron sight is affixed to a removable plate that is replaced with the reflex mounting plate when reflex sights are installed and is not available when a reflex sight is mounted.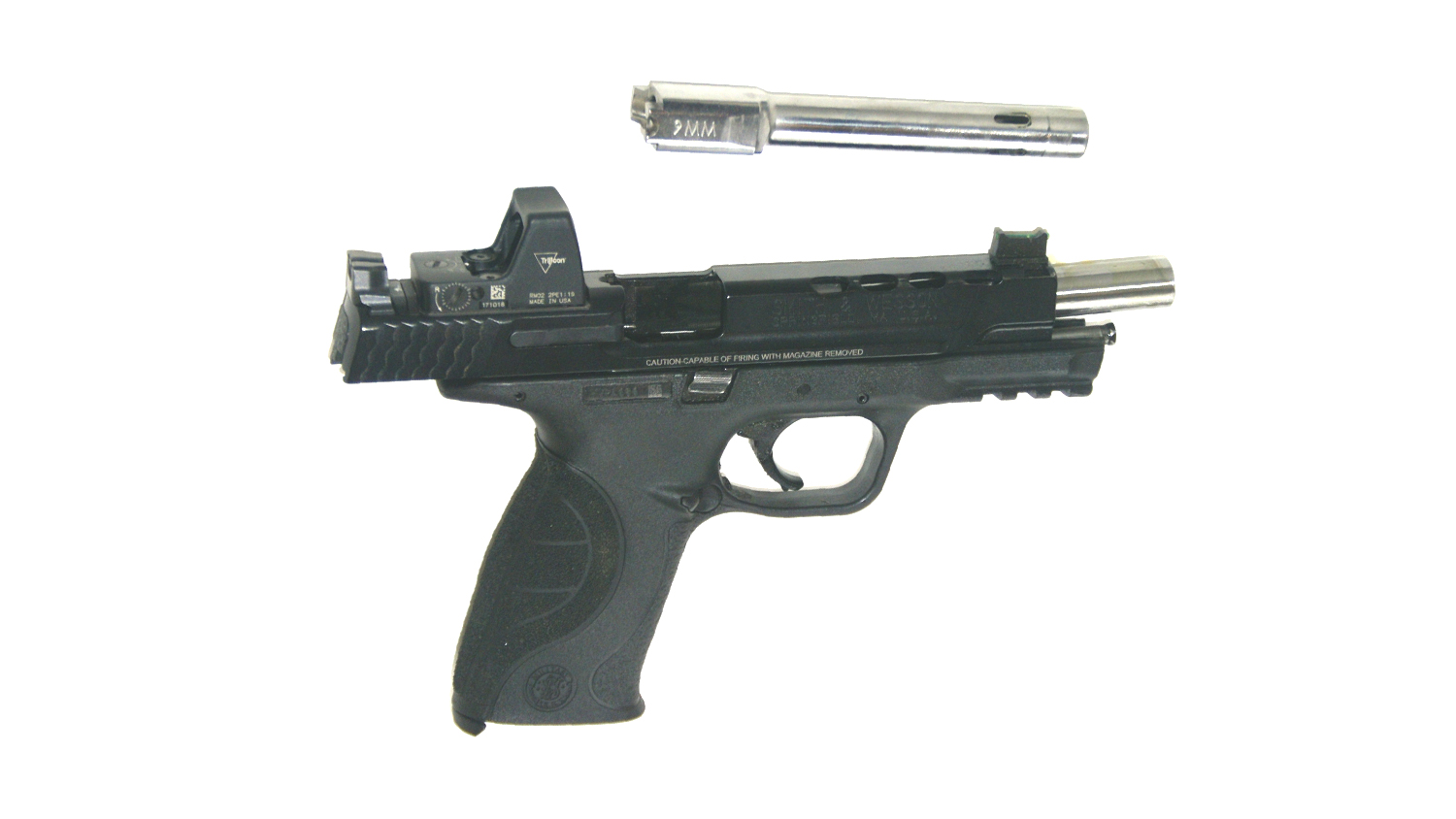 The above polymer-framed handguns provide shooters an easy way to mount a reflex sight of their choice, but SIG takes it a step further. Their P320 polymer-framed handgun was used by SIG Team Captain Max Michel to win the 2016 USPSA Carry Optics Nationals in August. SIG is now offering the P320 with a factory-mounted SIG Romeo 1 reflex sight as an 'out-of-the-box' Carry Optics ready package. The P320RX is the full-sized gun, available in 9mm, and features suppressor-height sights that co-index with the factory-mounted Romeo 1 reflex sight.

While lightweight polymer-framed handguns are popular in USPSA Production, a number of shooters prefer the added weight of a steel frame and the various models of the CZ-75 series 9mm handguns have spent a lot of time in the winner's circle. CZ-USA doesn't offer factory guns cut for reflex sight mounts. But the CZ Custom Shop does and they have a number options including; milling for a specific reflex sight, or an adapter plate/multiple mounting option. They also offer a replacement rear sight with a short section of Picatinny Rail in front that allows any reflex sight with a rail adapter plate (most makers offer them) to be slipped on and off for a very versatile package. Pop the sight on for Carry Optics, or pull it off for USPSA Limited, or for IDPA matches. It lets one gun do a lot of things.

When it comes to selecting a reflex sight there are a number on the market that have performed well in their original intended role. However, the G-forces created by the violent acceleration and stops on a 'slide ride' mount can be brutal on battery connections, as well as and the adjustment systems for windage and elevation. Although the division is still relatively new the shooter feedback I have received indicates that the Leupold Delta Pro, Vortex Venom, and Trijicon RMR seem to be among the best at surviving the abusive G-forces. The RMR on my 9mm S&W CORE (the same combo Julie Golob used to win the Ladies Championship at the 2016 Carry Optic Nationals) has run about 6,000 rounds without problems, or shifting its zero.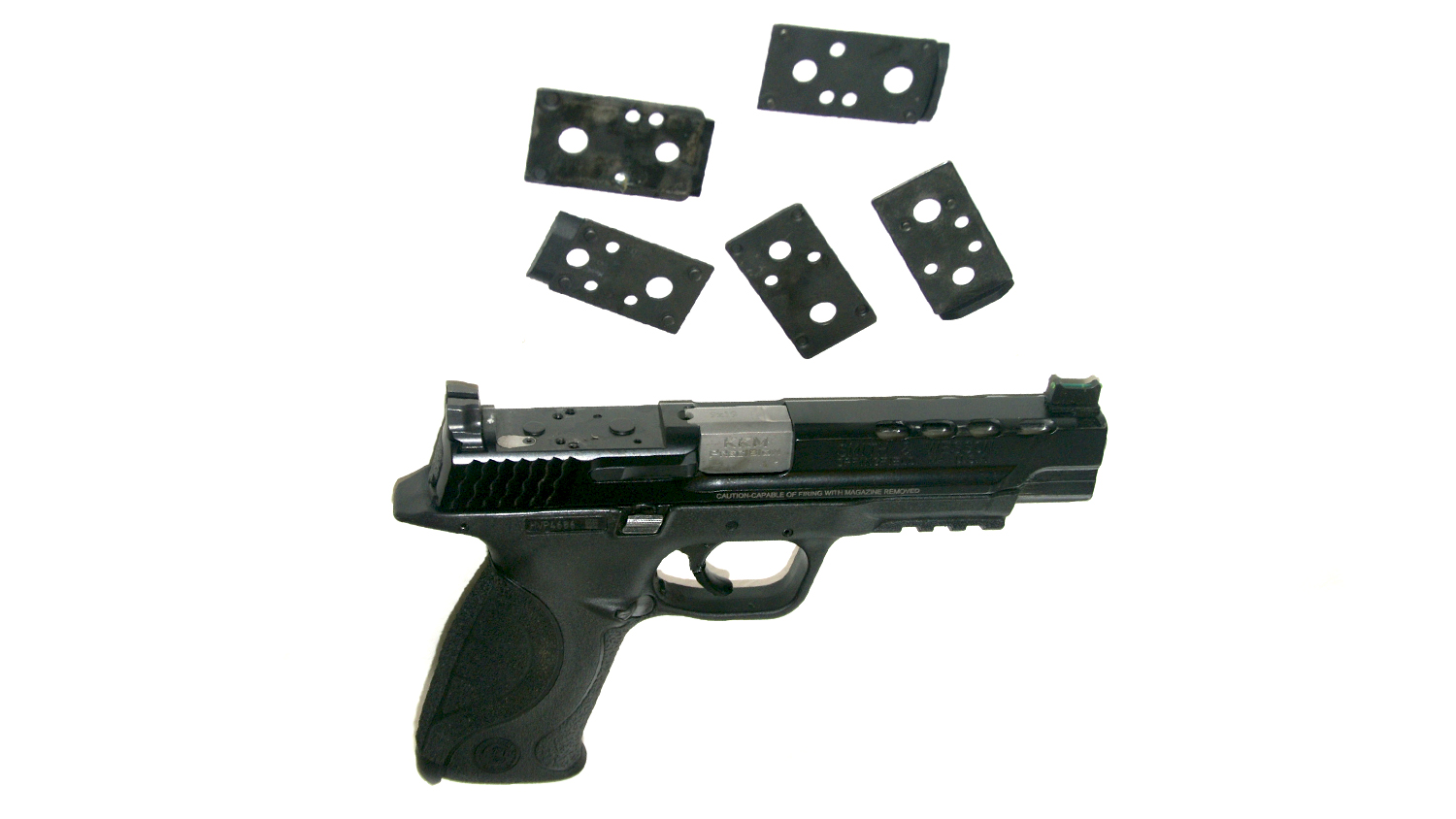 Although reflex sights can be sturdy they are a bit more maintenance-intensive than iron sights. Savvy shooters will tuck a lens cleaning cloth into a pocket to allow a quick cleaning during the "Load and Make Ready" procedure. A LensPen is also handy to have in your kit since it will clean even the most fouled lenses quickly. A spare battery should be carried, along with the appropriate tools needed for replacing it, as well as tightening a loose sight or changing sight settings. A cover for the lenses when not shooting is an overlooked but important item. A day on the range can subject the lenses to a lot of airborne debris (especially if you're spray painting steel targets on a breezy day!). Some manufacturers include snap on plastic covers. Some don't. Trijicon doesn't offer one for my RMR, so I attach a small clip-on hand towel to a belt loop and fold it over the gun when not shooting. Anything you can do to keep the lenses clean is one less unpleasant surprise you'll receive when the buzzer goes.

While USPSA/Steel Challenge is the most common application for a 'slide ride' gun it's not the only game that can be played with them. Many multi-gun matches allow them, and at club level (Tier 1) IDPA matches the Match Director can allow NFC (Not for Competition) guns to be used. As an IDPA Master Class shooter I have shot mine at a few club matches as practice for USPSA.

That's a lot of options for what is, essentially, an Open Class gun without the Open Class budget.