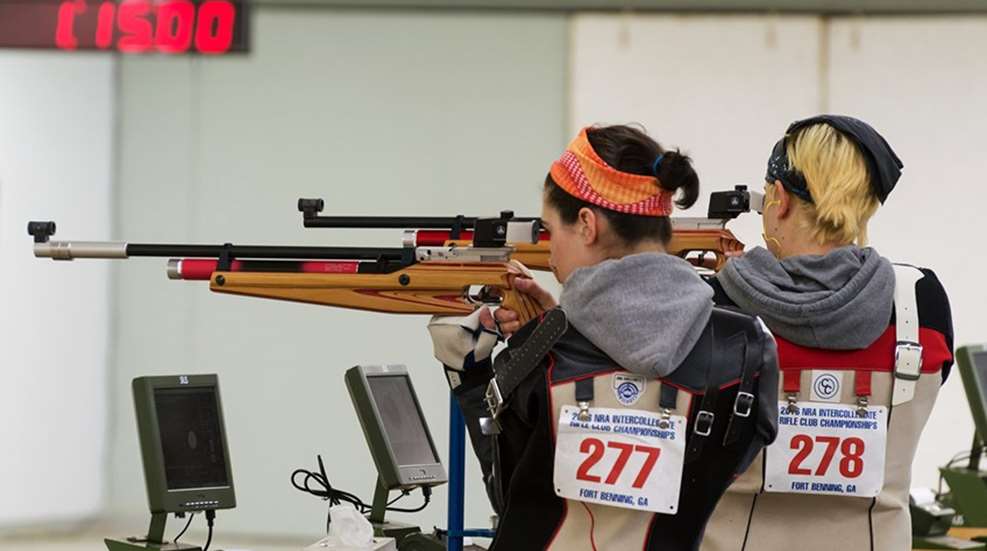 Competitive shooting is a long-standing tradition, passed on from generation to generation, but why should millennials continue to compete?

Shooting opens a new world to those willing to give it a chance. As soon as you walk out onto the range you meet like-minded people who greet you with a good, like-minded environment. When shooting, each target provides a new opportunity for accomplishments and betterment. From your first shot to your last, you are working towards a goal. Your biggest competition isn't the people in the lanes to your left and right―but yourself and your previous scores. While competing against yourself, you also engage in friendly competition against your friends and opposing teams, who push you to better yourself. No matter who you compete against, you always walk away from the range with a sense of self-pride at the end of the day.

Aside from providing new opportunities, shooting can be educational. Throughout their lives, many people carry with them the lessons they learned from shooting. The most important lessons one learns from shooting all pertain to the mind.

"Slow and steady wins the race" isn't just an expression, it's a truth. In shooting, a decent amount of follow-through is required to guarantee the accuracy of the shot. This means having to slow down, take a breath, and take a few seconds instead of rushing to the next shot. Similarly, we as humans need to take time between tasks to make sure each task is performed as correctly as possible and we don't grow overwhelmed.

While on the topic of taking your time, another important lesson is patience. It's pretty much impossible to shoot a completely perfect score in a single day. Similarly, everything takes patience for it to turn out the way you want it to. By showing that the desired goal cannot be reached in just a few shots on your first try, shooting provides a visual metaphor for the rewards and accomplishments that come with patience.

In addition to patience and time management, shooting teaches you to be proud of your accomplishments. As previously stated, nothing comes easy at first, but with shooting you get to watch patience and practice make the big end-goal easier to achieve. On the way to shooting a perfect score there are other smaller accomplishments, such as personal bests, that serve as your incentives to work towards shooting perfect scores. This helps to teach you to find smaller accomplishments along the way to drive you to the end goal.

When it comes to working towards goals and perfect scores, whether in competition or practice, you are your biggest competition. You are the only person who can determine your mindset and skillset. You are also the only person who can psych yourself out and cause you to perform at a lower level than you expected to. Similarly, in your daily life you are your biggest competition. Nobody but you can mess up the paper you worked on, the test you're about to take, or anything else.

The last mental lesson that shooting teaches us is that a clear mind creates the best results. If your mind is distracted, you are less likely to shoot well. Similarly, if you aren't focused on the task at hand, such as driving, you're more likely to steer off your original path without realizing you've done so.

Aside from mental lessons, shooting also teaches lessons about social interaction and society itself. Shooting teaches you how to hold conversations with people of opposing viewpoints. It is no secret that many people have differing viewpoints on shooting, and you will encounter at least one person with an opinion on shooting that differs from your own. With this, shooting teaches you how to hold your own in conversations with people of opposing viewpoints because you end up doing so on a somewhat regular basis. From the conversations you have about views on shooting you can learn how to hold your own in conversations where your opinion differs from that of someone else regardless of whether the topic of guns is involved. While you are likely to have many conversations about opposing views on shooting, it can also create friendships. When talking to a fellow marksman, one part of your lives is already similar, opening the door for the discovery of other commonalities. More people support your view on shooting than you may realize.

While on the topic of differing and common opinions, it is important to point out that those situations teach you to not let the opinions of other people make or break your day. Someone can only get under your skin if you allow them to.

Finally, shooting teaches you that molds are meant to be broken. You may be the only marksman in your household, school, or community, but that doesn't matter. The only thing that stops you from pursuing marksmanship is yourself. Breaking the social mold and being unafraid to do as you wish creates the opportunity for others to become marksmen without being afraid of what others might think of them.

The shooting sports are an educational and proud tradition that has been passed on from generation to generation with pride. We owe it to our children to pass on this tradition and therefore pass on the many life lessons that come with it.

Editor's note: Read how the author started a rifle club at her high school after an uphill battle.