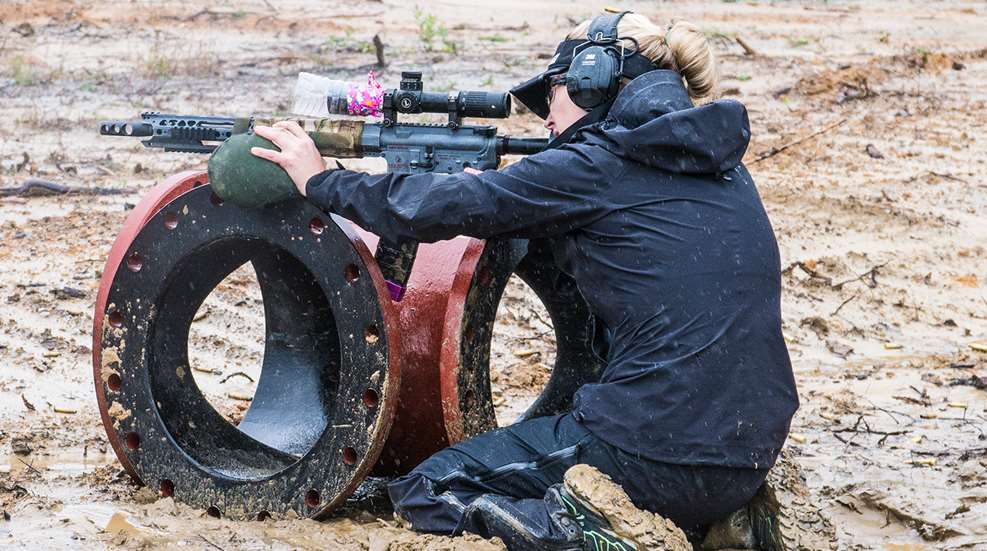 Above: The author at her first PRS Gas Gun competition. Photo by Chris Polley.
The first "official"
Precision Rifle Series
(PRS) Gas Gun match was
also
the first PRS match I had ever shot. It was the
JP Enterprises Semi-Auto Scoped Rifle Match
in November 2015. And, it was an eye opening, kick in the teeth experience—which amplified my areas of weakness as a shooter.
I had a strong background in
3-Gun competitions
, but I usually competed in the limited division, using just a red dot optic. My first introduction to long-range shooting was when I shot the
Mammoth Sniper Challenge in 2015
with my husband. Essentially, the pairing of those two worlds is what to expect from a PRS Gas Gun match. There is speed, accuracy, and independent long-range shooting all wrapped into a gas gun match.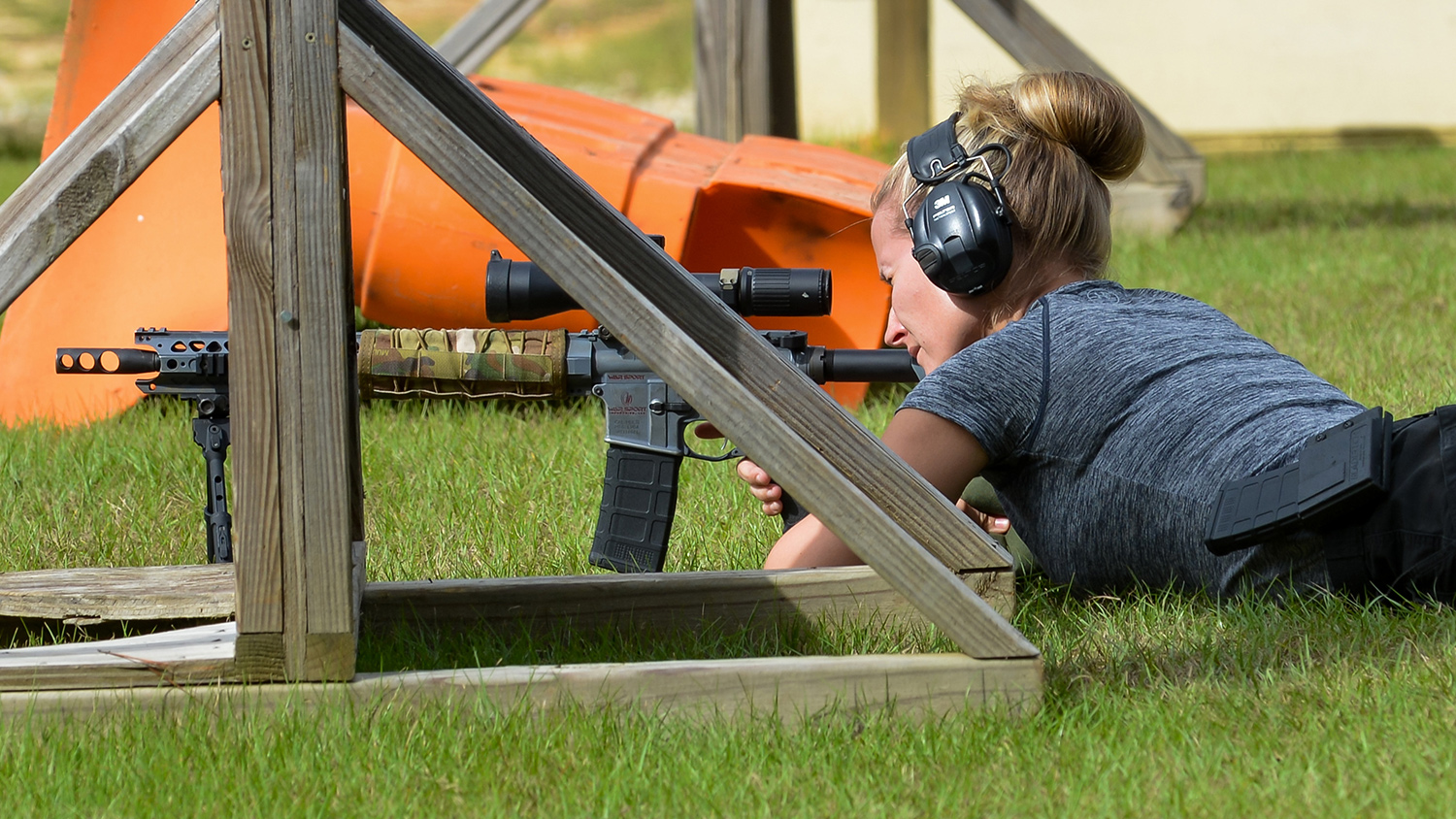 For gas gun matches, competitors can choose pretty much any
caliber of their preference
. Their division is determined by the caliber they shoot. I chose to shoot one of my AR15s, as did many other competitors. At the time, this put me in the previously known Tactical Division where 223s and 308s competed against each other. Now, 223s have their own division in the
PRS Gas Gun Series
, referred to as the Tactical Light Division.
To prepare for the match, I set up my rifle just as if it were a bolt gun. Meaning, I zeroed it at 100 yards and gathered data (trued the gun) out to 800 yards. I trued it to 800 yards because that was the furthest target I had access to; fortunately, the furthest shot at the match was just over 800 yards. My AR15 shot well, about 1 MOA at 300 yards (or about 3 inches for a 5-round group at 300 yards).
Selecting precision ammo is imperative for long-range success. At the match, I was shooting
Black Hills Ammunition
77 Grain OTM
. The ballistic application I used was the inexpensive
Shooter App
. At the time, that app was good enough to get me by, but now I wouldn't trust shooting a match without a
Kestrel with Applied Ballistics
. The difference between the two is that using a Kestrel is pretty much "plug and play". You input your rifle's information, true your data and the Kestrel updates the environmental conditions, then automatically adjusts your data—giving you accurate holds.
I viewed the match as a learning experience since I had never shot long-range without a spotter and didn't have much experience using a variable power scope, other than in practice. During the match, I made several mistakes like:
Rushing through the stages
as if it were a 3-Gun match. With PRS matches, there is more than ample time to set up a stable shooting position and
then
engage the target. Many of the stages have limited round counts; misses cannot be afforded. Getting into the best position possible, minimizing your wobble area, is extremely important.
Having my scope magnification too high
. I was running a
Leupold Mark 6 3-18x
scope. I figured
more must be better
, and cranked up the magnification to 18x. I was dead wrong and got lost behind the scope several times, which made it difficult to find the targets. I learned that a safe magnification for when I wasn't sure what to use, was around 9x. That amount of magnification is enough to find the targets, but not get "lost" behind the scope.
Not having proper follow through
for each shot. I would shoot, and then rush to get the next shot off. I ended up not actually seeing my impacts or misses. So, any successive shot was essentially luck because I wasn't using every shot as an opportunity to gain knowledge for the next.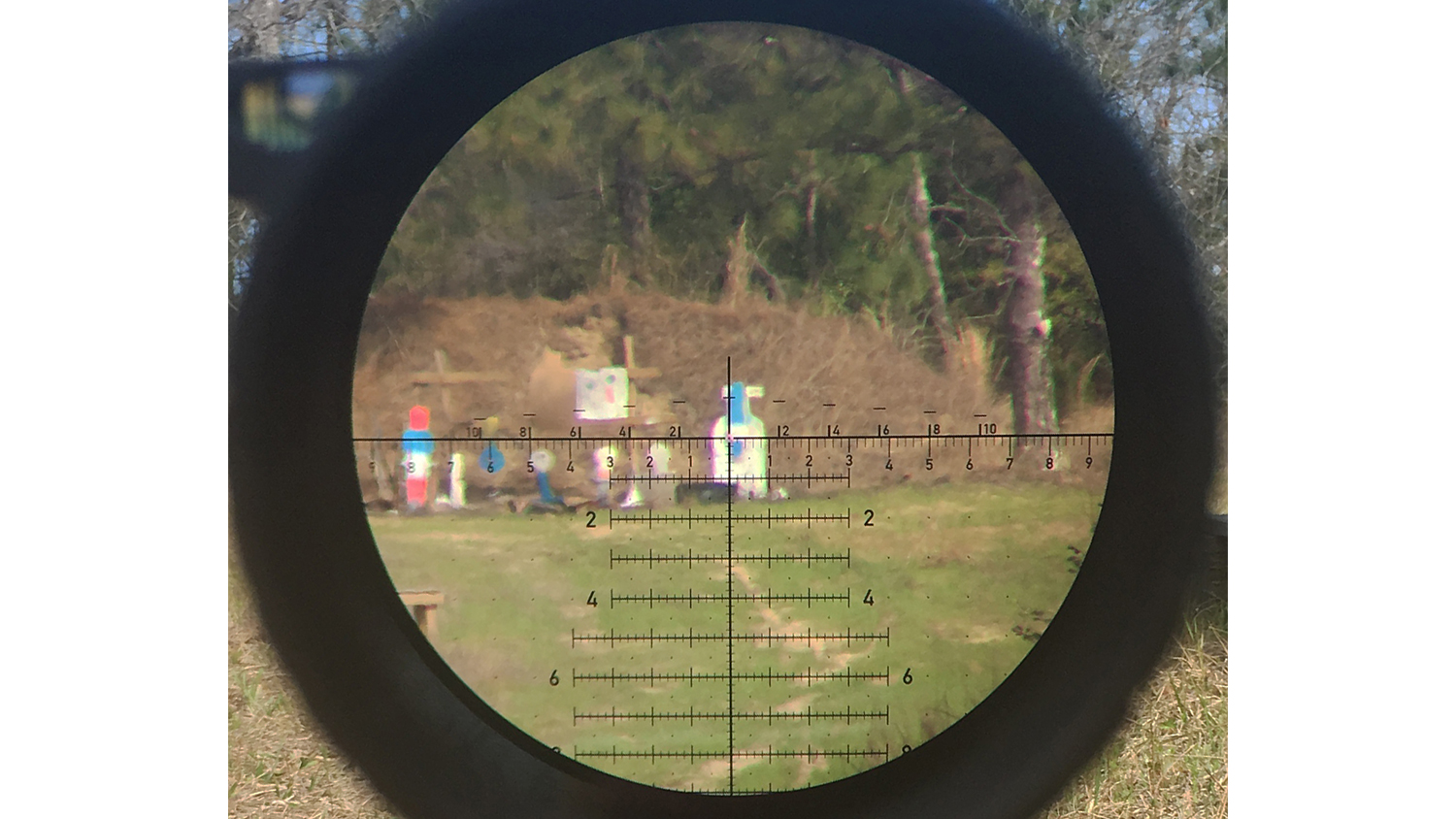 Not using holdovers.
The scope I used had a Horus 59 reticle. This type of reticle is perfect for when you don't have time to dial/adjust the turrets. With my limited experience using a variable power scope, I wanted to dial my data for every target. This ended up being time consuming. By day two of the match, I better utilized my time by building solid positions and not taking time to dial.
Holding on the center of the target
, even if I knew there was a slight wind. This was another sign of my inexperience without a spotter telling me where to hold. It's a whole different game when you have to determine what to hold for wind and the corrections that should be made. At times when there was a slight wind, I should have at least held slightly off the center of the target, to adjust for that wind.
My main takeaways from that first PRS Gas Gun match were:
Don't sacrifice speed for accuracy
Have proper follow through by continuing to look through the scope for an extra second to see where the round went and how to adjust my next shot
Go home and practice holdovers at various distances and in non-prone positions
PRS Gas Gun matches
are a perfect setting to test your fundamentals as a rifle shooter while dipping your toe into the water of long-range competition. The learning curve is swift, but completely attainable once you grasp the concept of the game. Learn from my mistakes and go crush it at one of the several PRS Gas Gun Series matches this year.
About the author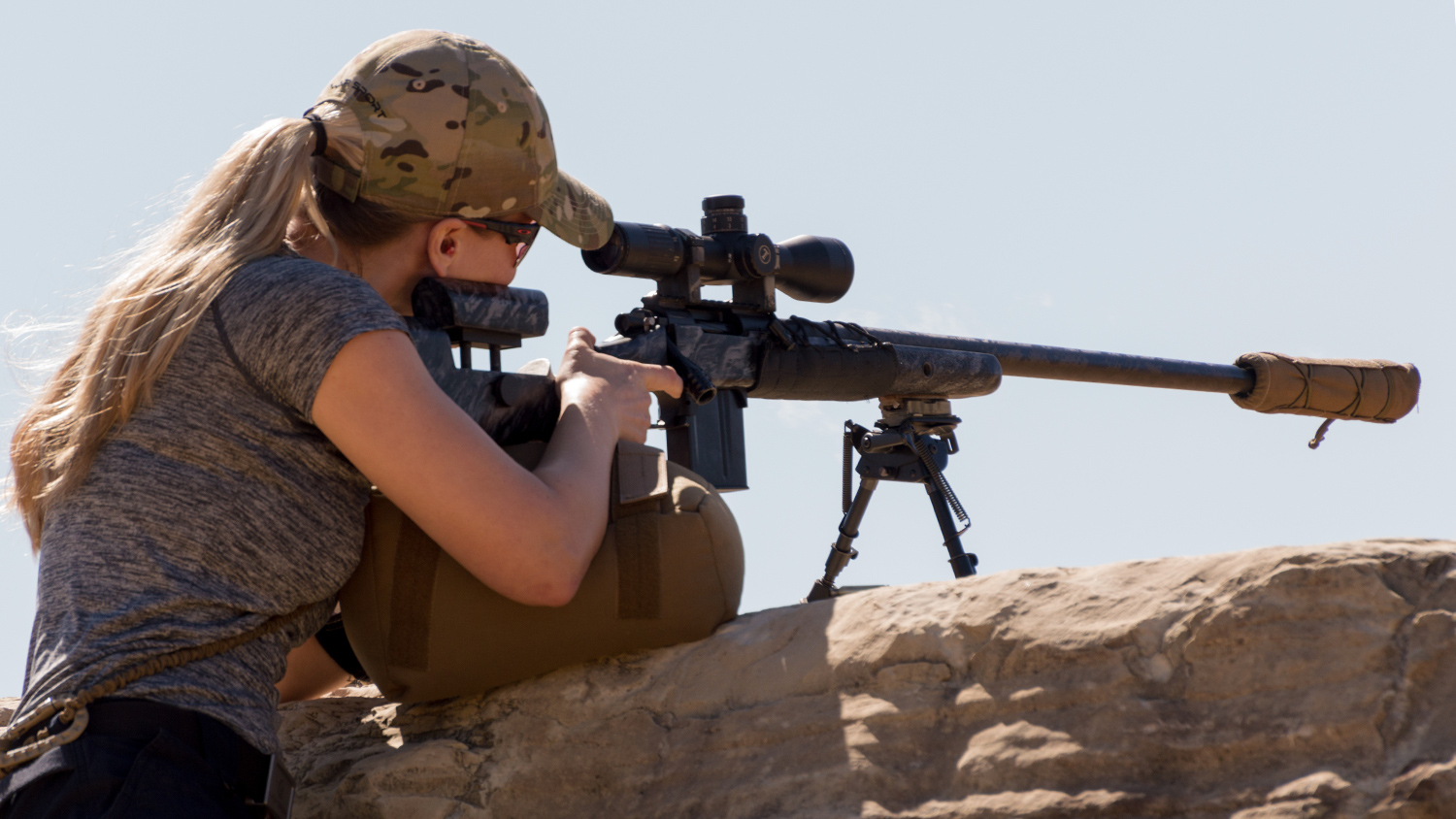 SSUSA's
latest author, Candice Horner, has been shooting competitively since 2012. She competed in the
3-Gun Nation Pro Series
from 2013-16. Last year, she shifted her focus to shooting farther distances after her husband ignited her love of long-range competitions. On average, Candice shoots one major match per month including 3-Gun, gas gun, and long-range bolt gun competitions. Her background is diverse—she's a USMC veteran, Registered Nurse, and prior federal law enforcement. Candice believes in letting passion drive your life and currently works for
www.BreachBangClear.com
as a staff writer and the director of business development.
Questions? Comment in the section below, and Candice will try to help improve your long-range game.