by
posted on November 1, 2018
Support NRA Shooting Sports USA
DONATE
Editor's note:
The 2005 NRA National Pistol Championships at Camp Perry saw then-U.S. Marine Corps pistol team shooter Gy/Sgt. Brian Zins win a record seventh title. That year, the attendees at Camp Perry were lucky enough to arrive at the right time to watch long standing records shattered. Here's our coverage, provided by Guy J. Sagi that was published in the November 2005 issue of
Shooting Sports USA.

The ancient gods were hard at work when the pistol phase started at Camp Perry. Zeus tossed around his signature lightning storm during the competitors' arrival, somehow signaling the beginning of two modern-day pistol deities' efforts to accomplish what was once thought impossible.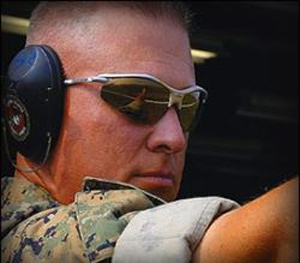 Despite the fact that
Gy/Sgt. Brian Zins
was about to embark on a historic attempt at becoming the first shooter to claim seven National Pistol Championships, he said he felt no pressure at all.
"Several years ago I put this whole sporting thing into perspective," he said, "when I had children."
His 11-year-old daughter had just scored perfect 600s in her science and math testing. He was eager to share the good news, and the upcoming matches seemed to pale in significance.
Zins
was already among some of the loftiest pistol-shooting company in history. Shooting legends
Harry Reeves
,
Huelet Benner
,
Bill Blankenship
and Zins all had six titles to their credit.
That tie was broken on July 16, when King George, VA-resident Zins came from behind in .45 pistol to cinch a seventh National Pistol Championship. His score of 2645-111X also netted his fifth consecutive title, tying him with Blankenship, who held the title form 1960 to 1964.
Army Reserve
S/Sgt. James Henderson
, from Festus, MO, claimed second-place honors with an aggregate score of 2637-137X. Christopher Johnson, from Libertyville, IL, came in third with 2637-118X.
"There's not a bad thing to say about any of the competitors," Zins said about the Camp Perry attendees. "They're great people on and off the firing line."
When asked what his plans were now that he's taken a record-setting seventh title, Zins said simply, "Do it again."
Seven is also the magic number of victories
Lt. Phillip Hemphill
, of Clinton, MS, has won at the
National Police Shooting Championships
, which takes place in September. When Hemphill claimed victory as the police champion at the NRA National Matches, the NPSC and police championship titles were held simultaneously by a single person for the first time in history. The Mississippi Highway Patrolman scored 2613-99X to claim the victory.
Yes, this year at the National Matches at Camp Perry, the stars aligned, and the greatest pair of pistol shooters in history set about methodically rewriting the record books. But the real winners were those in attendance who were lucky enough to get lost in historic feats that may never again be repeated, much less
bested
.
---
More classic articles on National Matches history: