Extreme long range shooting is going through a revolution as an influx of newcomers looks to dive into the long range shooting community.

With an obvious uptick in the number of extreme long range matches offered by the National Rifle League, NRA, and Precision Rifle Series, it appears that long range shooting has caught the attention of gun owners and enraptured them with its complexity and diversity.

Alex Cordesman, who helped create the King of Two Miles match held at the NRA Whittington Center in New Mexico annually, said that participation has spiked in the past few years.

"We started King of Two Miles just four years ago and since then we've doubled every year for the first three. Last year we sold registration in an hour. This year we sold it in about a minute and a half," Cordesman told Shooting Sports USA. "Our waiting list is over 100 long. So, yeah, there's a tremendous focus in the industry to really make long range shooting a more broadly adapted thing."

From the intellectual side of calculating distances and bullet drop to the physical side of adopting the right stance and pulling the trigger, Cordesman said the appeal of the sport is multi-faceted. Ultimately, though, it is the convergence of the difference aspects of shooting that piques interest and keeps shooters wanting more.

"Realistically to do well at very long ranges you need to have a gun that has good optics that can adjust to the ranges you're dealing with. You need to understand what the bullet is doing the whole way down range. You need be able to reload well. You need to be able to have a good shooting stance and good shooting fundamentals. So it brings every little bit of it to the absolute limit," Cordesman elaborated. "You need to know everything and do everything perfectly to make it work."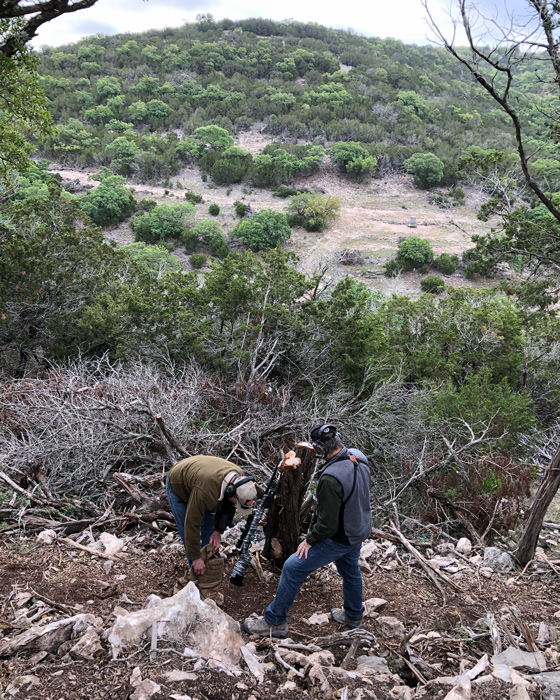 Matt Bettersworth, general manager at Hill Country Rifles, said it's the addictive nature of the sport that brings shooters back time and time again.

"I remember the first time I hit a plate at 1000 yards. All it did was make me want to hit 1200, 1500 and then a mile. That is how it goes. The more you do it, the better you get at wind and setting up the right equipment," Bettersworth commented. "It is also a lot of fun because there is certainly an element of luck involved and you get to do it with fellow shooters, spotters and observers. It is good shooting camaraderie."

It's the camaraderie that propels long range shooting forward, garnering more attention as it barrels towards the mainstream. Long range shooters are a friendly bunch, Cordesman said, happy to offer any newcomer advice and help. It's through this support of one another and the dissemination of information that has helped long range shooting and matches like the King of Two Miles gain steam in the gun industry.

"It's a very open community right now. It's not like other shooting disciplines where everybody has got their magic tricks. Nobody in ELR has their magical secret sauce and is unwilling to discuss. If you talk to our top shooters, they will tell you everything they are doing. All those guys are making a very deliberate effort to get the word out."

This swapping of information encourages newcomers who stumble into the sport, preventing them from getting too frustrated by the challenging nature of the sport. By watching and talking to other more experienced long range shooters, newcomers have the ability to assess whether they can handle the rigorous discipline and effort being successful at ELR takes.

"What we generally tell people is that the best way to learn is to come to a match and actually see what people are doing and talk with the shooters," said Cordesman. "I can give you a list of equipment that would get you a good start; but, the reality is, you have to see it in action and really fundamentally understand what people are going up against."

Bettersworth, turning to golf analogies to make his point, explained it as, "making a hole in one from a par five tee box."

"It may take a lot swings and you will need a special club, but once you make it you just want to do it again and again to see if you can get just a little bit better each time," Bettersworth explained.

Though the road to success in long range shooting is arduous and often times equal parts expensive and time consuming, the allure of nailing that almost impossible shot a mile or more away is pushing the popularity of the shooting sport onwards and upwards. With more matches on the horizon as a stream of shooters continues to gravitate towards ELR, the future of long range is, no doubt, bright.