Phillip Velayo is the humble sort, often downplaying his expertise in an effort to seem more Average Joe; but Average Joe he is not. Velayo is the latest instructor to hit Gunwerks' Long Range University, bringing a sense of military fundamentals and precision with the experience of a shooter who has honed his skills on the front lines of precision rifle competitions. Speaking to Velayo, you would think he was any West Coast dude; but behind that West Coast ease beats the heart of a long range competitor passionate about sharing his knowledge and love of precision rifle shooting with others.

Velayo's shooting journey began in the U.S. Marine Corps. Prior to his service, Velayo said he'd never touched a rifle, let alone fired one; but the Marine Corps offered the perfect training grounds to start learning.

"Growing up I never touched any rifles or anything like that, so I attribute a lot of my good habits to the Marine Corps," Velayo said. "The structure and all the fundamentals I think helped me have a good foundation to build off of."

During his 10-year career, Velayo completed four overseas deployments and also served as Scout Sniper Team Leader, Chief Scout Sniper and Scout Sniper Instructor. He ended his military career at the 1st Marine Division Scout Sniper School as the Primary Marksmanship Instructor. Though the military gave Velayo a jumpstart into the precision long range shooting community, he said there was only so much room to grow. As his interest continued in the long range sport, he began looking for other avenues to improve his skills and learn.

"There really was nothing else that the Marine Corps could offer me in regard to advancing or just sustaining my training. I'd been to all the schools, so the next stage was competitive shooting," Velayo explained. "It was kind of by accident. I attended a military competition in 2015 and I liked the flow of it."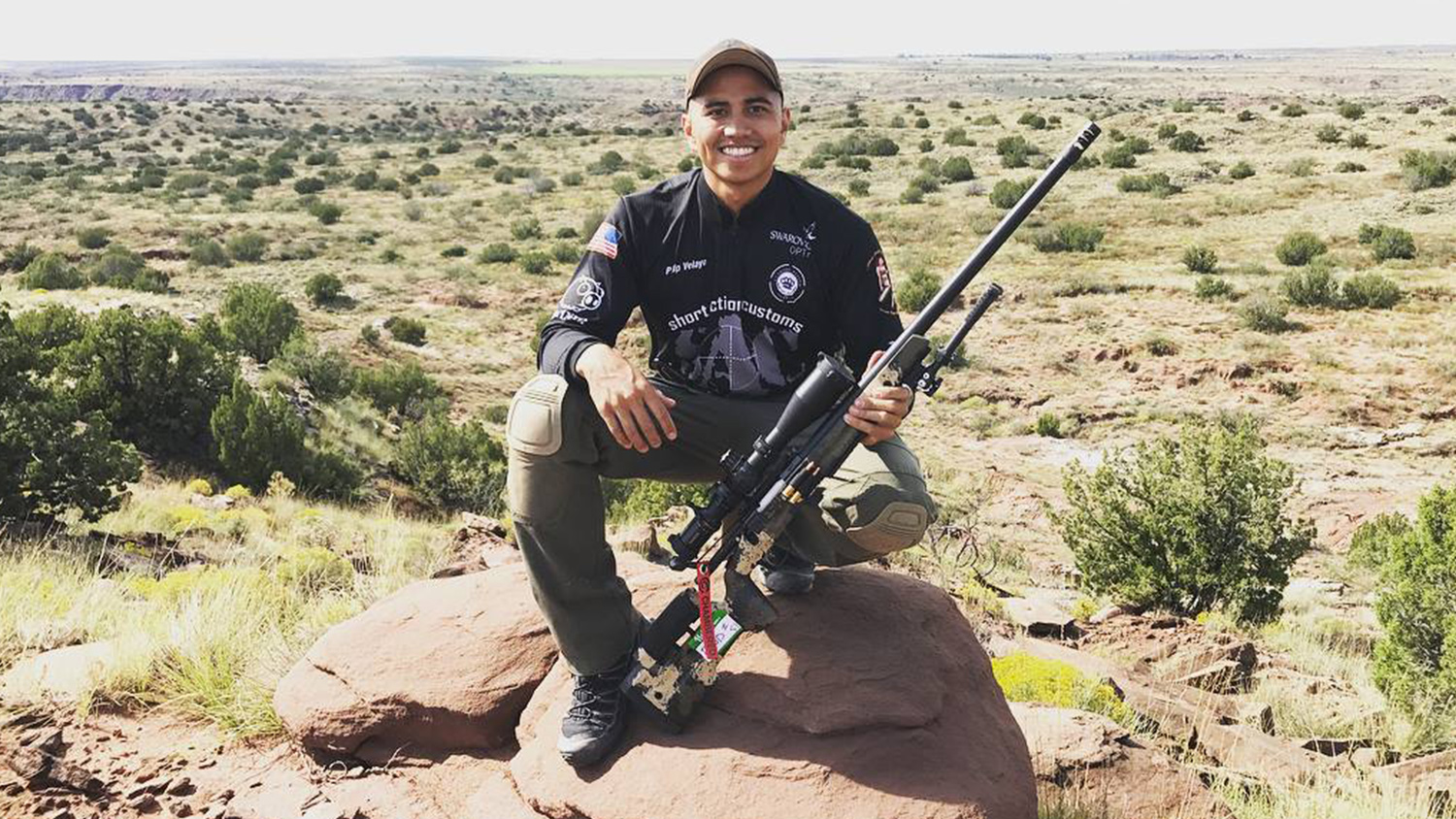 It was at that competition Velayo was introduced to the Precision Rifle Series and he was hooked.

"I researched it and then the next thing you know I'm buying a rifle and attending my first local match. Started shooting it pretty religiously after that," he added.

Velayo's skills were quickly recognized in the long range community, and it wasn't long before Gunwerks took notice and approached Velayo about joining the team as an instructor. Velayo said at first he was apprehensive, planning on just heading to college after leaving the military. After a visit to Cody, WY, to meet with the Gunwerks' team, Velayo said he knew it was the right fit.

"They're wanting to expand their company into reaching out to the Precision Rifle Community. I am very ambitious, so I knew this was something that I can work with," he commented. "I mean I just love the environment, atmosphere and their ideas."

Velayo brings a unique style to his instruction, bridging the gap between the military arena and competitive shooting sector. Emphasizing a solid understanding of basic fundamentals, Velayo also brings in aspects of long range he's gathered from attending and watching long range shooting competitions. Areas like body mechanics, which he said the Marine Corps doesn't really teach, have helped set him apart as an instructor in addition to helping his students reach their maximum potential. Velayo said he's also a firm believer in the reasons behind what he promotes; therefore, he always tackles the explanation behind shooting applications.

"I think, for me as an instructor, I like to pride myself in that I'm always able to answer the reason why. Some instructors nowadays instruct based off of what's been taught to them and it's a regurgitation of information out there; but they never really dive into why that happens," he said. "I took the time to figure things out through trial and error. That's what I think separates me from a lot of instructors. I want to make sure that if I'm ever fronted with the question 'why' I am always able to answer it versus saying 'just because it works.'"

Though instruction has been a major player in the life of Velayo, competitive shooting hasn't been pushed to the wayside. For Velayo, it's all a matter of practice what you preach.

"At the end of the day, you never rise to the occasion, you always fall back to your lowest level of training, so I wanted to make sure that when you put a timer on me, I was doing the exact same things I was preaching to my students right."

Velayo will be leading instruction for Gunwerks Long Range University through October in Cody, WY. For more information visit www.gunwerks.com/store/long-range-university.