by
posted on August 2, 2018
Support NRA Shooting Sports USA
DONATE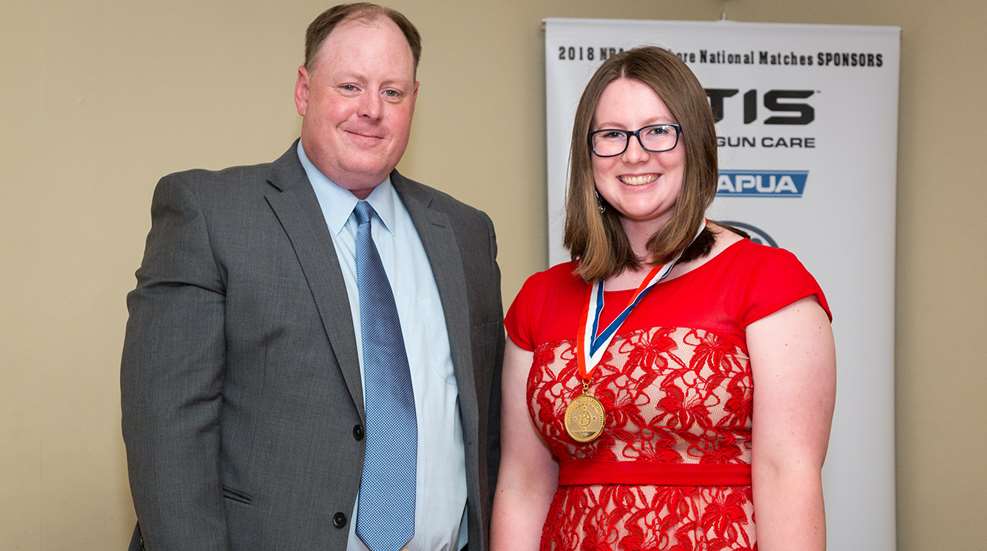 The 2018 National Smallbore Rifle Championships closed with the awarding of the
Lones Wigger Iron Man Trophy
, also the final day of the Metric Sling and the inaugural NRA Smallbore
F-Class
Championships.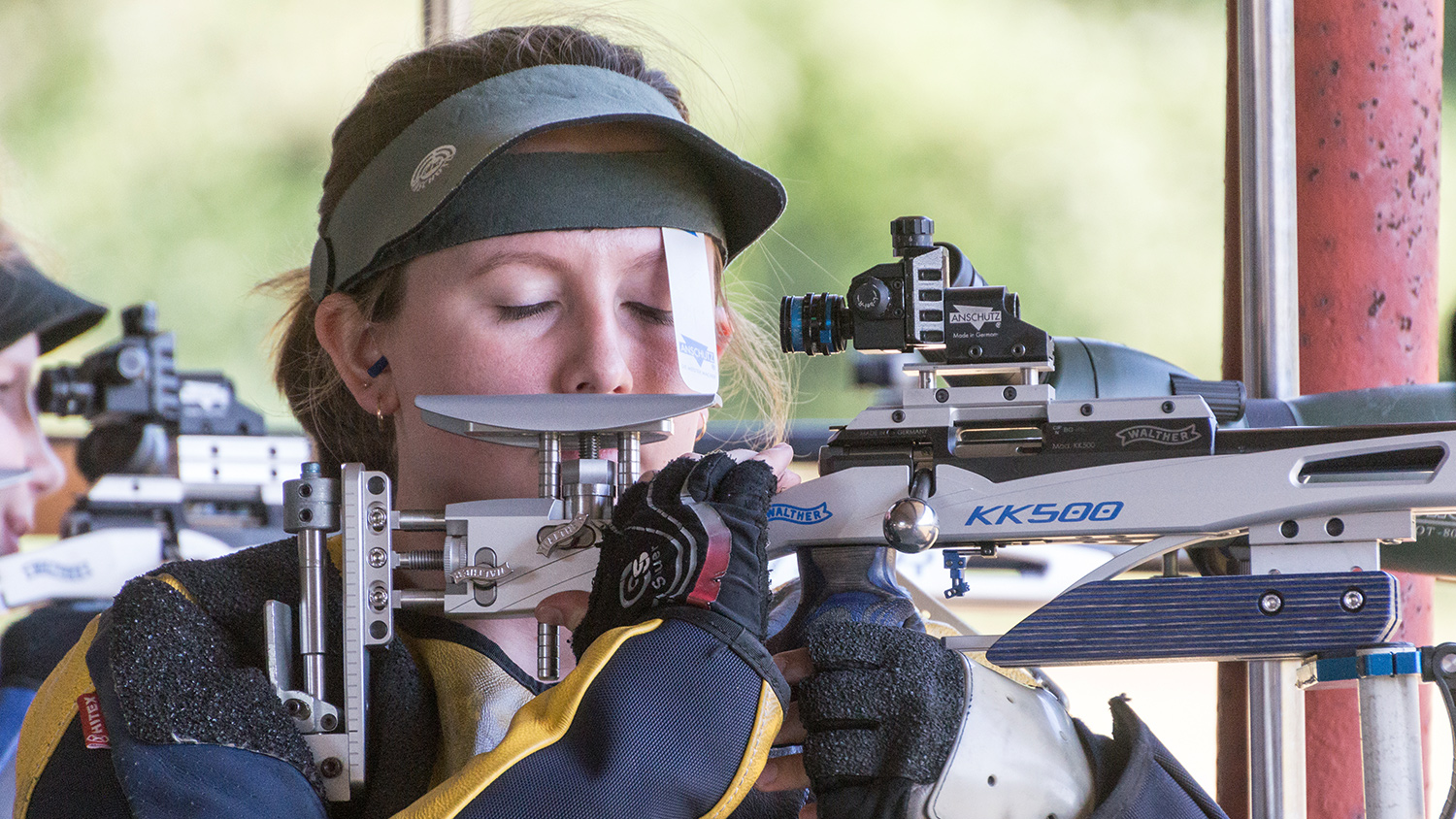 West Virginia University
rifle team shooter
Elizabeth Gratz
accumulated the most points in the 11-day shooting marathon to earn the Lones Wigger Iron Man Trophy. (Gratz is pictured at the top of this article with NRA Competitive Shooting Division Director
Cole McCulloch
at the 2018 NRA Smallbore Rifle 3-Position Championships Awards Ceremony.) Awarded to the highest scoring shooter in the combined position and prone matches, Gratz's outstanding score of 11799-698X dominated the competition, a full 30 points ahead of second place winner Bill Marciniak. Marcinak was the 2015 Iron Man Trophy winner, this year he finished with a total score of 11769-659X. Jayden Thompson, with a score of 11756-700X was in third.
In Sling competition
Howard Pitts won the 50-meter match shooting a near perfect 399-34X. Eric Uptagrafft, whose name has been all over the prone matches, took the Dewar Match firing a 397-25X. In the final individual match, Shawn Carpenter handily won the 100-yard match, three points ahead of his nearest competitor, with a 398-23X and a 200-12X on his final target.
Pitts and
Nancy Tompkins
went down to the Xs to decide the daily winner and the Any Sight Championship with Pitts emerging on top, 1187-79X to 1187-74X. Carpenter was third with an 1185-62X.
Eric Uptagrafft, again shooting irons the whole way, doubled down, and added the metric title to the conventional title he won earlier with an aggregate score of 2367-142X. Pitts was second, 2359-136X, with
Kevin Nevius
, 2356-137X, pulling into third.
F-Class
finished a successful inaugural event. William Treder winning 50 meters with a 400-32X was a highlight. The Dewar Match went to Michigan State alumni Steve Kern who posted 399-31X. David Pessall shot a clean with 31X score at 100 yards to win that match and use it as a spring board to win the day with a score of 1195-99X.
Pessall won the Metric Championship, firing a 2390-198X. Kern placed second, 2381-174X, edging out Jim Murphy, 2381-168X. However, Murphy bested the field with a 4755-314X to become the first NRA Smallbore F-Class Champion. Pessall, 4750-357X, and Jeff Huehn, 4735-296X were second and third respectively.
Match operations were efficient, with seamless transitions, due to a hard working and dedicated group of NRA staff and volunteers who started early and ended late in to insure the competitors were able to focus on performance.
2018 NRA Smallbore Rifle Championships Iron Man
Trophy Leaderboard


Winner            Elizabeth Gratz, 11799-698X
Second            William Marcinak, 11769-659X
Third               Jaden Thompson, 11756-700X
Fourth             Lisette Grunwell-Lacey, 11742-643X
Fifth                Malori Brown, 11728-608X
Sixth                Josette Peters, 11651-580X
Seventh           Martina Gratz, 11650-566X
Eighth             Joseph Graf, 11617-601X
Ninth               Michelle Bohren, 11617-589X
Tenth               M'Leah Lambdin, 11561-466X
A more detailed report on the entire 2018 National Smallbore Championship will be featured in an upcoming edition of Shooting Sports USA.

---
More 2018 NRA Smallbore Nationals coverage: