by
Art Merrill, Field Editor
posted on November 14, 2019
Support NRA Shooting Sports USA
DONATE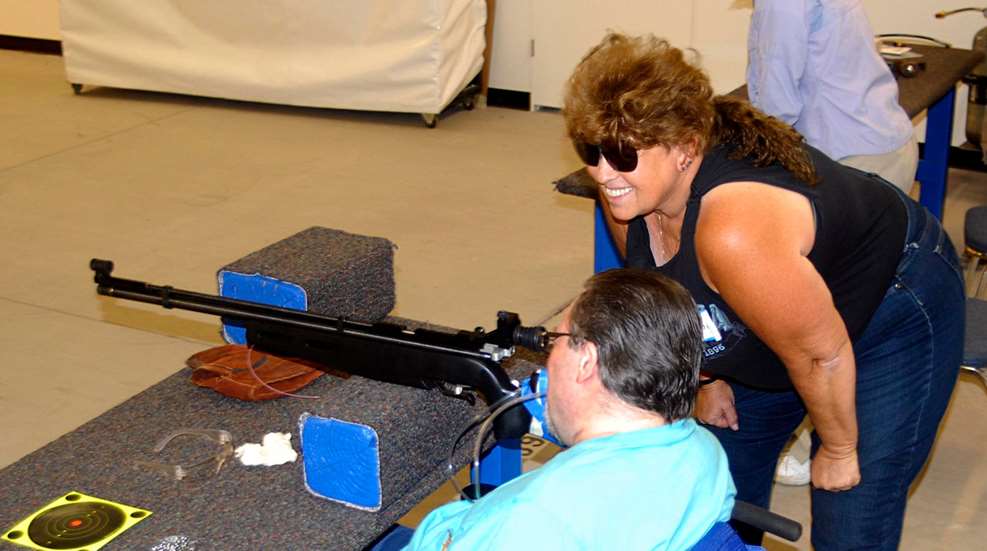 Editor's note: Art Merrill's classic interview with rifle shooting legend Nancy Tompkins was first published in the January 2011 issue of Shooting Sports USA, and remains a fascinating glimpse at the life of one of the greatest shooters of all time.
Smallbore to High Power
Like many top shooters, Nancy started young with a .22 cal. rifle. "After one of my Dad's hunter safety classes, we went to the range at the Phoenix Rod and Gun Club to shoot Smallbore," said Nancy. "I fell in love with it, instantly." She was 13 years old. She quickly improved enough for smallbore competition at Camp Perry where she also tried her hand at high power with an M1A. "Then I kinda ran away from smallbore for a while," she said, "but now I like them both."
Using a borrowed Winchester Model 70 in .308, Nancy spent her summers shooting high power with Mid Tompkins, Bob Jensen and his daughters. "I did that for I don't know how many years," she said, eventually taking that rifle to the 1977 National Championships. "By the time you get to the Nationals at Camp Perry, you're kinda peaked out, at a good spot," she said. "After doing that, I got more into long range shooting and eventually got on the Palma Team. And that's when I really got focused." Focused enough that the 1985 team was the first with a woman shooter to win the World Championship Palma match in England. "They still talk about it in England," Nancy said, laughing again. "They didn't like it."
Diaries Help
Nancy never had to work hard at prone shooting, but sitting and offhand were a different matter. In addition to mental training, she put a lot of time into trying out adjustments to her position and equipment, which she recorded meticulously in her shooting diary. She returned to diligently using a diary following a 2008 car crash that left her with serious injuries. A shattered leg kept her wheelchair-bound for months. A broken upper arm and torn shoulder rotator cuff could have ended her shooting career, but Nancy cajoled her doctor into giving those injuries special attention so that she could continue competing. The injuries caused her to modify her shooting positions, and the diary helped her track what worked and what didn't. Less than two years after the crash, the name "Nancy Tompkins" appears on match rosters again. "I can't complain. Yeah, I have pain every day, but who cares? There's a lot of people who have pain every day," she said. "I'm alive, I'm walking, I can do what I love doing, and I just deal with it."
Motivation
Where does a winner find motivation? "The main motivations for my shooting are being on teams with my family and shooting internationally," Nancy said. "I absolutely love traveling, and that always makes international competitions more fun, but I love the level of competition at World and International championships also." Another source of motivation is her scores. "I want to keep my scores up; I always want to keep getting better," she said. "And it also comes from helping other people." Helping other people compete against yourself may seem counterproductive, but Nancy has a different perspective. "I hate to see people struggle with shooting. I want to see them enjoy it as much as I enjoy it," she said.
It's the People
For Nancy, the shooting is no more important than the people in it. "I shoot, but don't do other sports. For one thing, you can shoot forever, where in a lot of sports you can only do it so many years. But the other thing is that the people in shooting are phenomenal. Some shooting friends brought me back to Arizona in their motor home when I was injured in the crash. Others came and stayed with us for a week, when I couldn't do anything. At the last Palma Team tryout my rifle broke, and five others who were competing for a spot on the same team tried to help me fix my rifle. How many people in other sports would do that? That's why I love this sport."
Nancy finds inspiration in others who overcome adversity. "My heroes are people who don't have everything easy and they work through it. They don't let life stop them," she said. "I know a shooter who has one arm and shoots across-the-course and another who is deaf. I have a friend who is a walking quadriplegic—he has no feeling from the neck, down, but he shoots Long Range. They told him he'd never do anything again, but he does it."
What Practice?
How often does she practice? After a pause, Nancy laughed and said, "I shoot matches for practice." Then she explained, "That's the good thing about living here—there are always a couple of matches every month. That's enough to keep your level up." It works, she said, because an effective mental approach doesn't differentiate between a match and a practice session. "A lot of people put pressure on themselves when they're in a match, and you really shouldn't. You shouldn't shoot a match any different than you shoot in practice. Shoot one shot at a time. Don't think about the previous shot, don't think about the next shot, and don't think about your score. Focus on the execution of that shot, and do it to the best of your ability."
Secrets to Success
One of the keys to her success is that all of her rifles are as identical to each other as possible. "If I laid down my Smallbore, Palma and F-Class rifles together, other than the actions, you wouldn't be able to tell them apart. I've got the same stocks [McGee] and sights on all of [them] so it doesn't matter whether I'm shooting Smallbore or High Power—they all feel the same. If it's a service rifle, you've gotta adapt to it; but if it's a Match rifle like mine, you can adapt it to you."
And your secret for dealing with the wind? "Call every shot, watch the mirage and watch the wind flags. And watch the other shooters' targets, because if there's a wind change and you're not sure how it's going to affect your bullet, and you see a lot of other people with, say, 8s at nine o'clock, you know that at 1,000 yards that's a two-minute wind change. Usually I'll wait until the condition stabilizes and then shoot in that, but there are times when it doesn't come back, and you've gotta make your best guess and take your best shot. And it doesn't always work (laughs)."
For new competitors and those discouraged by low scores, Nancy has some more advice. "You can't let the score beat you down. It's nice to win, but if you win and don't believe you shot well, it doesn't mean very much. But if you shoot really well and don't win, that's okay. If you've got to win to be happy, well, at the Nationals, there's only gonna be one happy person out of 700. When you spend your vacation and all your money to go there, you've gotta enjoy being around the people."
---
See more: 
What's In Your Range Bag, Nancy Tompkins?