When we hear Laser PET most of us think of Dr. Evil's sharks. The ones described in Austin Powers with "frickin' laser beams" on their heads. However, when it comes to Laser Ammo's newest device, PET actually stands for Personal Electronic Target―although Portable Electronic Target fits the description better. I say this because it doesn't require a computer or projector to perform its magic, just your gun and the Suresrike laser insert. The Laser PET II ($125 for target, $200 adds the 9mm Surestrike laser cartridge) is the improved version of their premier reactive target. The system utilizes your own firearm with a drop in firing pin activated laser. Once the laser hits the Laser PET target it records the shot.

Former Top Shot hopeful Colin Gallagher is Laser Ammo's senior law enforcement and military specialist. He shared a few words about the new system.

"The new version is outdoor capable and can work with either the standard red or infrared laser adapter. New shooters respond best to being able to see their hits, while experienced shooters find it distracting and may opt for the invisible infrared laser. The Laser PET II is powered by two AAA batteries which will last upwards of 40 hours. It can also be run off of anything micro USB such as portable power banks, or smartphone chargers. Being able to train twenty-four/seven at home or the office puts me in a position to one day even outshoot you!"

Well Colin, we'll have to see one day!

With six different modes to work with, I was able to come up with a variety of training drills to help develop common skills in several practical and precision shooting sports.

Drill 1: Repetition
The first training mode counts how many continuous shots one can make. The essence of this mode is to increase repeatability. Lots of shooters will benefit from this, but when I think repetition I think of skeet shooters. Hitting the same target, at the same distance, at the same angle, traveling at the same speed requires robotic like consistency.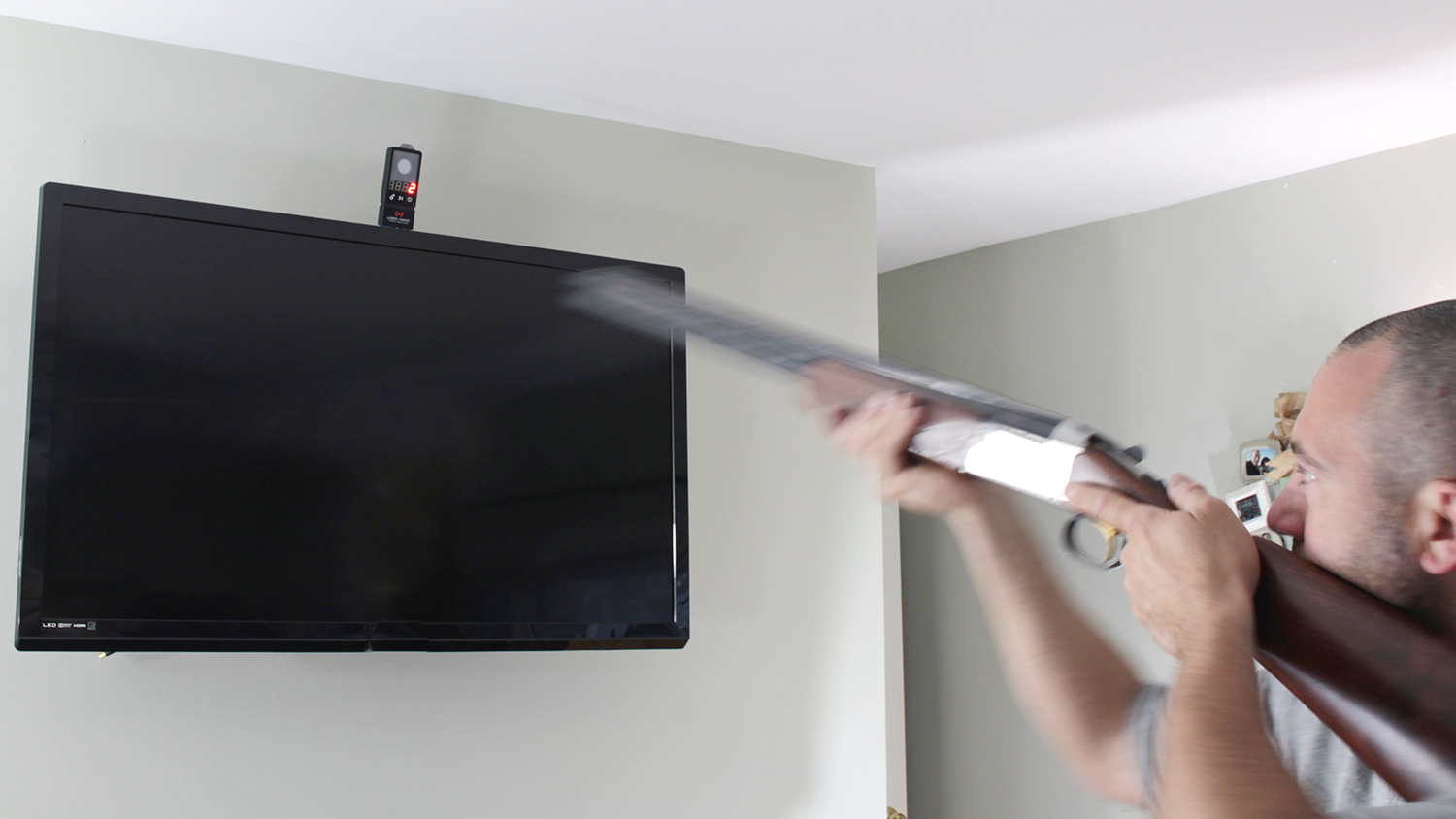 Using the first practice mode and the shotshell Surestrike adapter, place the Laser PET in an elevated location such as a mantel or the top of a staircase. Practice "swinging through" the device while firing until you can "break" 25 clays in a row. Mix it up by changing angle or elevation to help develop skills for sporting clays courses.

Drill 2: Cold Start
The second mode gives you an audible start tone and then times how long it takes you to get just one round on target. The idea behind this is to see how fast you can draw and index. Lots of good training maneuvers can be conducted in this mode.

For USPSA or IDPA, I have shooters run these four draws and then repeat:
Hands relaxed at sides, facing downrange.
Wrists above shoulders, facing downrange.
Hands relaxed at sides, facing uprange.
Wrists above shoulders, facing uprange.
After recording times we work on eliminating movement to make these faster.

Drill 3: Dry Start
The third mode starts off with a countdown timer. The idea is to see how many hits you can get within a pre-determined amount of time. I like this mode to practice for stages where your gun and/or magazines are staged in front of you.

Starting with five seconds on the clock, I have shooters "load" and fire as many times as they can before the time expires. Once we get up to more than four rounds a second, we shave a second off and move on.

Drill 4: No Bang
The fourth mode activates with a first shot and then stops with the second. This is a terrific setting to work on your immediate action procedure or your reload. With this setting I have shooters draw, fire and reload. This forces them to reduce the time it takes to feed a fresh magazine into the firearm as they cannot ignore the fact that they are on the clock.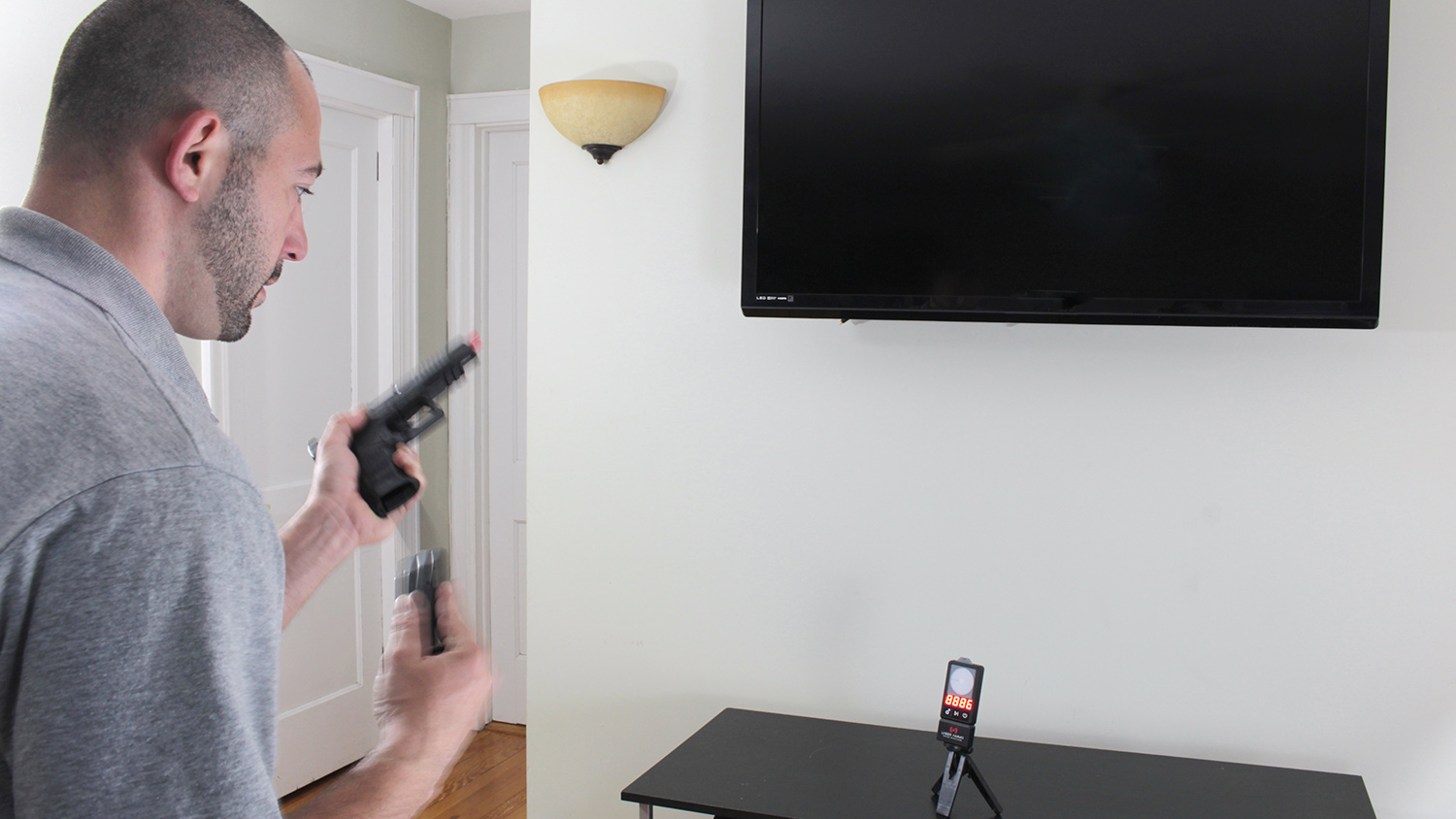 The second part of this drill is to practice Tap, Rack, Bang by smacking the magazine well and cycling the action in between the first and second shot. Here we have shooters "pretend" the first shot was a dud and they must clear the round and fire again. When replicating this ensure that it is performed without a magazine in place to keep the slide from locking back.

Drill 5: Two Alpha! Two Alpha!
Using the silhouette insert a shooter can practice a double tap, transition and then another double tap in the fifth training mode. This mode starts when you fire your first shot and keeps going until you decide that you are finished shooting. You can also perform these drills in the sixth mode, which measures split times for consecutive hits. This is great for those longer drills that involve multiple targets, transitions, Mozambiques or any combination of the three.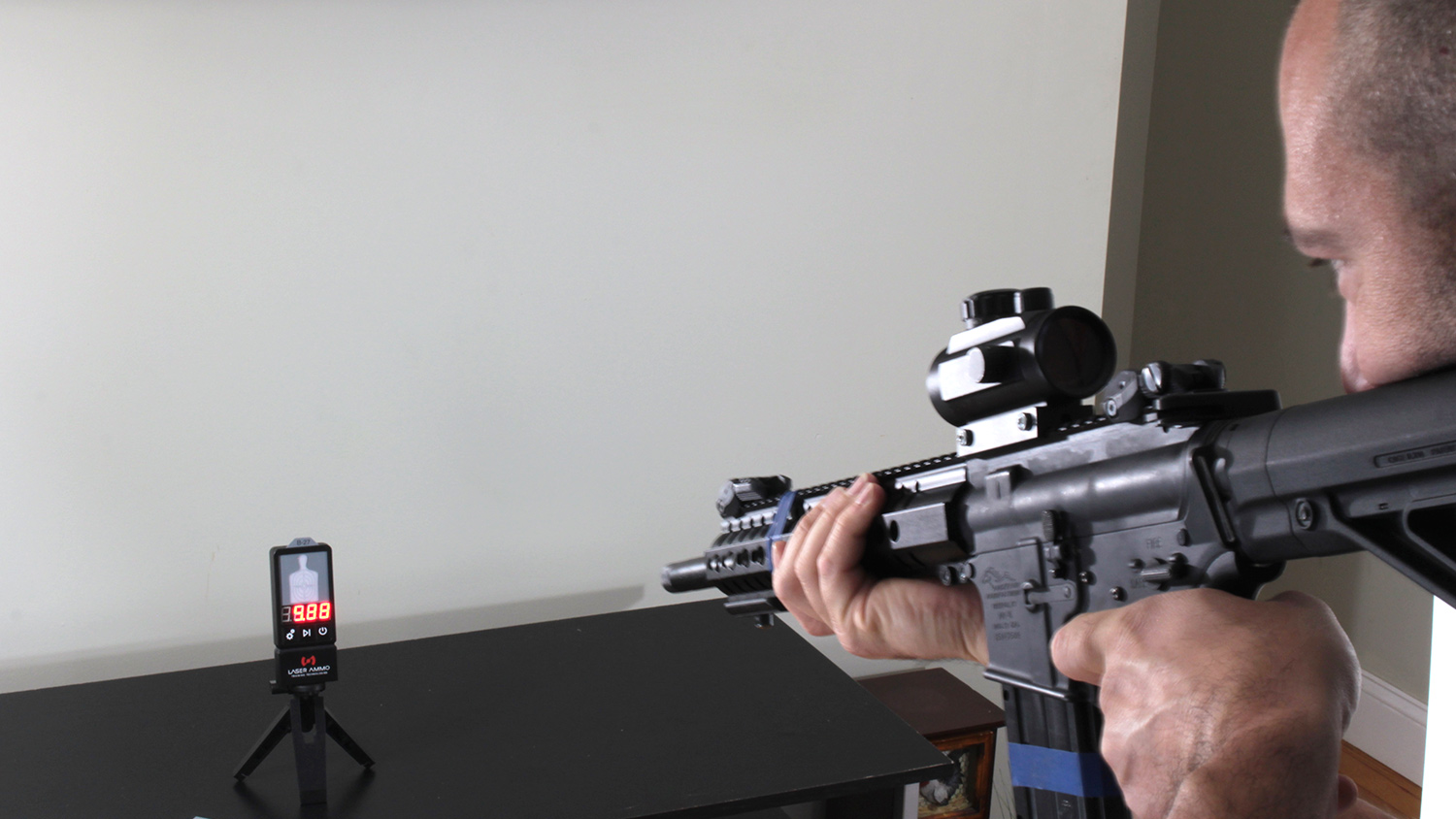 Working with laser training systems is certainly nothing new by today's standards, however Laser Ammo is on the cutting edge with their technology. Coupled with input from some of the best minds in the industry the application of said technology is focused exactly where it needs to be to develop practical skills with a wide array of application.

For more information, visit www.Laser-Ammo.com.