All photos by Peter Fountain.
Upon taking a first look at the Browning Citori 725 Trap Max ($5,859.99, Browning.com), a new trap gun in the company's popular Citori line, we were quite impressed. As a sleek, highly adjustable shotgun that's perfect for trapshooters looking for a new gun, naturally we sought a loaner for testing. We learned that the 725 Trap Max will help just about anyone consistently shatter clay birds with ease. As nearly any trapshooter will tell you, Browning shotguns dominate the field at large and small matches from coast to coast in North America, including the big daddy of them all—the Grand American. Of course, this is no big surprise—we are talking about Browning. Now, the 725 Trap Max joins the Citori line as the company's premier trap gun—feature-rich and eye catching.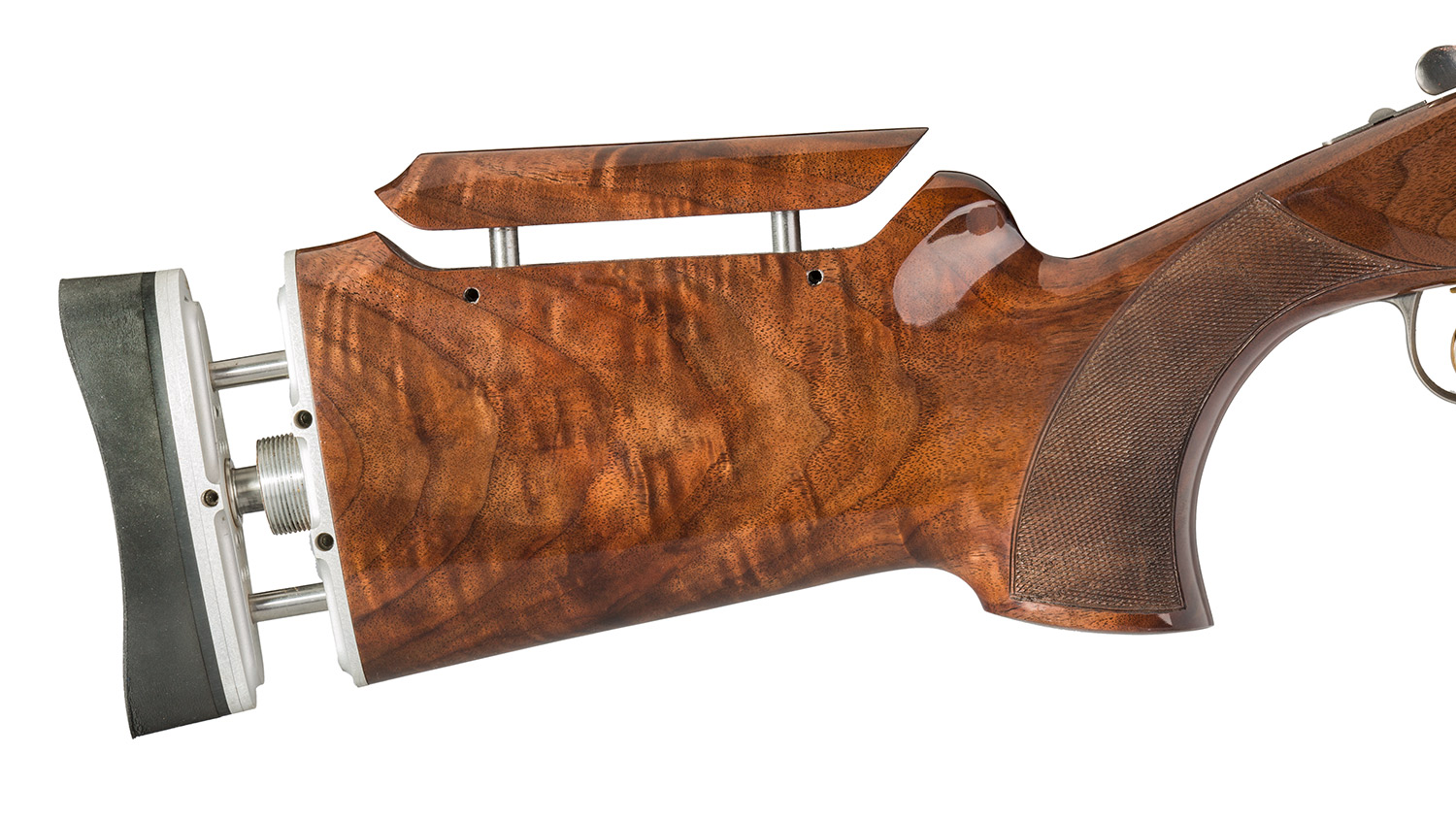 Starting with the 725 Trap Max's ported barrels, there are two lengths available, 30- and 32-inches. (We tested the 30-inch version.) The barrels are polished blue steel, sporting 2¾-inch chrome-plated chambers. Porting helps to reduce felt recoil for maintaining those long practice sessions, as well as helping to reduce muzzle jump, which aids consistency. And, the Vector Pro lengthened forcing cones improve shot-pattern performance.
When describing the 725 Trap Max's stock, visually appealing is an understatement. A more appropriate term would be awe-inspiringly beautiful. The Grade V/VI black walnut stock has a gorgeous oil gloss finish that is attention grabbing. When the gun first arrived, I immediately took it out to the trap field where it garnered admiration, not only regarding the handsome wood treatments, but also the pretty receiver and its golden accoutrements. It's easy to imagine how the Max Trap is built, with a highly skilled technician in a dimly lit workroom, hand-fitting and polishing metal for a precise, close-fitted shotgun.
Weight is a robust 9 pounds for the 30-inch barrels, which increases to 9 pounds, 2 ounces for the 32-inch option. Overall length is 47¾ inches, which as to be expected jumps to 49¾ inches for the 32-inch version.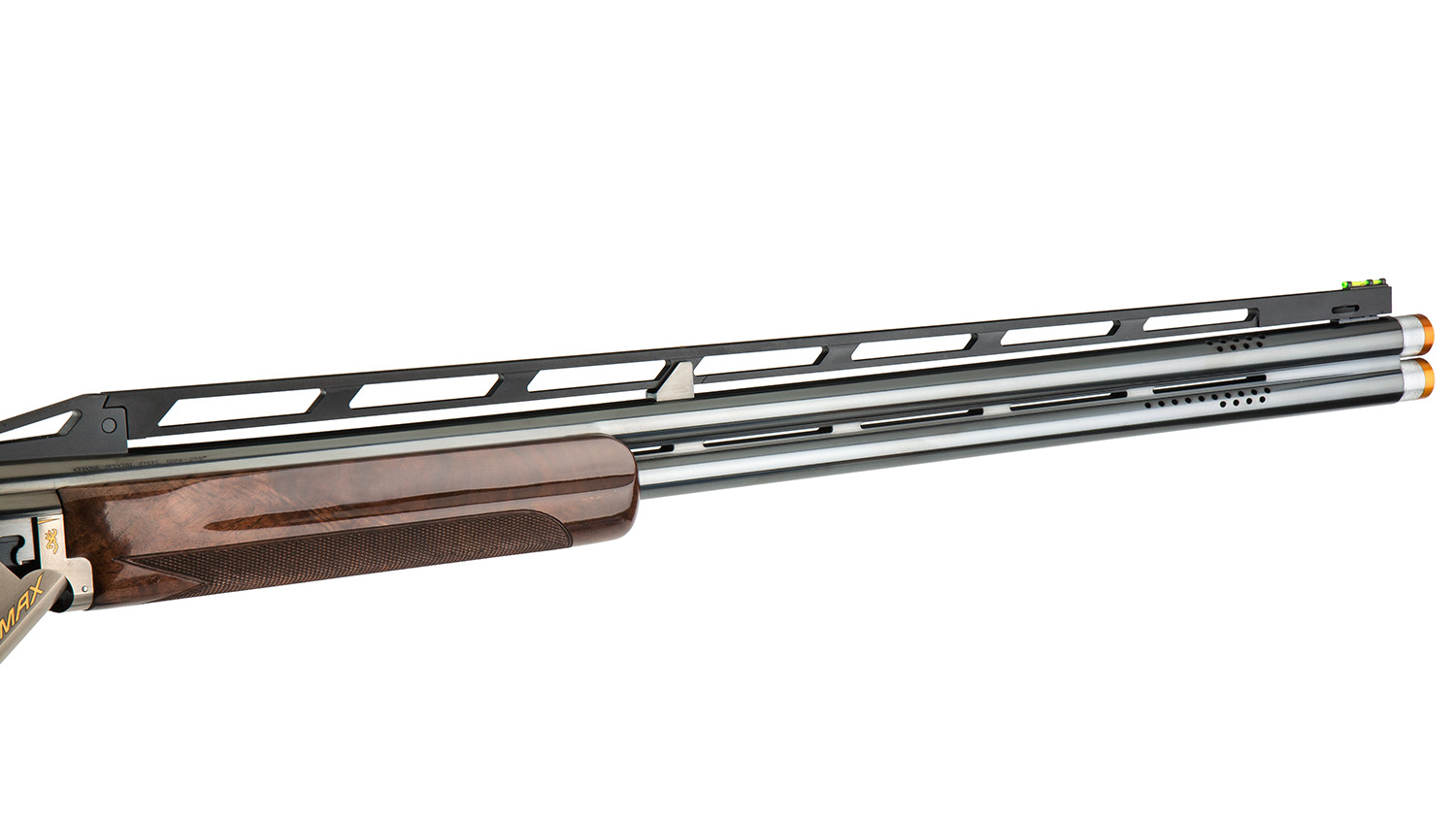 Like all Browning Citori 725 shotguns, this over/under features a transversely mounted, tapered locking bolt and hinge pin that is designed to wear in, not out. Put simply, the more you use this gun, the more the Citori action improves—making it perfect for the rigors of trapshooting.
Adjustability
Adjustability is the big selling point for the Citori 725 Trap Max. As such it's feature-rich, beginning with the adjustable high rib. It allows for wide point-of-impact adjustment that ranges from 50/50 to 90/10. There's a very user-friendly wheel at the front of the gun that sets the rib's position with just a few turns. If you've never used one before, you learn quickly that the high rib helps to get the barrel out of your field of view, while still providing an ideal sight plane. This is especially helpful for American Trap, where the presentation always has rising targets. Unlike with a sporting gun, you don't have to cover up the clay to connect with the Trap Max. Instead you reach out and touch the clay to break it. It's all business. The front sight is a HiViz Pro-Comp that's complemented with an ivory-colored mid-bead. The HiViz kit includes interchangeable light pipes in multiple colors and diameters. I found the white HiViz sight contrasted well against the blue skies I encountered while testing.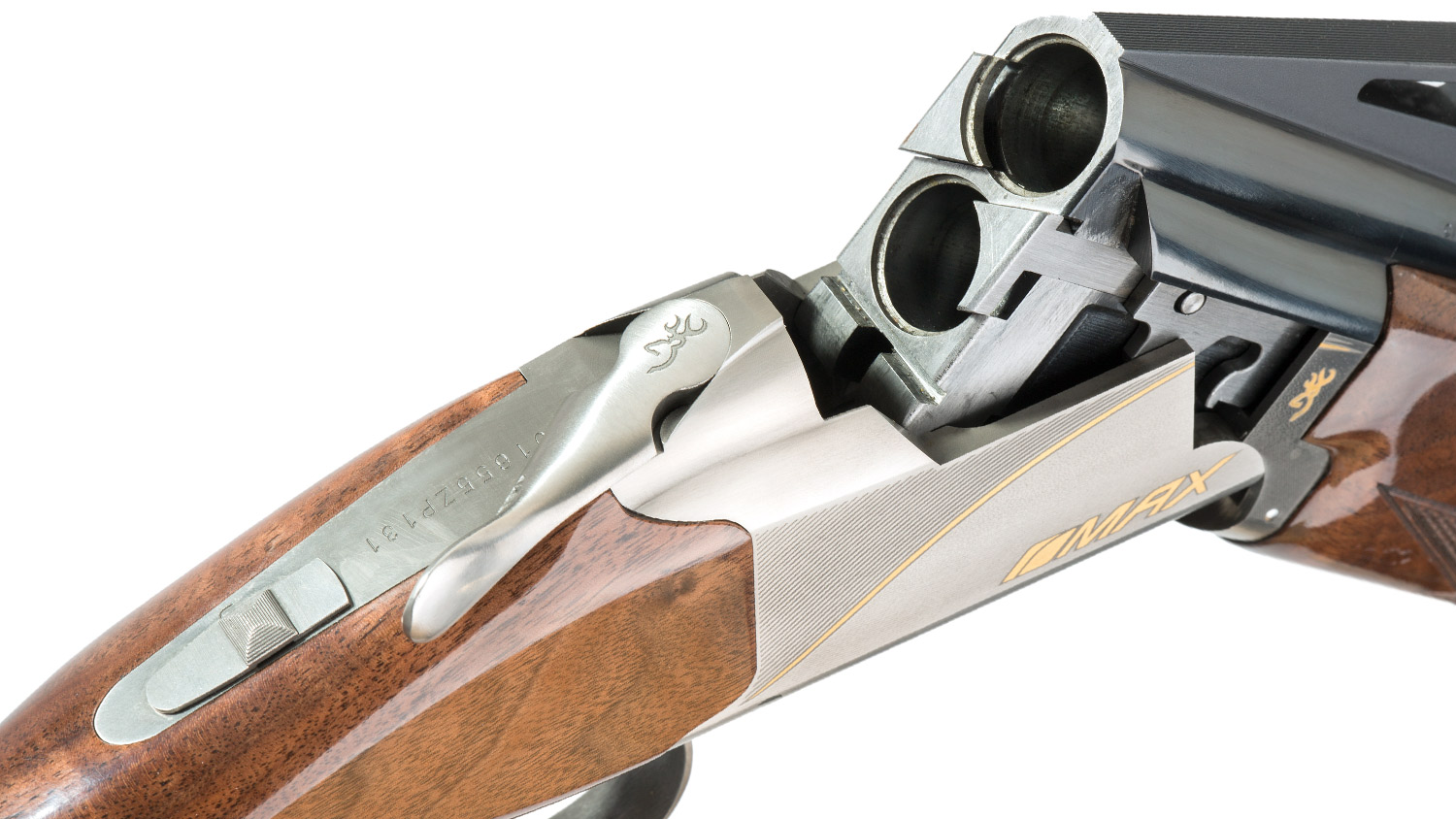 The adjustable Monte Carlo comb provides for length-of-pull adjustment with an included wrench. In combination with the adjustable rib, it's a simple matter to get lined up and find the ideal "figure 8" sight picture with the Citori Max Trap.
I learned the GraCoil recoil reduction system greatly increased comfort while shooting. It's a compression buttplate that houses a stainless-steel piston in a Teflon sleeve to soften recoil. It's adjustable for length-of-pull with a friction spring. It's easy to manipulate, and since all the moving parts are on Teflon liners, the movement is smooth like butter. After setting the tension, LOP is adjusted by loosening two screws on the right side of the stock with an Allen wrench, turning the center shaft to your preferred stock length and retightening. The butt pad plate can be customized for angle and location. Also helping to mitigate recoil is an ultra-soft Pachmayr Decelerator XLT recoil pad with the company's classic trap design.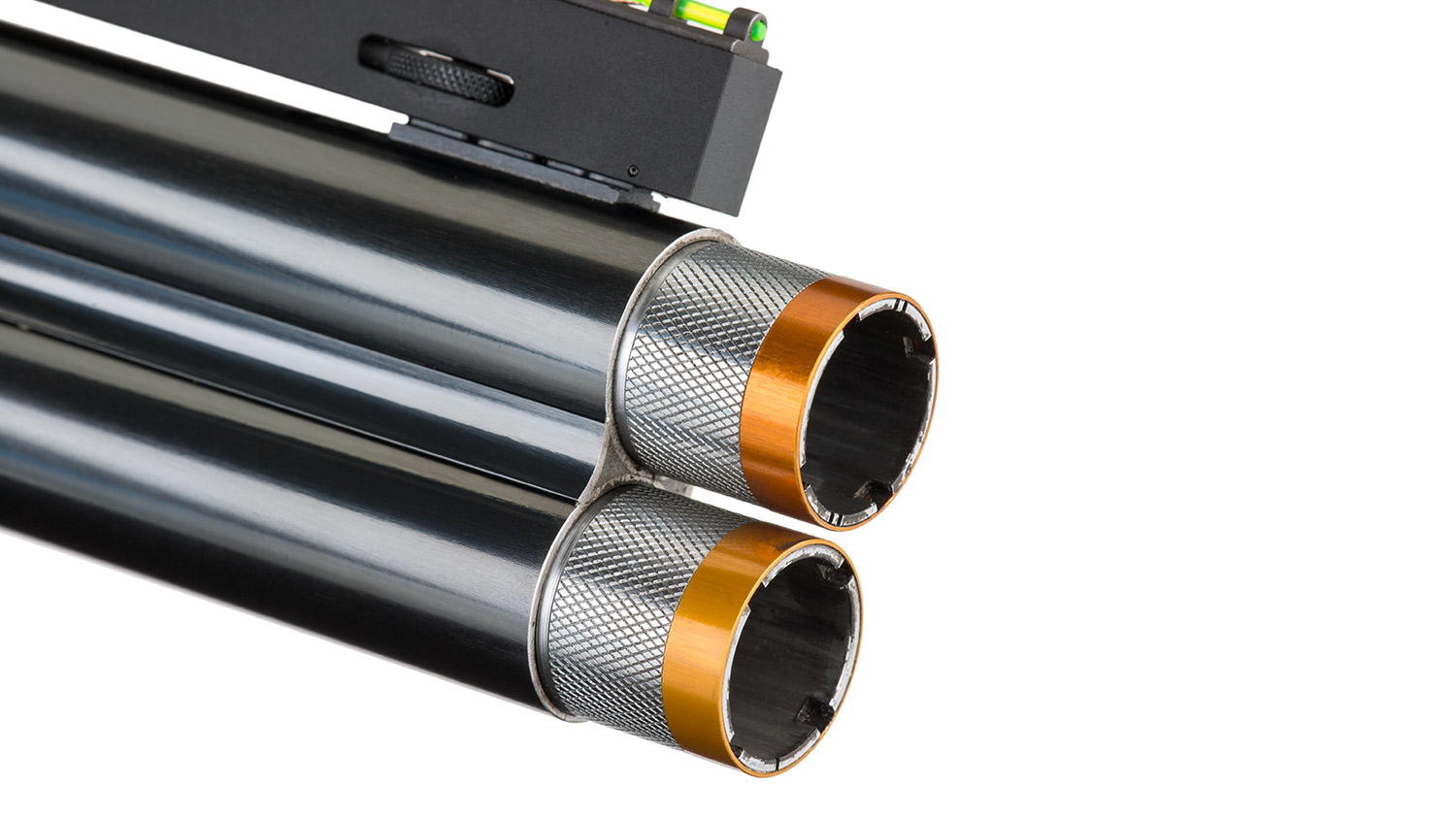 When all dialed in, the bevy of features included with the Trap Max can make shattering clay birds look easy to onlookers. And for one shooter, it even improved scores straight out of the box. One afternoon on a sporting clays excursion during my Trap Max evaluation, I was with a friend who was shooting a semi-automatic 12-gauge that he planned to go duck hunting with. As we moved from station to station, I couldn't help but notice the familiar look of frustration on his face. He was having problems connecting with his gun that sunny afternoon, all while watching me smoke birds with ease (50 straight) shooting the Trap Max. So, I handed it to him to give it a go and he dusted the first bird like the gun was an extension of his arm. I let him use it for a few more stations and he only missed one. He didn't want to give it back. The Trap Max feels natural when mounting and is well balanced for a natural swing from the factory. This is greatly enhanced when it's fit to your profile.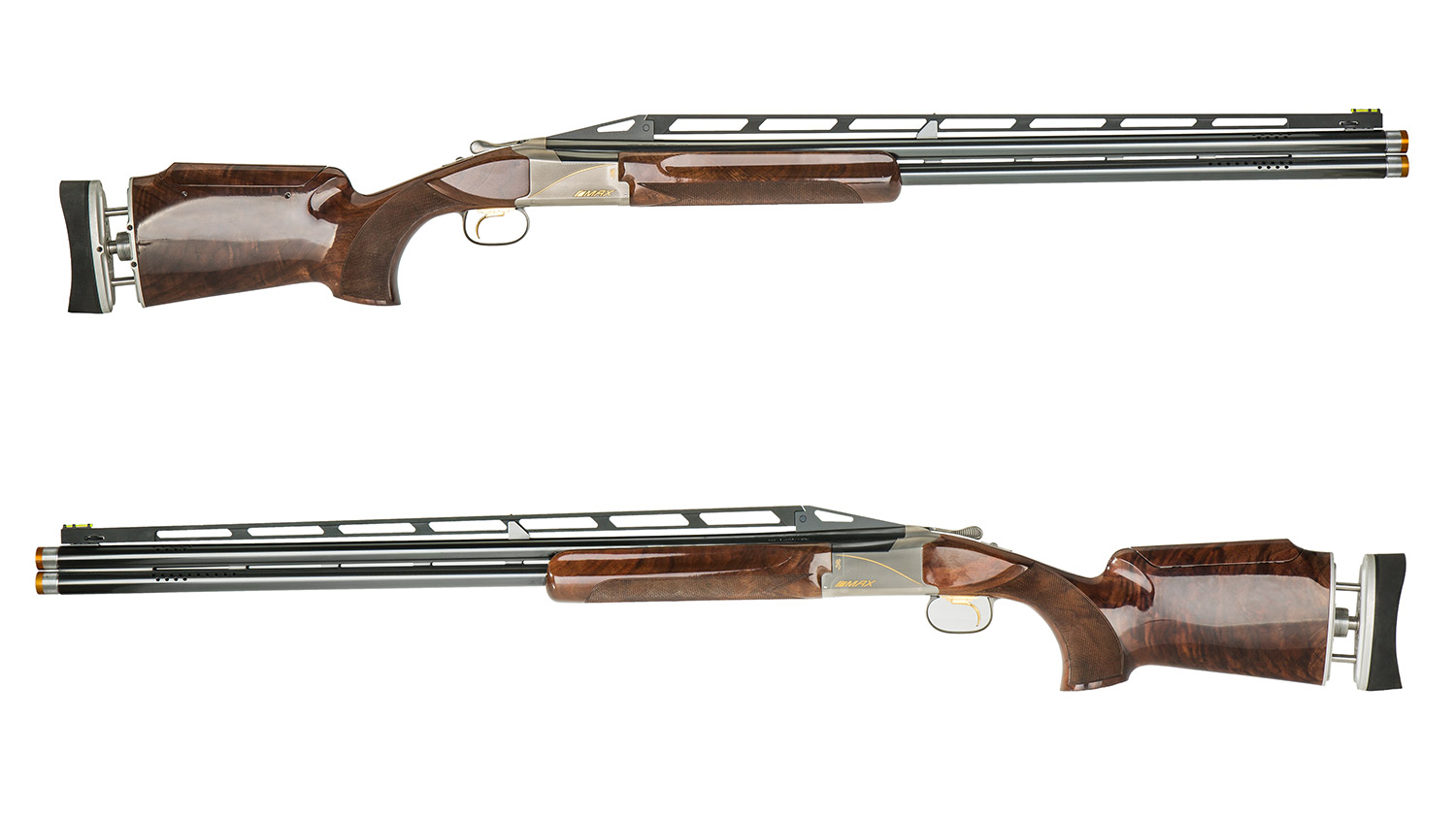 All Citori 725 target shotguns come equipped with Browning's Triple Trigger System, which provides for the fine-tuning of length-of-pull from finger-to-trigger. The trigger itself is gold-plated, with the Browning buck mark in gold on the trigger guard, symbolic of the high quality of this firearm. Three trigger shoes are included: wide-checkered, wide-smooth canted and narrow smooth. The narrow option with its smooth face was my preference.
Last but not least, the Citori 725 Trap Max uses the Invector-DS choke system. Five Midas Grade extended choke tubes are included along with a T-wrench. Two improved modified chokes are part of the kit, along with full, light full and modified ones. Constriction type is indicated twice on each of these premium extended choke tubes, an abbreviation in the colored band and also on the side of the tube itself. Don't lose the T-wrench, because using another wrench can damage the barrel threads.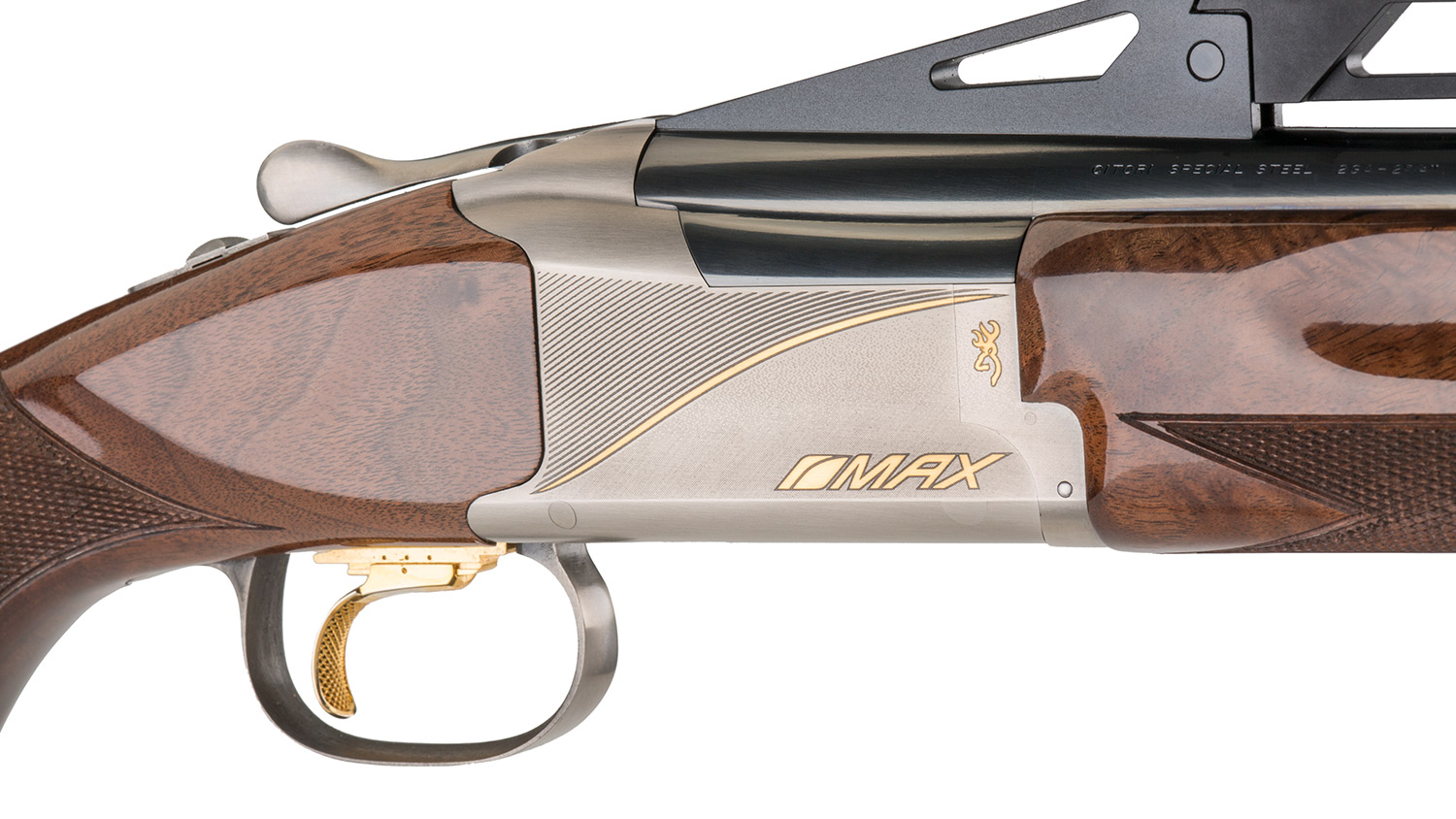 Bottom line
As an addition to the Citori line, the Trap Max is nearly perfect. While some may balk at the price, it's actually something of a bargain compared to other high-end dedicated trap guns in this category that can cost several thousand dollars more. For the money, you are getting a lot of gun in the Trap Max. When properly fit, this thing moves and shoots so well that it almost feels like cheating. And, with gun fit so important for trapshooting success, along with consistency—this shotgun is the ideal platform for beginner- to intermediate-level competitive shooters moving from their first trap gun to one that will help reach the proverbial next level. Or, the type of shooter that has deep pockets that wants to find a trap gun that's completely match ready, without the need to have it professionally fitted. However, if you are a weekend ATA shooter who thinks of the sport as simply a fun way to get in some practice with your hunting gun before duck season, the Trap Max is probably not for you.


You can discuss routine, foot position, hold points and everything in between, but there is one easy solution that will almost always boost your trap scores—a high-quality trap gun. Something with at the very least an adjustable comb and rib. With its easy-to-adjust stock and highly adjustable rib, the Browning Citori 725 Trap Max is the kind of gun that won't make your head explode while exploring the maze of trap-gun adjustability. It's that great. And since it's a Browning, you can count on it as one solid gun that is unlikely to ever let you down.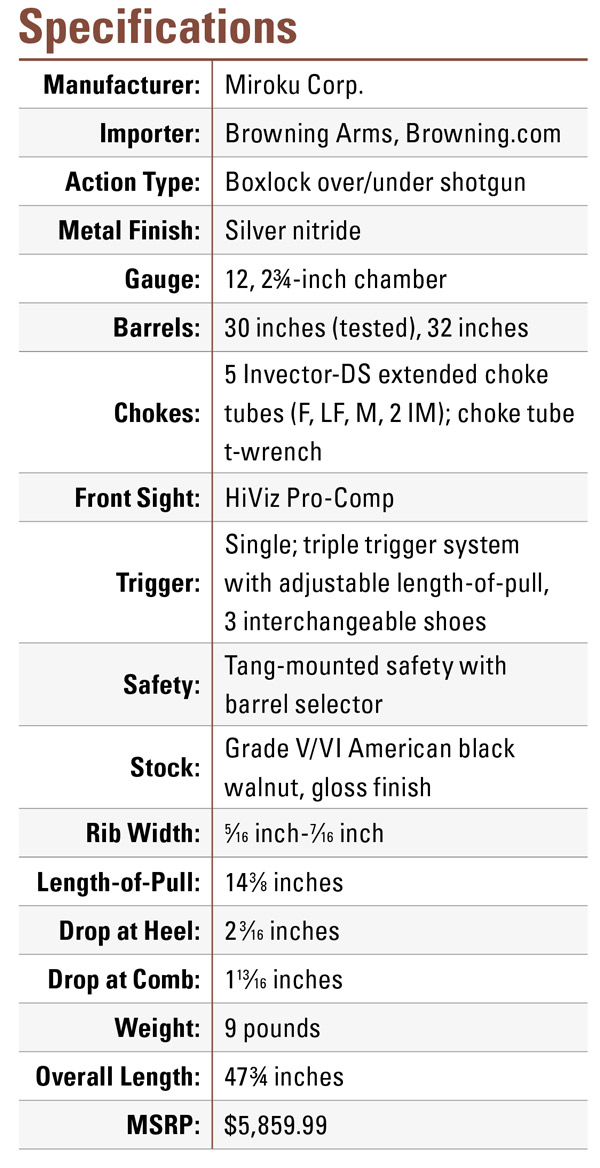 ---
Read the Shooting Sports USA review of the Browning Citori CXS crossover shotgun.