by
Chris Christian, Field Editor
posted on September 13, 2021
Support NRA Shooting Sports USA
DONATE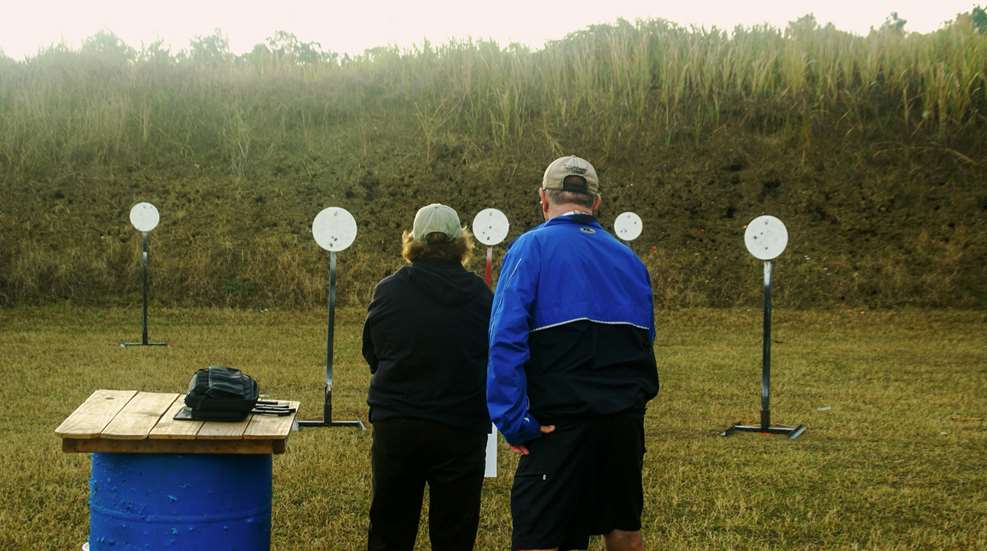 Roundabout (SC-108) has a similar target array to our previously discussed Smoke & Hope stage in that there are two option plates set to the right and left of the center Stop plate. It's also fast. The quickest peak time is seven seconds for Rimfire Pistol Open, and the slowest is 11 seconds for Iron Sight Revolver. Beyond that, the similarities between Smoke & Hope and Roundabout end.
All the plates on Roundabout are 12-inch round plates. And while there are two plates to the right and left of the center Stop plate, the visual array changes for those who shoot left to right, as well as for those who prefer to shoot right to left. Regardless of which one that a shooter chooses, the natural point of aim should be set to the center Stop plate, as with Smoke & Hope. But while that stage offers multiple options to shoot it rapidly, the layout for Roundabout makes a left to right and reverse to center Stop plate the best way to shoot it. The reason for that is target angles.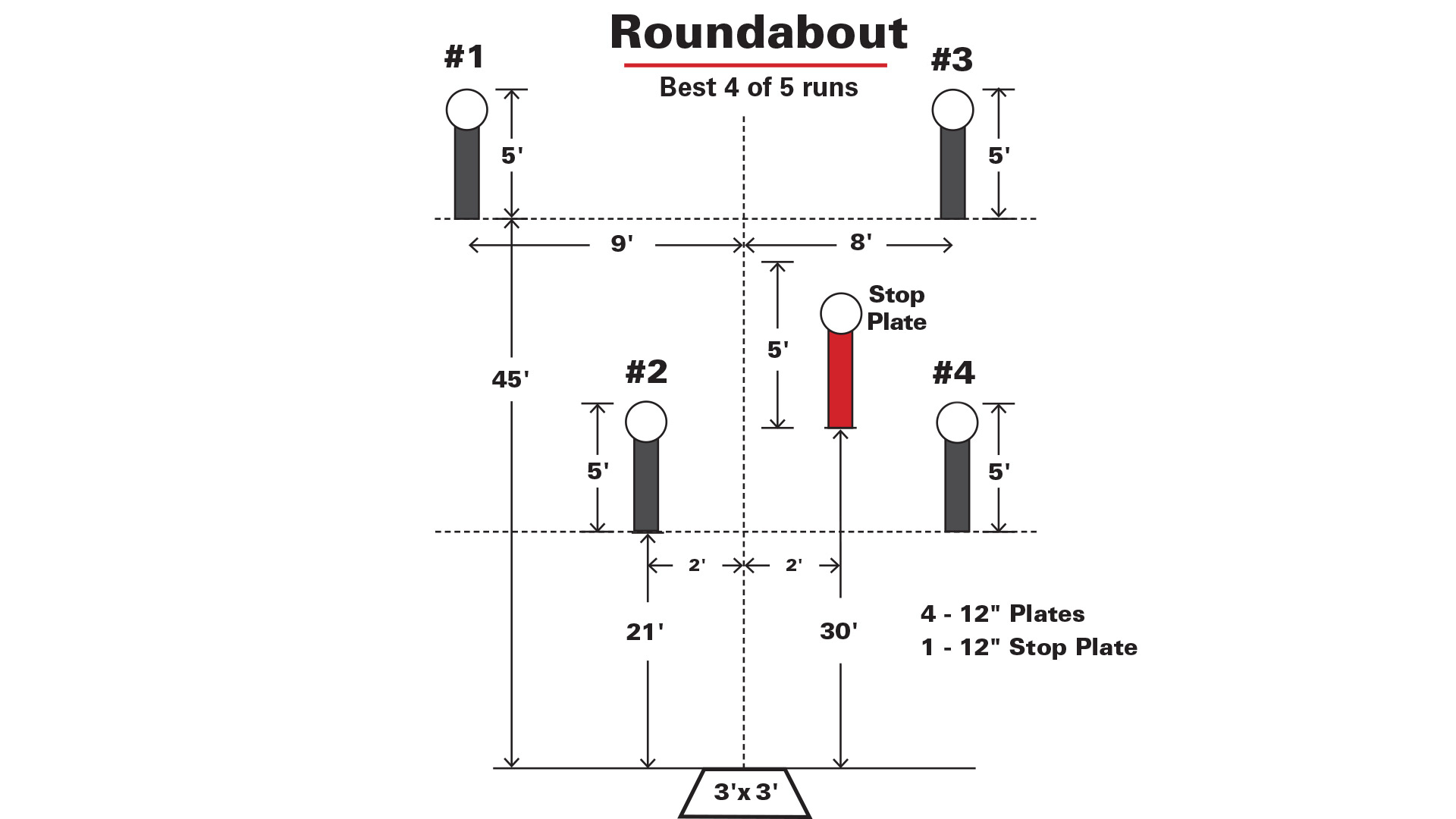 The center shooting box measures 36x36 inches. The rules dictate that neither foot of the shooter can be outside the box, but doesn't say where their feet have to be within the box. With the left to right No. 1, No. 2, No. 3, No. 4, Stop approach, a shooter can move to the far-right side of the box, set their natural point of aim on the Stop plate, and see No. 1 and No. 2 virtually side-by-side. A shooter hitting the No. 1 plate and then moving towards No. 3 will find No. 2 right there. For experienced shooters, these two targets are nothing more than a leisurely double tap. Then it's on to No. 3, No. 4 and then reverse to the Stop plate.
Target No. 3 is the toughest target in this order and the advantage to No. 1, No. 2, No. 3, No. 4, Stop is that a miss on the initial transition doesn't require a stop and reverse to get it. Just go to No. 4 and pick up No. 3 on the way to the Stop plate.
Another option here is No. 1, No. 2, No. 4, No. 3, Stop. It can be a bit faster. But it's a win-lose proposition. If No. 3 is missed, the shooter may be on and even hit the Stop plate before they can correct. Even if the shooter catches the miss and goes back to hit it, 0.01 seconds are lost.
Shooting from right to left creates a different picture, and it's not pretty. Target No. 4 becomes the far-right target, with a fast transition to the tough No. 3. From there, it's a transition to either No. 2 or No. 1 and then back to Stop. I have seen a few shooters (not in the Grand Master, Master or A Class) try this, and have yet to see anyone make it work better the consensus No. 1, No. 2, No. 3, No. 4, Stop approach.
Roundabout is a blistering stage. And one where overthinking the approach will do you little good.
Be sure to read our past breakdowns of the Five To Go, Speed Option and Smoke & Hope stages. Next month, we'll review the Showdown stage. Learn more about Steel Challenge at scsa.org.
---
Read more:
Steel Challenge: Everlasting Race Of Speed