by
Chris Christian, Field Editor
posted on November 11, 2021
Support NRA Shooting Sports USA
DONATE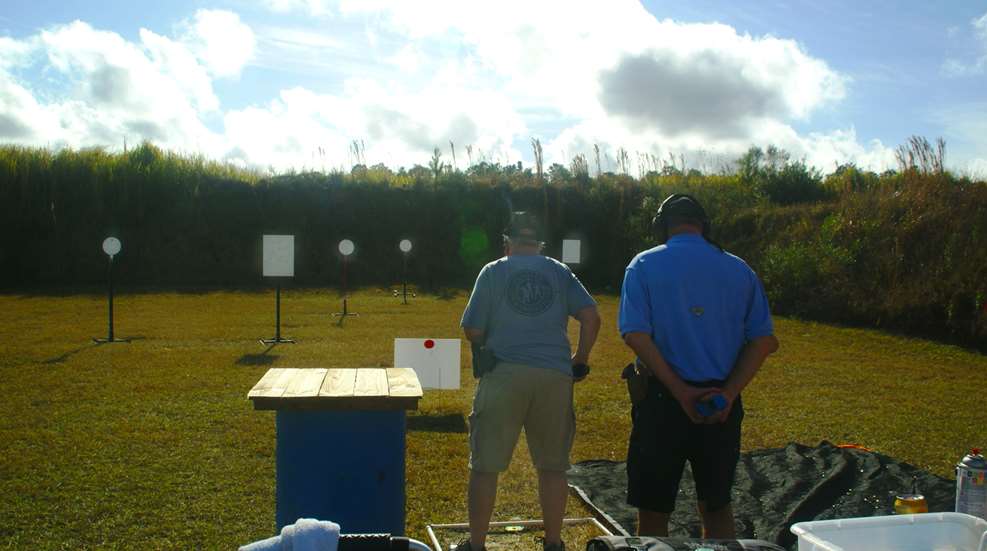 Accelerator (SC-105) is not the fastest stage in Steel Challenge. The quickest peak time is 8.5 seconds, shared by Rimfire Rifle Open (RFRO) and Pistol Caliber Carbine Open (PCCO). The most generous is 13 seconds for Iron Sight Revolver (ISR). How close shooters can get to those times hinges on how well they can handle one single plate.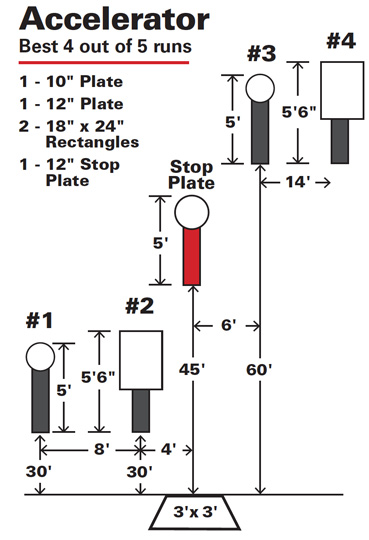 Target No. 3 is a 12-inch round plate set at 20 yards. It's the most challenging target on the stage and accounts for more heartbreak than the other four combined. Many shooters will normally set their natural point of aim on it. The important consideration here is where in the target order a shooter chooses to engage it. There are a number of options.
One engagement option is a straight No. 1, No. 2, No. 3, No. 4 and Stop. Targets No. 1 and No. 2 are close and quick, and the transition to No. 3 is not a long traverse. From there, No. 4 is a big target and just a wrist flip away, before reversing back to the Stop plate. The advantage to this order is that if the No. 3 plate is missed on the initial transition, it can be picked up on the way back to the Stop plate.
An alternative for this is No. 1, No. 2, No. 4, No. 3 and Stop. It's a longer transition to No. 4, but it's a big plate. Once the sights are on that it's a quick bang, bang, bang and on to the Stop plate. This can produce some blistering times, and I've actually seen it work (at least on some occasions). The drawback to this approach is coming off of No. 4, driving to the Stop plate and nailing that pesky No. 3 target on the way. It becomes an all or nothing approach. If No. 3 is missed, the shooter may trigger on the Stop before they realize the miss, and eat a three-second Missed Plate penalty. If they do realize the miss in time, it then requires a reverse transition to get back to No. 3, and another reverse to the Stop plate.
The Grand Master, Master and other A Class shooters that I compete with often prefer to get No. 3 out of the way and confirmed early. There are two common approaches, depending upon the gun used.
Those starting from the Low Ready position (all rimfires and PCC) will find that the shooting box position allows them to get their muzzle in an almost direct line to the bottom of the post on No. 3. From there, it's a matter of raising the gun straight up to hit No. 3, confirm the hit, and then make a quick transition to the big No. 4, and then to No. 1, No. 2 and Stop.
Center-fire handgun shooters, who start from the holster with their wrist held above the shoulder, will frequently engage No. 4 first. The longest split time from a holstered draw will be on the first plate, and that big No. 4 plate can shave some of those precious hundredths of seconds on the first hit. From there, with gun up and on target, No. 3 is a short transition, followed by No. 1, No. 2 and Stop.
The No. 1, No. 2 and Stop approach can be fast. As the RO running the timer, I have seen many upper-level shooters make those three hits in under one second. It's a quick acceleration, which maybe gave the stage its name. But that pesky No. 3 plate has to be confirmed first. It's the key to faster times on this stage.
Be sure to read our past breakdowns of the Five To Go, Speed Option, Smoke & Hope, Roundabout and Showdown stages. Next month, we'll review the Pendulum stage. Learn more about Steel Challenge at scsa.org.
---
Read more: Steel Challenge: Everlasting Race Of Speed