by
Chris Christian, Field Editor
posted on December 8, 2021
Support NRA Shooting Sports USA
DONATE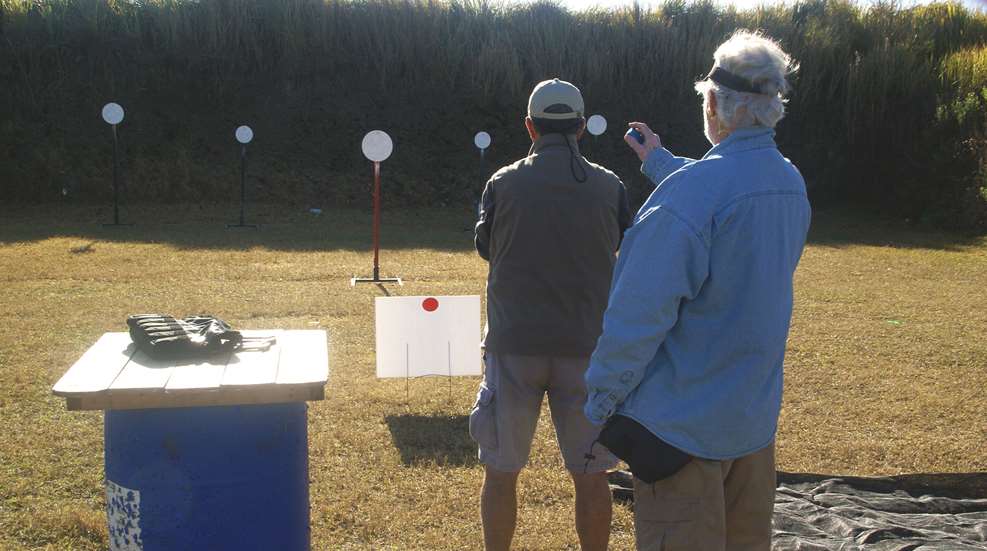 Rapid transitions between targets is standard in Steel Challenge. And on a level horizontal plane, it's mostly a matter of swinging the gun smoothly through them. That changes with the Pendulum stage (SC-106).
Targets No. 1, No. 2, No. 3 and No. 4 are set at 18 yards. Two of them, No. 2 and No. 3, are 10-inch plates, making them tough targets. The No. 1 and No. 4 plates are a bit easier at 12 inches, but they complicate matters by being set one foot above No. 2 and No. 3. Once the shooter nails those four targets, the 12-inch Stop plate at 10 yards makes life easier. The visual perspective of the target array is the same for those who prefer right-to-left or left-to-right target engagement. But both will face the same problem.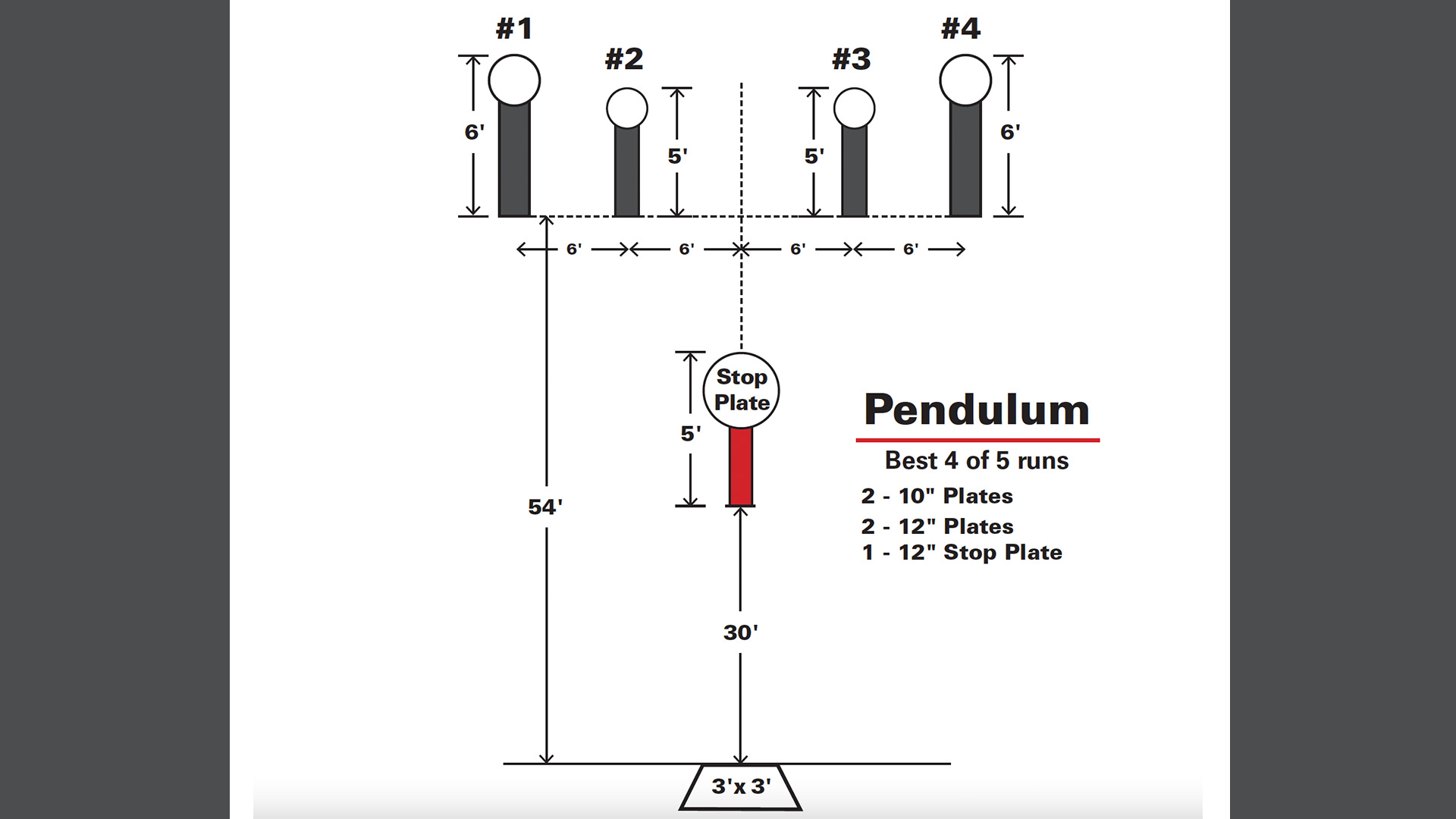 Regardless of how a shooter addresses this stage, he or she will be required to make at least one upward diagonal transition and one downward diagonal transition. An upward transition is not overly difficult because the target will be in view as the shooter moves to it. Change that to a down angle, and it becomes tougher because the gun may interfere with a clear view of the target being moved to. This often causes a shooter to run past the target and have to reverse to cover it—especially when transitioning quickly.
While Pendulum requires awkward transitions, it's still a fairly quick stage. The fastest peak time is nine seconds for Rimfire Rifle Open (RFRO), with the slowest being 14.25 seconds for Iron Sight Revolver (ISR). Getting close to those times is best achieved by eliminating as many down and diagonal transitions as possible.
As range officer, an option I've seen attempted, often with poor success, (for left-to-right) is hit No. 1 on the BEEP, then down to No. 2, then across to No. 3, up to No. 4 and down to Stop. The transition from No. 2 to No. 3 is made tougher by the small plate size. Target No. 3 to No. 4 is quick, but that leaves a long down angle transition to the Stop plate. As for the reverse (for right-to-left), the sequence is No. 4, No. 3, No. 2, No. 1 and Stop. However, I haven't seen this sequence work for many.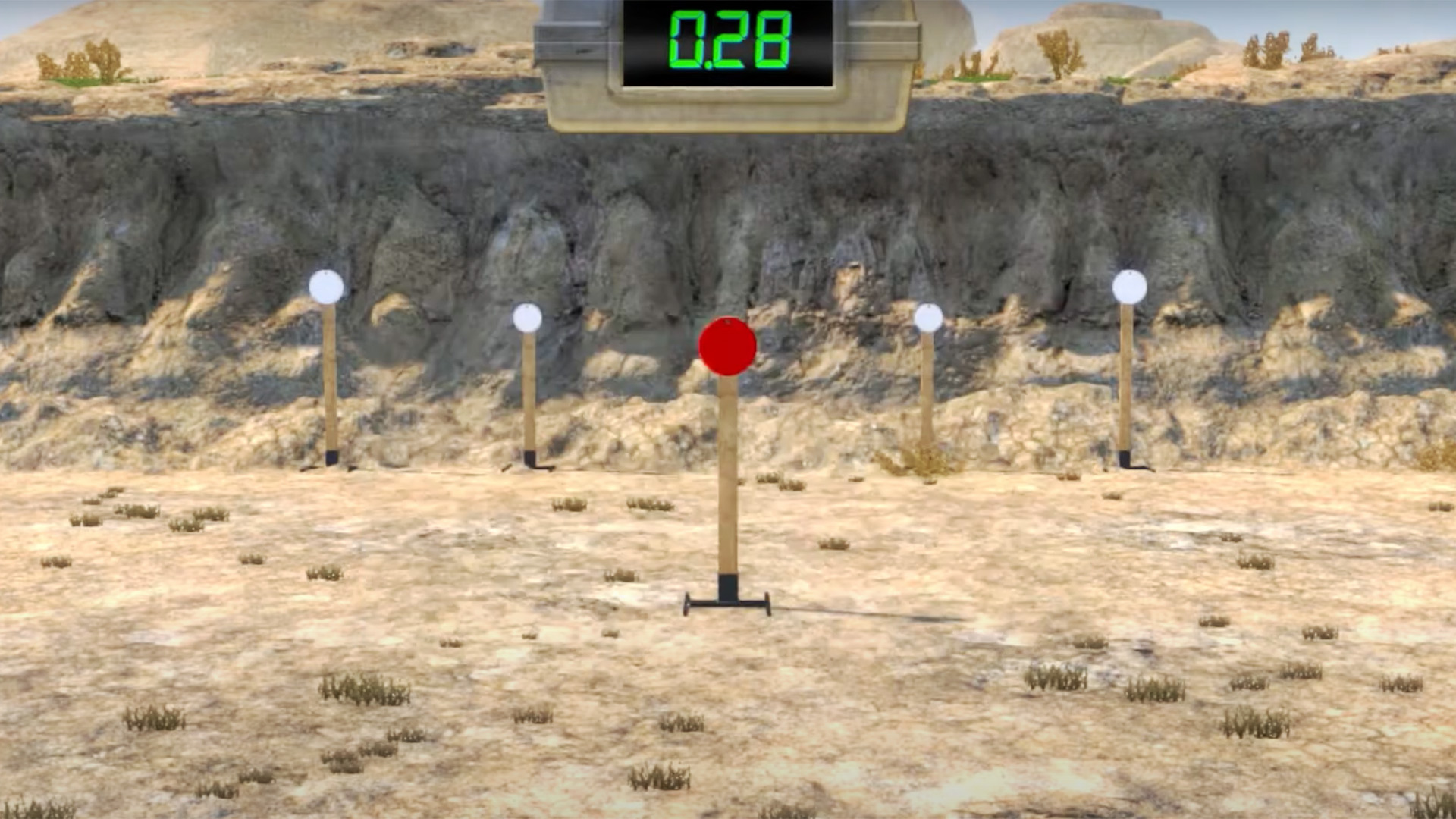 The way that I have seen the majority of Grand Master, Master and the other A Class shooters handle this is (for left-to-right shooters) to come to No. 2 on the BEEP. It's a small target, but the longest split time a shooter will have is on the first target, and it makes sense to get a tough target out of the way on that. From No. 2, it's a short transition up to No. 1 and then on to No. 4. A long transition, but it's to a big plate. That makes No. 3 the toughest target, and where the majority of shooters will set their natural point of aim. A smooth, deliberate transition then puts the big and close Stop plate just a flip of the wrist away. For right-to-left shooters, the reverse would be No. 3, No. 4, No. 1, No. 2 and Stop. Either way requires only one down angle transition.
Keeping down angle transitions at a minimum is the key to Pendulum.
Be sure to read our past breakdowns of the Five To Go, Speed Option, Smoke & Hope, Roundabout, Showdown and Accelerator stages. Next month, we'll review the Outer Limits stage. Learn more about Steel Challenge at scsa.org.
---
Read more:
5 Common Mistakes Shooters Make At Competitions