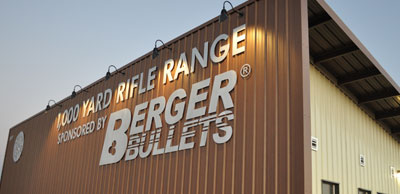 Every February for the past six years,
Berger Bullets
, along with the Desert Sharpshooters Rifle Club has hosted a long-range rifle championship. Held at the Ben Avery shooting facility just north of Phoenix, Arizona, it is different in many aspects—mostly the prize table. A total of $120,000 in giveaways and prizes were handed out in three divisions—Sling, F-Open, and F-TR. Over 350 competitors attended this year, each shooter firing 15 shots at 800, 900 and 1000 yards.
This year during the championship, the 1000-yard range at Ben Avery was renamed the Middleton "Mid" Thompkins Range. As part of the dedication, the new Berger Bullets range building and new parking lot sponsored by
NightForce Optics
were opened.
The Palma matches marked the beginning of the individual aggregate championship. The F-TR winner was the 2013 National Champion Derek Rodgers, with an outstanding score of 1234-50X.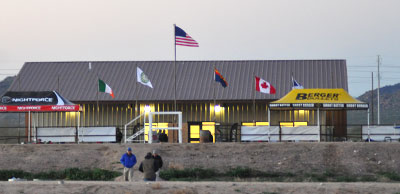 In the F-Open division, Charles Ballard from North Carolina coached 3rd Generation Shooting to the daily win, with a 1765-72X team score. Team Berger placed 2nd, just seven points back with Lapua/Brux and Spindle Shooters 3rd and 4th nine points back with Lapua/Brux ahead on X's.
On the F-TR end of the range, Bryan Litz line coached Michigan Rifle Team F-TR to their win. Team Irregulars, captained by Wade Fillingame, finished in 2nd. Third place went to U.S. F-TR Team Blue, coached by Jim Crofts.
When all the F-Open score sheets were tallied, the Spindle Shooters received bronze, Lapua/Brux was awarded silver, and the F-Open Team Champions and gold medal winners were none other than Third Generation Shooting.
The highlight of the match, and perhaps even the week—were the team championships. The course of fire is 20 shots at 1000 yards. The Sling team match winner was Team Phoenix. Second went to U.S. National Tompkins and 3rd was Two Worlds, coached by Lindsay Peden.
At the same time Nancy Tompkins' team, U.S. National Tompkins, was sending X's down range, the F-TR teams were doing their best to do the same. In the end, the 1000-yard match gold was won by U.S. F-TR Team Blue, 2nd place went to The Irregulars and in 3rd came the Quad Shots. The Quad Shots did not shoot the Palma match, so they were excluded from the team aggregate.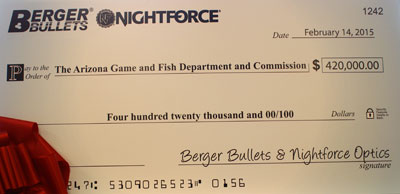 In F-Open, Charles Ballard and his team Third Generation Shooting took 3rd place in the 1000-yard match. Second place was awarded to Michelle Gallagher's team, the Spindle Shooters. Winning the 1000 yard match was Lapua/Brux, coached by Erik Cortina.
The Team Championship is determined by adding the Palma match score and 1000-yard scores, for a total possible score of 2600-260X. In the Sling division, bronze went to Team Challenger, silver to Team Phoenix and the champions were U.S. National Tompkins!
TEAM CHAMPIONSHIP

Sling—Team Aggregate

1st U.S. National Tompkins 2563-127X
2nd Team Phoenix 2560-122X
3rd Team Challenger 2555-112X
F-Open—Team Aggregate

1st Third Generation Shooting 2551-100X
2nd Lapua/Brux 2544-108X
3rd Spindle Shooters 2544-90X
F-TR—Team Aggregate

1st U.S. F-TR Team Blue 2513-67X
2nd The Irregulars 2510-75X
3rd Michigan Rifle Team F-TR 2498-60X
INDIVIDUAL CHAMPIONSHIP

Sling—Individual Aggregate

1st Trudie Fay 1242-64X
2nd Bryan Litz 1238-66X
3rd John Whidden 1237-76X
F-Open—Individual Aggregate
1st Bob Sebold 1236-63X
2nd Christine Harris 1235-45X
3rd Dan Bramley 1230-54X
F-TR—Individual Aggregate
1st Derek Rodgers 1234-56X
2nd Scott Harris 1220-46X
3rd Matt Schartzkopf 1216-38X
Photos by Berger Bullets