The 3-Gun Nation (3GN) Championship and Shooting Sports Expo is coming to Virginia International Raceway October 7-9 in Alton, VA. This expo will feature several levels of competition from amateur, semi-pro and professional 3-Gun shooters.


Most of the competitors will be there for the 3-Gun Nation Nationals, presented by Freedom Munitions. Hundreds of 3-Gun Nation members will compete over two days of shooting.


Not only will the match feature the Nationals competition, but also the Pro Series championship finals. The Pro Series is a televised circuit of elite competitions where top professionals in the sport compete for the championship crown and cash payday. In 2016, "NRA Sports' 3-Gun Nation, presented by Lucas Oil," airs on MAVTV.


"The NRA is extremely excited to be a part of this wonderful event," said Joe DeBergalis, NRA Board of Directors. "3-Gun Nation events are unlike any other sports competition in the world. The competition is fierce and exciting for both the competitors and the spectators alike."


The Pro Series semi-final rounds will kick-off on Friday night under the lights, where the top 16 competitors from the season will lay down their fastest time on a course of fire to advance into the finals. Those on the bubble will be forced into the "eliminator," where they will have one chance to make the final cut.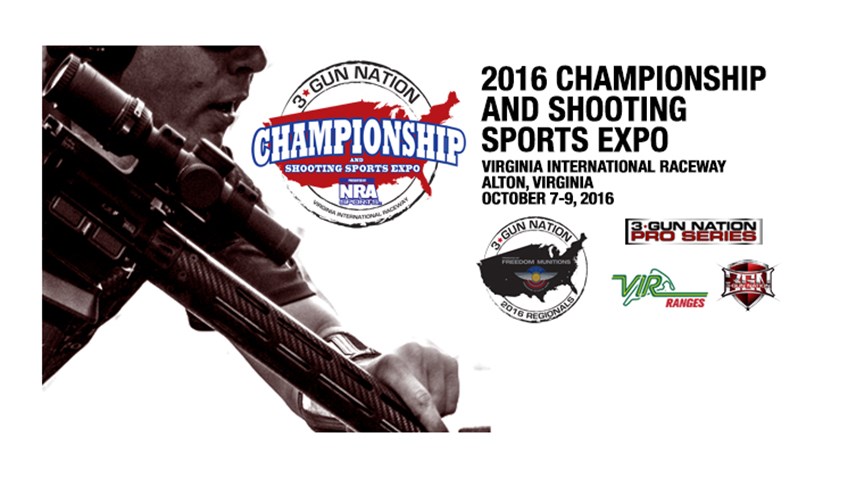 Top 3-Gun Nation Pro Series names such as Daniel Horner, Greg Jordan, Ravin Perry, Jacob Betsworth and Keith Garcia will fight tooth-and-nail to make that Final 8. Then the final eight competitors will square off in the most exciting event in all of practical shooting—the 3-Gun Nation Shoot-Off. This man-versus-man drag race tournament will crown the overall series champion—and winner of the $50,000 cash grand prize sponsored by NRA Sports.


"The 5 million men and women of the NRA are proud to be a part of 3-Gun Nation," said Wayne LaPierre, Executive Vice President, National Rifle Association. "Best of luck to everyone in the championship round."


"The shoot-off is a fan-favorite and never disappoints," added 3GN Vice President Chad Adams. "It is truly a spectator sport where you can take in all the action and drama as our shooters race to the final target. We firmly believe in this event, as it gives our athletes a stage that competition shooting has never had before."


The 3GN Pro Series event begins at 6:00 PM EST on Friday, Oct. 7, and at 7:00 PM EST on Saturday, October 8. Both events are open to the public and spectators. Families and kids are encouraged to attend and watch the action, and 3-Gun Nation will have eye and ear protection available for purchase.


Also featured will be a full vendors row, along with live-fire demonstrations open to the public all weekend. Companies such as REV Arms, Pure Gold Shotgun Chokes, UM Tactical, Iron City Rifleworks and several others will have their products available for testing. Additionally, Rage Motorsports will be on-site showcasing their variety of radical off-road vehicles. Each day will be open to the public at 8 AM EST, and tickets can be purchased by visiting
www.VIRnow.com
.


Shotgun Nationals

While 3GN Nationals and the Pro Series Championship are closed fields of competition for 3-Gun Nation members, a new 3GN initiative is now open to the public. The inaugural 3GN Shotgun Nationals, presented by Nordic Components, will take place October 7-9.


"The Shotgun Nationals will be a six-stage shotgun 'side match' held over the course of the weekend, in which our competitors can double-down on their trigger time," said Charles Sole, 3GN Regional Director. "However, the 2016 Shotgun Nationals is open to anyone to compete with no invitation or 3-Gun Nation membership required." This event will feature $5,000 in cash prizes sponsored by Nordic Components, and will be paid out 100 percent to the competitors. Entry is $75.


The 3-Gun Nation Nationals and Shooting Sports Expo is proudly supported by the following companies: NRA Sports, Freedom Munitions, Timney Triggers, ZT Knives, Pure Gold Chokes, Columbia River Arms, Seekins Precision, REV Arms, Cobalt Kinetics, Oakley, Howard Leight, Mossberg, Nordic Components, Iron City Rifleworks, Remington, UM Tactical, Insect Shield, International Supply, Lucas Oil Outdoor Line, Ruger, Voodoo Tactical, Tru Spec, Taccom, Invictus Practical, Warne Scope Mounts, C&C Firearms, Tresna Defense and Taurus.