by
posted on September 21, 2022
Support NRA Shooting Sports USA
DONATE
For the second year, the NRA National Matches were held at Camp Atterbury, an Indiana National Guard facility located about 37 miles south of Indianapolis. Including the NRA Precision Pistol, Smallbore Rifle and High Power Rifle National Championships, this five-week-long shooting extravaganza went from July 11 to August 7.
Coverage this month includes the Opening Day events at Camp Atterbury, plus match reports from the 2022 NRA High Power OTC and Mid-Range Nationals, along with the Precision Pistol Nationals.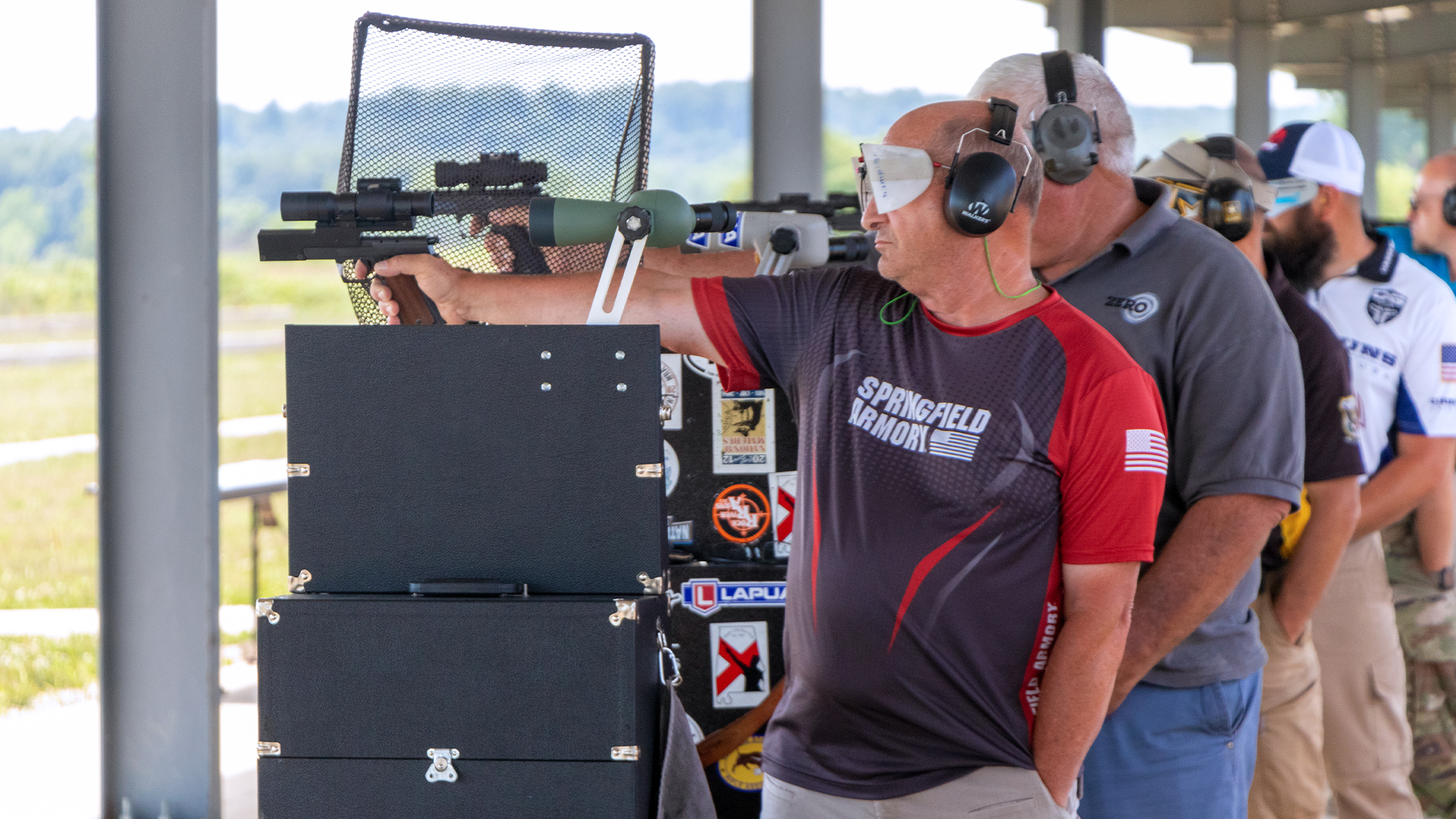 2022 FIRST SHOT CEREMONY
The 2022 NRA National Matches at Camp Atterbury began the morning of Monday, July 11, with the First Shot Ceremony on Range Six to kick off the High Power Rifle National Championship. On hand to open the competition this year were Indiana First Lady Janet Holcomb, NRA First Vice President Willes Lee, NRA Second Vice President David Coy, and Indiana State Rifle and Pistol Association President Charlie Hiltunen (he is also a new member of the NRA Board of Directors).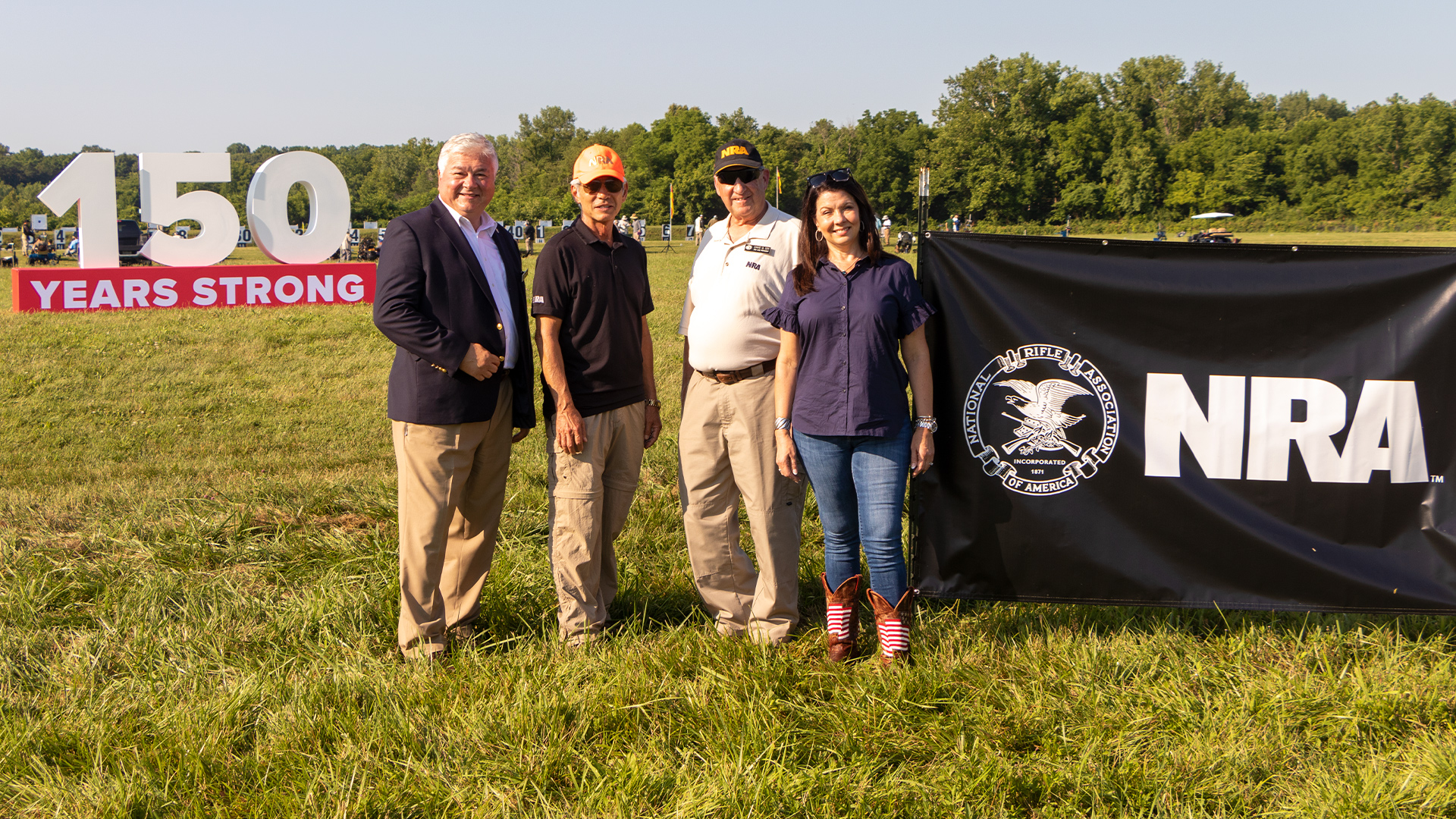 Mrs. Holcomb had the honor of firing the ceremonial first shot, opting for an AR-15 rifle. "It's really exciting to welcome so many fellow shooters to Indiana for the NRA National Matches," said Mrs. Holcomb, who in her remarks also encouraged everyone to find young people to mentor. "The continuation of this way of life and these values we all share and hold so dear really depends on the next generation. We all need to be working on an ongoing basis to help cultivate kids to continue in these rich traditions."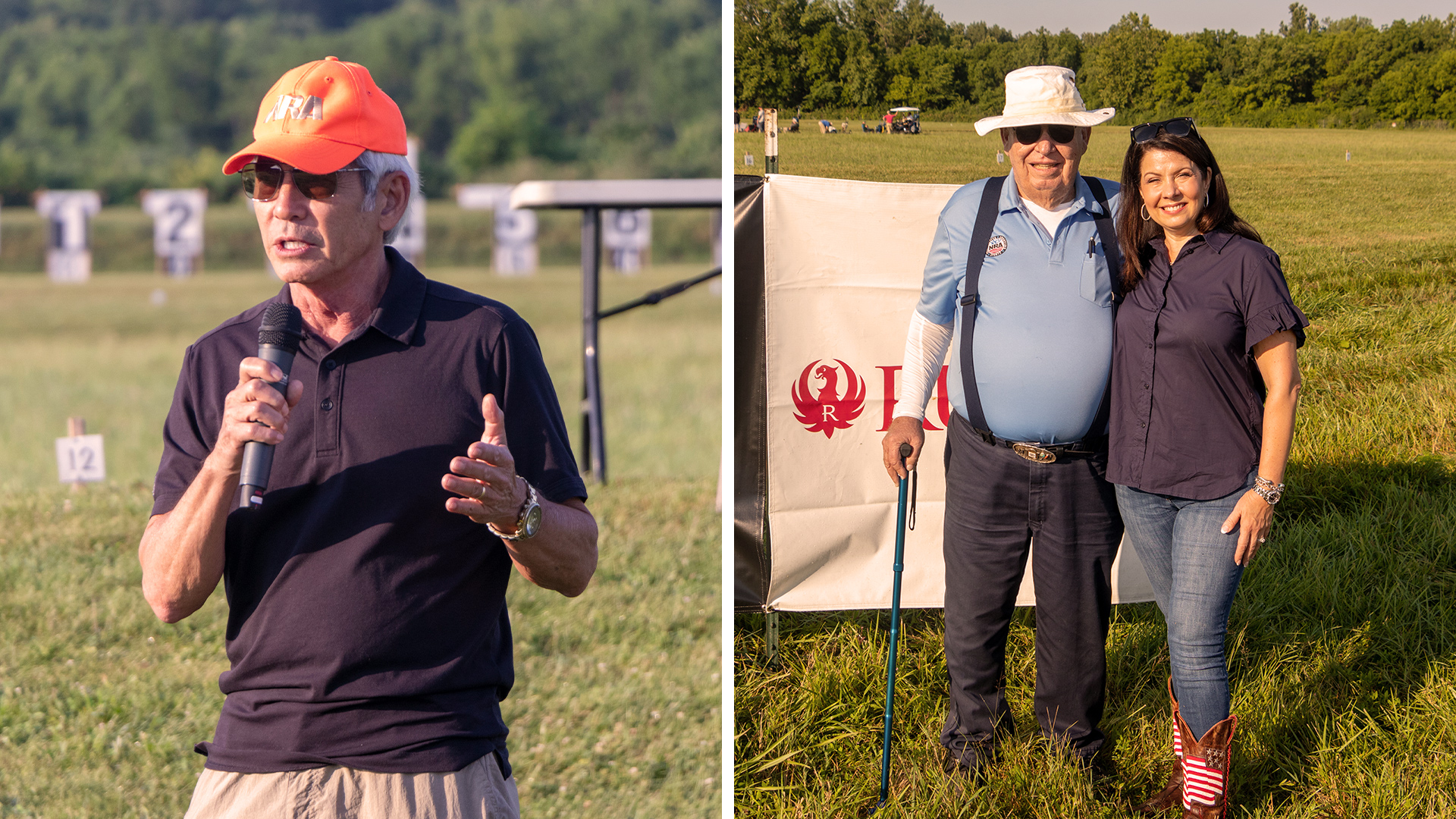 NRA First Vice President Willes K. Lee expanded on the legacy of the NRA National Matches and the bright future the competition has at Camp Atterbury. "We're Americans. You give a couple of Americans rifles and a range to train and you're going to have competition," said Lee. "The NRA has 151 years of history of marksmanship training, and Camp Atterbury is where it culminates in finding the best shooter in America."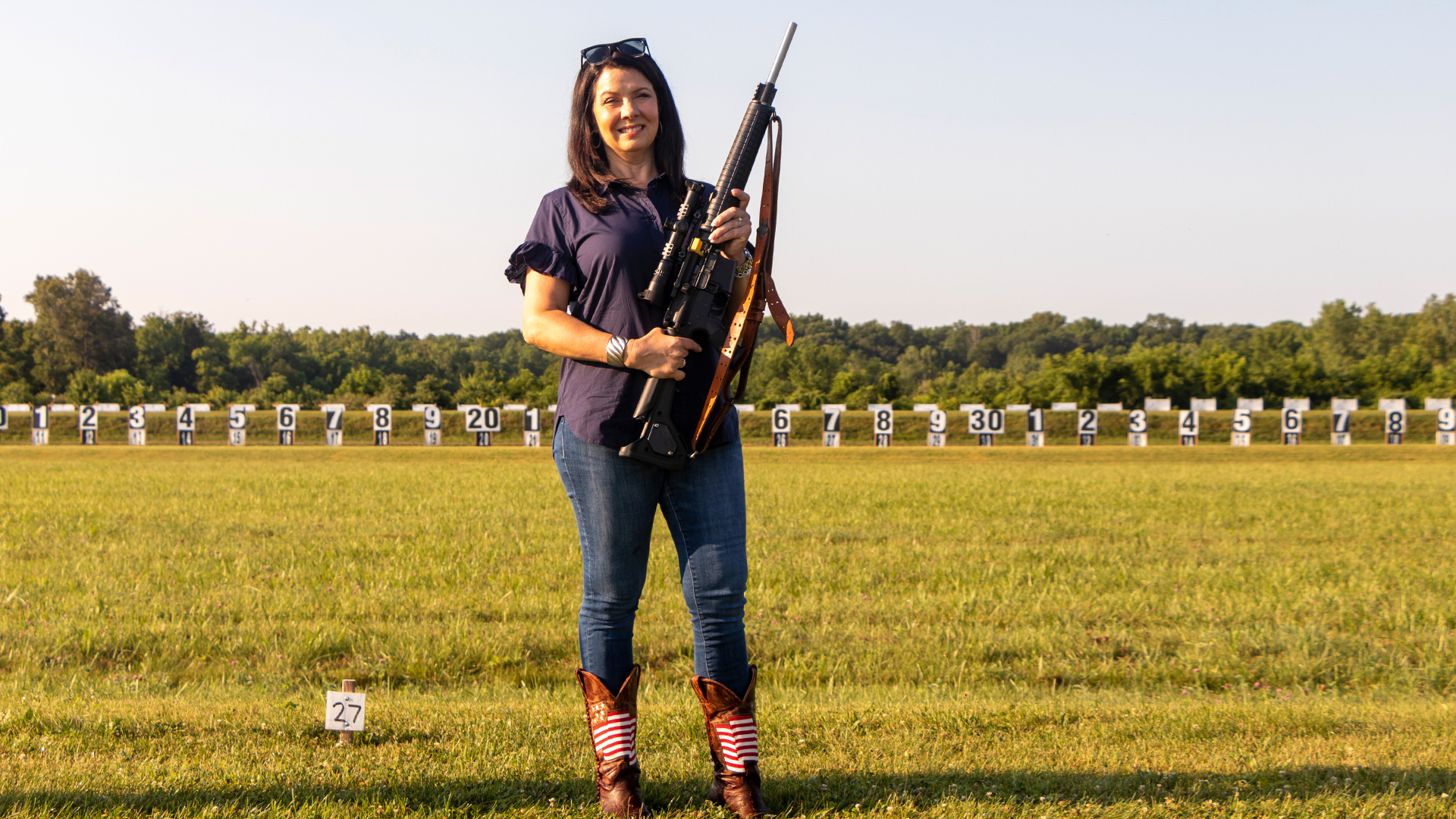 NRA Second Vice President David Coy competed at Camp Atterbury during the Precision Pistol Nationals. On opening day, he thanked everyone who worked to support this event, also reminding the crowd how important the shooting sports are to NRA. "We as Americans are inherently competitive," said Coy. "This competition is an outgrowth of the original purpose of the NRA to teach marksmanship."
ELECTRONIC TARGETS
For the first time in history, the NRA High Power Rifle Nationals were fired on electronic targets, courtesy of Silver Mountain Targets, a German company. A frequent competitor request, the addition of e-targets eliminated the chore of pit duty this summer ata the High Power Nationals. Range Six at Camp Atterbury was equipped with 30 electronic targets, plus 10 more in reserve (they ran so well, staff didn't need to use the spares).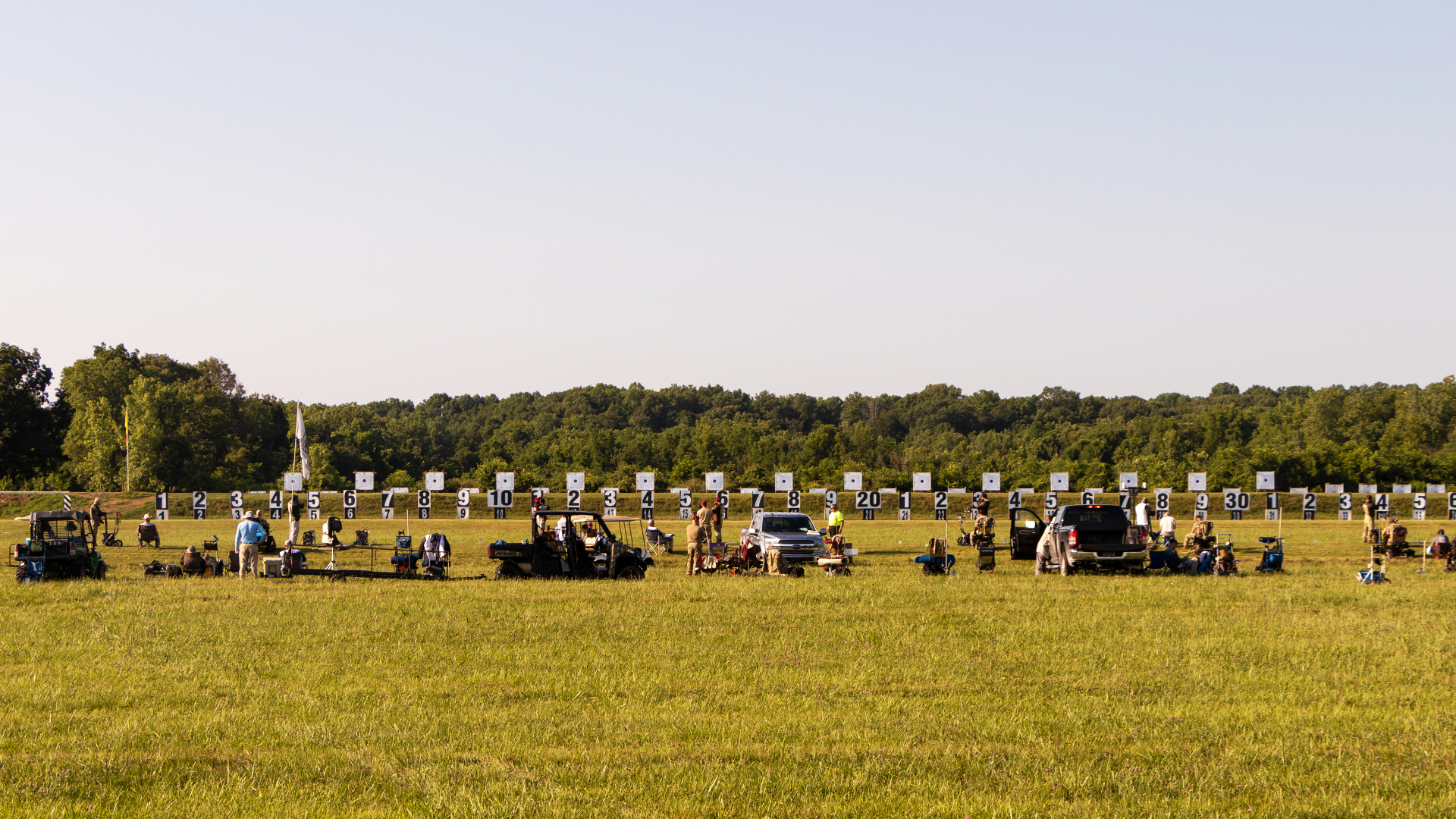 Two decades ago, there really weren't any notable e-target systems deployed on a grand scale, but they have come a long way since then. "E-targets have been used at indoor and outdoor ranges in Europe for many years, but there's always been questions about accuracy and reliability here in the states," explained Cole McCulloch, NRA Director of Competitive Shooting. "Plus, implementing e-targets is a huge investment, such as CMP at Talladega. Silver Mountain's price point and service are outstanding, and that's why we chose them. E-target scoring accuracy this summer was on the money. Using this technology has reduced costs in terms of running people to the pits and lowered staffing needs, along with making the matches go much faster."
Cost effective at $850 per unit, the NRA used the Solo system, an open-sensor electronic target. Competitors could view live targets online using tablets or smartphones connected to Wi-Fi generated by the Solo e-target systems. David Schnelle, the owner of Silver Mountain Targets' U.S. distributor, was at Camp Atterbury to assist with the transition. "It was very nice to work with NRA on its first venture with e-targets at the National Matches," said Schenlle. "We had a few bumps to work through the first day, but things ran perfectly smooth afterwards."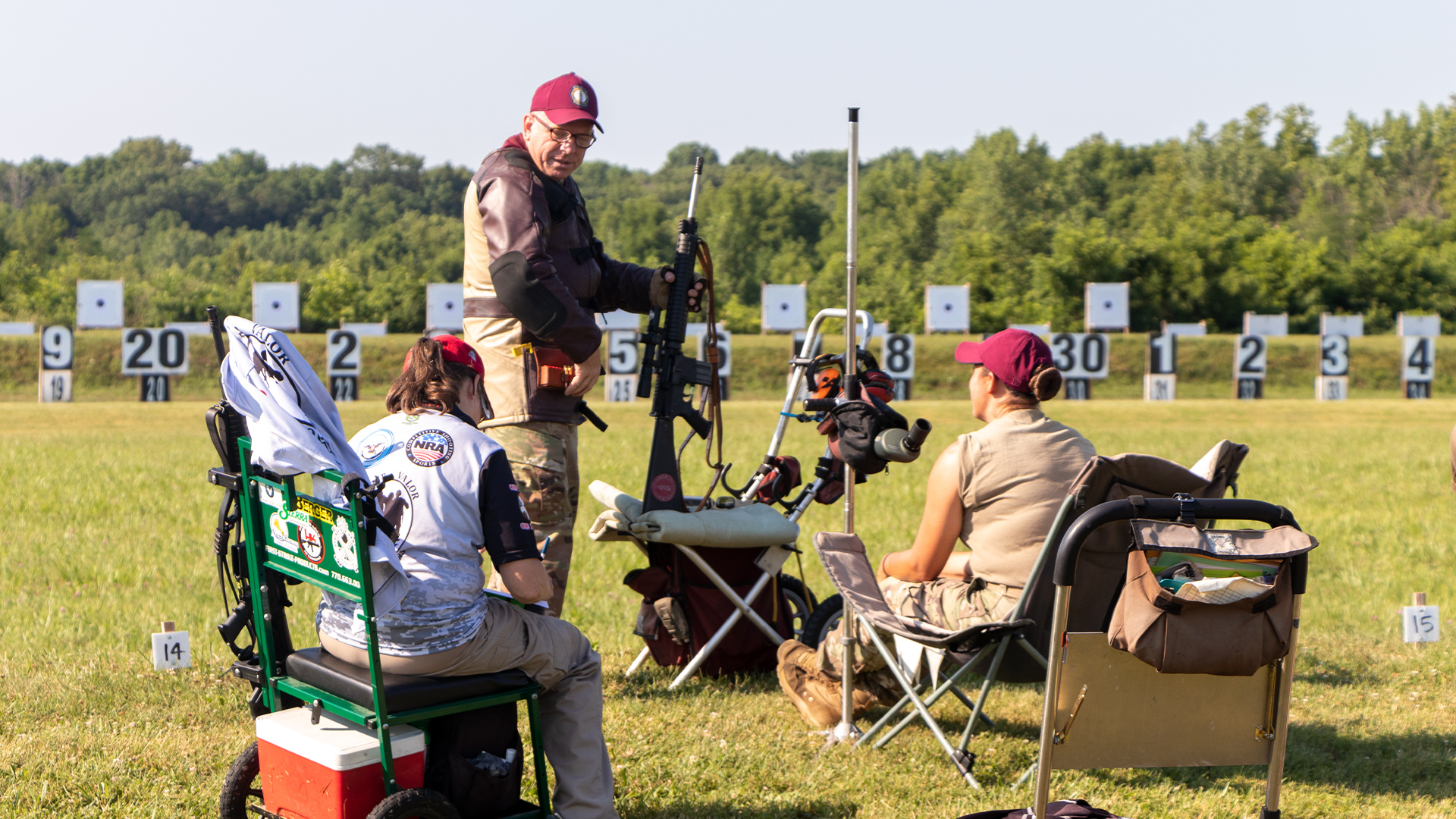 Just about every rifle competitor at Camp Atterbury told me they were pleased about the introduction of e-targets at the NRA National Matches. "E-targets were a godsend, as they totally eliminated the need to pull in the pits, which was especially valuable this summer in the scorching Indiana heat," said Charles Rowe, a longtime NRA High Power shooter. "And, after the first day of setup and teething issues, the e-target systems generally ran flawlessly. Well done and thank you to the NRA for listening to competitors."
HIGH POWER RIFLE OTC
The NRA High Power Rifle National Champion and the winner of the Mumma Trophy is determined from the results of three historic competitions—the Vandenberg Cup, Nevada Trophy and Clarke Trophy matches.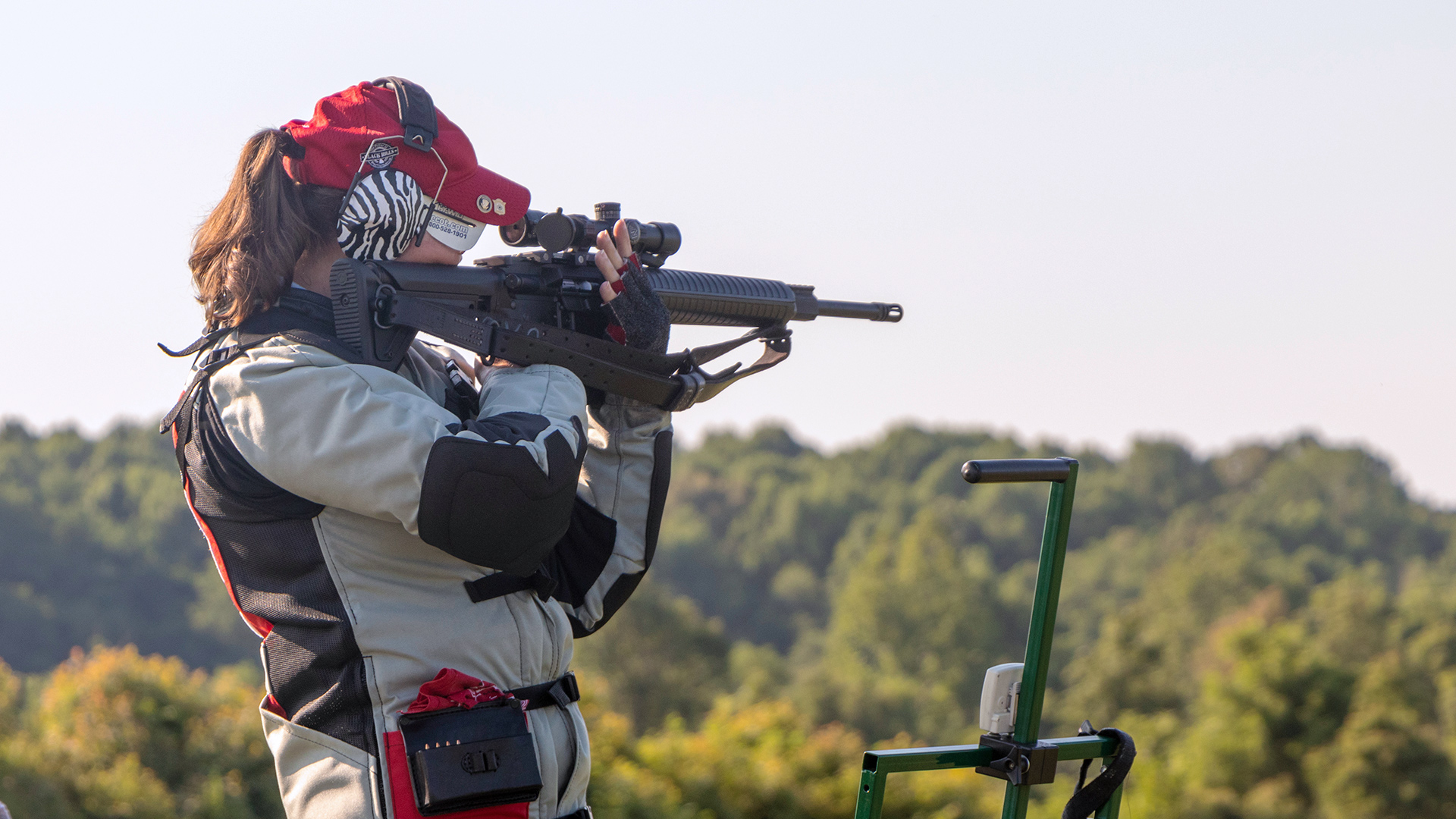 The U.S. Army Marksmanship Unit dominated the NRA High Power Rifle Nationals this summer, beginning with Staff Sgt. Benjamin Cleland of Columbus, Ga., winning the Mumma Trophy and the national title with a score of 2394-146X, also putting him number one in Match Rifle.
Finishing second was Cleland's AMU teammate, Sgt. 1st Class Brandon Green of Box Springs, Ga., with 2389-148X. Rounding out the top three was another Army shooter and last year's champion, Staff Sgt. Amanda Elsenboss of Woodbury, Conn., scoring 2379-117X, also netting her the Service Rifle title and the Dupont Trophy.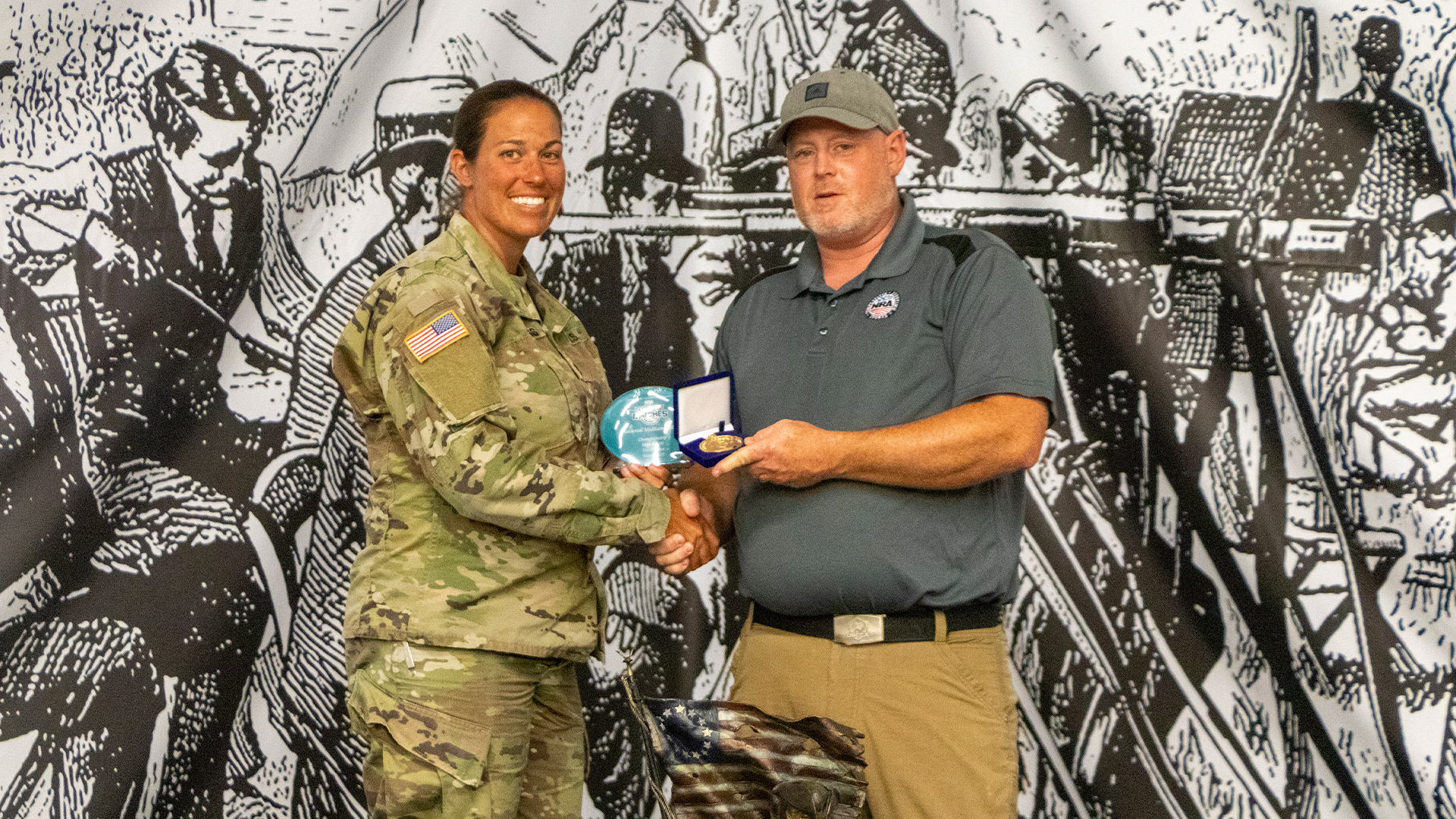 The awards for Staff Sgt. Cleland didn't stop with the Mumma Trophy—with a score of 1194-64X, he also secured the Gunner D.I. Boyd Trophy for high aggregate in the 200- yard standing and 600-yard prone events drawn from six matches.

HIGH POWER RIFLE MID-RANGE
The NRA Mid-Range National Championship is an aggregate from several matches, spanning four days of competition with scope- and iron-sight shooting at 300, 500 and 600 yards.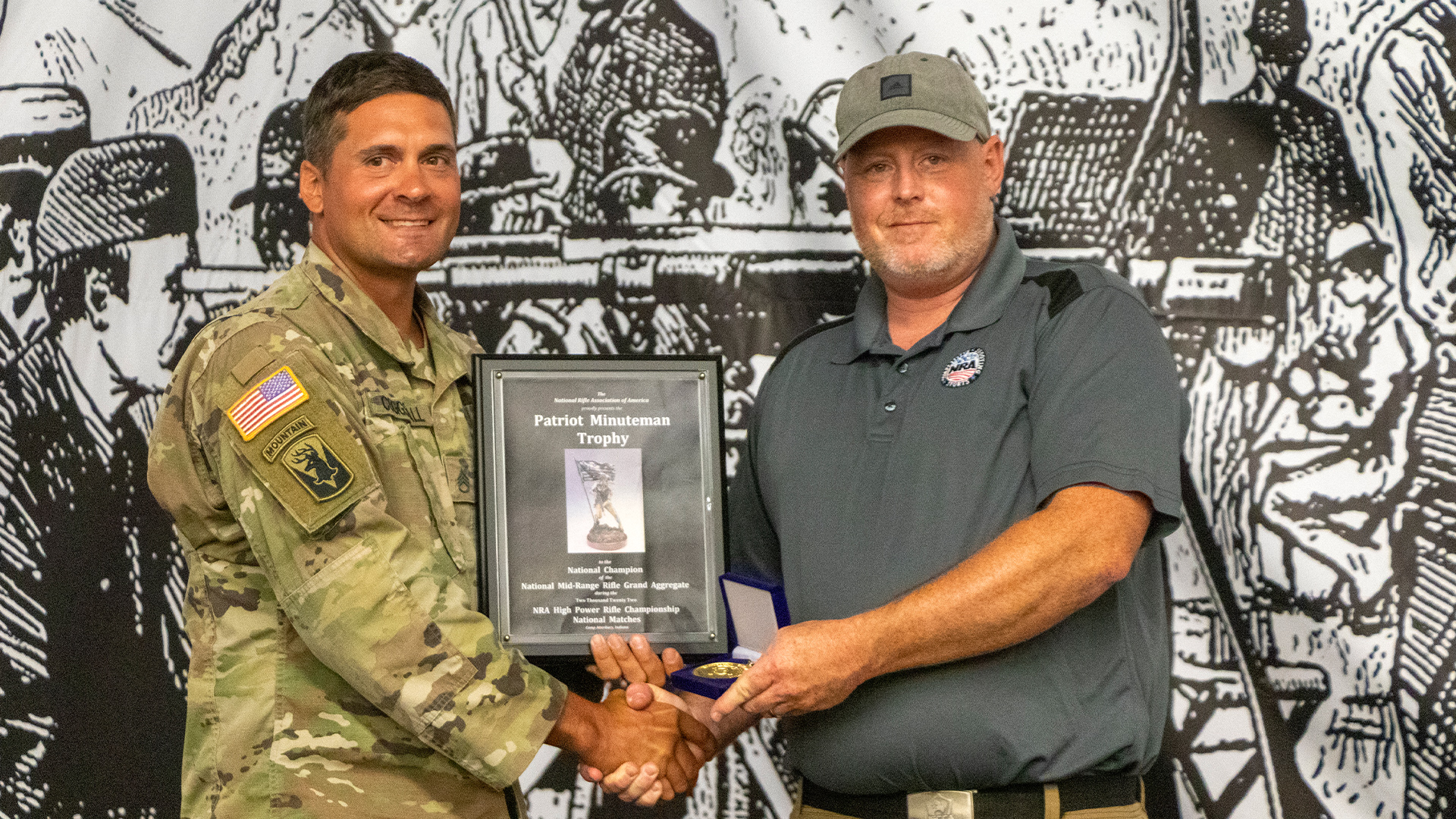 With a score of 2399-189X, Staff Sgt. John Coggshall, an Army National Guard competitor from East Hampton, Conn., won the High Power Rifle Mid-Range Championship title and the Minuteman Championship Trophy. His score also earned him the Any Rifle Optical Sights aggregate title and is a possible new national record.
Rounding out the top three in the Mid-Range grand aggregate was two U.S. Army Marksmanship Unit shooters. Staff Sgt. Jarrod McGaffic finished in second place with a score of 2398-185X, and his AMU teammate, Staff Sgt. Benjamin Cleland, was one point behind him to take third place with 2397-194X. The High Woman in the Mid-Range grand aggregate was Kimberly Rowe of Wadsworth, Ohio, with a score of 2395-153X.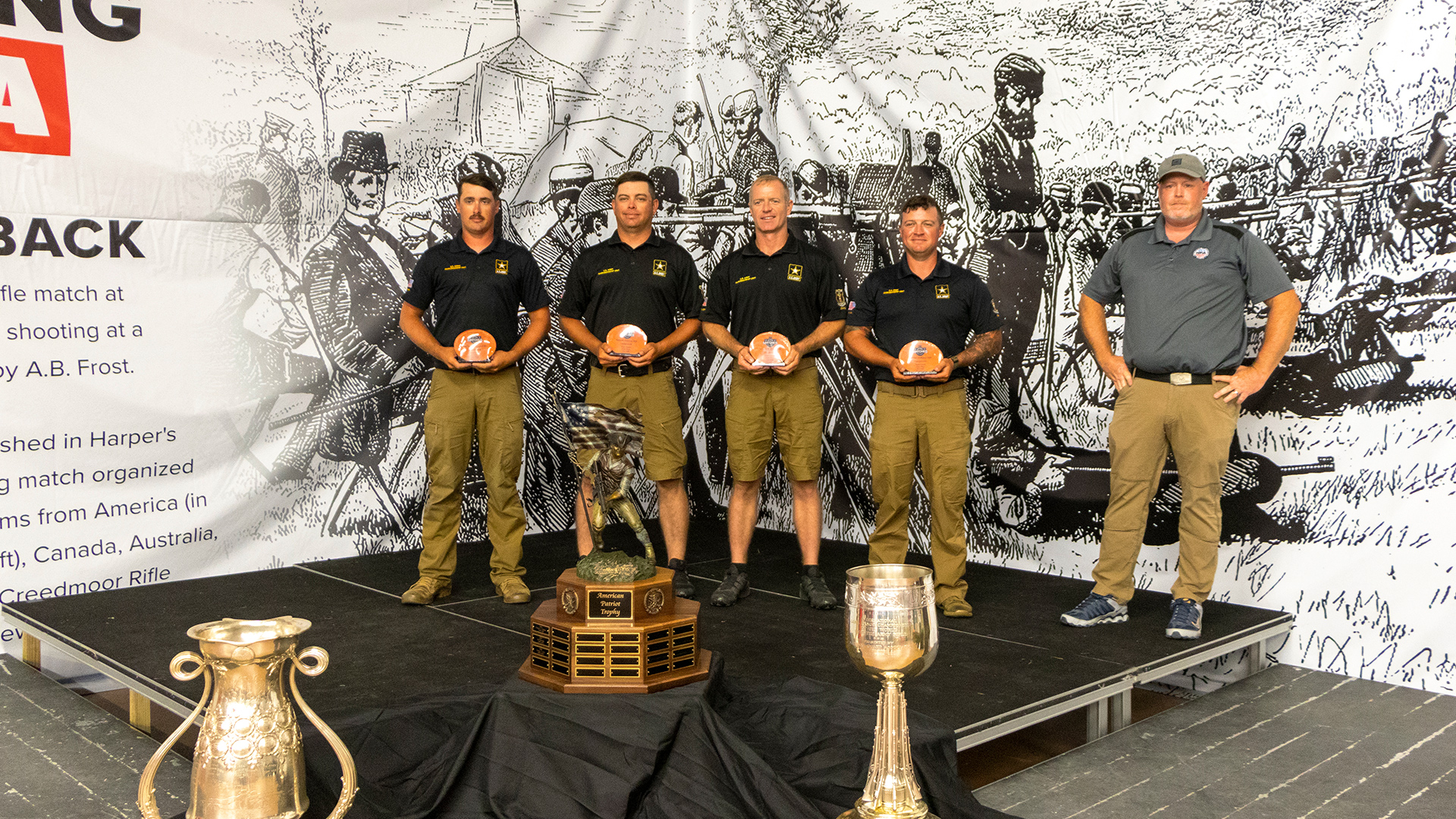 Another AMU shooter, Pvt. 1st Class Dustin Carr of Phenix City, Ala., won the Mid-Range Service Rifle aggregate title with a score of 2380-127X. The Service Rifle runner-up was Carr's AMU teammate, Pvt. 1st Class Zevin Linse of Fort Benning, Ga., with 2368-111X.
In the Palma Rifle aggregate, the AMU's Spc. Adam Fitzpatrick was the top shooter with a score of 2394-157X. Second place in Palma went to Oliver Milanovic of Gilbert, Ariz., with a score of 2393-155X. Also, the Palma High Senior title went to Daniel Altman of Bowling Green, Ohio, with 2382-123X.
As for the Any Rifle Metallic/Any Sights aggregate, first place went to Jon Rhynard of Haughton, La., with a score of 2388-146X. The runner-up was Steve McGee of Brookville, Kan., with 2373-110X. In addition, with a score of 2397-177X, USAMU-Green secured the Prone Team title, followed by USNRTRowe in second place with 2391-146X.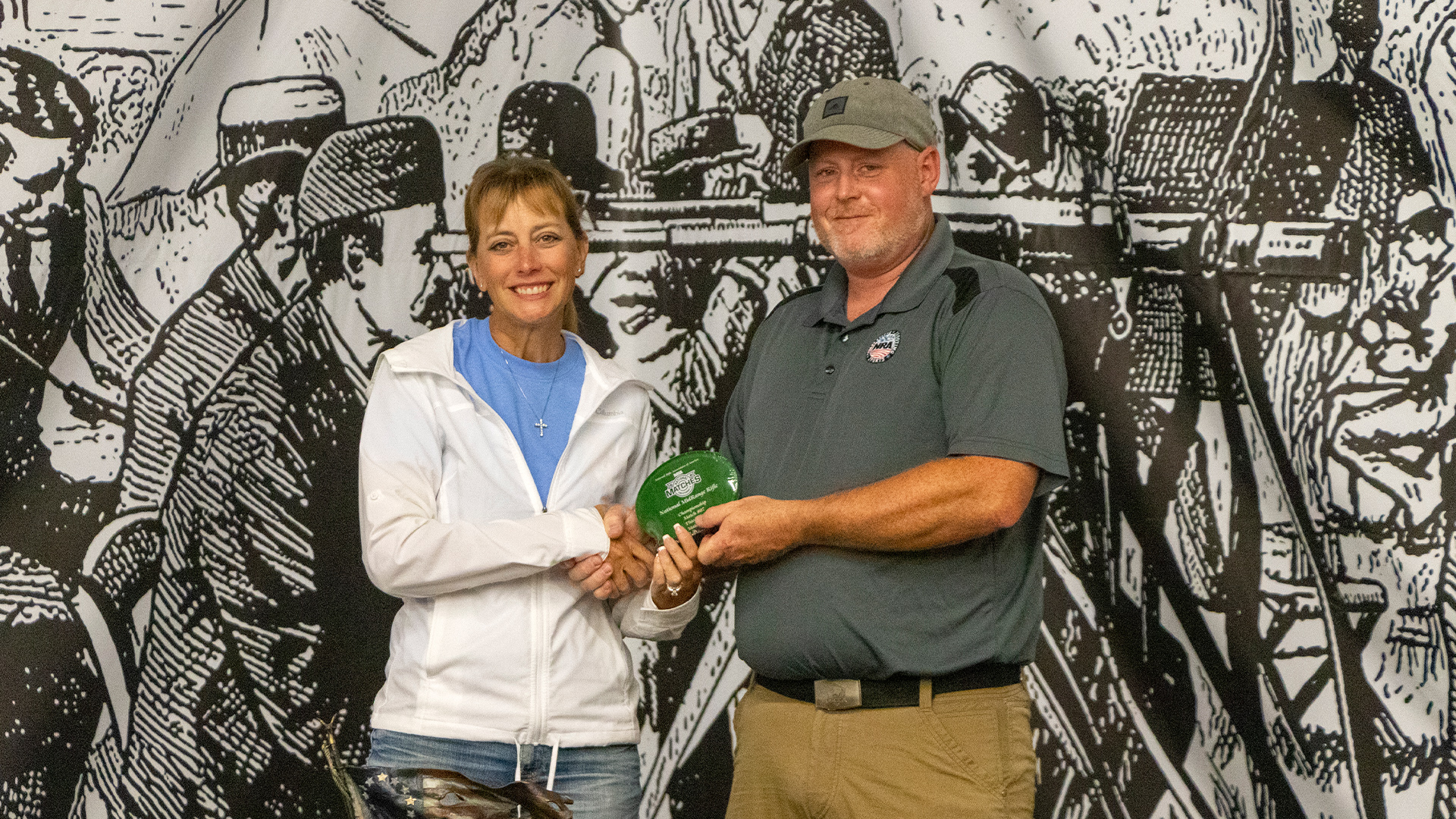 Making its debut this summer at the NRA High Power Nationals was the AR Tactical Open aggregate match. Geoffrey Slichter of Newark, Del., took the win at Camp Atterbury with a score of 2352-86X. And, the Mid-Range AR Tactical champion with a score of 2374-130X was the Army National Guard's Maj. Samuel Freeman of Hendersonville, North Carolina.

PRECISION (BULLSEYE) PISTOL
The NRA Precision Pistol Nationals are comprised of the traditional bullseye three-gun course of fire—a 2700-point aggregate drawn from the .22, Centerfire and .45 caliber championships.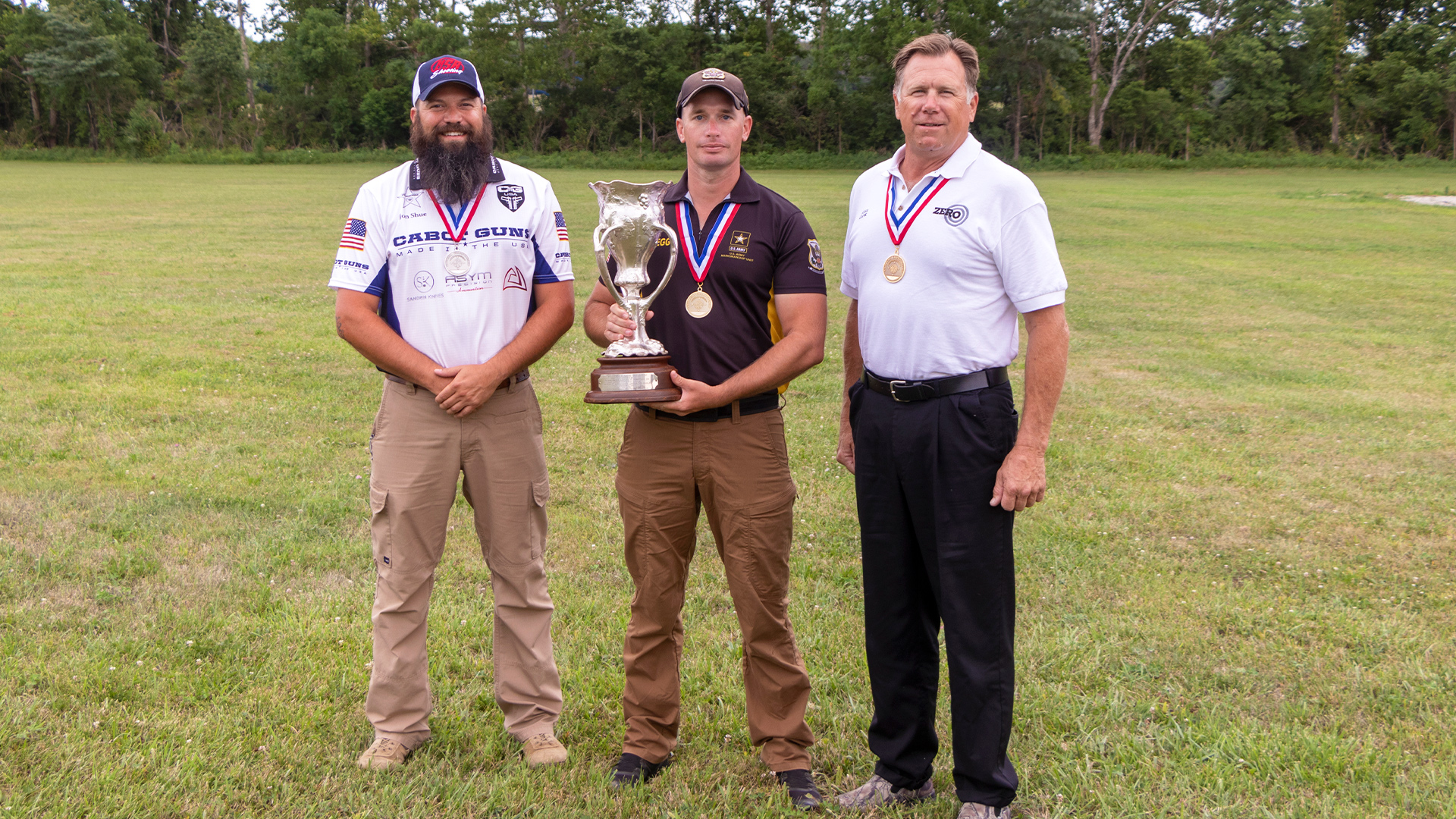 With a score of 2649-143X, U.S. Army Marksmanship Unit Service Pistol team shooter Staff Sgt. Carl Clegg of Columbus, Ga., won the Precision Pistol national title. In addition to the Harrison Trophy, his score earned him the High Service award, third place in the .22 Championship (885-45X), plus the top spots in the Centerfire (883-42X) and .45 Championships (881-56X).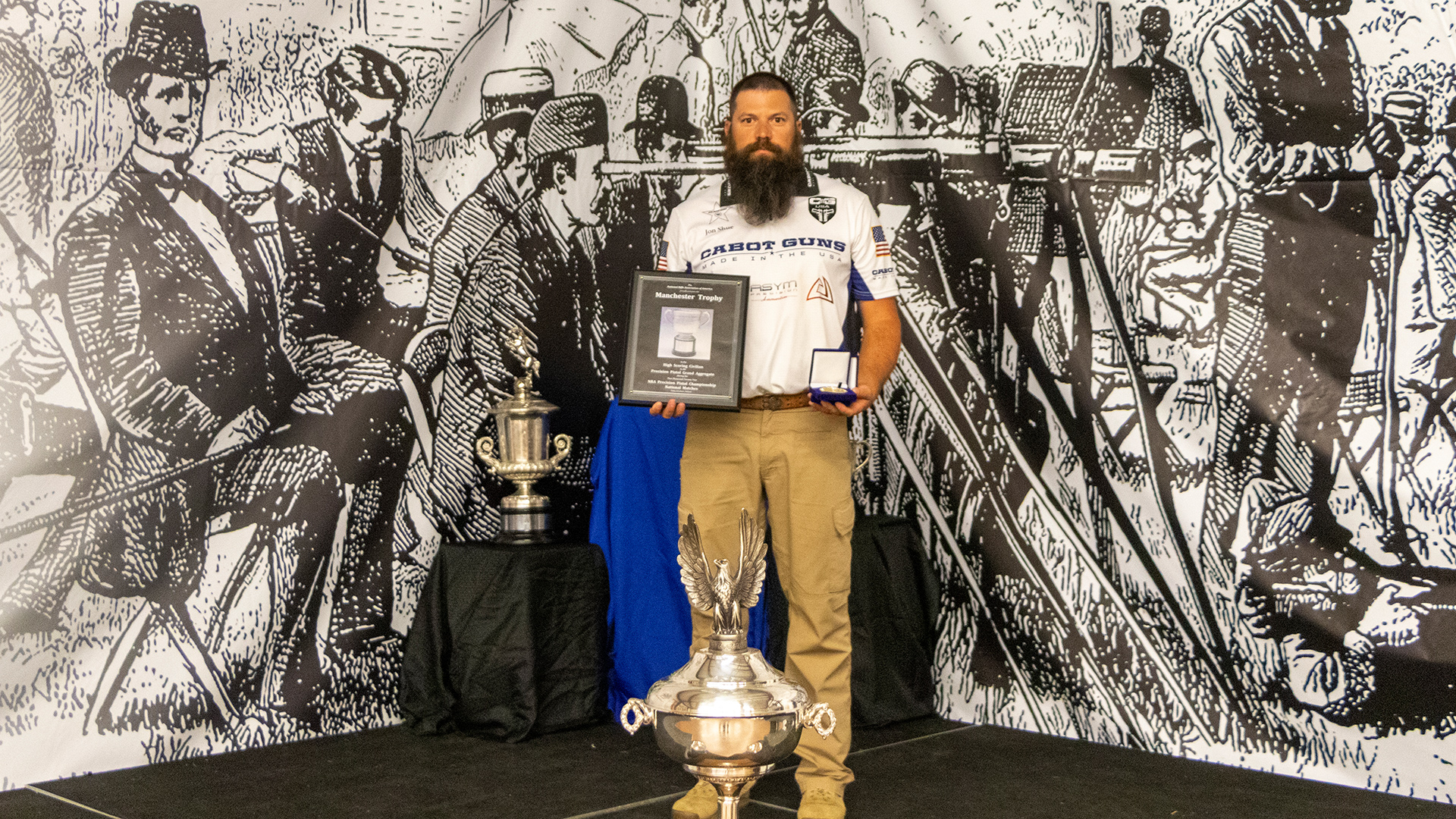 Taking second place, a single point behind Clegg, was two-time NRA National Pistol Champion Jon Shue. He walked away from this year's competition with a score of 2648- 129X, garnering the Liberty, N.C., resident the High Civilian and High Military Veteran awards. Additionally, Shue won the .22 Caliber Championship (887-43X), and second place in the Centerfire (880-40X) and .45 Championships (881-46X).
In third place was John Zurek of Alpine, Ariz., with a final aggregate score of 2639-131X. He also earned third place in the Centerfire Championship (878-41X).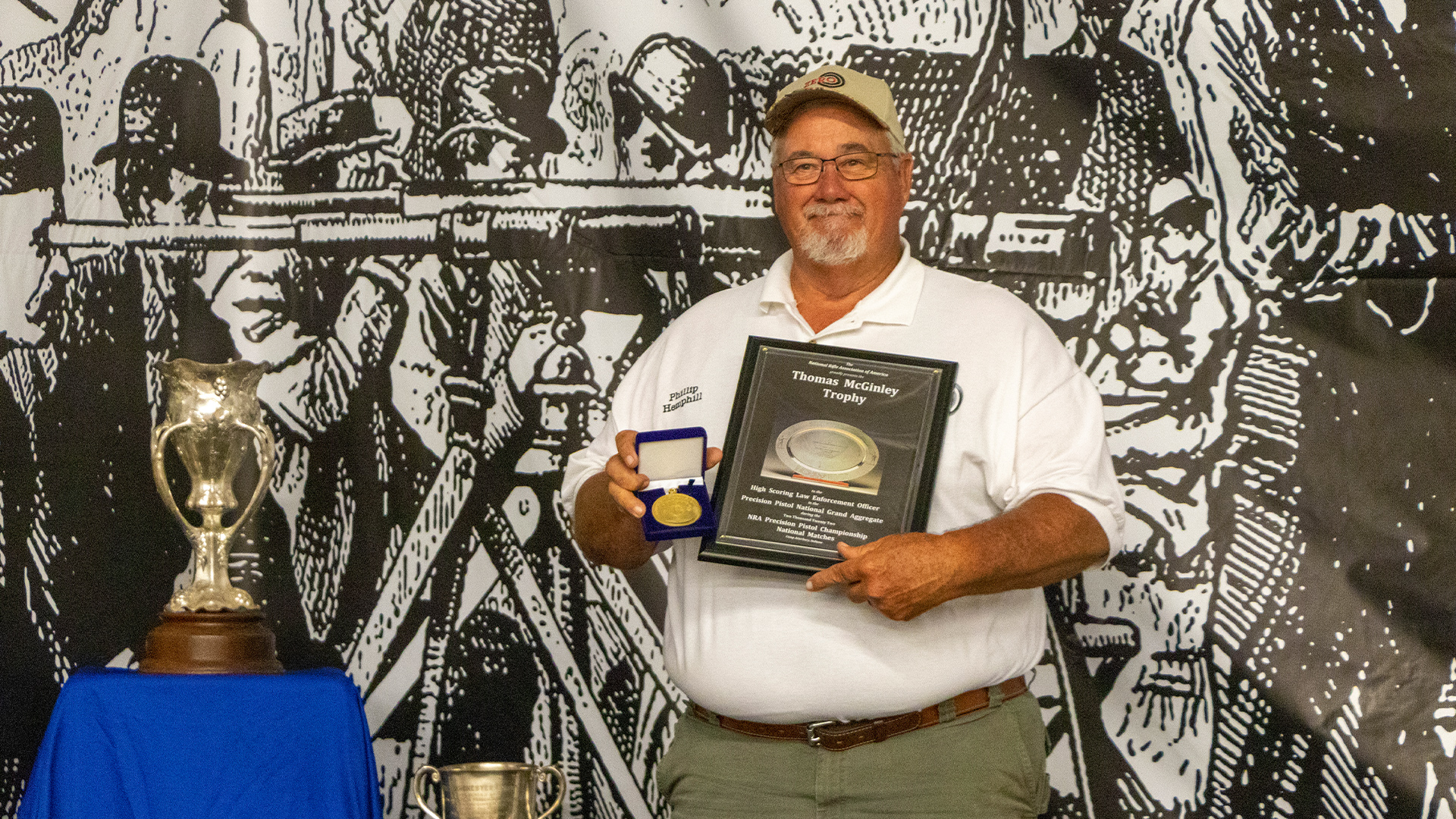 First Lt. Lisa Traciak, an Army National Guard competitor from Colorado Springs, Colo., was High Woman at the NRA Precision Pistol Nationals with a score of 2620-109X, also giving her the High National Guard title. In addition, Traciak swept the High Woman titles for all three individual pistol championships—.22 (882-42X), Centerfire (875-43X) and .45 (863-24X).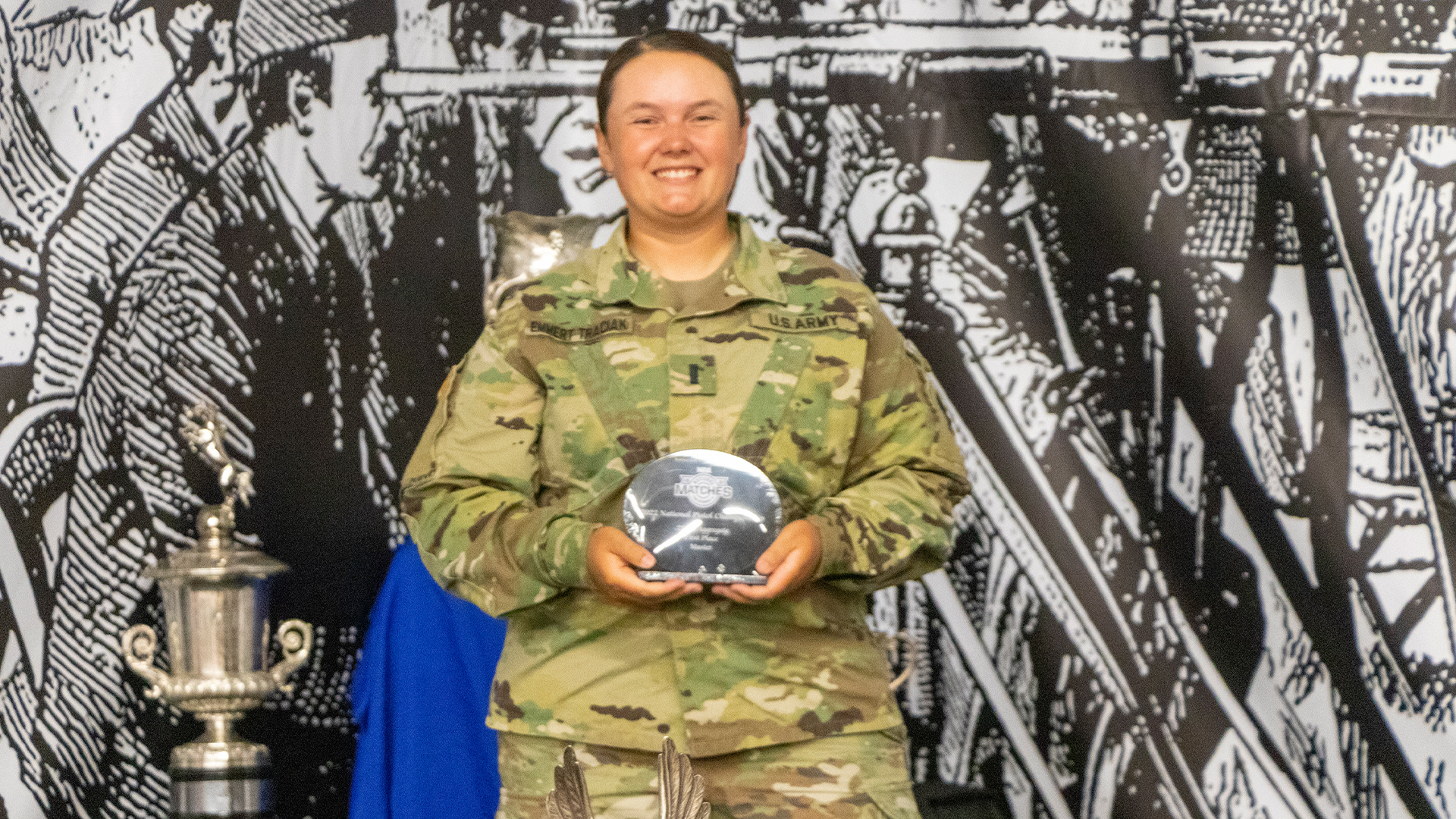 Shelly Liu of Cary, N.C., was the Vincent Trophy winner as High Civilian Woman with a score of 2504-55X. At the top of the Pistol Metallic Championship leaderboard with 2485-52X was Daniel Miller of Mineola, Texas. With 2630-116X, High Senior went to Daniel Kupar of Whitehall, Pennsylvania. As for High Grand Senior, Philip Hemphill, a resident of Meridian, Miss., took the award with 2614-111X, also garnering him the High Police title.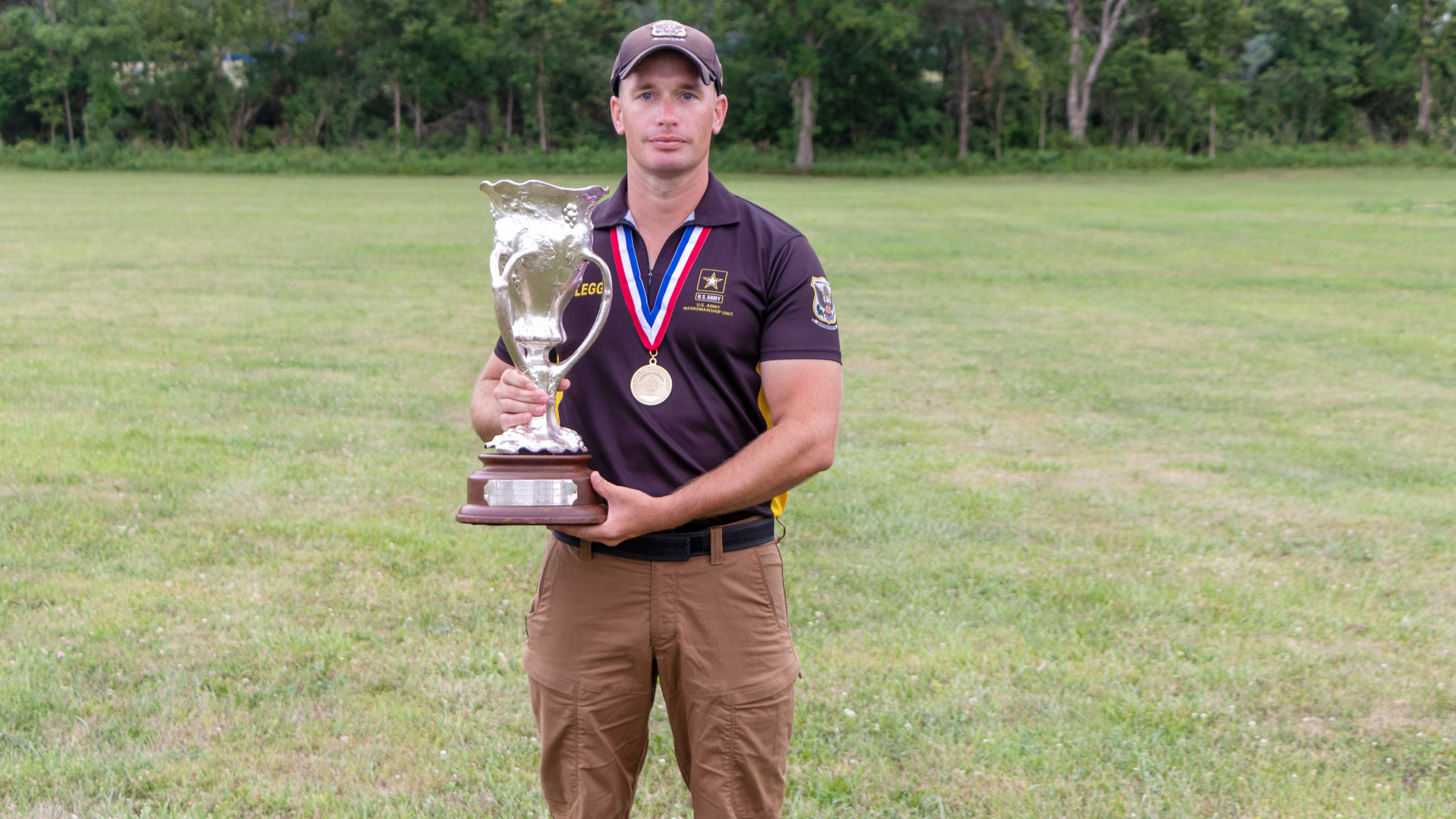 PREVIEW: HIGH POWER RIFLE LONG-RANGE, SMALLBORE 3-POSITION, SMALLBORE PRONE
The U.S. Army Marksmanship Unit Service Rifle Team's Sgt. 1st Class Brandon Green swept the major individual trophy awards at the 2022 NRA High Power Long-Range Nationals. An unprecedented feat, Green topped the leaderboard in the Tompkins, Leech, Wimbledon, Remington and Mustin Trophy matches. Until this summer at Camp Atterbury, no one had ever won them all in the same year.
In the October 2022 issue of Shooting Sports USA, look for a full report about Green's virtuoso performance at Camp Atterbury and more 2022 NRA National Matches coverage, including the High Power Rifle Long-Range, Smallbore Rifle 3-Position and Smallbore Rifle Prone National Championships, plus the Pershing International Trophy Match. For the latter, a team from Great Britain traveled to America for this Smallbore Rifle competition that is conducted every four years.
Read Part 2 of our 2022 NRA National Matches feature.
All photos by John Parker.