by
posted on October 18, 2022
Support NRA Shooting Sports USA
DONATE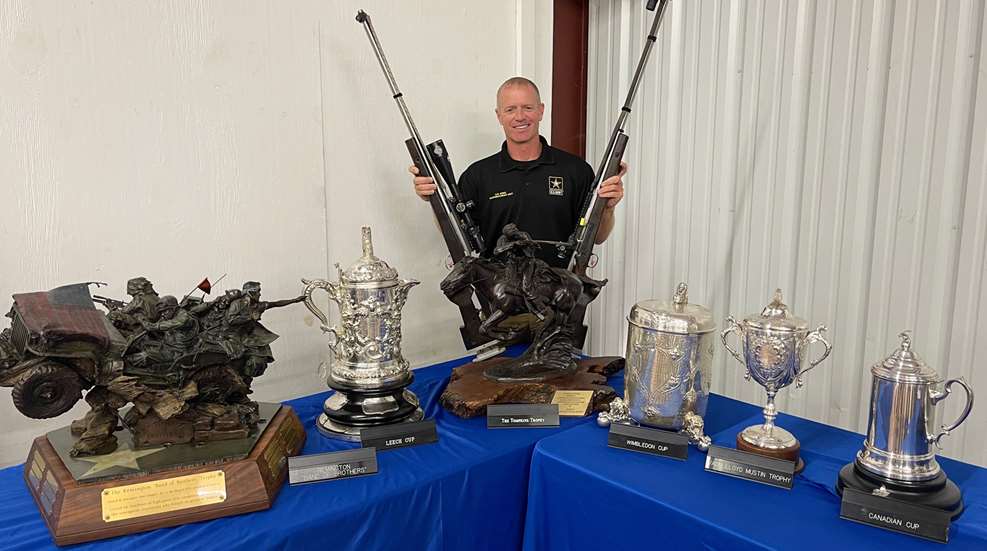 Here is the second installment of our coverage from the 2022 NRA National Matches at Camp Atterbury, including match reports from the High Power Long-Range, Smallbore 3-Position and Smallbore Prone National Championships. (Read Part 1.)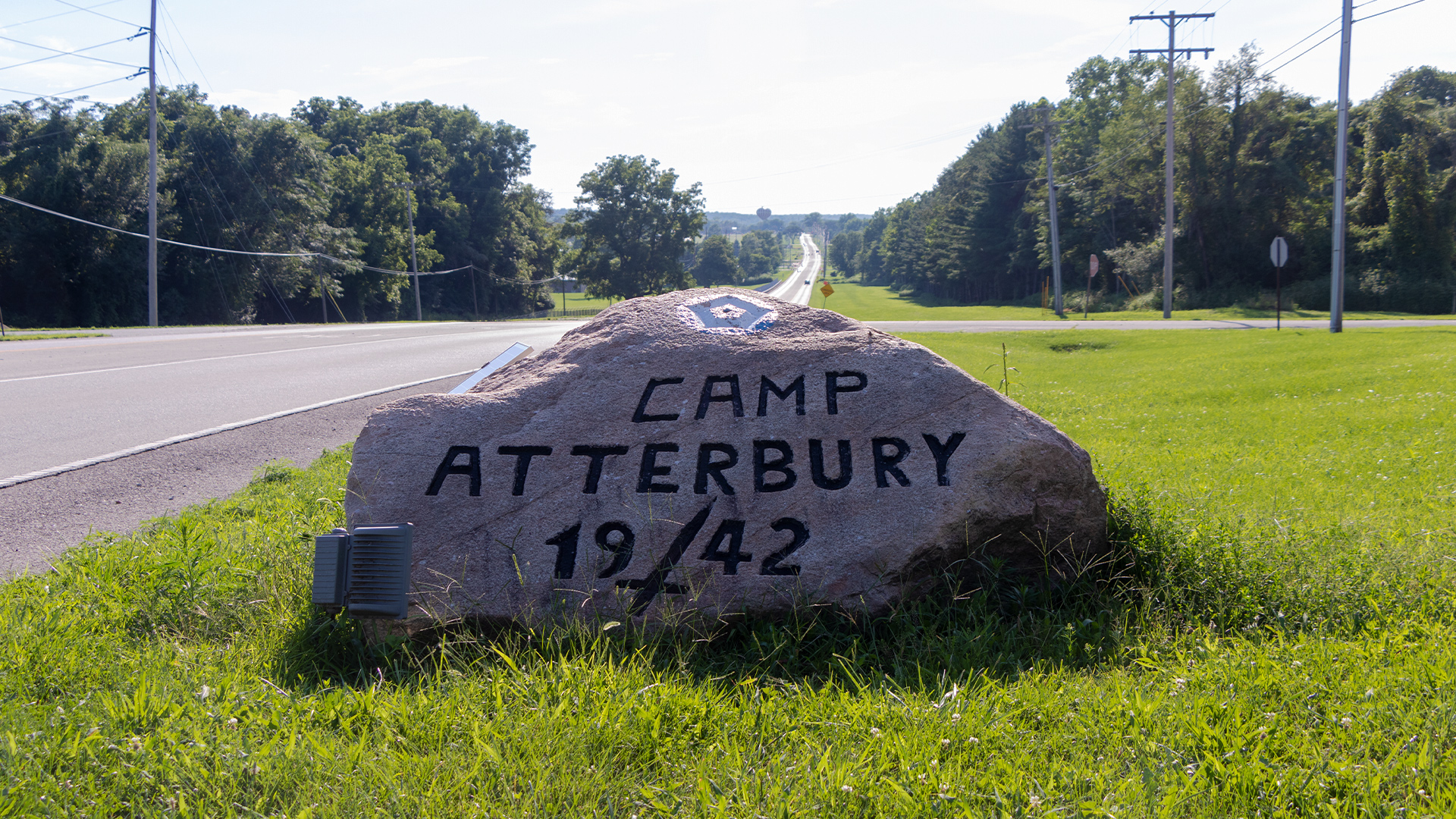 HIGH POWER LONG-RANGE SWEEP
At the NRA High Power Rifle Long-Range Nationals in July, most of the chatter on Range Six centered on Sgt. 1st Class Brandon Green of the U.S. Army Marksmanship Unit. Hailing from Box Springs, Ga., Green dominated the individual competitions at Camp Atterbury—winning the Tompkins, Leech Cup, Wimbledon Cup, Remington Band of Brothers and Mustin Trophy matches—making him the first competitor to accomplish this feat in the more than 100-year-history of the National Trophies. "It was an awesome match and I enjoyed it very much," said Green. "I'll definitely be coming back to Camp Atterbury next year."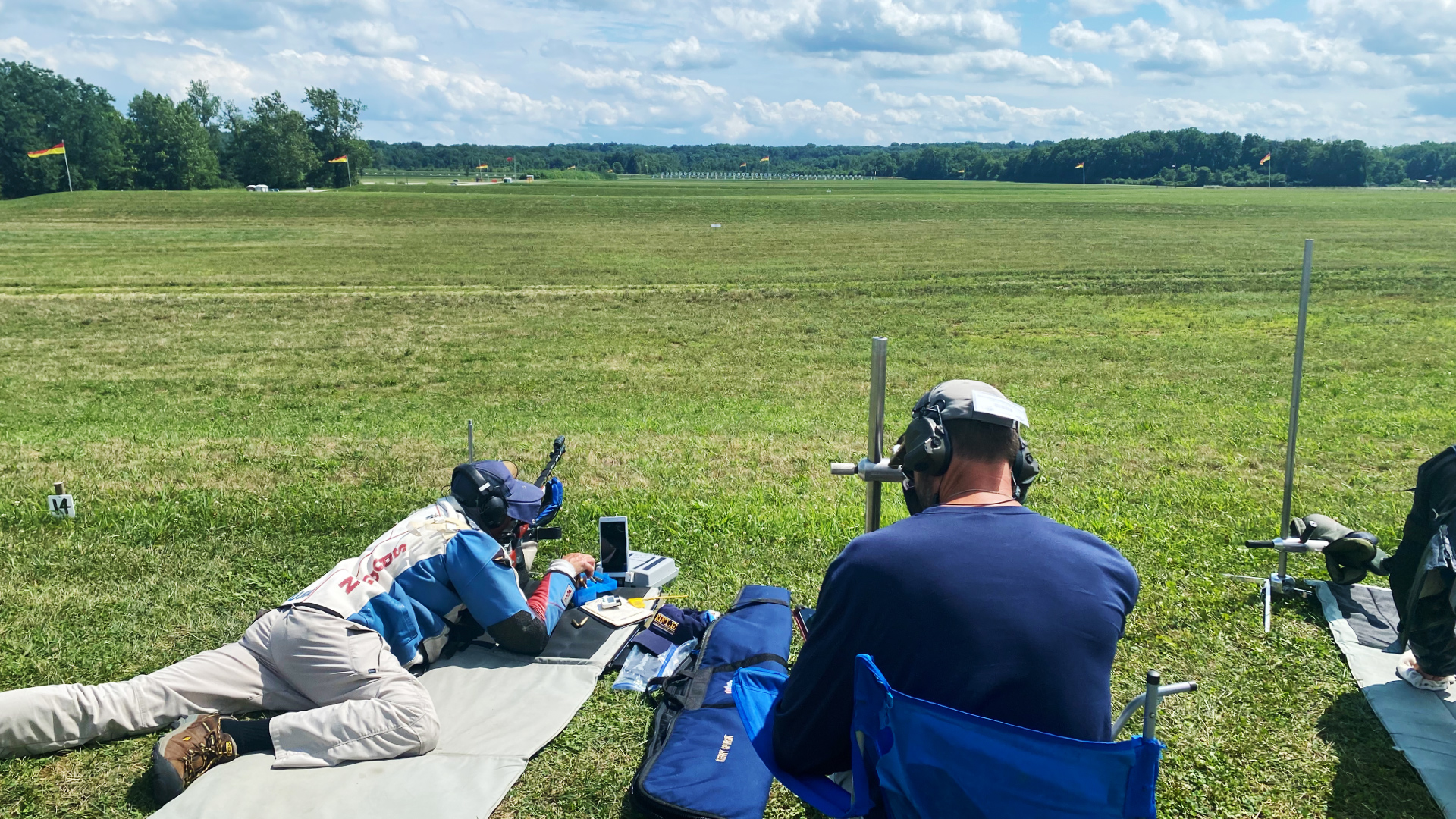 For winning this year's Long-Range Championship aggregate with a score of 1246-84X, Green received a Tompkins Trophy plaque, a gold-tone National Championship medallion, three boxes of Berger Bullets and a $200 check.
Here are Green's scores for all six of his 2022 NRA Long-Range trophy victories: Tompkins Trophy (1246-84X), Wimbledon Cup (200-14X, shoot-off 150-10X), Mustin Trophy (200-10X, shoot-off 150-4X), Leech Cup (200-14X, shoot-off 149-9X), Canadian Cup (799-51X) and the Remington Band of Brothers Trophy (199-13X, shoot-off 100-4X).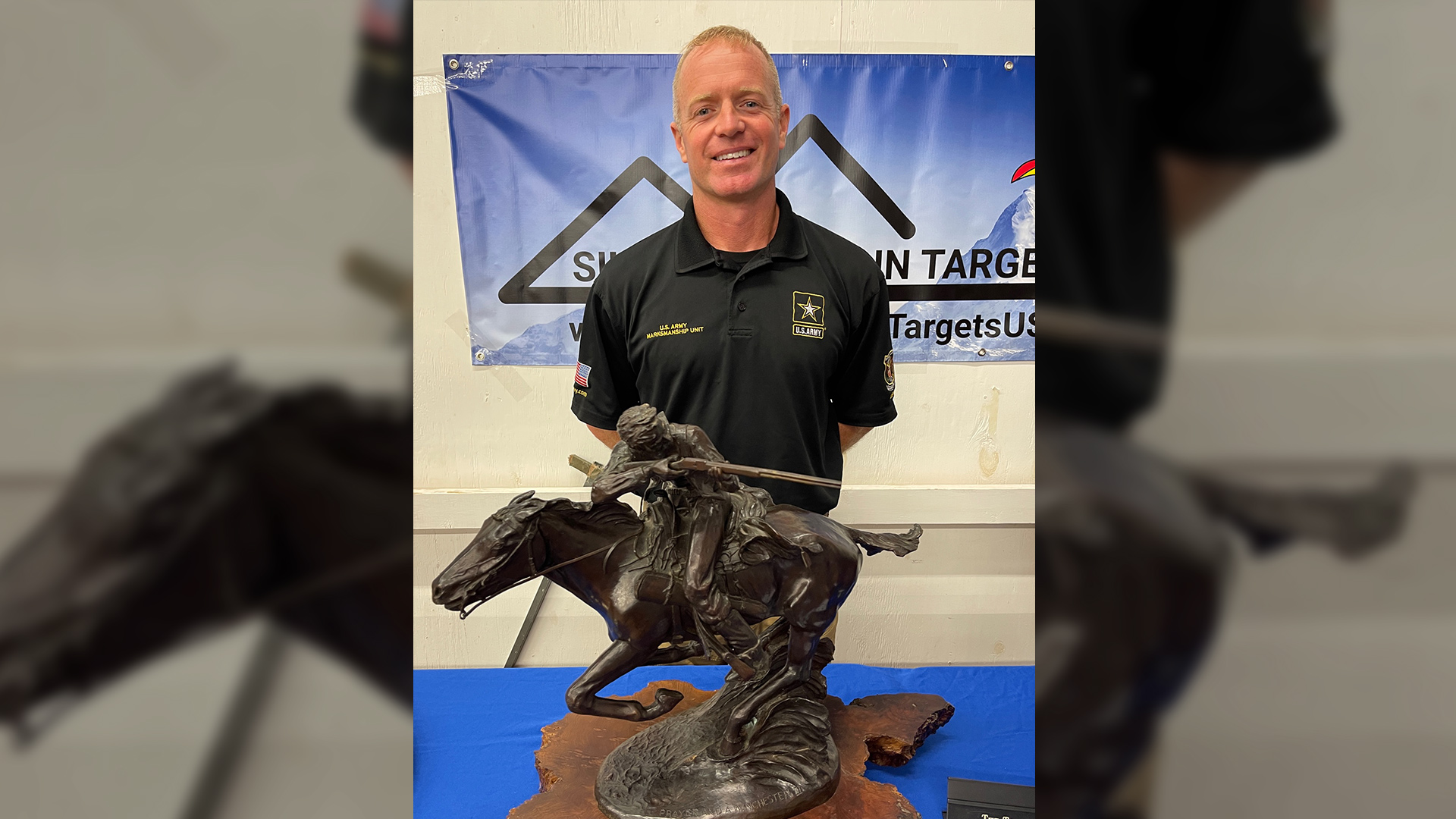 With a score of 1241-62X, the High Power Long-Range Championship runner-up was Green's AMU teammate, Staff Sgt. Benjamin Cleland of Swanton, Ohio. Third place went to an Army National Guard competitor, Staff Sgt. John Coggshall of East Hampton, Conn., who was a single point behind Cleland with 1240-64X.
As for the category awards, the Army National Guard's Staff Sgt. Amanda Elsenboss of Woodbury, Conn., secured the High Woman title with a score of 1232-57X. The High Service award went to another Army National Guard competitor, Maj. Samuel Freeman of Hendersonville, N.C., with 1196-40X. The High Military Veteran award went to Robert Gustin of Prescott, Ariz., with a score of 1235-59X. Finally, in Palma Rifle, the top shot was last year's champion, Oliver Milanovic of Gilbert, Ariz., with 1236-67X.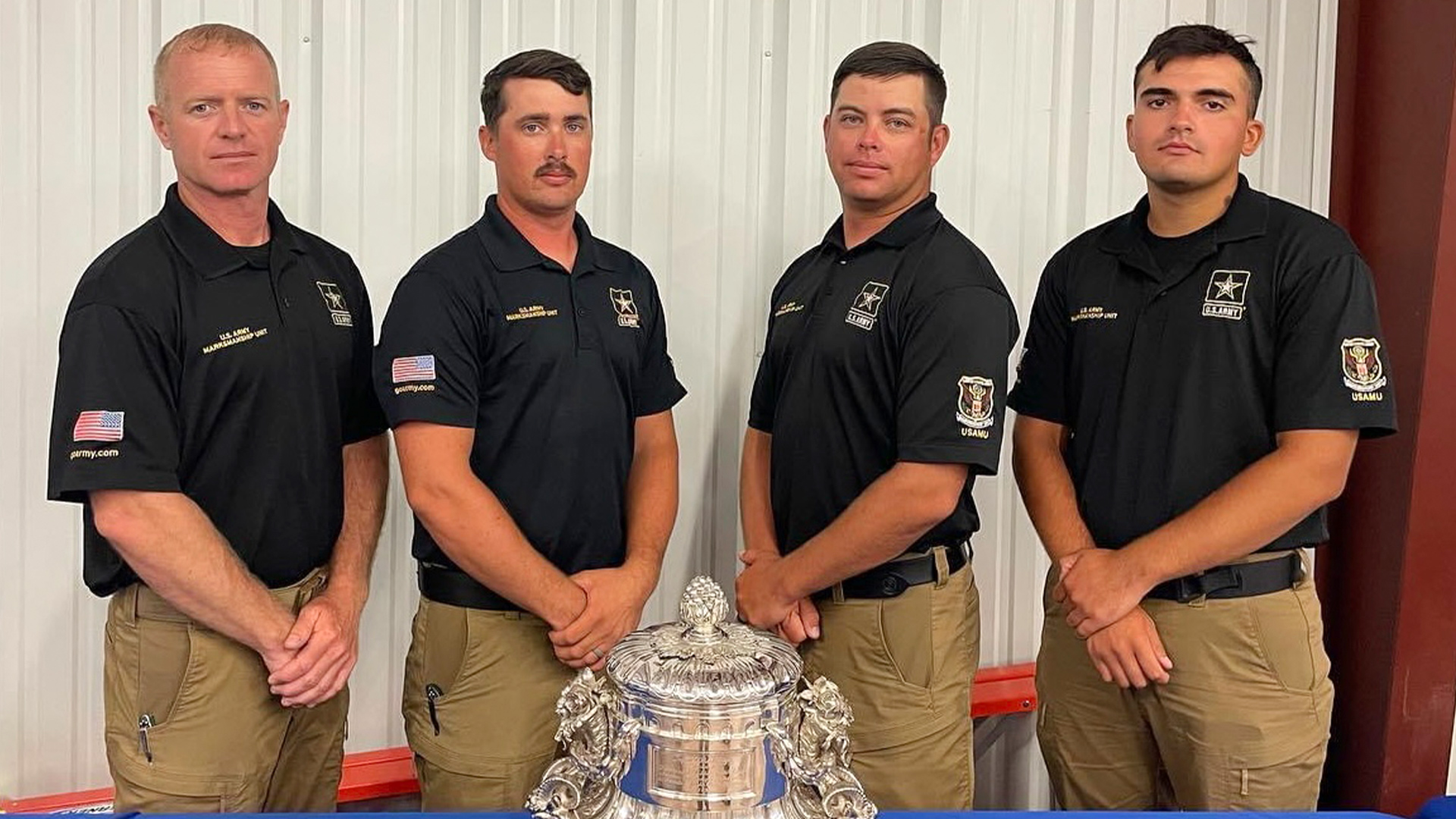 In addition, the U.S. Army Marksmanship Unit "USAMU Cleland" team won the Roumanian Trophy Match with a score of 798-49X. Green was a firing member and coach, along with teammates Pvt. 1st Class Zevin Linse, Staff Sgt. Benjamin Cleland (team captain) and Staff Sgt. David Bahten. By a six-X margin, Green earned the high score for the team with 200-17X.
As for the Canadian Cup, Green was the winner of with 799-51X, followed by Coggshall with 797-43X. While the military garnered the top two places for this trophy, civilian competitor Phillip Crowe of Cullman, Ala., finished third with a score of 794-39X. Kim Rowe of Wadsworth, Ohio, was the High Woman shooter in the Canadian Cup with 788-32X. (Rowe was also High Woman at the NRA Mid-Range Nationals.)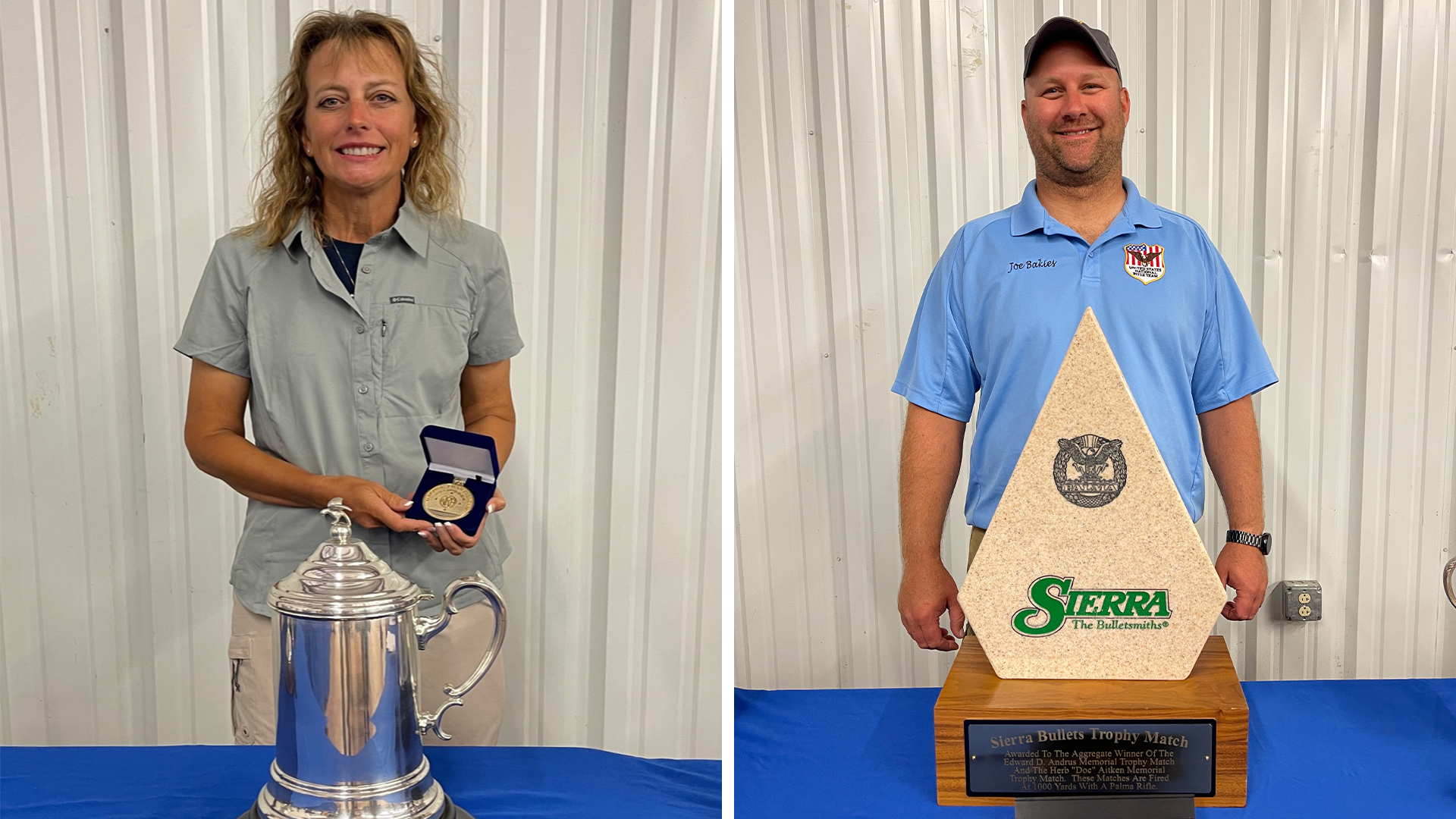 In the Wimbledon Cup, two civilians finished behind Green and his score of 200-14X—runner-up Robert Gustin with 200-13X and Phillip Crowe in third with 200-12X.
Vincent Sferrazza of Willow Spring, N.C., was the top shot in the individual Palma Rifle competition with a score of 450-27X. One point behind him in second place with 449-25X was Robert Gustin. In third place for Palma Rifle finishing with 448-29X was Benjamin Lucchesi of Reno, Nevada.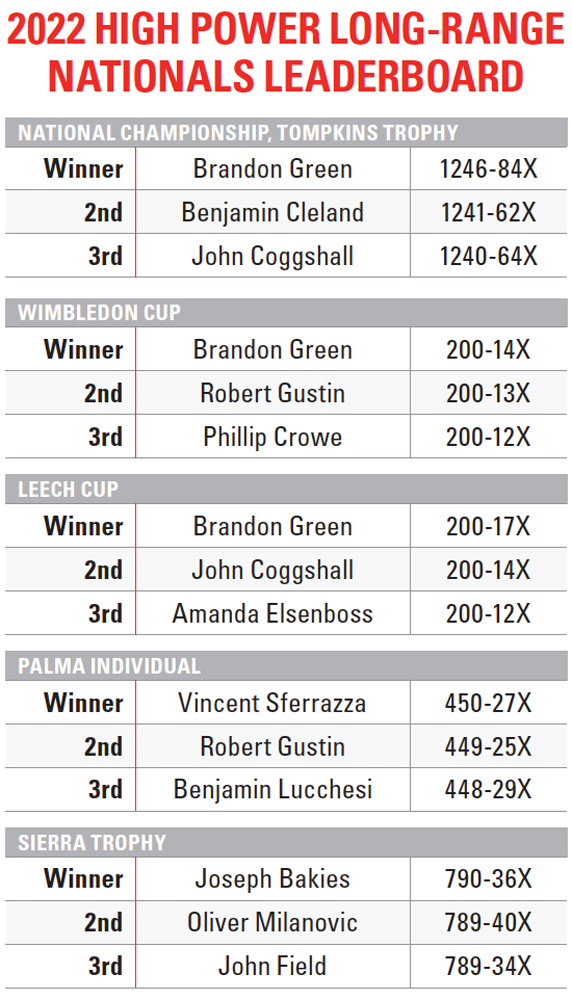 SMALLBORE 3-POSITION
Conducted on the covered rifle and pistol range at Camp Atterbury from July 25-29, the 2022 NRA Smallbore Conventional 3-Position Championship is an aggregate of the Conventional 3-Position and Metric 3-Position Championships.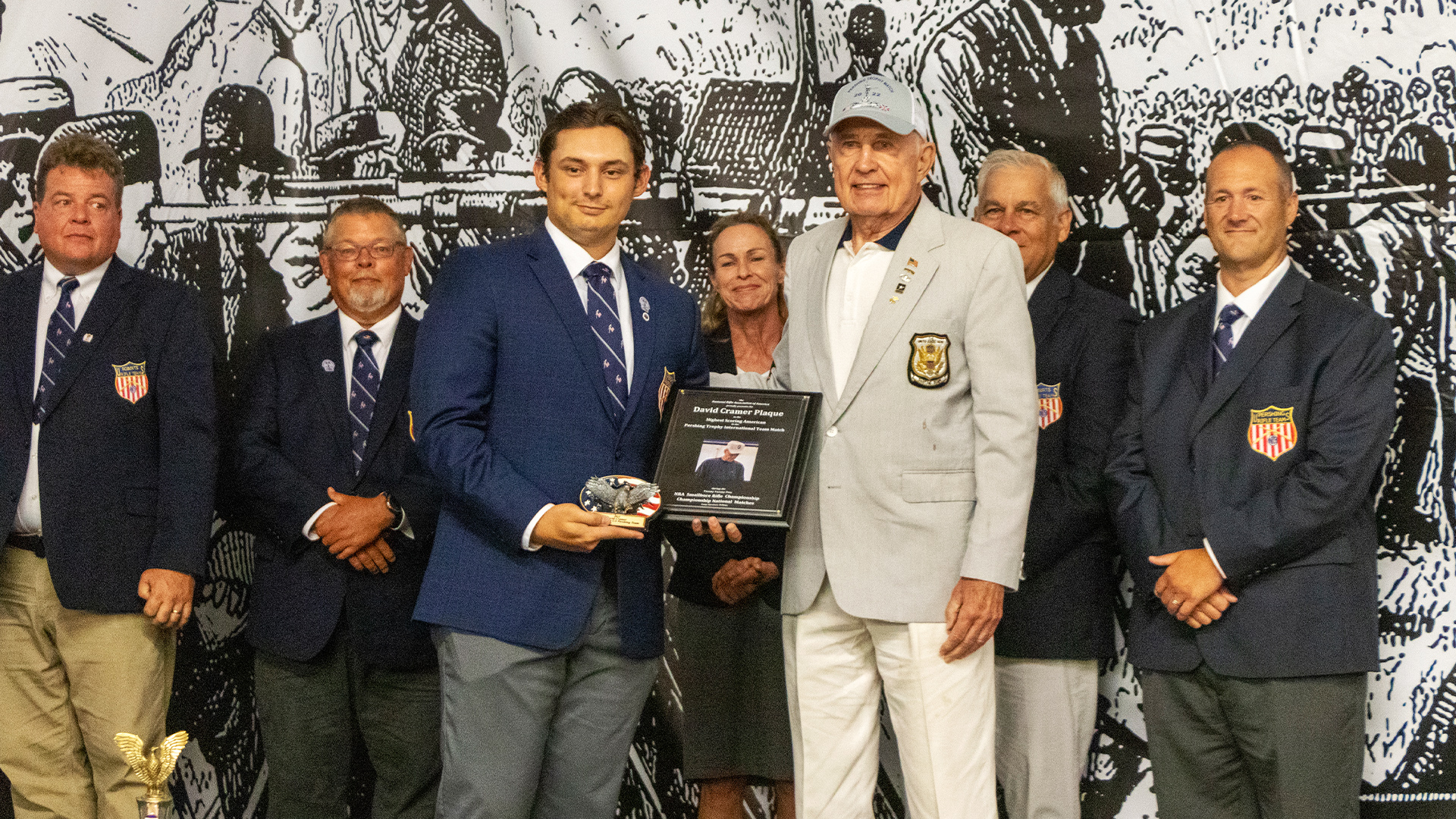 With a final score of 4676-273X, Richard Clark of Jackson, Mich., is this year's NRA Smallbore 3-Position National Champion. Clark's winning score in Conventional was 2392-191X, and in Metric he was the runner-up with a score of 2284-82X. For his 3-Position aggregate victory, Clark received a championship medal and $200 check. The 2022 NRA Smallbore 3-Position runner-up was Griffin Lake of Emmaus, Pa., with a score of 4675-235X. In third place was Peter Fiori of Lebanon, N.J., who finished the match with 4646-223X.
SMALLBORE PRONE
The 2022 NRA Smallbore Conventional Prone National Championship was held July 30 to August 5, followed by the Metric Prone National Championship, which concluded August 7.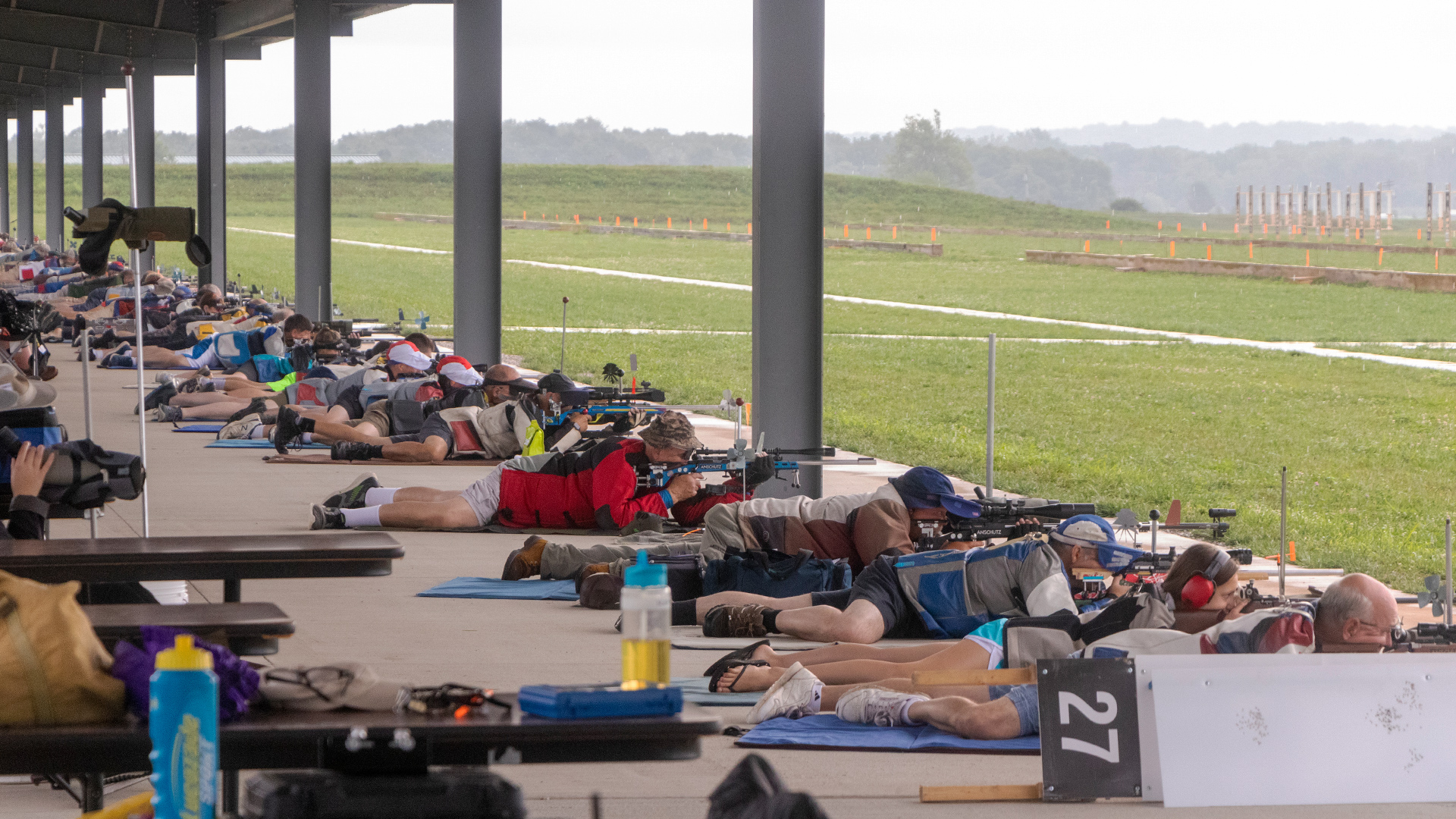 After a close competition, Mark Del Cotto's score of 6385-495X gave him the NRA Smallbore Rifle Conventional Prone title. Hailing from Lexington, Ky., Del Cotto's score also garnered him the High Civilian and High Intermediate Senior awards. Hot on his heels and one point behind Del Cotto with 6384-498X was runner-up Kevin Nevius of Gibsonburg, Ohio.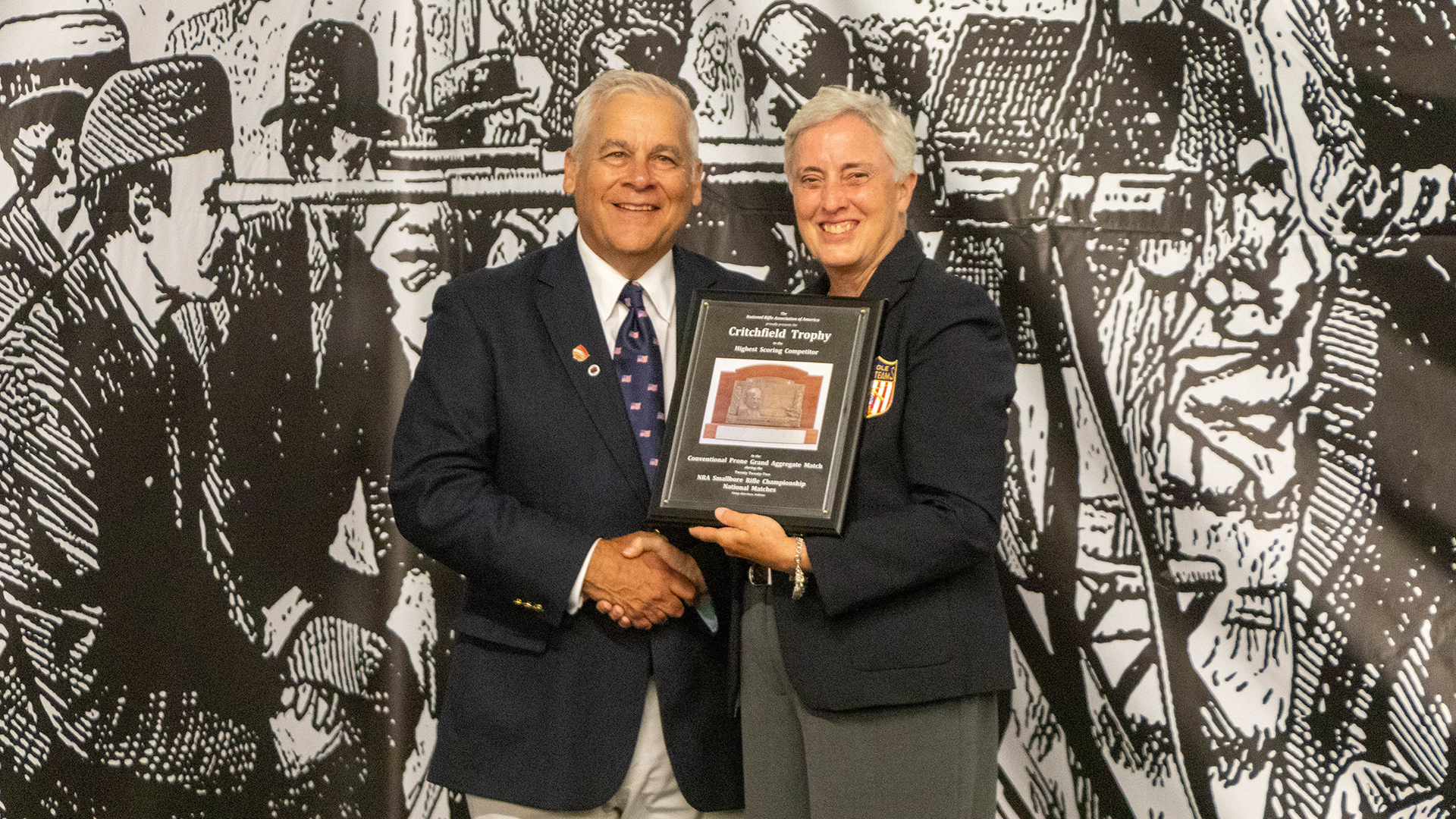 Taking third place a point behind Nevius with 6383-506X was a British competitor, Simon Green of Altrincham, Greater Manchester, England. Green was a member of the U.K. National Smallbore Rifle Association team that traveled to Camp Atterbury this year to represent Great Britain in the historic Pershing International Trophy Match against the United States. About Camp Atterbury, he said it's "an excellent facility, and I hope return to compete here in the future."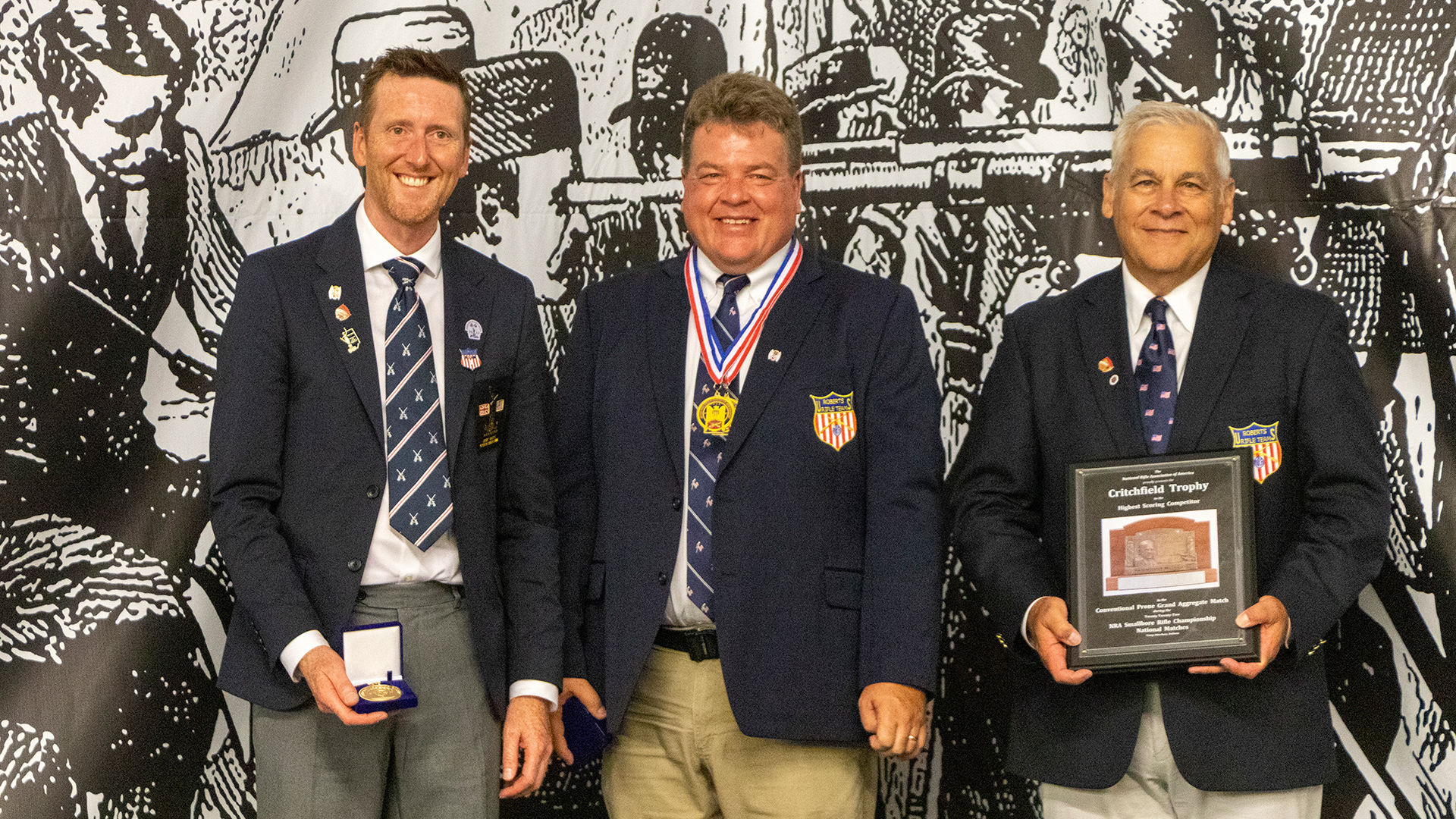 The High Woman award at the NRA Smallbore Conventional Prone Nationals, along with the High Military Veteran title, went to Deena Wigger-McDormand of Colorado Springs, Colo., with a score of 6379-459X. As for the other category awards, Stephen Angeli of Hershey, Pa., earned High Senior with 6381-460X, while Richard Clark was the High Collegiate competitor with a score of 6376-452X.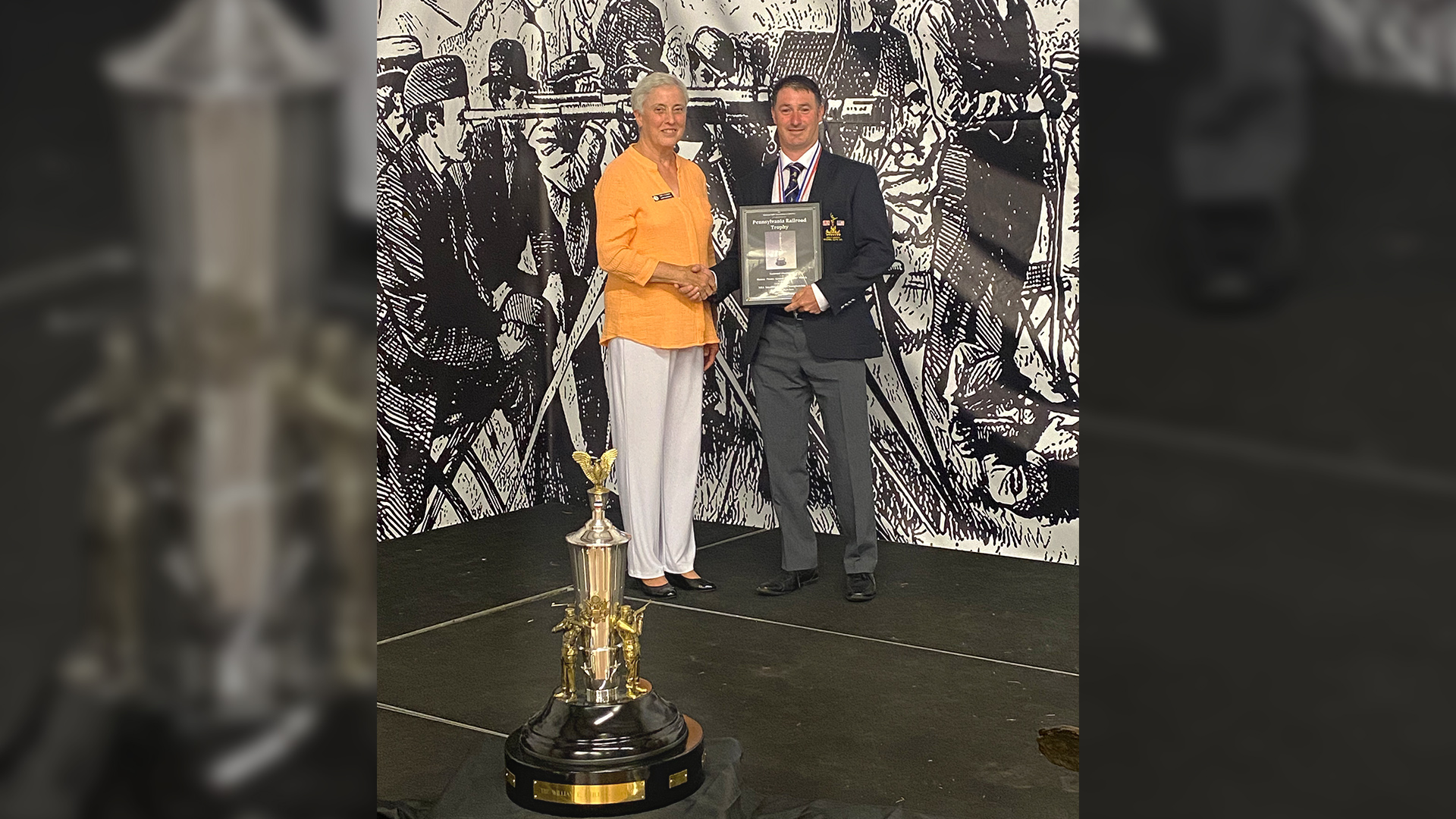 To determine the NRA Smallbore Prone National Champion, the Conventional Prone and Metric Prone National Championship grand aggregates are combined. With a score of 8727-565X, this year's winner, as well as High Civilian, was Leonard Thomson of Banff, Aberdeenshire, Scotland. Additionally, with a score of 2348-106X, Thomson secured the 2022 NRA Metric Prone Championship title. The runner-up, along with High Intermediate Senior, was Howard Pitts of Taft, Tenn., with a score of 8723-602X. Finishing in third place at this year's NRA Smallbore Prone aggregate was Steven Angeli scoring 8712-571X. His score also netted him the High Senior award.
LONES WIGGER IRON MAN TROPHY
The 2022 NRA Smallbore Rifle Nationals closed with the awarding of the Lones Wigger Iron Man Trophy, given to the high score in the combined NRA Smallbore Rifle 3-Position and Prone aggregates. This year's Iron Man Trophy was awarded to a familiar name—Richard Clark, who walked away from the grueling two-week-long competition with a final score of 13387-840X.
His Iron Man victory continued a string of victories for Clark in 2022, who earlier this year with the Kentucky rifle team helped the Wildcats earn a second consecutive NCAA rifle championship. NRA National Matches fans will also remember last summer at Camp Atterbury when Clark posted a new National Record during the Smallbore 3-Position Nationals.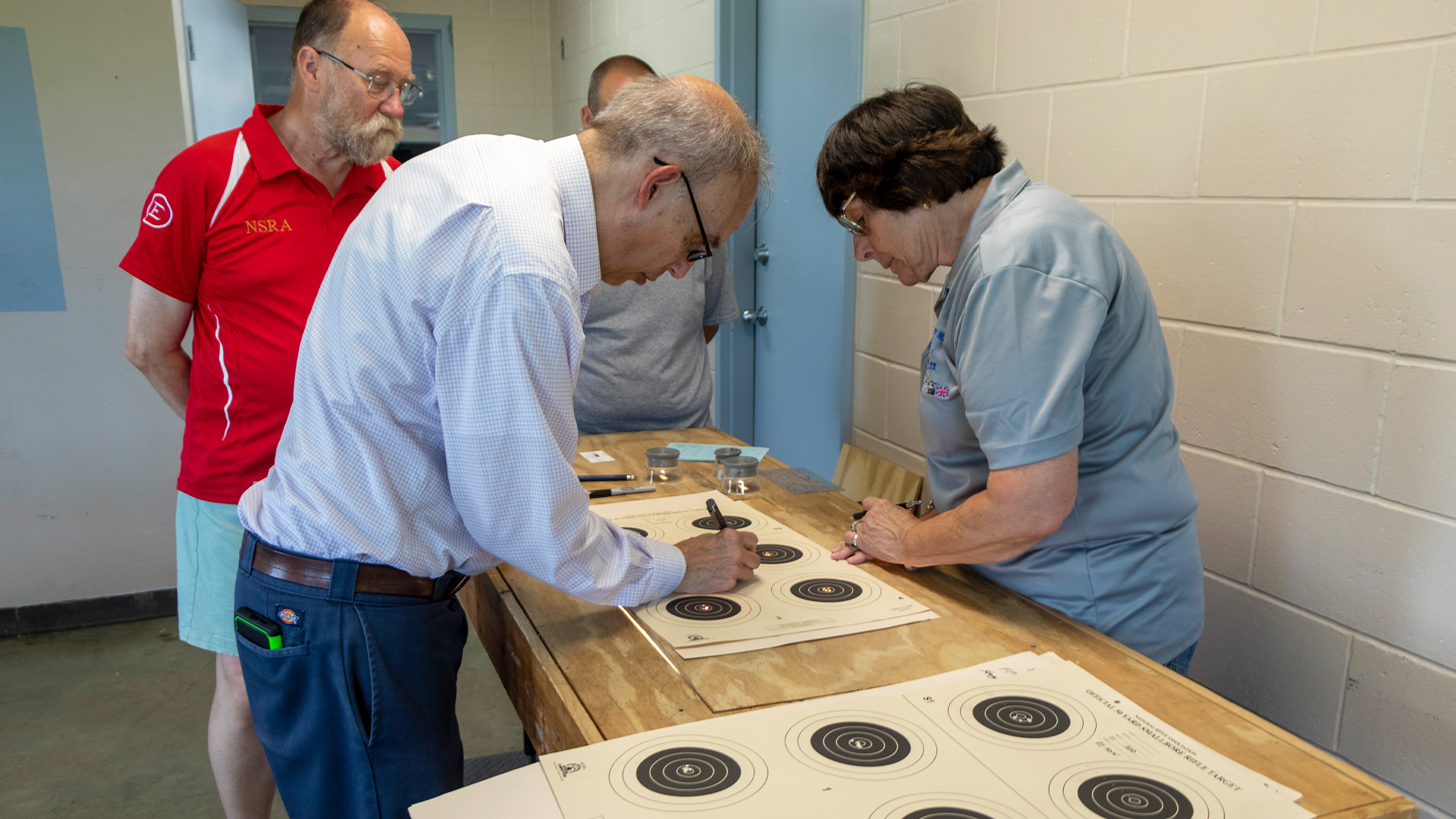 "A big part of coming to Camp Atterbury this year for me was to compete for the NRA Iron Man Trophy," said Clark. "It's an award named after Lones Wigger, a legendary rifle shooter that I've always admired. I've always wanted to shoot this competition. My goal was to compete for the Iron Man and win. And, it was great to be at Camp Atterbury this summer and catch up with friends."
Something to note—there were 116 entries in the 2022 NRA Smallbore Rifle Iron Man grand aggregate, which is 26 percent more than last year's 89 entries.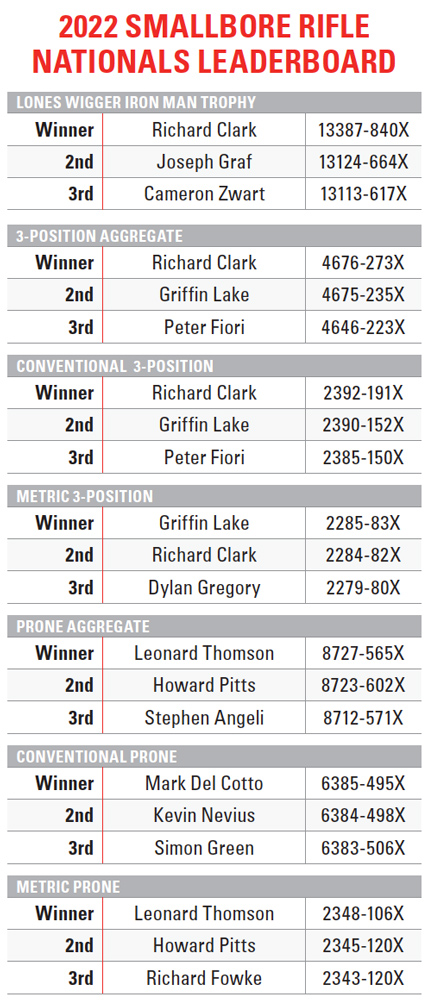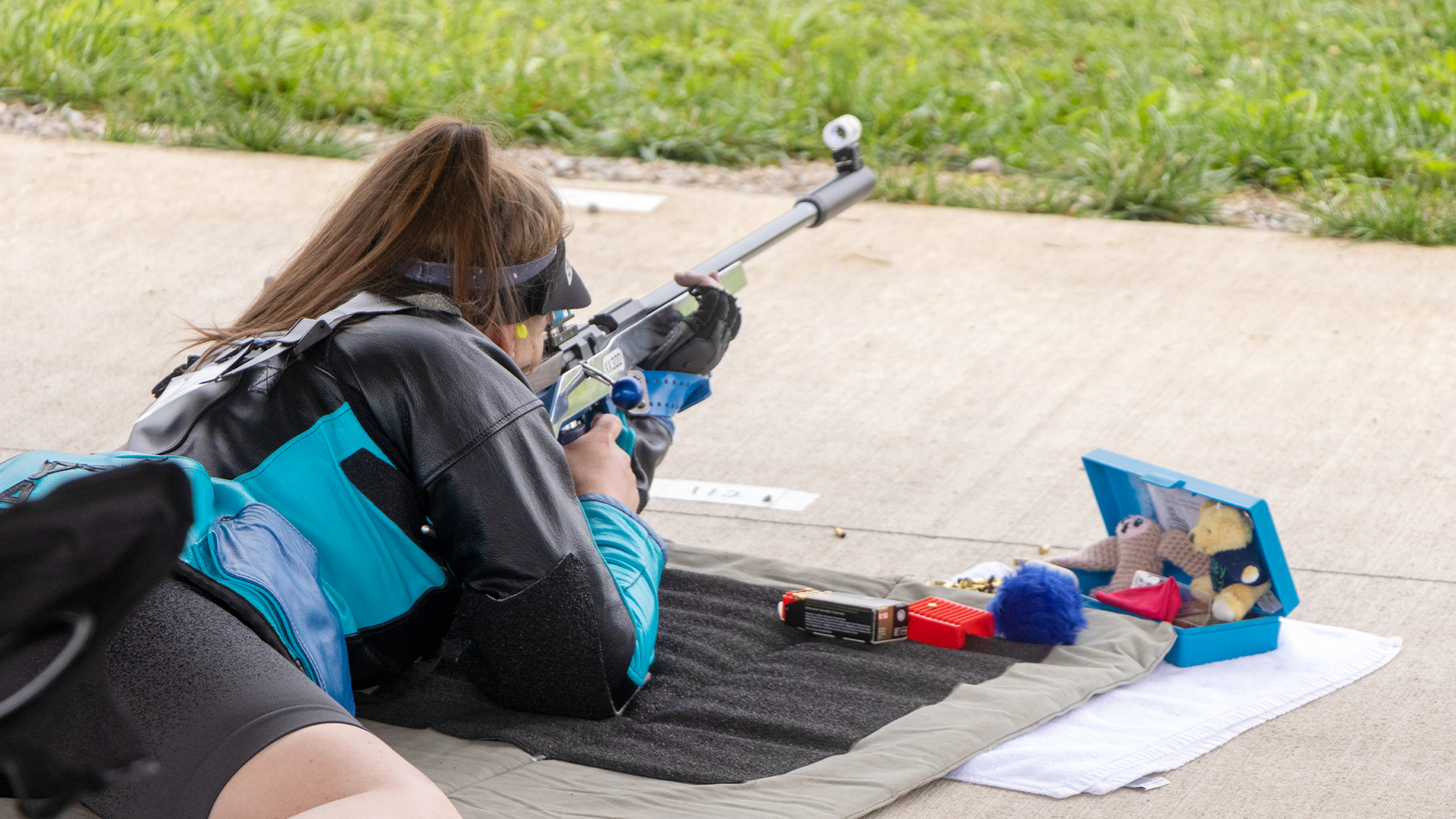 SMALLBORE F-CLASS
James Murphy of Owensboro, Ky., is the 2022 NRA Smallbore F-Class Conventional Prone national champion with a score of 6352-467X. This growing discipline under the Smallbore rules allows competitors to use a bipod and an optic.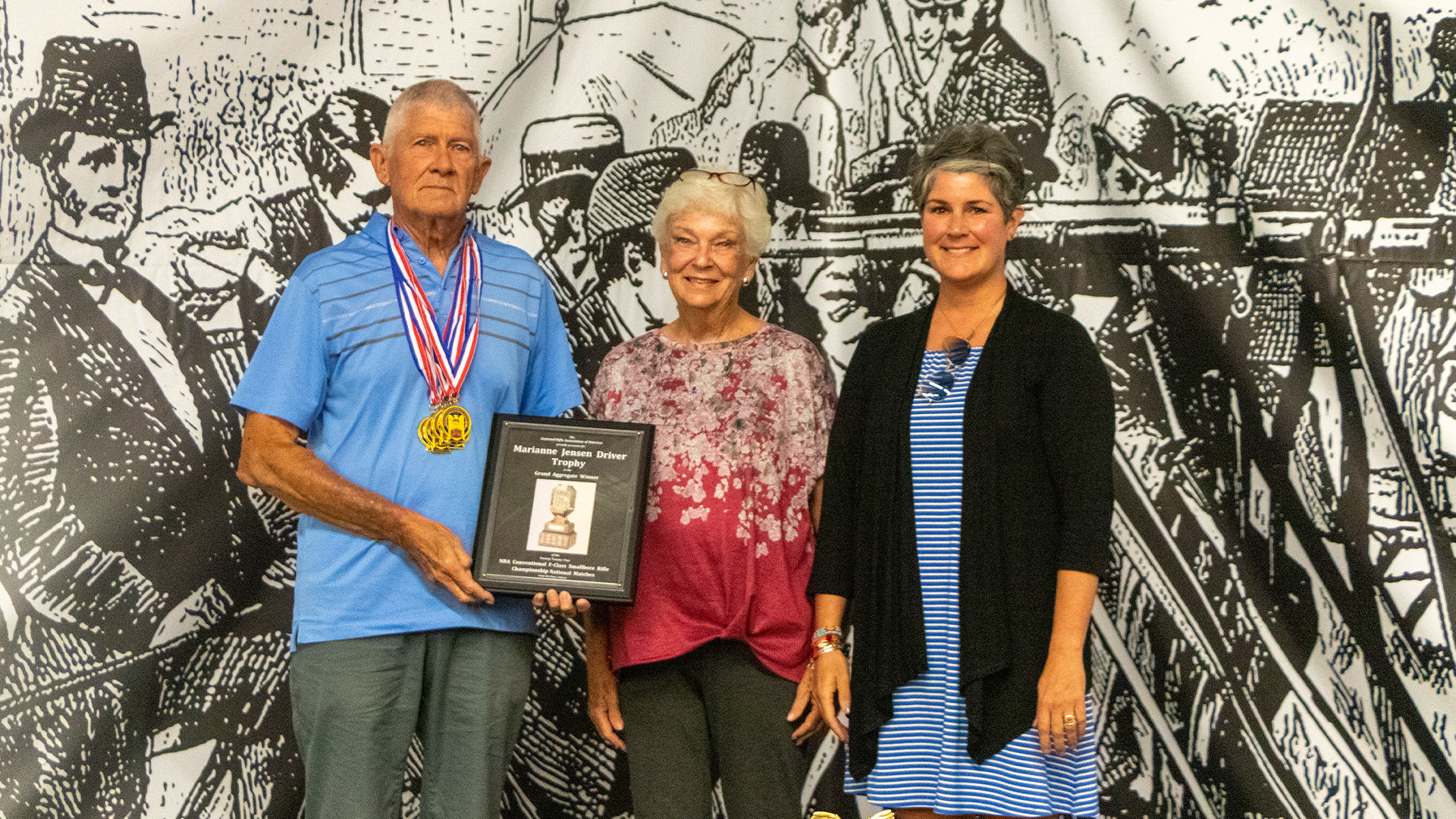 See the full results of the 2022 NRA National Matches at competitions.nra.org.