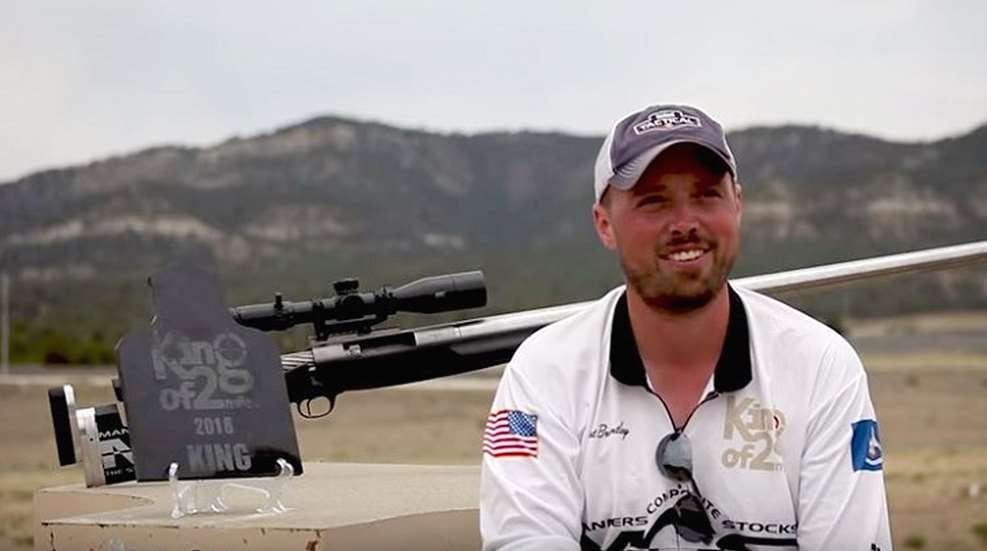 When Robert Brantley won the 2018
King of 2 Miles (KO2M)
match earlier this year, he was using a
.416 Barrett
rifle, and the
Bushnell
Elite Tactical XRS II 4.5-30x50 mm scope with G3 reticle, mounted with a Badger UniMount. The bullets were 500-grain ones from Cutting Edge, fired from a rifle that can best be described as a gargantuan, 44-pound hulk meant to ring steel at distances measured in thousands of yards. His rifle featured a 39-inch K&P barrel with McMillan action, and a Manners Long Range Tactical stock.
The KO2M match is the premier extreme
long range
match held in the United States annually at the
NRA Whittington Center
near Raton, NM. The two-day match has shooters working as a
3-person teams
, comprised of one shooter, and up to two wind coaches and spotters. This year, teams were engaging steel targets out to 3525 yards.
Brantley outscored the talented field of 62 competitors, finishing with a score of 85178. Match conditions were overcast and windy, not the best for an extreme long range competition.
Nevertheless, Brantley was one of only three shooters able to hit the 3525-yard plate at least once in the five shots allowed. He was able to dial his elevation adjustment on the Bushnell XRS II for all of his targets except the final, 2-mile plate. And on that target, Brantley held 8 mils of additional elevation. In total, he held 35 mils up from his 1000-yard zero. 
"While I was the only competitor using a Bushnell scope, I think this will surely change next year," said Brantley.


Brantley set a new KO2M qualifying round record, missing just one shot on Target 4. He was perfect on the first three targets. For qualification, shooters fired at steel rectangles in stages, with distances getting farther each round.
The KO2M finals round has five shots per target, in three stages. The first stage is 2727 yards, shooting at a 33x41-inch steel rectangle. Next is 3166 yards at a 42x54-inch steel rectangle. The final stage, at 3525 yards, had by far the largest target, a 48x60-inch rectangle.
View the full 2018 King of 2 Miles results here.