Above: Team Aguila's Chris Cerino shooting a rimfire stage.

The 2018 Aguila Cup at the Fossil Pointe Sporting Grounds in Decatur, TX, boasted 400 shooters that attended the three-day match. The match was conducted by Aguila Ammo for the first time in the United States, as a spin-off of the Copa Aguila event held in Mexico. The match was truly a multi-discipline event, with stages ranging from Sporting Clays, to Rimfire Challenge and 3-Gun. The total prize purse was $65,000.

The match had a big incentive meant to encourage shooters to try out unfamiliar disciplines. Among the total $65,000 in prizes at the Aguila Cup this year was the "Triple Threat" prize pack, awarded to the shooter with the highest score competing in three of the disciplines offered at the match: Five-Stand, 3-Gun and Rimfire. Shooters needed at least 100 points in each of the three to qualify. The first place "Triple Threat" prize pack included a $5,000 cash payout.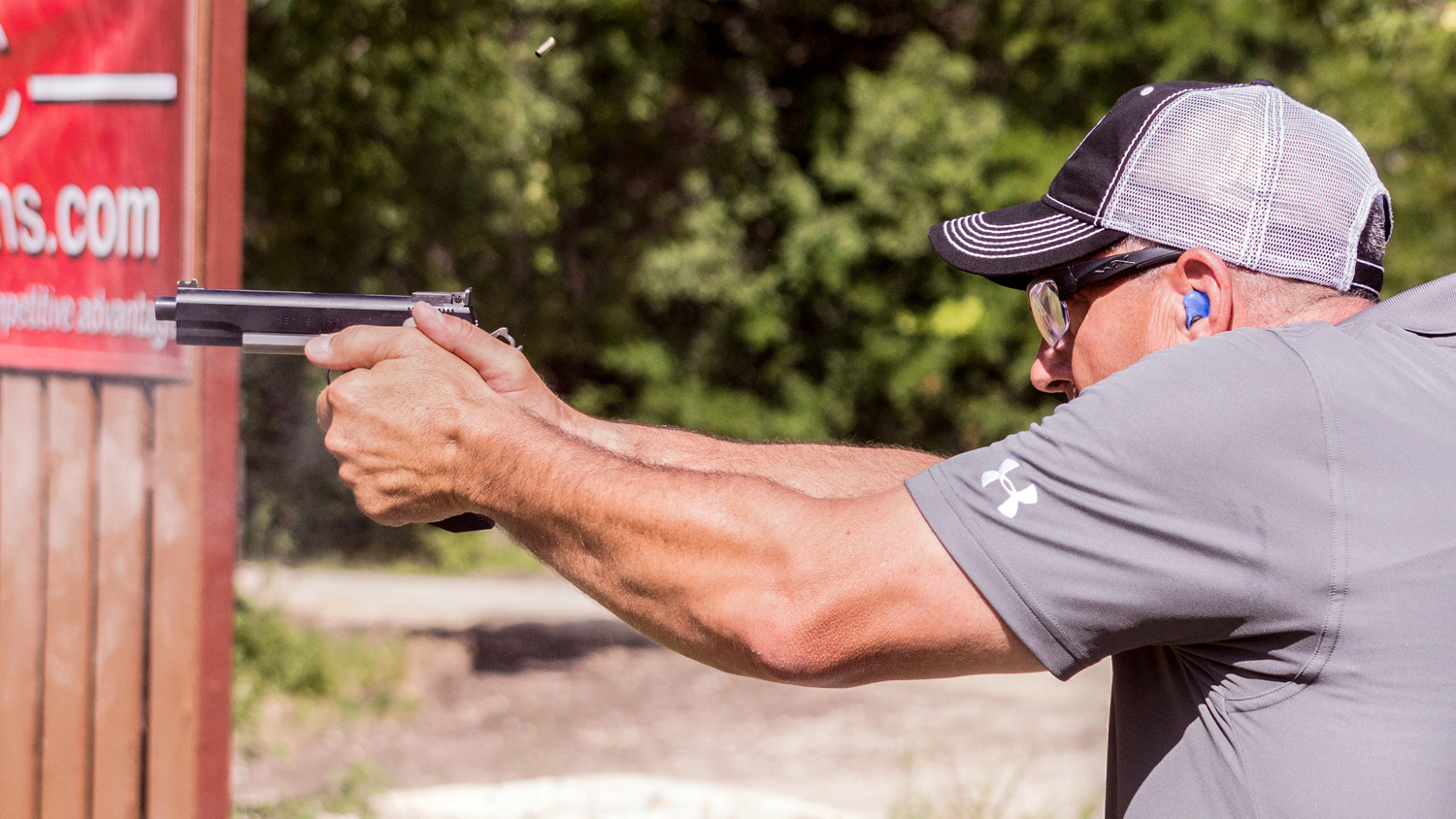 About the Match
The tournament ran from June 14-17, and since it featured a diverse mix of shooting disciplines; such as Sporting Clays, Five-Stand, FITASC, 3-Gun, and 
Rimfire 
Challenge, shooters were encouraged to try out new disciplines they haven't tried before. One night at the Aguila Cup, there was even a Texas-sized BBQ with all the trimmings, which preceded a concert with the band A Thousand Horses.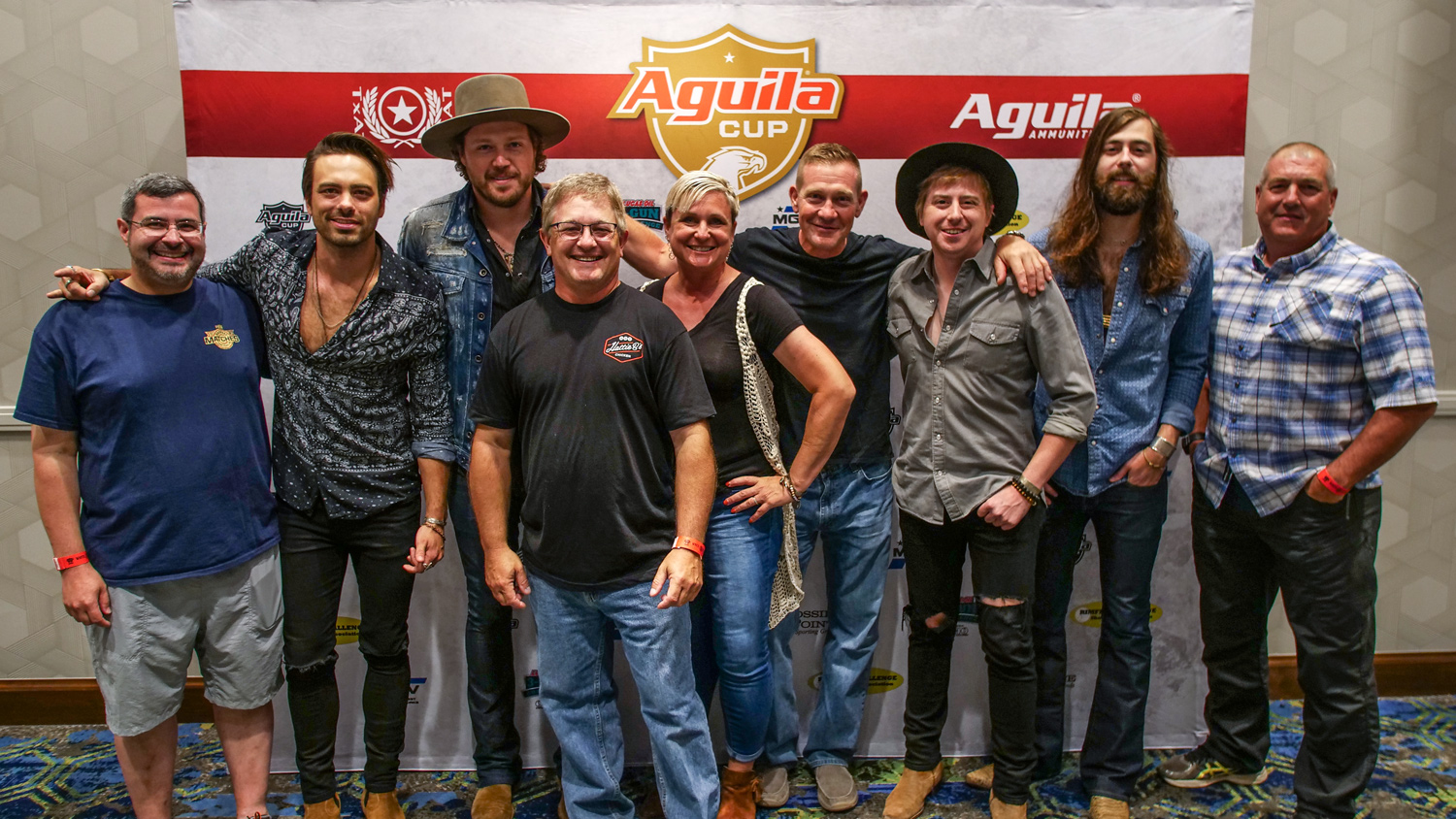 I was squadded with
SSUSA
authors and dynamic husband-and-wife competitive shooting duo
Chris and Michelle Cerino
, along with
Mark Redl
of
Colt Firearms
, and also Eric Poole, the editor of
Guns & Ammo
magazine (and an
NRA Publications
alumnus). It was undoubtedly the most fun group of shooters that I'd been squadded with in many years. Both the Cerinos and Mr. Redl are
Team Aguila shooters
.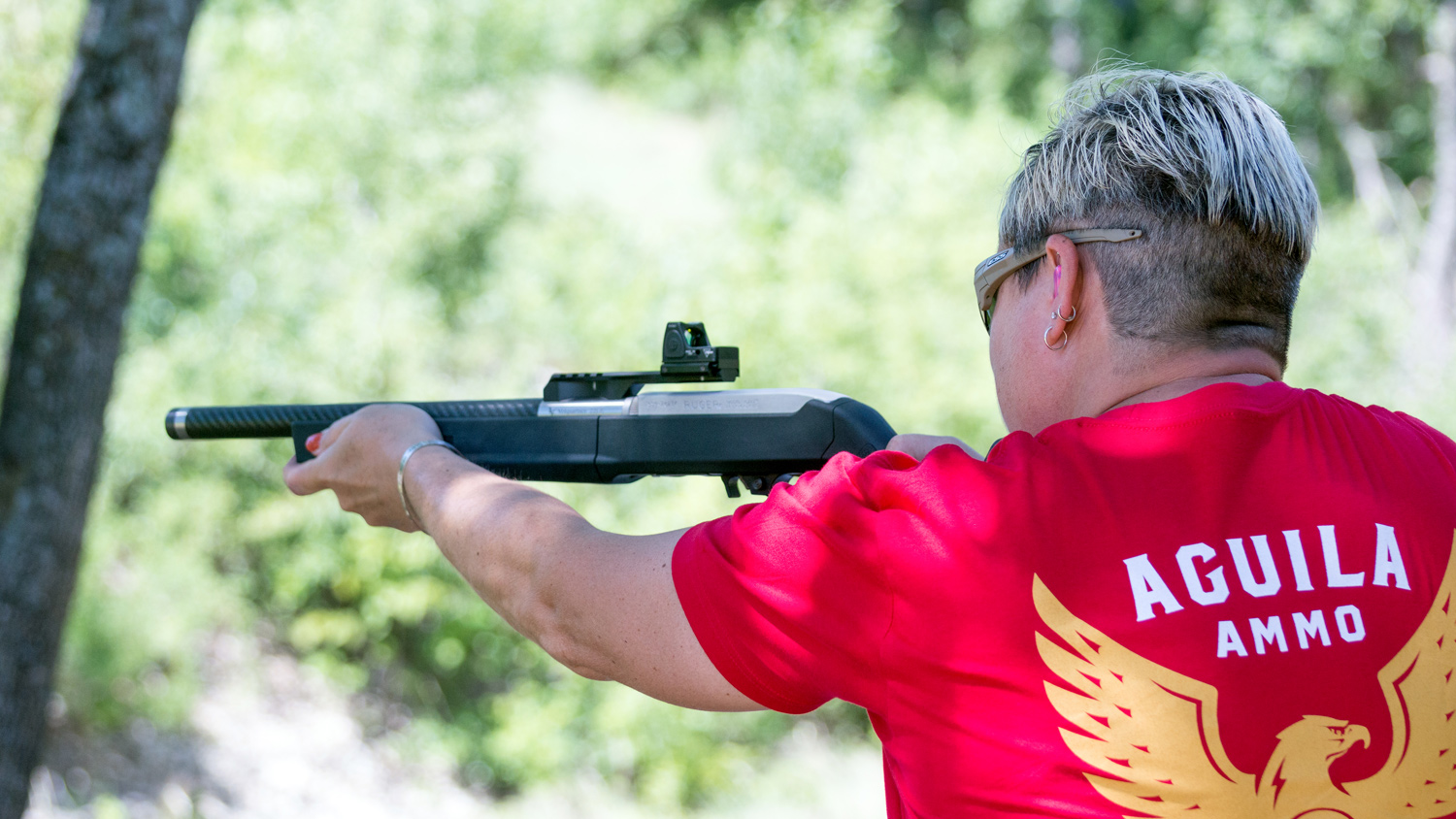 "We are so proud of all the Aguila Cup shooters and are humbled by the outpouring of support and camaraderie we saw [at the Cup]," said Kristi Heuring, director of marketing for Aguila. Heuring was also the 2018 Aguila Cup tournament director.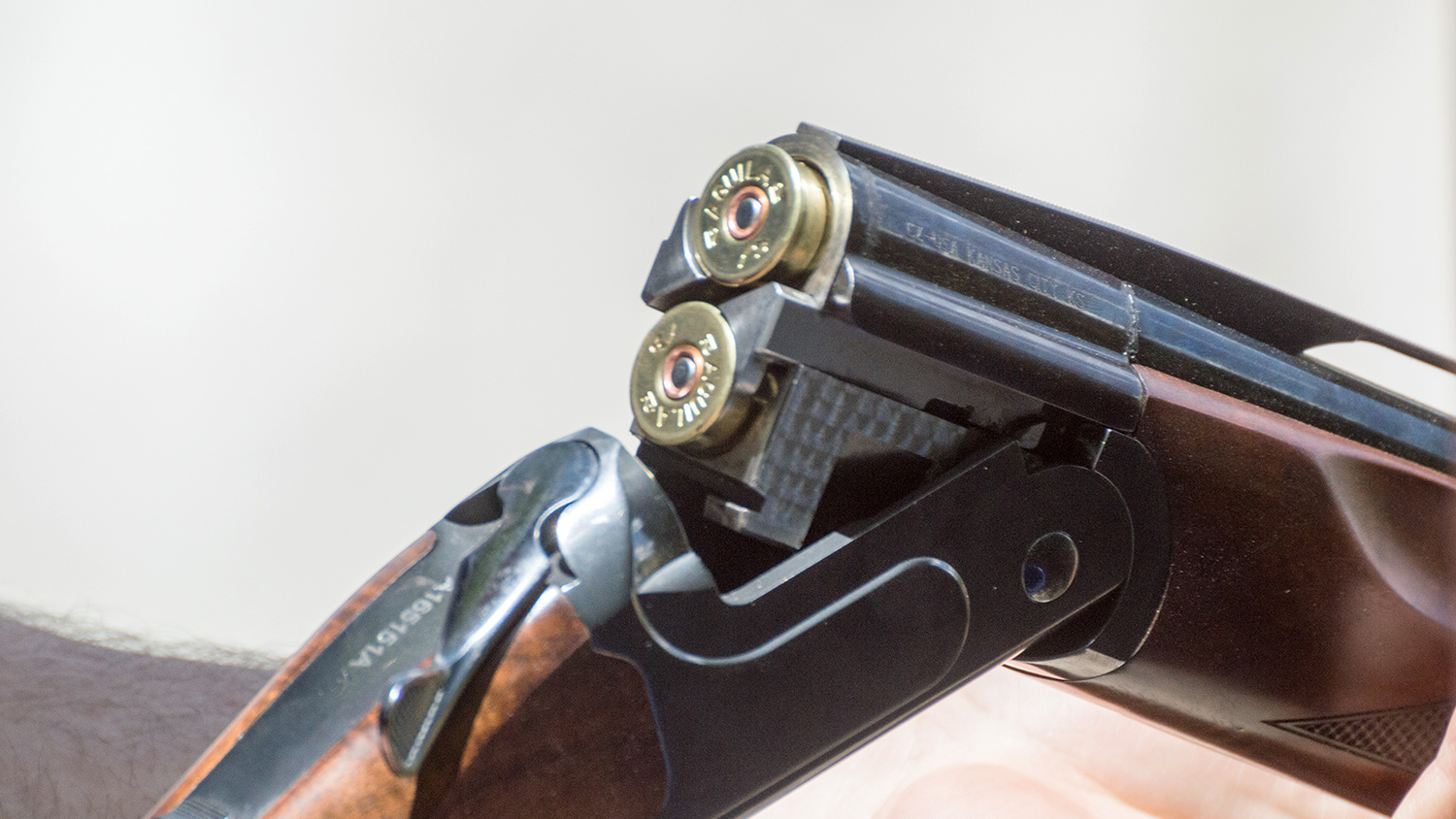 She added, "We wanted to host a family-friendly shooting event that highlighted the positive attributes and fun nature of our shooting sports. The caliber of sponsors, shooters and families that joined us in doing that is truly gratifying."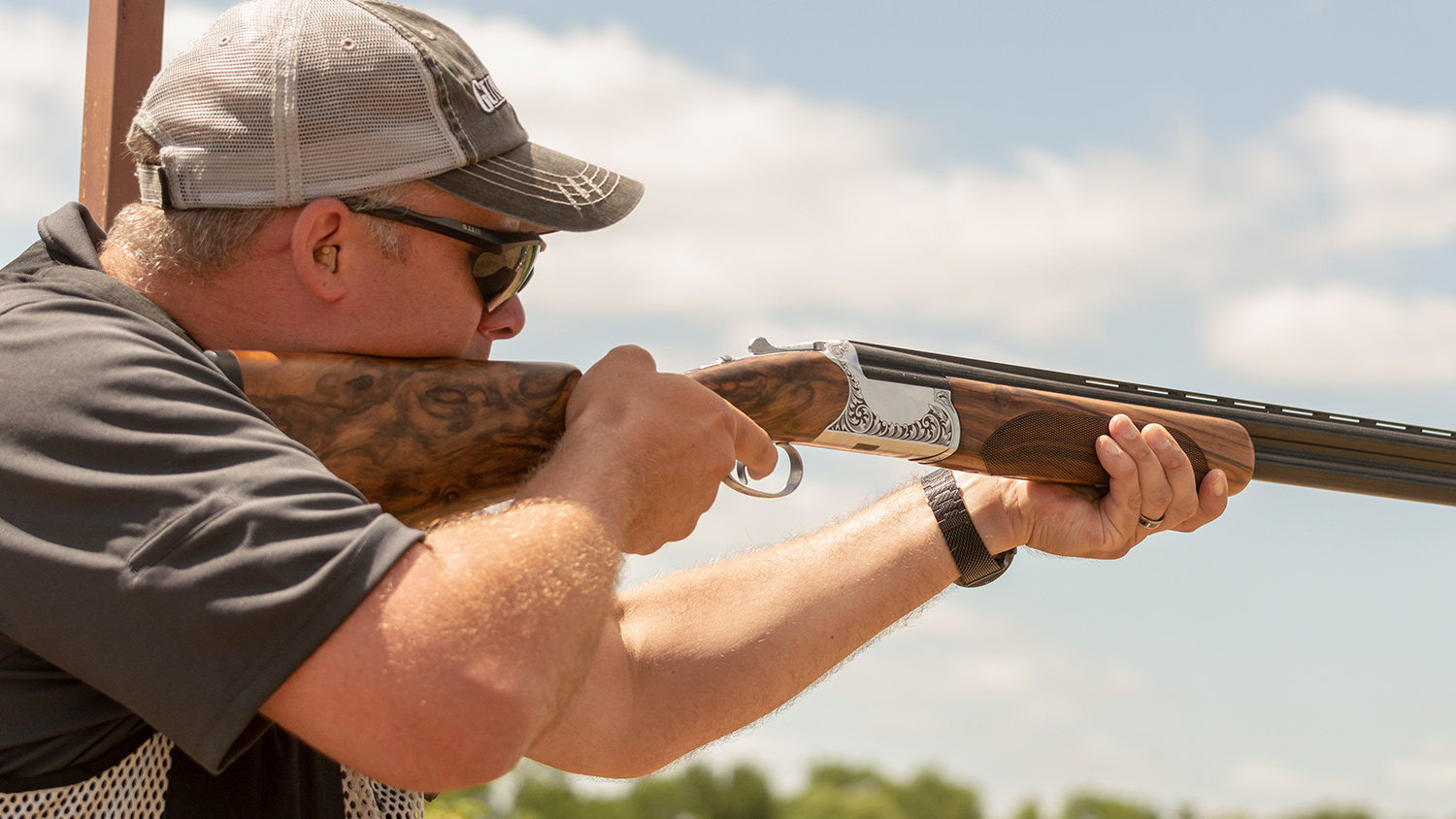 Fifteen year old competitor Jacob Gardner of Houston, TX, was squadded with me for the Five-Stand event. He told me he first started shooting competitive shotgun at 4-H and NSCA matches in 2015. Sporting a big grin, Gardner shared his thoughts with me about the tournament, while we enjoyed some shade (via his ATV) from the hot Texas sun during a break from crushing clay birds.
"I decided to come to the Aguila Cup because it's a big tournament, with great people that have a great attitude," said Gardner. "It's been a lot of fun, I'll definitely be back next year. Everyone here is in a good mood."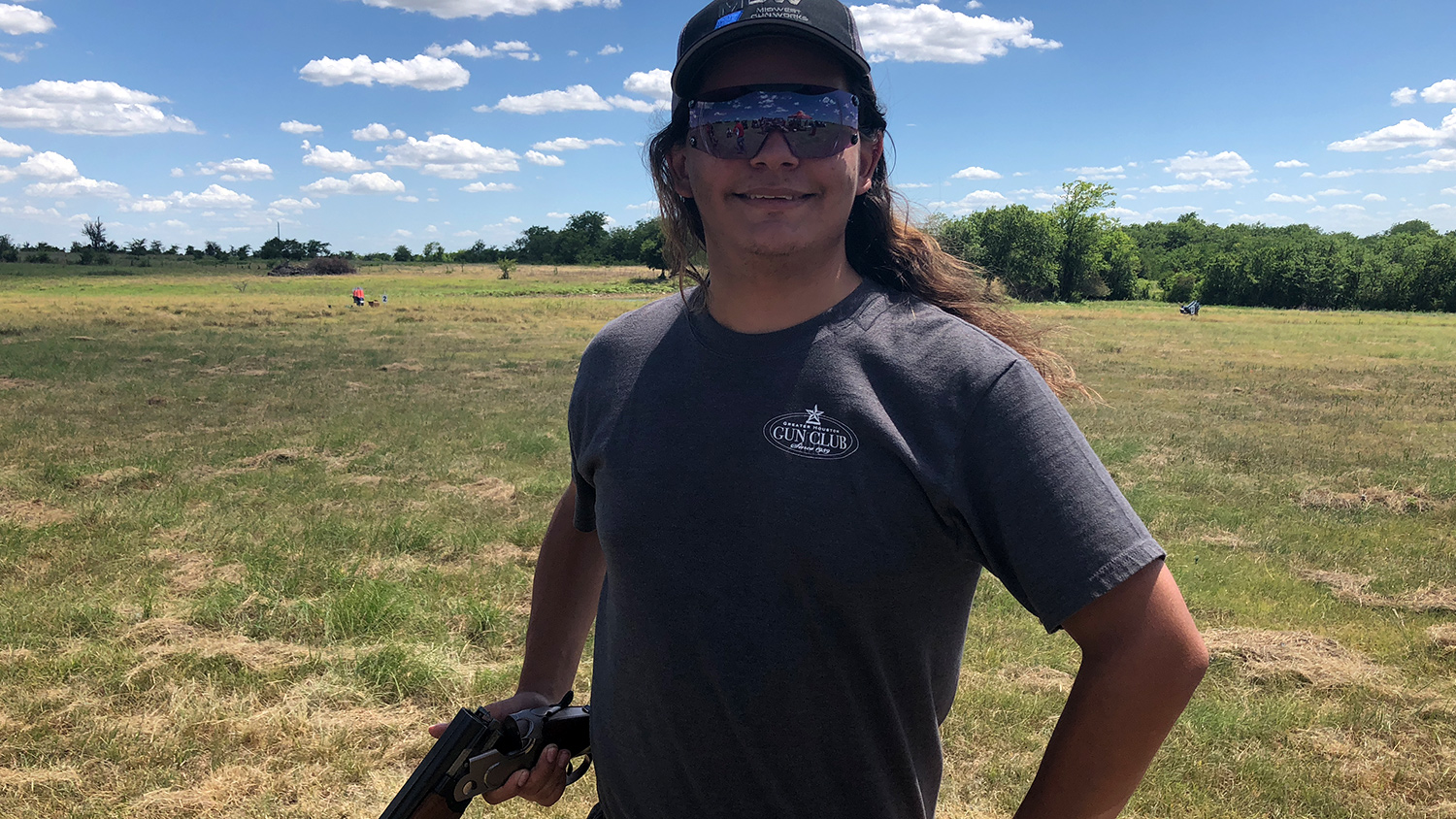 His sentiments echoed what many shooters had expressed to me about the laid-back, yet fun and competitive nature of this special match. Especially planning to come back next year. The emphasis on fun at the Aguila Cup cannot be overstated.

Match Results
Gebben Miles won High Overall for the CZ-USA main event with a score of 197 out of 200. Additionally, Miles won the preliminary Sporting Clays event with a score of 99. Last but not least, Miles brought home the Blaser Five-Stand event with a high score of 88.

Rob Romero was named the Brownells Triple Threat winner, receiving the $5,000 cash prize. His three-event score was 254. The Triple Threat winner was determined by shooters' combined scores (based on time and points) in three match events: Rimfire Challenge, 3-Gun and Five-Stand.



Team Aguila 

shooter Corey Kruse was named High Overall for FITASC (an international form of Sporting Clays) with a two-day score of 96 out of 100.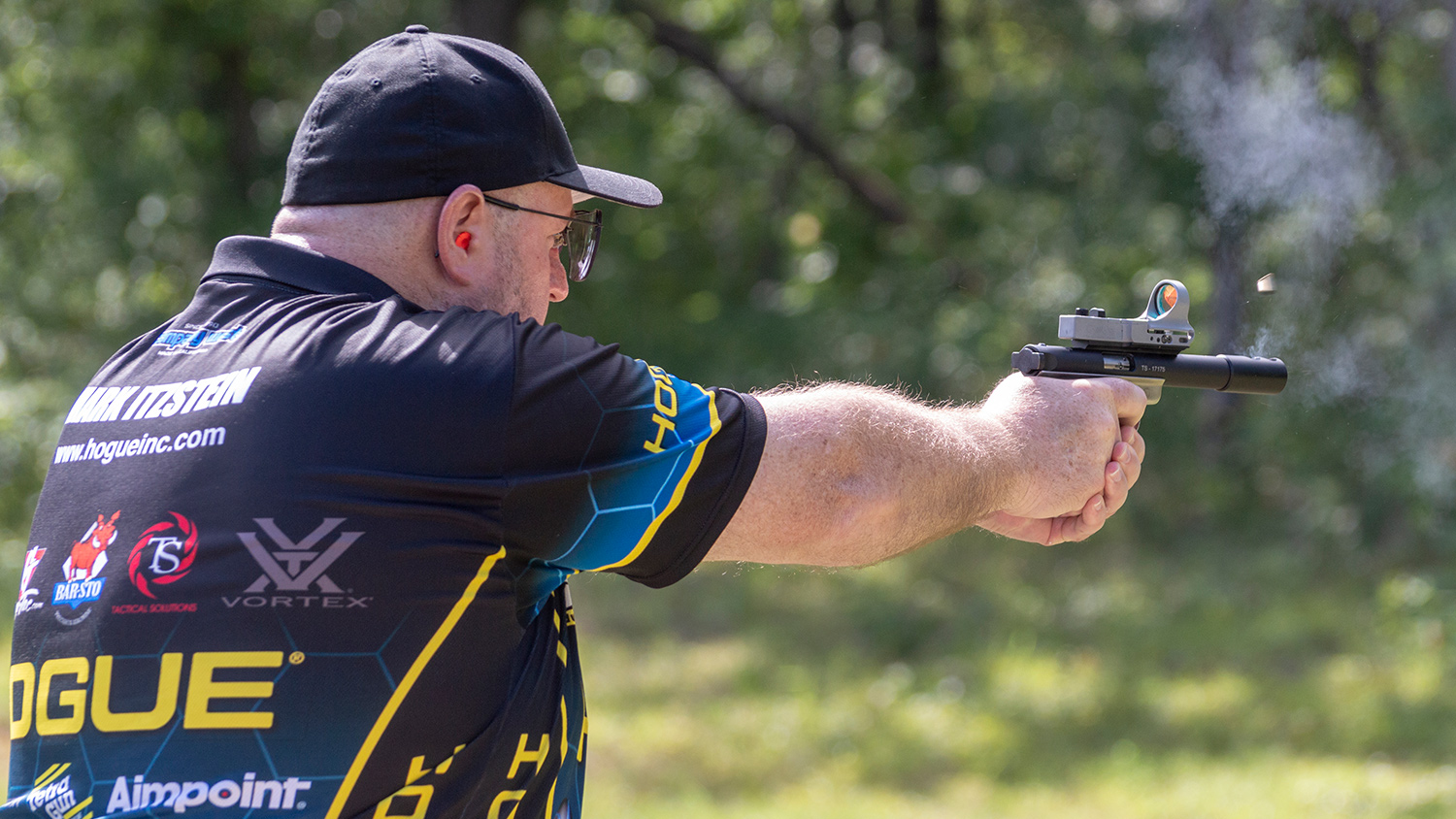 Other top finishers included Mark Itzstein, who's also an NRA Bianchi Cup action pistol 

shooter

, winning first place in the Rimfire Challenge open division with a time of 94.3. Jack Copeland brought home first place in the Rimfire Challenge limited division with a itime of 110 flat. The Rimfire Challenge had eight stages (four rifle, four pistol) in a course similar to other matches.

Keith Garcia placed first in the 3-Gun Challenge. The 3-Gun Challenge included three stages with the usual mix of pistol, rifle and shotgun shooting.


Fast Facts: 2018 Aguila Cup
For the past three years, TxAT and Aguila Ammunition have hosted the Copa Aguila in Mexico—the largest sport shooting event in Latin America. While the Copa Aguila will continue to be held in Guadalajara, Mexico, the Aguila Cup has been split off as a separate event.
CZ-USA generously donated 10 CZ 612 Target 12-gauge shotguns to be used as prizes for the top 10 finishers in Hunter Class for the main event. Hunter Class is used by the National Sporting Clays Association for new shooters who are not registered shooters with the organization. Guinness World Record holder Dave Miller and others from CZ-USA were competing at the match and also providing guidance to new shotgun shooters.
Aguila partnered with Lucas Oil and Rimfire Challenge staff to design the stages for the individual 3-Gun and Rimfire events. Noted Rimfire champion John Nagel was on hand to help with the design as well. Nagel was kind enough to share tips with shooters on how to shave seconds from their scores. 
The Five-Stand course had shooters using Aguila Minishell ammo. I had a chance to use these shells on the course with the CZ-USA Wingshooter Elite 12-gauge shotgun, and my body was very appreciative of the reduced recoil. The accuracy with the MiniShells was on par with standard 12-gauge shotshells.
For those unfamiliar with 3-Gun competition, there were 3-Gun instructional classes taught by pro shooter Keith Garcia. The classes reviewed basic 3-Gun competition fundamentals.
The 2018 Aguila Cup VIP lounge was sponsored by the NRA. Additionally, the National Shooting Sports Foundation provided a condensed version of their "First Shots" program to anyone who wanted basic firearms instruction.
Takeaways
T
his is a special match—I'm talking
NRA World Shooting Championship-esque
. That's the only other match that comes to mind that encompasses such a broad range of shooting disciplines in an effort to get shooters to try something new. It also helps that the people at Aguila run a tight ship with a top-notch crew, in conjunction with Fossil Pointe staff, and statistical experts such as D.J. Petrou of Practiscore, who was juggling scoring for the many different discipline stages.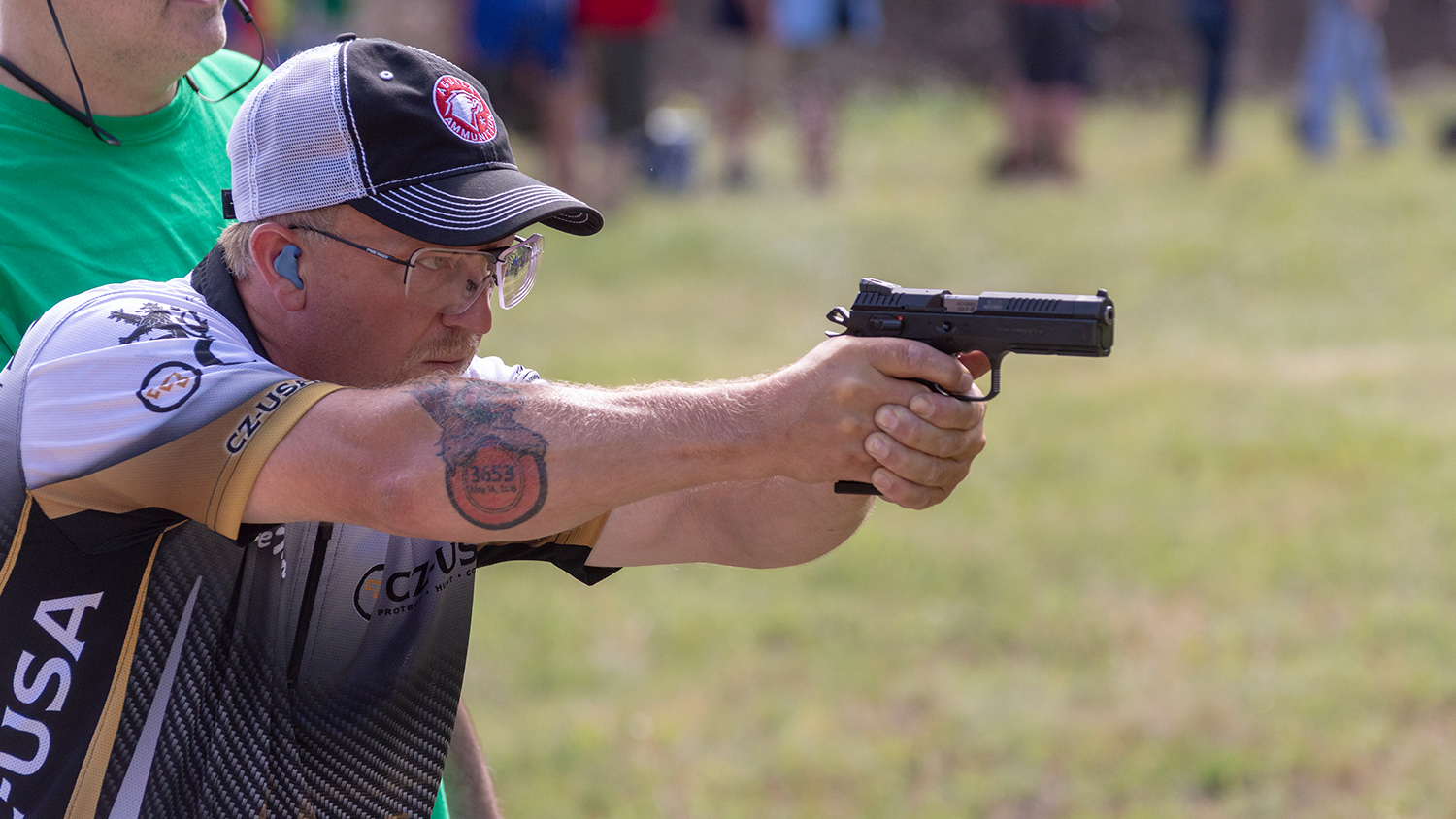 "For three years we've hosted the Copa Aguila in Mexico, and wanted to bring the same excitement to our home here in Texas," said TxAT/Aguila Ammo President Leon Brener. "The shooting sports are an exciting yet challenging industry to be a part of … We look forward to an even bigger Aguila Cup next year."


Well, count me in.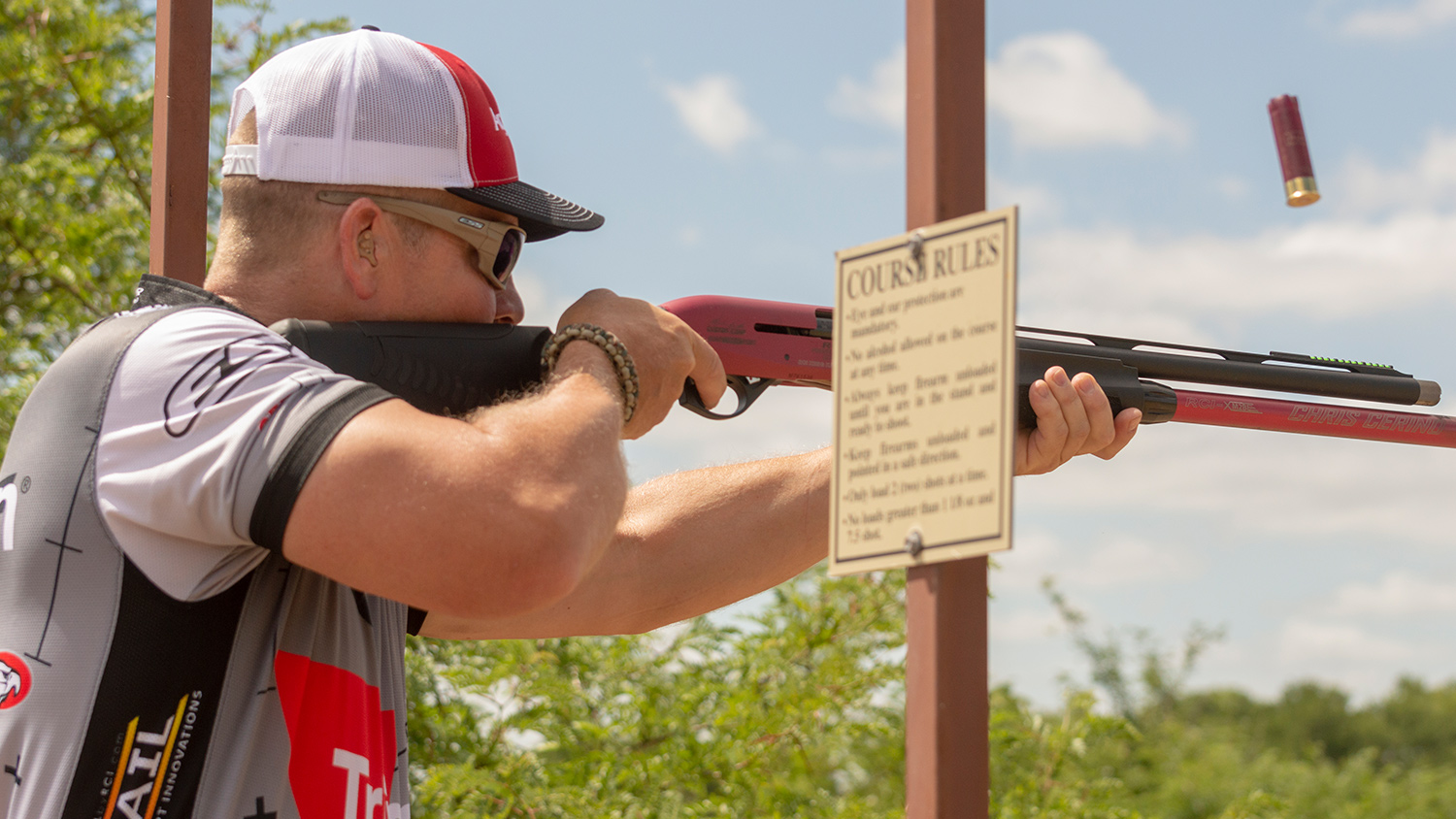 ---
For a full list of Rimfire and 3-Gun scores, visit www.practiscore.com. All of the Sporting Clays scores can be viewed at www.winscoreonline.com.The Aguila Cup is returning to Fossil Pointe Sporting Grounds for year two. Check it out for yourself next summer.