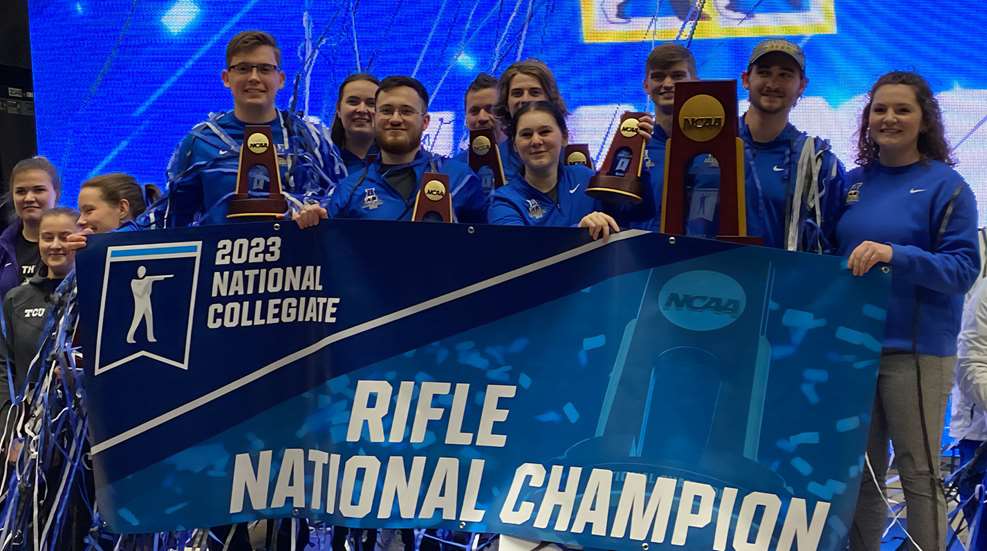 The University of Alaska-Fairbanks rifle team clinched its 11th NCAA rifle title on Saturday, March 11, at the 2023 NCAA rifle championship.
Buoyed by sophomore Rylan Kissell, who fired a perfect 600 in air rifle Saturday, the Alaska-Fairbanks rifle team walked away from the match with a 4729 aggregate score, 2380 for air rifle and 2349 in smallbore.
The Alaska-Fairbanks rifle team last won the competition in 2008.
The match was held at the University of Akron's Rhodes Arena from Friday, March 10 to Saturday, March 11.
Alaska-Fairbanks entered the 2023 NCAA rifle championship as the third-ranked team in the NCAA selections, behind No. 1 Texas Christian University and No. 2 West Virginia University. Will Anti is the Alaska-Fairbanks rifle team head coach.
Taking second place in the overall championship was Texas Christian University with a 4717 team aggregate. The Horned Frogs walked away from air rifle with a score of 2379, along with 2338 in smallbore.
Finishing in third place was the 2021 and 2022 back-to-back champion Kentucky Wildcats, who posted a 4713 team aggregate score—2373 in air rifle and 2340 for smallbore.
Shooting Sports USA will be publishing more articles about the competition to the website, including more details from the individual championships and team championships in air rifle and smallbore, along with a full match report that will be in a future issue of the digital magazine. Be sure to subscribe to the free Insider email newsletter for the latest updates.
See the 2023 NCAA rifle championship scorecard here.