The University of Alaska-Fairbanks Nanooks showed why they're the best team in college rifle after a dominant performance in March at the 2023 NCAA rifle national championship. Led by sophomore Rylan Kissell, who fired a perfect air rifle qualification score of 600-58X, the Alaska-Fairbanks rifle team left the University of Akron's James A. Rhodes Arena as champions by a 12-point margin over the runner-up, Texas Christian University.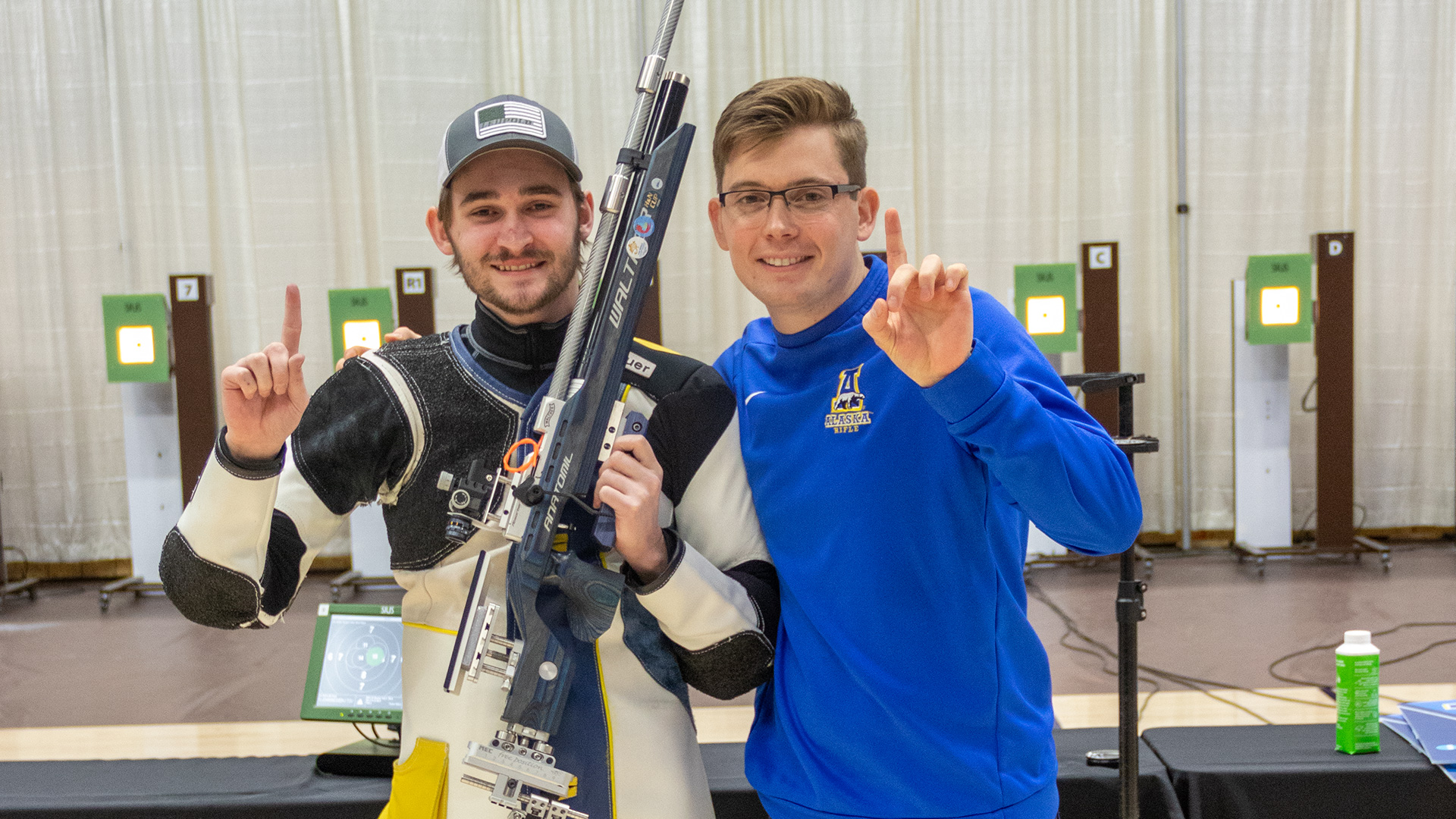 Alaska-Fairbanks posted a 4729-343X team aggregate score, 2380-192X in air rifle and 2349-151X in smallbore, to land its first NCAA title since 2008 and for the 11th time in program history.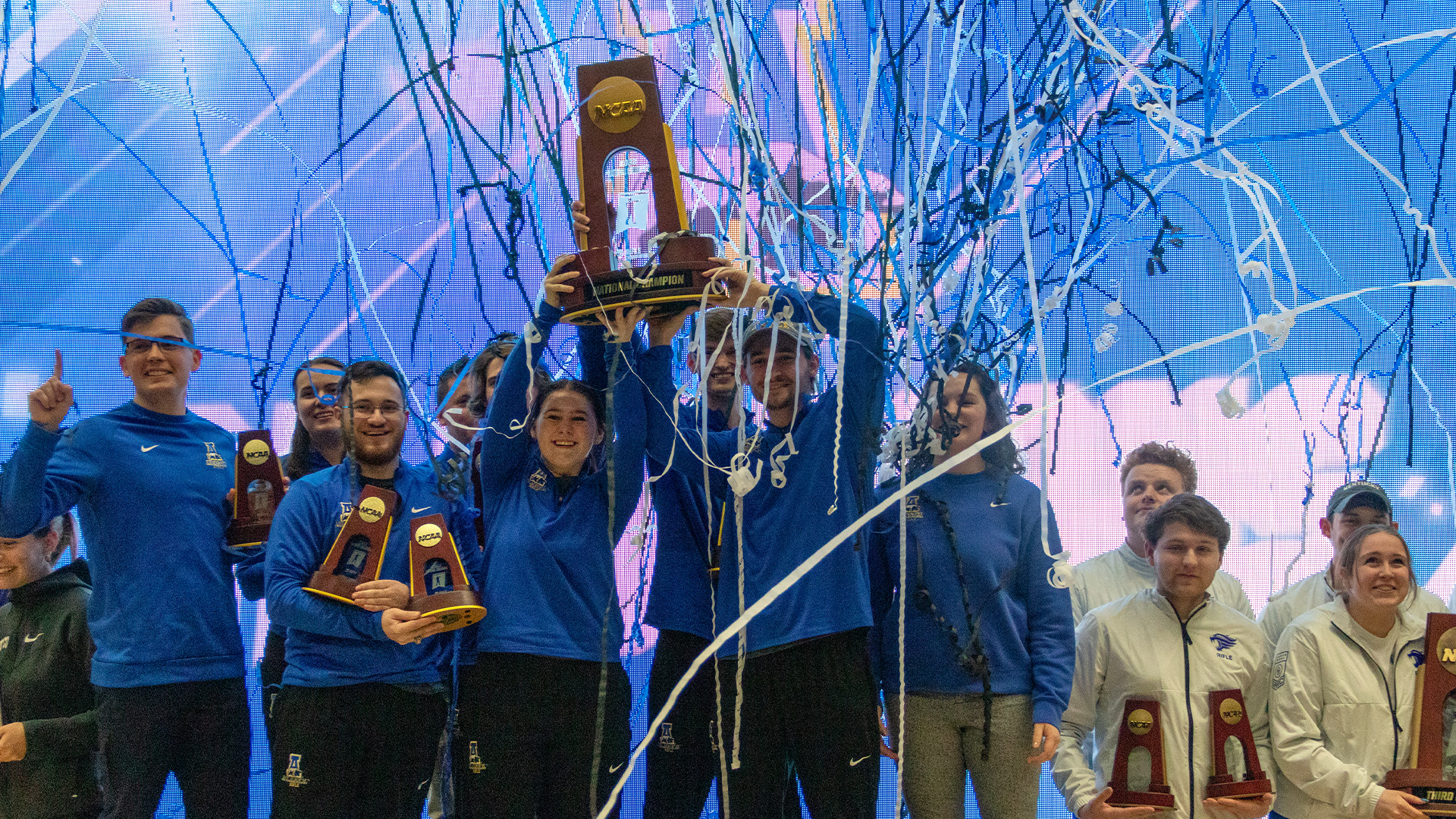 "It's been tireless work, stress, management and joy to get to this moment," Alaska-Fairbanks Head Coach Will Anti said in an interview with alaskananooks.com. "We've made it to the mountain top and are just taking in the view now. I think it's still sinking in for almost all of us."
The Nanooks, arriving in Akron, Ohio, as the third-ranked team in the 2023 NCAA selections, faced seven of the best collegiate rifle teams in the country: Texas Christian University, West Virginia University, Kentucky, Ole Miss, Nebraska, Air Force and Murray State.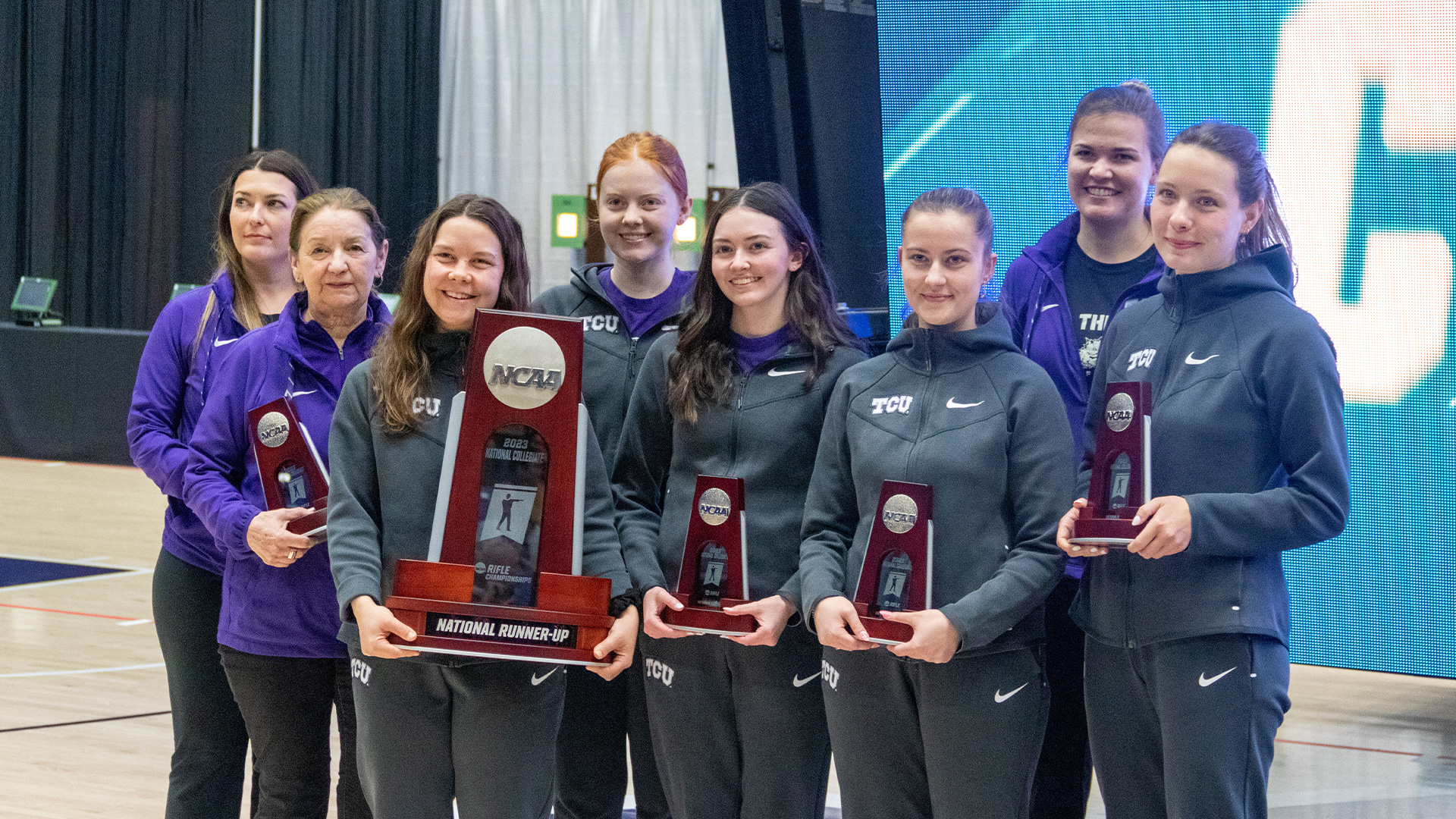 Taking second place in the overall championship was Texas Christian University with a 4717-330X team aggregate. The Horned Frogs finished air rifle with a score of 2379-193X, along with 2338-137X in smallbore.
In third place was the 2021 and 2022 back-to-back NCAA champion Kentucky Wildcats after posting a 4713-324X team aggregate score—2373-185X in air rifle and 2340-139X for smallbore.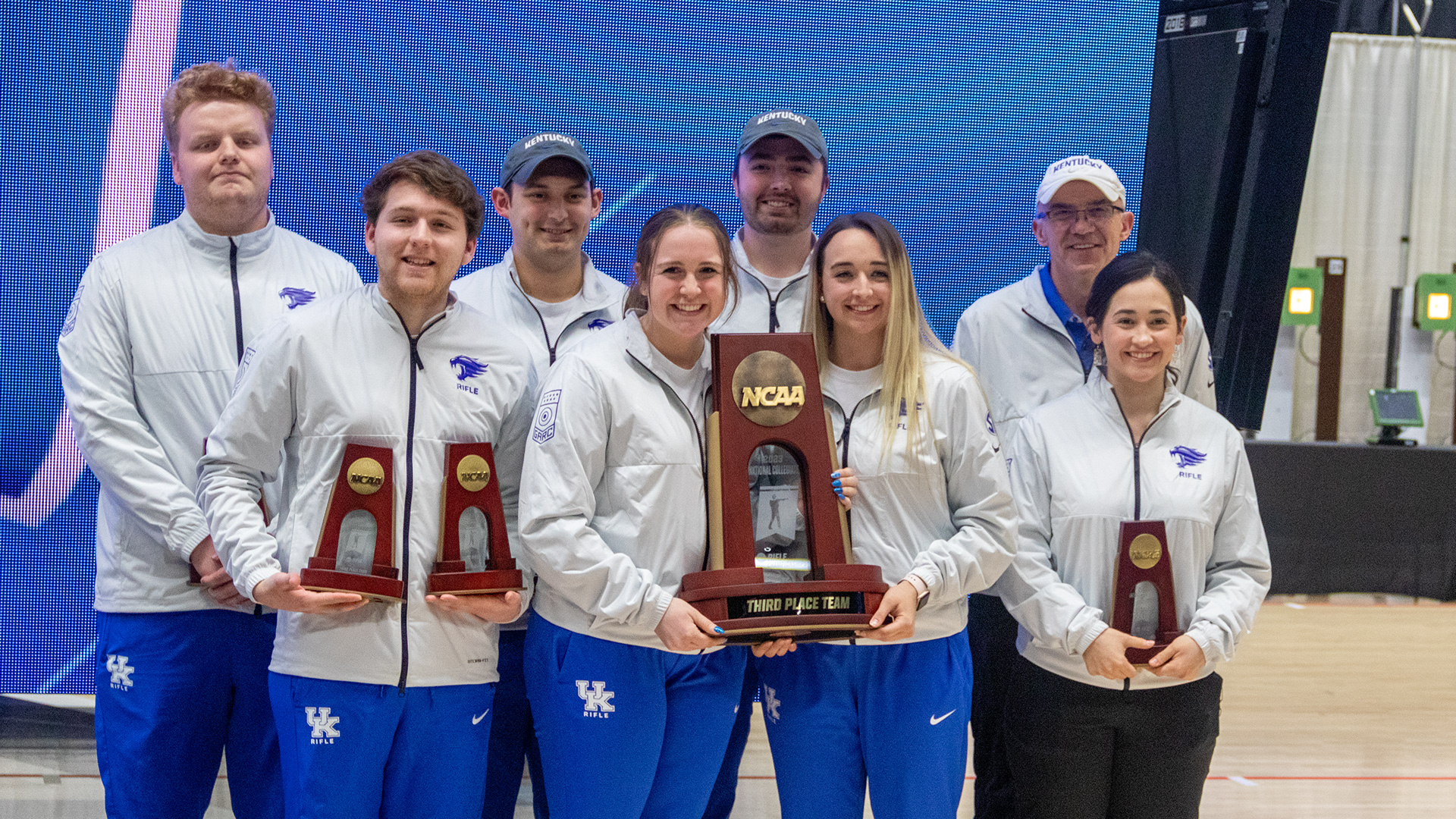 SMALLBORE RIFLE
Promptly at 9:15 a.m. in the James A. Rhodes Arena on Friday, March 10, the first smallbore rifle relay kicked off the 2023 NCAA rifle championships. The first thing that I noticed walking in the arena was the match was being fired on SIUS electronic targets, the same brand used at the Olympics and other international rifle competitions. (More about SIUS e-targets later.)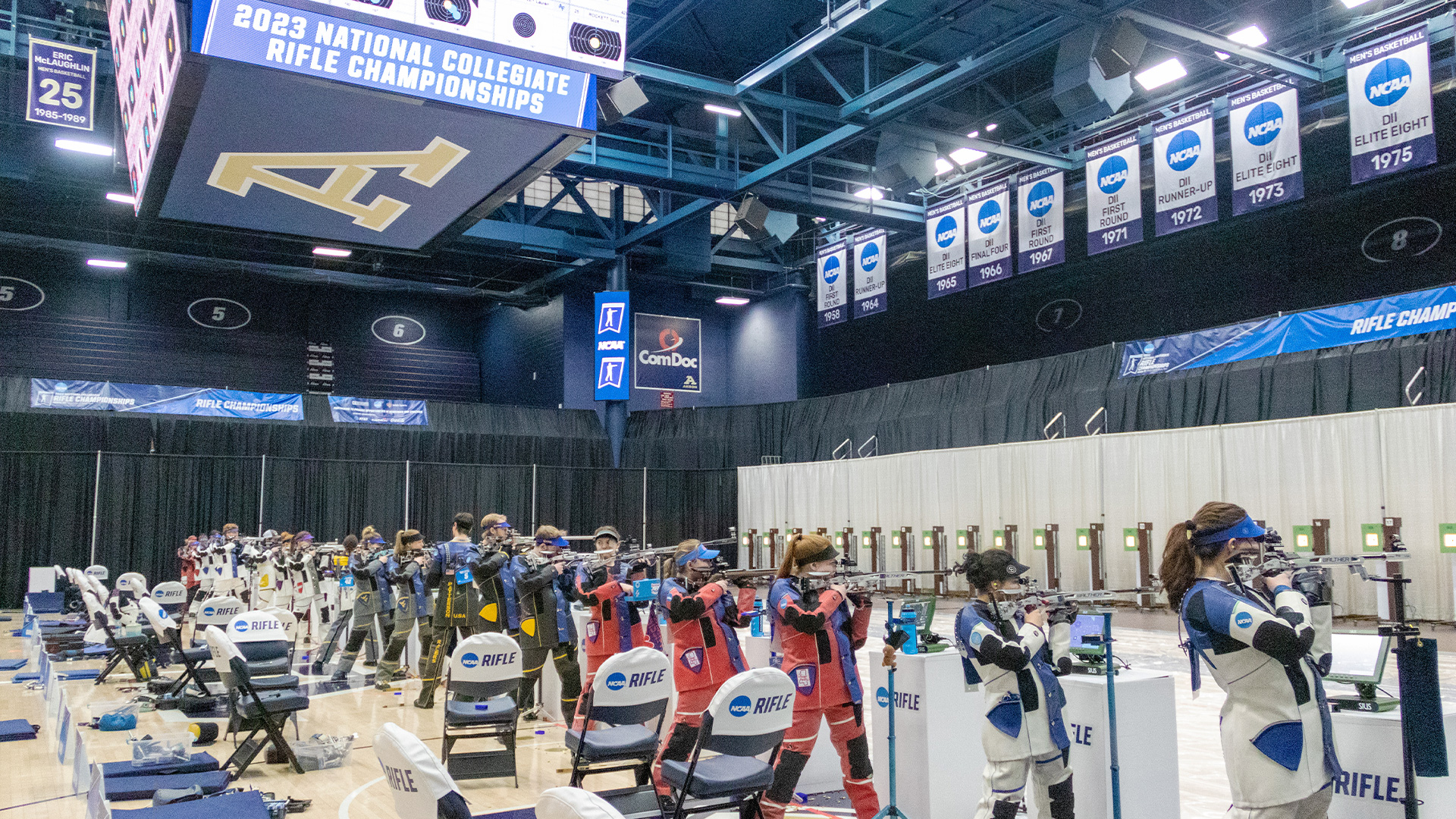 Nebraska rifle's Cecelia Ossi, a junior from Annandale, N.J., clinched the NCAA smallbore individual championship after an exciting final that drew much interest from the crowd inside Rhodes Arena. In addition to Ossi, the smallbore final shooters were Will Shaner (Kentucky), Mary Tucker and Malori Brown (both West Virginia University), Lea Horvath and Emma Pereira (both Ole Miss), and Rylan Kissell and Gavin Barnick (Alaska-Fairbanks).
Smallbore came down to a head-to-head contest between Ossi, and Kentucky rifle shooter and Tokyo 2020 Olympic gold medalist Will Shaner after the other six competitors had been eliminated.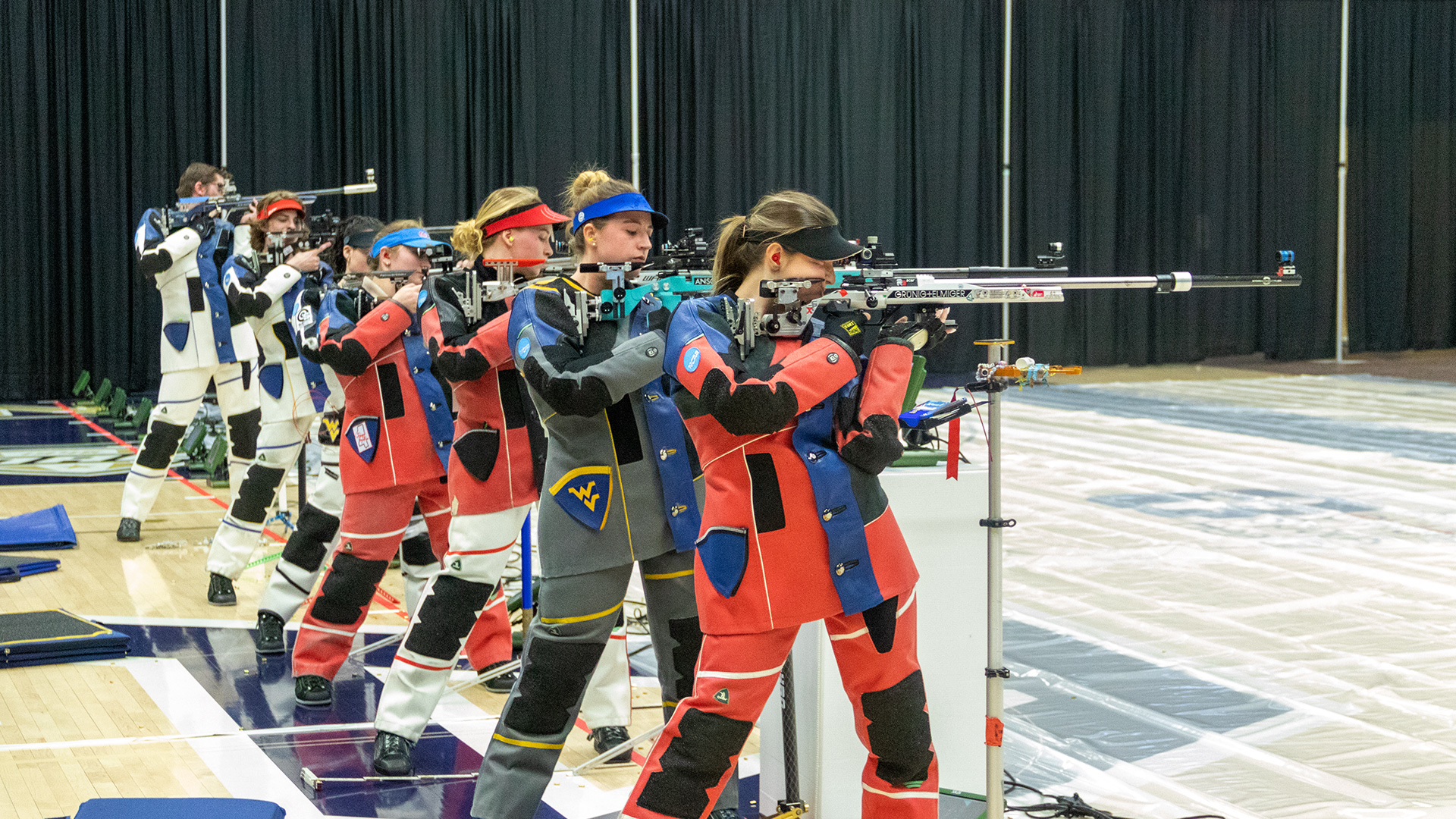 At the start, Shaner was in first place with a two-point advantage over Ossi, 411.9-409.5. By round two of the head-to-head showdown between Shaner and Ossi, the latter was down, 4-0. Fast forward to round nine, and Ossi had shrunk the gap and deposited even more, posting 12 to Shaner's six. In round 12, Ossi had captured the NCAA smallbore rifle title by an eight-point margin, 16-8, over Shaner, who was last year's NCAA smallbore rifle champion. Ossi fired a 10.6 in round 12, giving her two points and enough to seal the deal for her, after Shaner's final shot was a 10.4.
Cecelia Ossi is the first Nebraska shooter to land a NCAA rifle individual championship since 2015, when Rachel Martin—now the Ole Miss rifle team assistant coach—won the smallbore title. She said to huskers.com, "All my coaches have put in so much work, all my friends and family are here. It just means a lot to me to win that medal, not only for myself, but for them and all the work they've put into helping me succeed."
AIR RIFLE
If you've been following collegiate rifle competition the last few years, it won't come as a big surprise to you that Rylan Kissell posted a 600 air rifle qualification score this year to break the NCAA championship record. He's already fired a perfect score during postseason competition, with his 600 score while leading his team to victory at last year's Patriot Rifle Conference Championship.
This year at the University of Akron, after Rylan Kissell posted his perfect 600 qualification score at the NCAA rifle championship, he entered the air rifle final as the top-ranked shooter in the eight-person field. Joining him in the final were Mary Tucker (WVU), Rachael Charles (Alaska-Fairbanks), Angeline Henry (Memphis), Elysa Walter (North Georgia), Peninah D'Souza (Air Force), and Katie Zaun and Julie Johannessen (both TCU).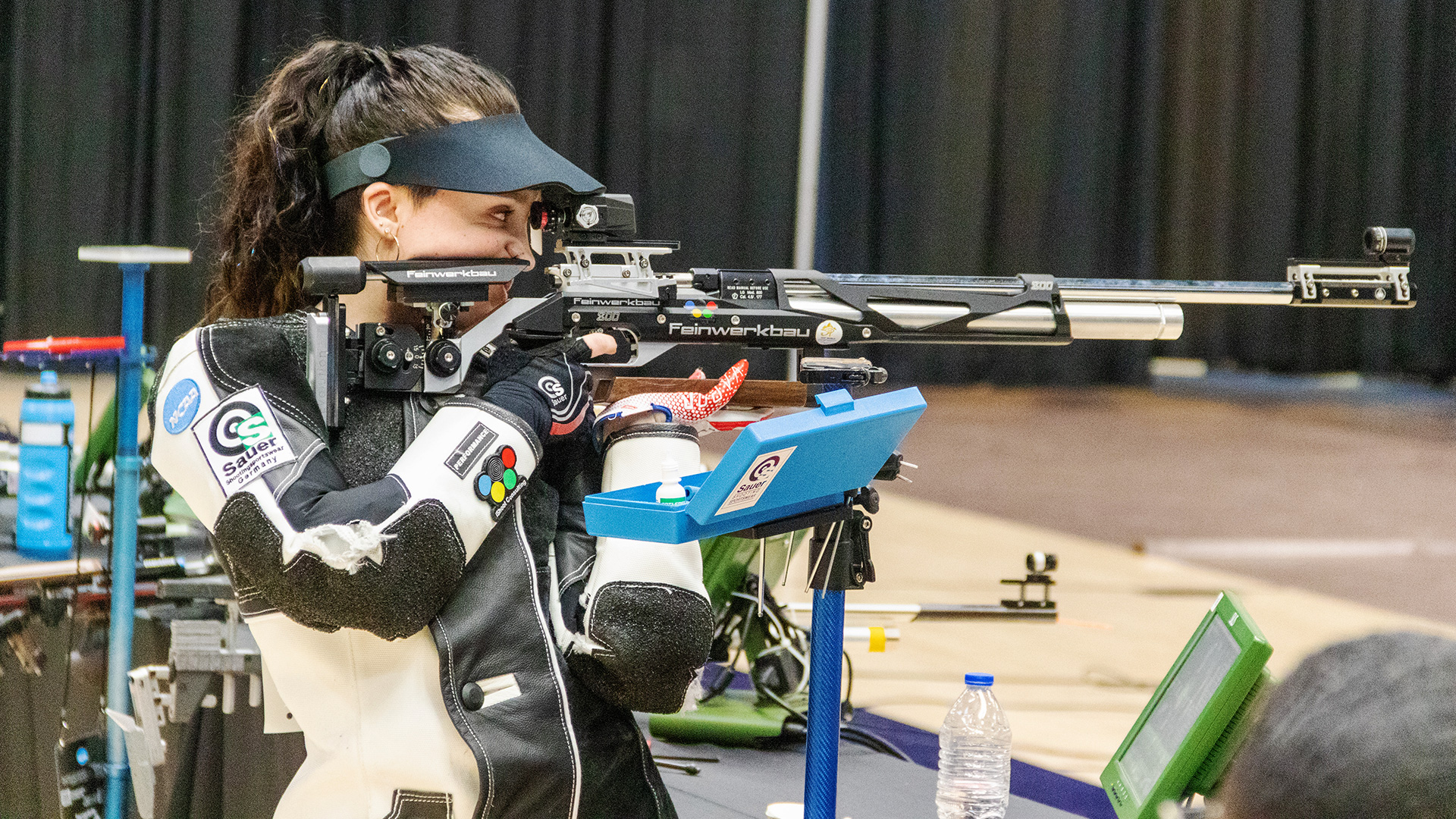 After the other six shooters had been eliminated, Kissell faced West Virginia University rifle's Mary Tucker in the final match. Tucker, the Tokyo 2020 silver medalist medalist and formerly of the Kentucky rifle team, had already claimed the NCAA smallbore rifle runner-up title the day before, and was ahead of Kissell on points in the air rifle final prior to the start of the medal match, 261.3-260.9.
By round three of the head-to-head final, Kissell and Tucker were tied, 3-3. Remaining tied at 5-5 in round five, and still tied at 7-7 after round seven, Tucker finally broke ahead with a fine 10.5 shot in round nine against Kissell's 10.4, giving the former a two-point lead, 9-7. Their positions flipped in the next round when Kissell fired a 10.9 to Tucker's 10.1, making it 11-9. The crowd made it known they were extremely pleased with the dramatic showdown between the two talented rifle shooters.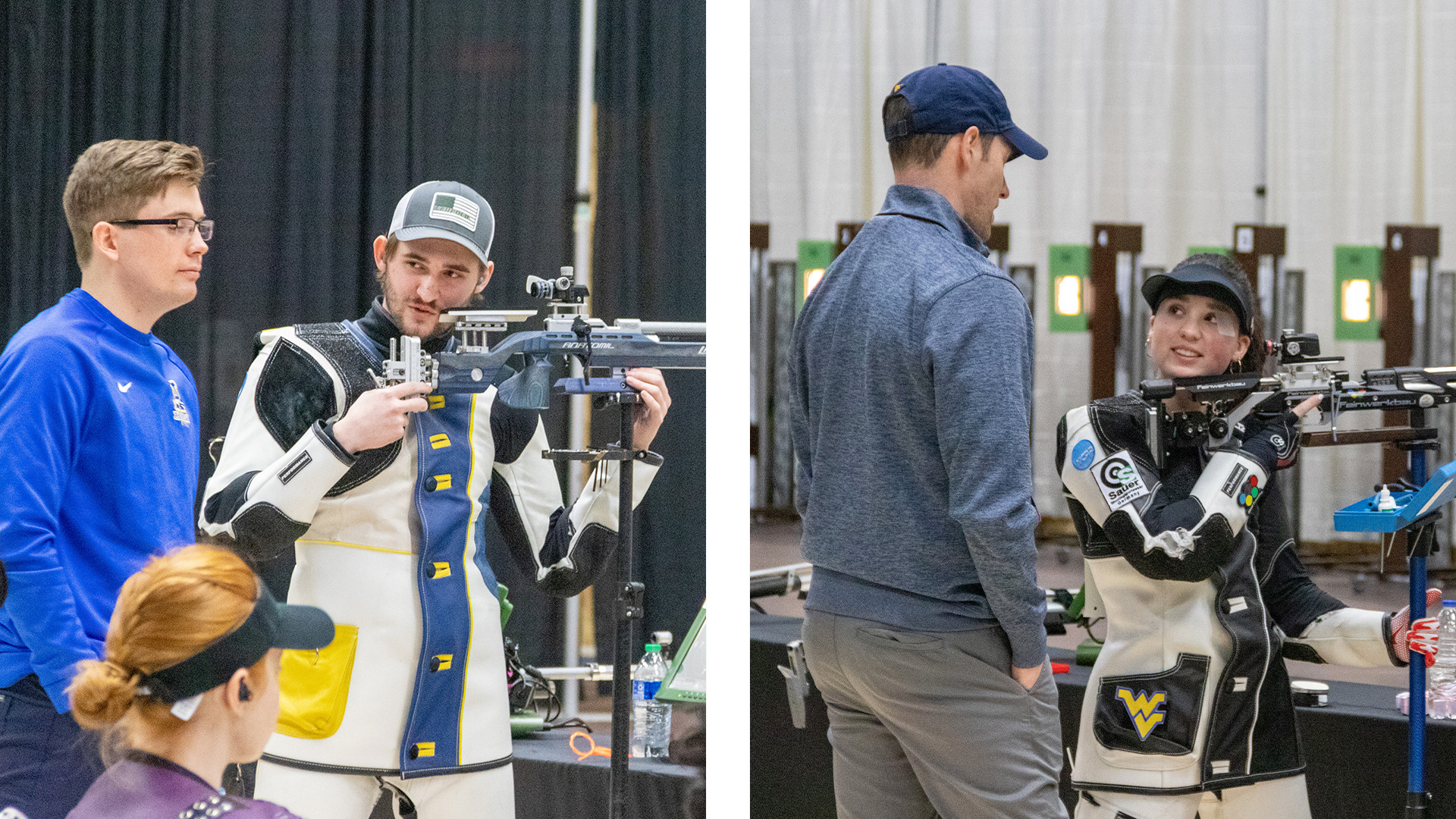 Next, West Virginia University Head Coach Jon Hammond called time-out, which gave both competitors a breather in a final that was about as intense as they can get in this sport. But, the break in the action really benefitted Kissell more than Tucker. After increasing his lead by two points in round 11 to make it 13-9, Tucker was not able to catch up with Kissell. He remained at the top of the air rifle final leaderboard to win this year's title after round 13, 17-9.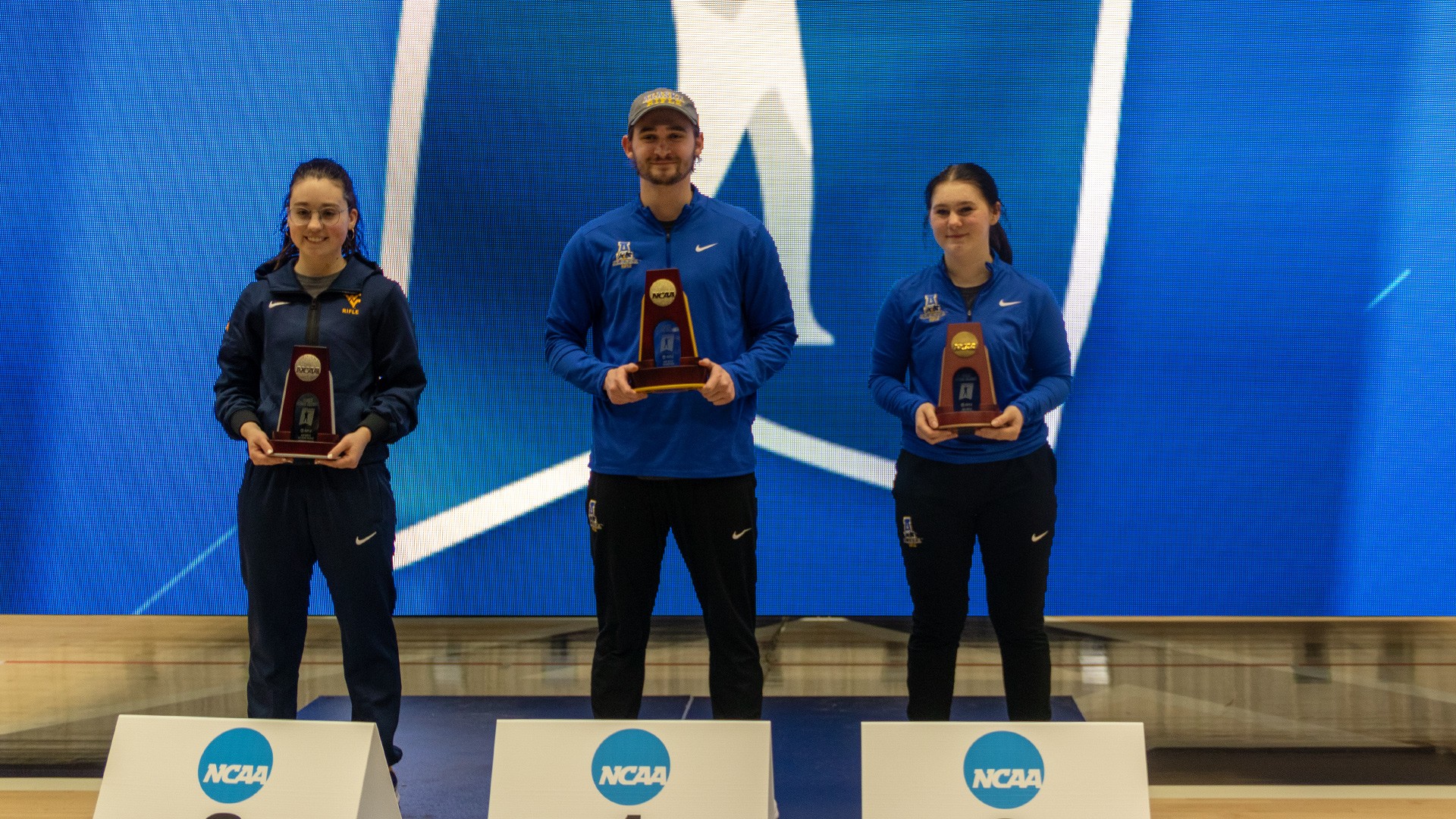 SIUS E-TARGETS
In a departure from 2022 at the U.S. Air Force Academy, where a Kongsberg target system was used, this year at the NCAA championship a set of SIUS's HS10 Hybridscore model electronic targets were employed. ("Hybrid" here means dual measurement devices—lasers and microphones.)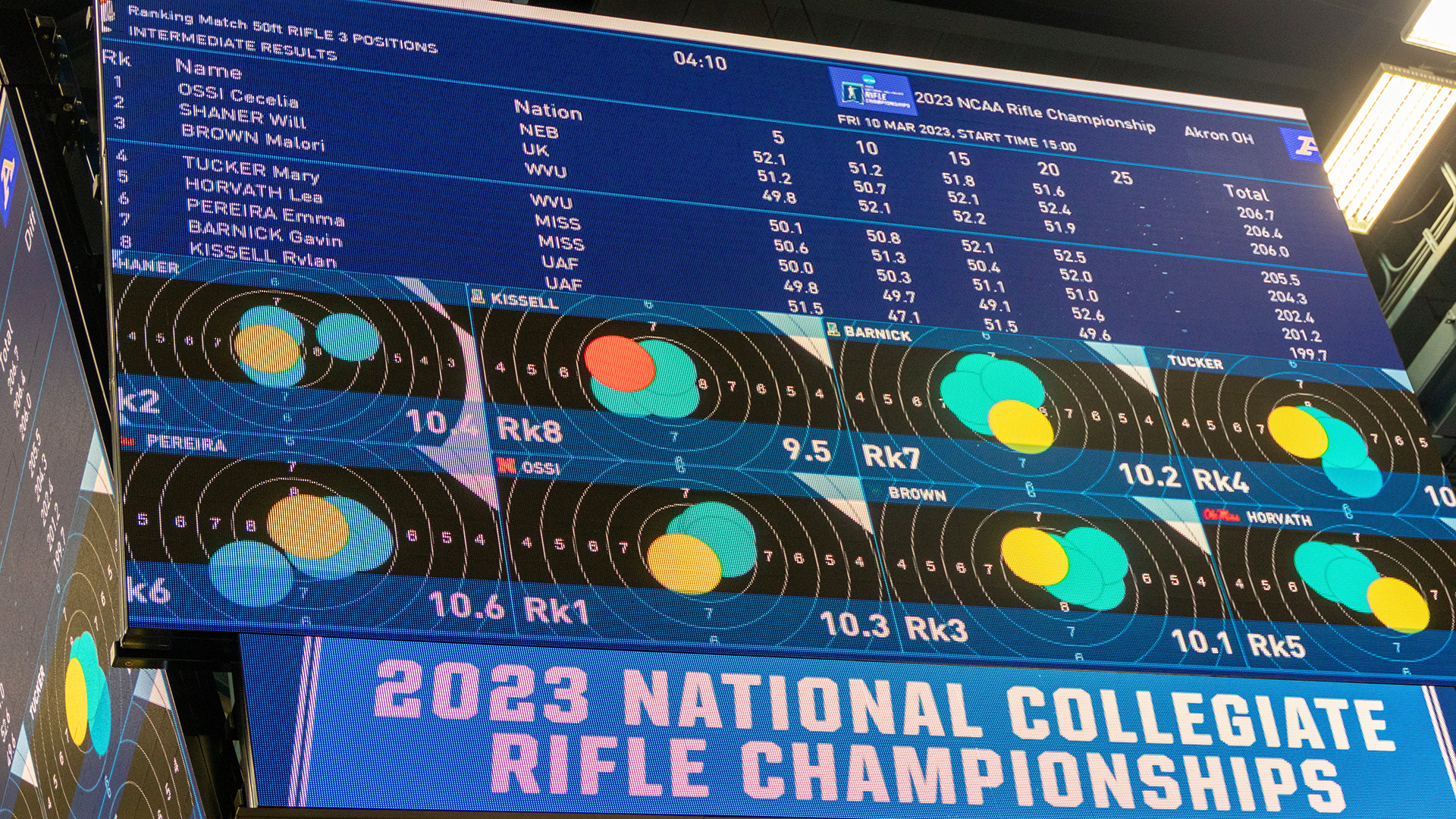 The SIUS electronic targets used in Rhodes Arena at the University of Akron this year were borrowed from a high school. Also, a new predictive algorithm for team and individual results was deployed for the displays and scoreboard. "Our staff at the NCAA rifle championship has decades of experience working with e-targets and in match administration," Jeff Douglas told me. He is the president of SIUS Target Systems USA, the U.S. importer of the Swiss-made e-targets, which provided real-time scoring during the competition.
2023 NCAA RIFLE, BY THE NUMBERS
2 – The number of 1190 aggregate shooters, Alaska's Rylan Kissell and WVU's Mary Tucker.
6 – Rylan Kissell fired six perfect 100 strings in air rifle qualification on his way to the final.
11 – Total number of titles won by Alaska-Fairbanks rifle, the second-most in NCAA rifle championship history.
12 – Number of Xs Kentucky needed to secure third place in the team aggregate over Ole Miss.
17 – Smallbore shooters scoring 585 and higher in qualification.
36 – Air rifle competitors scoring 590 and higher in qualification.
600 – Rylan Kissell's record score posted in air rifle qualification.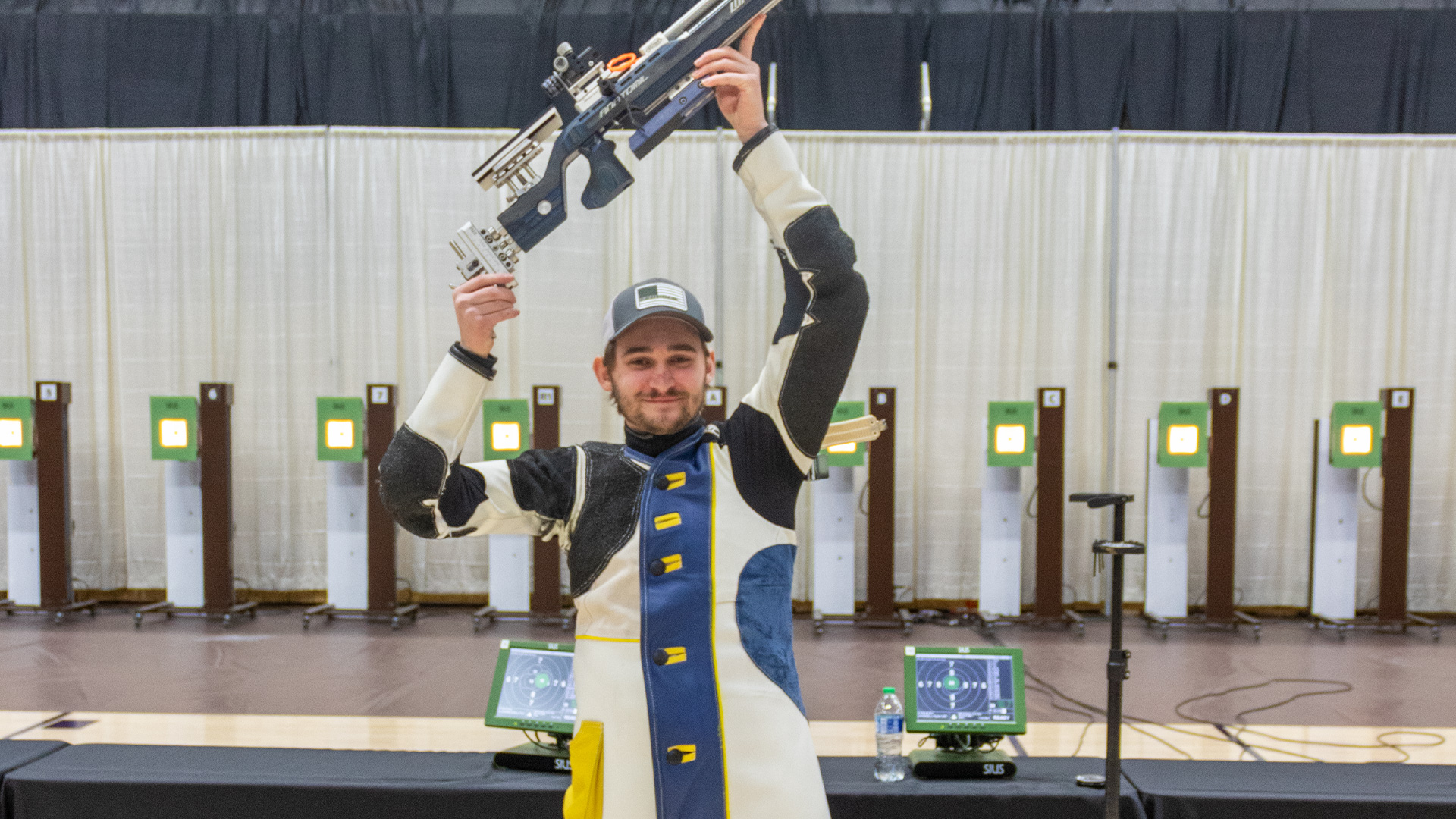 2023 NCAA RIFLE CHAMPIONSHIP LEADERBOARD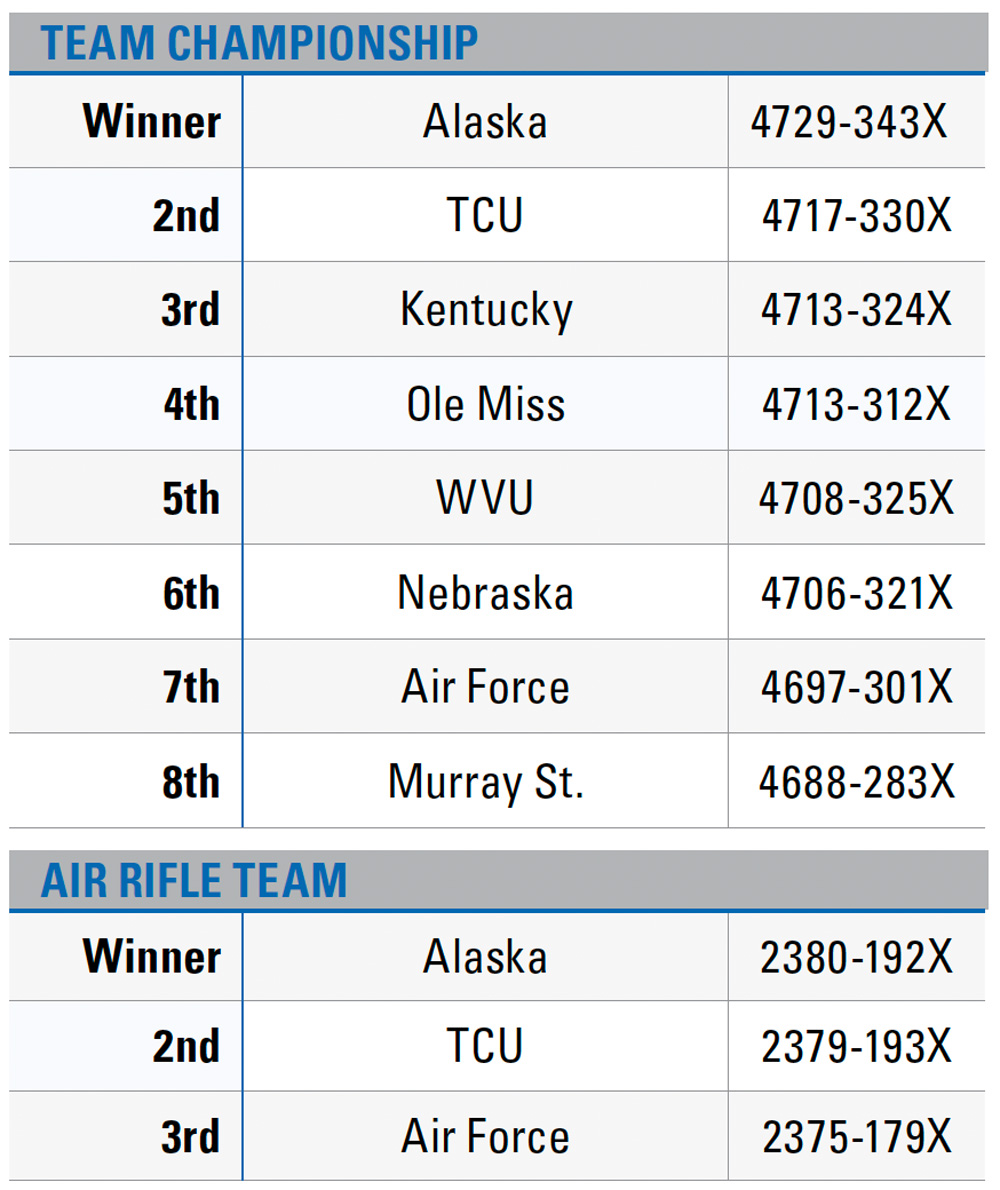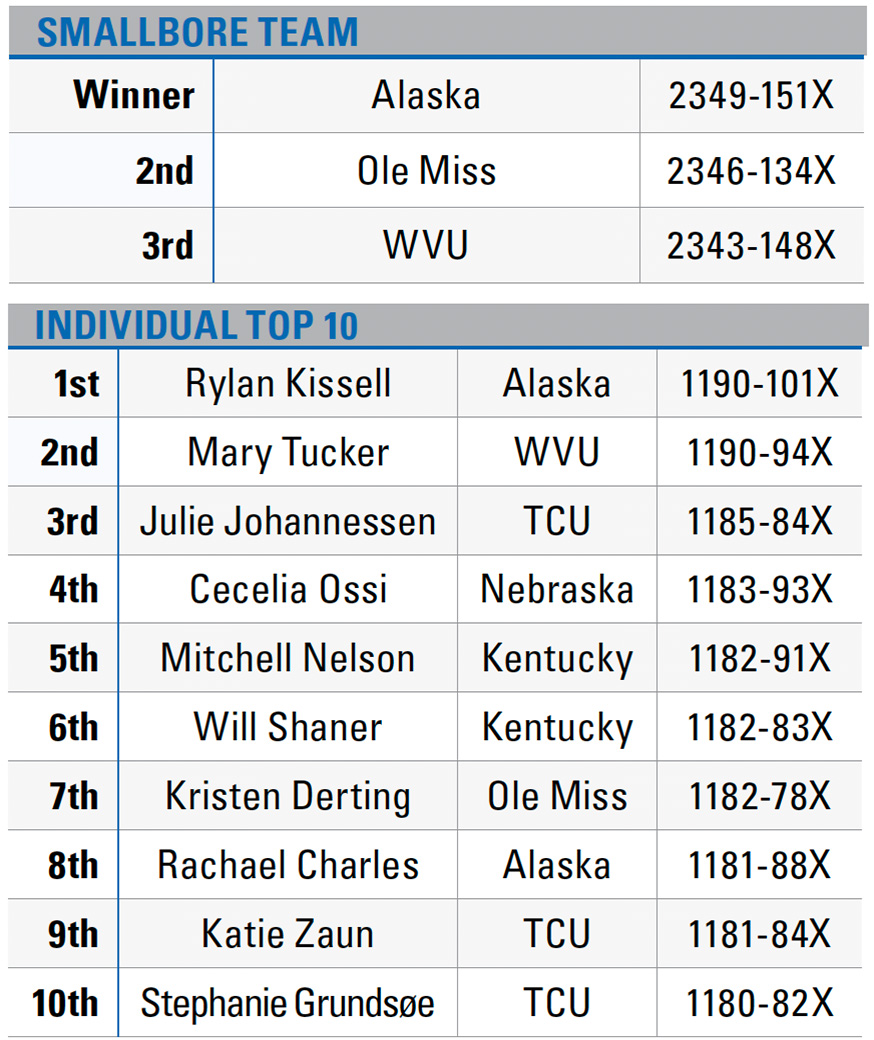 See the full 2023 NCAA rifle championship scorecard at the NCAA website.