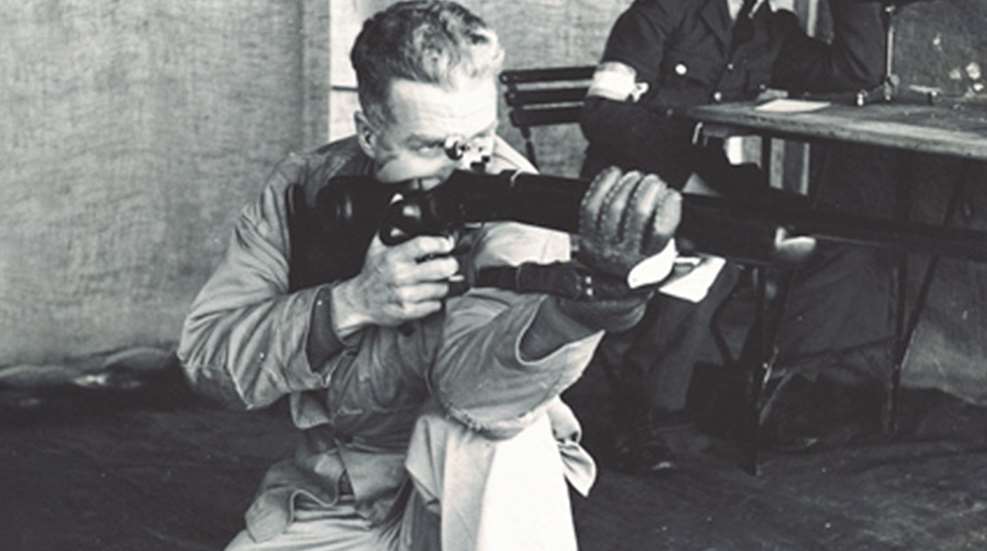 Emmet Swanson first came to prominence in the shooting world in 1925 when he and Harold Stassen both made that year's Dewar Team. The pair were both members of the University of Minnesota's rifle team that won the William Randolph Hearst R.O.T.C. Trophy two years in a row in the mid-1920s. Stassen and Swanson were regular members of the Minnesota Civilian Rifle Team that went to Camp Perry in the mid- and late-1920s, and Swanson made several additional Dewar Team appearances during the 1920s and 1930s. Emmet Swanson received his D.D.S. degree in 1928 and from then on he was "Doc" Swanson. Stassen would subsequently become Governor of Minnesota and a frequent (if unsuccessful) candidate for President of the United States. Swanson would make his mark in the shooting game. And quite a mark it was.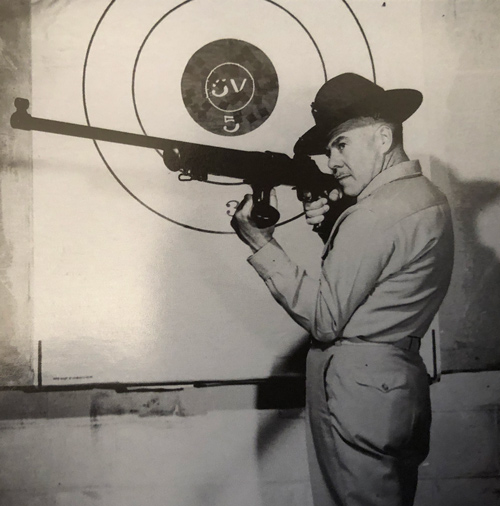 In 1930, Doc traveled to Antwerp, Belgium, as part of the U.S. 300-meter team that would win the World Team Championship—and, just to pass his time, he won the World Kneeling Championship in the smallbore matches that were also part of the program.
Doc was a regular at Camp Perry and, in 1940 he, along with Walter Walsh, was on the USMC Reserve team that won the team competition with the newly adopted M1 rifle—the first appearance of that rifle in National Match competition.
Although Doc was a qualified and practicing dentist, he served in World War II as a Marine Corps line officer. He had his dental implements with him though, and according to legend, found opportunity to use them. Doc went ashore at Iwo Jima as Ordnance Officer with the 5th Marine Division and when a Japanese shell ignited the Division's ammunition dump, he organized and led the fire control efforts that confined the damage. He was awarded the Bronze Star with combat "V" for his actions.
After World War II, Doc returned to his native Minneapolis home and dentistry—and to shooting. In 1948, he was President of the NRA and a member of that year's Olympic team. He shot, as he had in 1930 (along with Frank Parsons—also on the 1948 Team), in the 300-meter Free Rifle event. Doc made the 1952 Olympic Team and the U.S. Teams for the World Shooting Championships in 1949, 1952 and 1954. In the 1952 World Championships, he and fellow Minnesotan, Robert Sandager each shot 1102 in the 300-meter event—the highest scores ever fired by an American in that event at that time. He was captain of the 1951 U.S. Pan-American Shooting Team and Olympic Shooting Team captain in 1956 and 1960. Additionally, he was team captain and Director of the Marine Corps Reserve Marksmanship Program from 1955 until his retirement in 1966.
Doc Swanson was a versatile marksman; he was triple Distinguished (Rifle, Pistol and International) and holds a unique distinction: in 1954 he shot on the National Championship winning indoor rifle team (with the Minneapolis Rifle Club) and on the winning indoor pistol team (with the Minneapolis Pistol Club).
Doc was liked and respected by all who knew him. His promotion of the shooting sports, his encouragement of beginners and his very character made him one of the shooting game's truly notable figures.
Dr. Emmet O. ("Doc") Swanson
b. February 16, 1906 - d. December 10, 1968
---
See more:
The Legend Of George R. "Dad" Farr