From the vault: For decades, West Virginia University and University of Alaska—Fairbanks dominated the field each year at the NCAA rifle championship. Not so in 2010, however. That year, which marked the 30th anniversary NCAA rifle championship, one school brought home its very first title—on its own home turf, no less. Read our coverage of the 2010 NCAA rifle championship, as published in the July 2010 issue of Shooting Sports USA.
---
2010 NCAA Rifle Championship Results
Since its inception, West Virginia University and the University of Alaska—Fairbanks have dominated the sport. Between the two schools, they lay claim to 24 titles. In 2010, however, Texas Christian University's (TCU) all-women's team emerged the champions; marking the first time an all-women's team has won. The rifle championships are comprised of smallbore, air rifle and individual events. TCU placed first in the team air rifle and individual smallbore events, and finished second and third in smallbore and individual air rifle, respectively.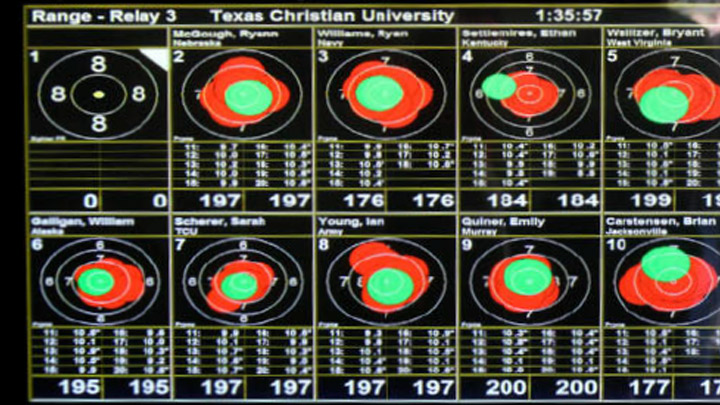 In both of the individual events, the champion was determined with the very last shot. The smallbore final saw a number of shooters competing for the title right up until the end. Navy's Chris Burleson threatened to overtake the slim lead held by TCU's Sarah Scherer. However, on her 10th shot, Scherer hit an impressive 10.9 to clinch sole possession of the gold with a 685.0 overall and 102.0 in the final.
In air rifle, Jonathan Hall of Columbus State University and Erin Lorenzen from TCU were neck and neck for the lead until, with the final shot, Hall pulled ahead. The only representative from his school, Hall posted an impressive 104.9 in the final and 699.9 overall to take home the individual air rifle championship.
TCU, the host school, didn't need to go far to bring home its first team championship. Collectively posting an overall score of 4,675, they beat both the Alaska—Fairbanks and WVU powerhouses. Congratulations to the 2010 champions.
---
See more: 
TCU Wins 2019 NCAA Rifle Championship