Junior air rifle competitions always have exceptional talent on full display. Young athletes train for countless hours, days, weeks and months to earn the chance to demonstrate their grit on the firing line, hoping for any tangible evidence of their hard work—a token of their efforts to show.
For many, that token is the Junior Distinguished Badge.
Distinguished Badges have been awarded to U.S. citizens exemplary in rifle marksmanship competition since 1884 by groups like the Civilian Marksmanship Program and the National Rifle Association. In 1996, a new federal law transferred responsibility of the Distinguished Badge program from the Department of Defense to the CMP. After creating a new Junior Distinguished Badge in 2001 for Three-Position Air Rifle competition, over 1,480 badges have been presented to talented junior athletes.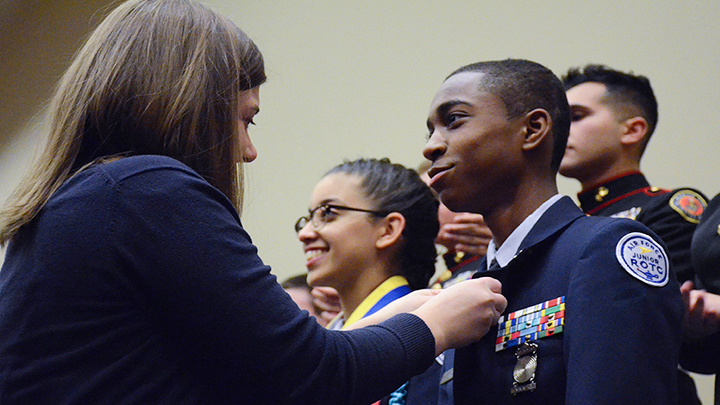 To receive a Junior Distinguished Badge, consistency in performance is key. A junior must place among the top competitors in state, regional and national junior Excellence-In-Competition (EIC) credit events.
Once a junior has earned 30 or more EIC points, he or she has earned the honor of being called "Distinguished." The gold-filled badges are provided at no cost and ceremoniously awarded at events whenever possible.
Many skilled athletes who have received the Junior Distinguished Badge over the years have carried their marksmanship careers on to other prestigious honors within the sport.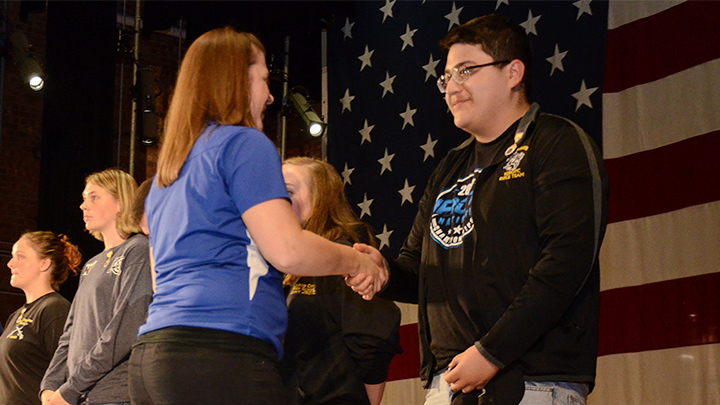 Brandon Green, now SFC Brandon Green, was the recipient of Badge No. 1 as a junior competitor back in 2001. Green went on to become a decorated member of the U.S. Army Marksmanship Unit Service Rifle team, where he is still competing. Among several earned titles and accomplishments, in 2018, Green fired a perfect score in his overall win in the President's Rifle Match held during the National Matches at Camp Perry—a feat that had never been accomplished before.
Receiving Badge No. 2 the same year as Green was James Hall, who went on to compete with the Jacksonville State rifle team—winning three consecutive smallbore titles from 2005-2007. In recent years, Hall switched from air rifle to air pistol and has gone on to successfully compete both around the United States and abroad, even earning himself a spot on the 2020 Olympic team (now moved to 2021). He is one of many Olympic team members, past and present, who hold Junior Distinguished Badges.
There are also Junior Achievement Award Pins that recognize juniors who attain established score levels in any competition sanctioned by the National Council. Juniors who earn a minimum of 3 EIC credit points can order a Junior Bronze EIC Badge, while those who earn a minimum of 15 EIC credit points can order a Junior Silver EIC Badge.
Learn more about the Junior Distinguished Badge
program.
---
See more:
What is Good Sportsmanship?